Germany's Merkel walks away a winner after vote that could have ended her career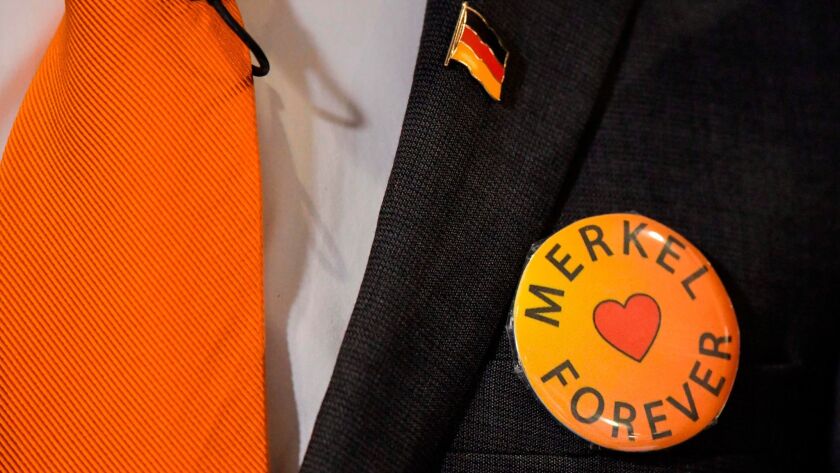 Reporting from Berlin —
German Chancellor Angela Merkel proved to be a lucky duck instead of a lame duck on Sunday when the country's second-largest political party, the Social Democrats, agreed reluctantly and after nearly six months of bitter wrangling to join forces with her conservative Christian Democrats for another four years.
Grass-roots members of the center-left Social Democrats opted by a surprisingly large two-thirds majority in a postal vote to swallow their pride and join another loveless right-left "grand coalition" with the Christian Democrats. The vote will keep Merkel in power even though Social Democratic leaders had vowed that they would do no such thing after an inconclusive election in September.
In that vote, both parties slumped to their worst post-World War II results after ruling four years together as a new far-right party, Alternative for Germany, siphoned away considerable support from both. Feeding off frustration over the arrival of more than a million refugees from Syria and elsewhere, it become the third-largest bloc in the six-party Parliament.
Weaker at home than any other time during her 12 years at the helm of Europe's leading nation, the 63-year-old Merkel could have been forced out of power and Germany plunged into a political crisis with new elections likely if the 463,000 grass-roots members had voted against the coalition agreement. It was a detailed 179-page pact that the Christian Democrats and Social Democrats had hammered out a month ago in which Merkel turned over considerable power and important ministries to the Social Democrats to attract them into her government.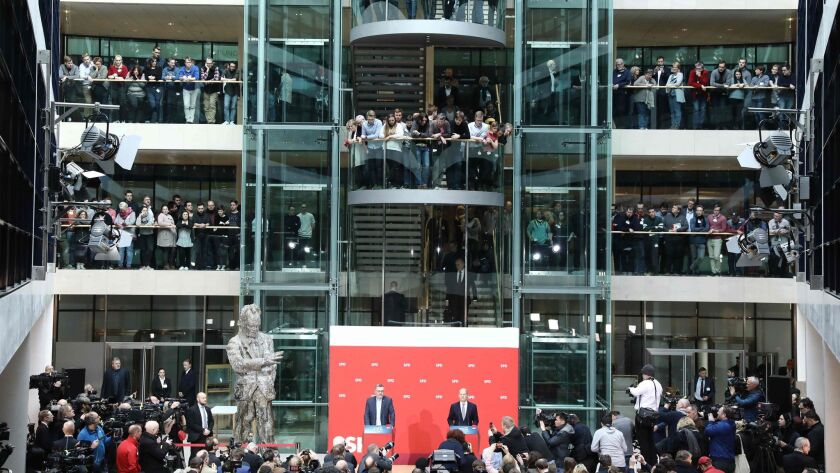 Germany has been politically adrift during the last five months without a new government. Many in the European Union had been holding their collective breath for the last four weeks as Social Democratic leaders begged party members to jump over their shadows and support another "grand coalition," despite initial misgivings.
The nation's two largest parties have been archrivals for most of the last 70 years. Many analysts and even Social Democratic leaders had expected an extremely close contest and were surprised that such a comfortable 66% majority of the party's ballots were in favor of the coalition. Results were announced at a news conference televised live on four German TV networks early Sunday.
"Just about everyone was expecting it to be very close," said Julius van der Laar, an international political strategist based in Berlin. "A lot in the [Social Democratic Party] thought it was just the wrong decision to be part of another Merkel government but others thought it was just time to get a working government. The big winner today is Merkel. She would have been in deep trouble with a 'no' vote. But she's safe in the saddle now. She's mastered yet another crisis."
Merkel, whose first efforts to form a three-way coalition with the Greens and Free Democrats had failed in November, welcomed the Social Democrats' vote — a clear reprieve for the veteran chancellor who is the European Union's longest-serving leader. It was also applauded by heads of government across Europe. French President Emmanuel Macron called it "good news for Europe," a sentiment echoed by EU leaders in Brussels.
Merkel was also under pressure in her party after the disappointing election result in September and for making so many concessions to the Social Democrats in the coalition talks. If the Social Democrats had vetoed the deal, analysts believe Merkel would have faced fresh calls to resign.
Even though Merkel is loath to comment on the inner workings of the Social Democratic Party, or SPD, and rarely releases any information via Twitter, the chancellor applauded the move with a posting [link in German] on the Christian Democrats' official Twitter account: "I congratulate the SPD on this clear result and I'm looking forward to continuing our good work together for the good of the country."
Merkel and her new government are expected to be sworn into office by March 14.
ALSO
Germany's Merkel sets the stage for her eventual exit by picking a successor
Britain's Theresa May has a big 'Brexit' headache — and his name is Jeremy Corbyn
Laughing? Not so much. Most Russians just wish the election-tampering story would go away
Kirschbaum is a special correspondent.
---
Must-read stories from the L.A. Times
Get all the day's most vital news with our Today's Headlines newsletter, sent every weekday morning.
You may occasionally receive promotional content from the Los Angeles Times.