Germany's Angela Merkel, 'the president of Europe,' says she won't seek reelection as chancellor
Reporting from BERLIN —
German Chancellor Angela Merkel, Europe's most powerful leader and a force for centrist stability in a turbulent time, said Monday she would relinquish control of her center-right party in December and not stand for another term as chancellor in 2021.
Facing prolonged criticism from within her party over her leadership and especially her 2015 decision to open the country's borders to more than 1.5 million refugees from the Middle East and elsewhere, Merkel made the surprise announcement to leaders of her Christian Democratic Union at a party executive meeting in Berlin. The meeting followed twin drubbings her party suffered in state elections in Hesse on Sunday and in Bavaria two weeks before.

For the record:
4:00 PM, Oct. 29, 2018An earlier version of this story said President Trump threw Starburst candies at Angela Merkel in July. Trump actually threw the candies in June.
"It is time for a new chapter," she told a news conference. "I was not born as chancellor," she added, a characteristically modest way of saying she would not cling to the office.
Merkel, 64, has been the most influential European leader since her predecessor Helmut Kohl was defeated in the 1998 general election after 16 years in office. She has struggled to guide the continent through a challenging period marked by a rise in terrorism, the massive refugee influx, the Eurozone financial crisis and the rise of far-right parties in a number of countries, including her own.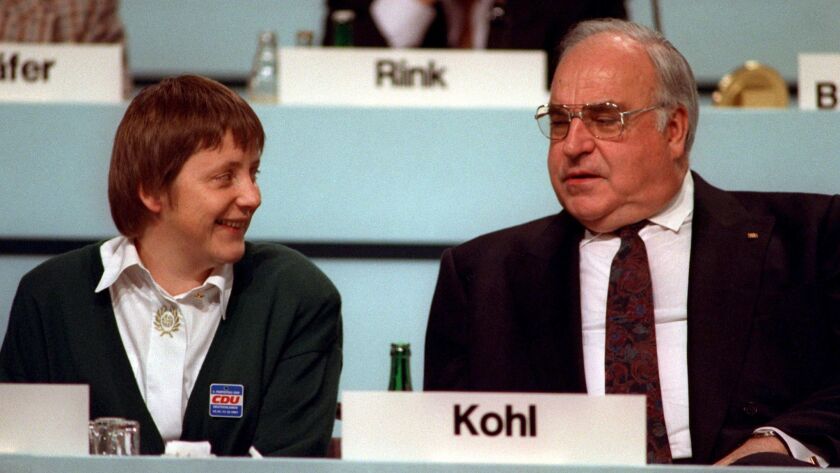 "She was one of the last stabilizing pillars of the EU," said Julius van der Laar, a political consultant in Berlin, who added that she and French President Emmanuel Macron were the driving forces in the European Union. "Together with Macron, she was holding the whole thing together. Disruption in Germany means less, not more, stability for Europe."
President Trump has sometimes called her "the president of Europe," and tried in vain to cut one-on-one trade deals with her in the expectation that she could then impose them on the rest of the European Union.
"I'm sorry, Donald," she reportedly told him. "That's not how it works here."
During a G-7 meeting in June, Trump reportedly grew frustrated with Merkel and threw Starburst candies at her, exclaiming, "Here, Angela, don't say I never give you anything."
The daughter of a pastor, Merkel got into politics only after the Berlin Wall fell as a deputy press spokeswoman to East Germany's first and only democratically elected leader. She was catapulted to the leadership of the conservative party in 2000 when a band of more powerful men eager to lead Germany grossly underestimated her.
Having outfoxed her more experienced male rivals, Merkel has led the conservative party for the last 18 years and been chancellor for the last 13, and had previously resisted calls to give up the party leadership – a powerful position in Germany that is used to keep members in line and bestow favors on loyalists. She had insisted that the party leadership and chancellor positions were inseparable — tacitly fearful of becoming a lame duck without the clout to control the party as its chairwoman.
But the background grumblings from within her ranks over the last three years turned into more ominous rumblings with the election defeats in Bavaria and Hesse — two conservative bastions where the Christian Democrats have ruled for decades. Merkel's decision to allow so many refugees from Syria, Iraq, Afghanistan and other troubled countries also helped fuel a populist far-right movement known as the Alternative for Germany party that has siphoned away precious support from the conservatives.
Merkel's conservatives won just 27% of the vote in the Hesse election on Sunday — their worst performance since 1966 in the wealthy western state that includes the country's financial capital of Frankfurt. They will likely retain power in a renewed coalition with the Greens, who received 20% of the vote. Two weeks ago, the conservatives attracted just 37% of the vote in Bavaria.
"The image that our government has presented is not acceptable," Merkel said, referring to ugly infighting with a Bavarian sister party. She called the election defeats a watershed moment for the conservatives.
"The results are bitter," she said.
The conservatives are holding an annual party convention in December in Hamburg, where Merkel was expected to be reelected to another two-year term. She took over the party leadership in 2000 when the Christian Democrats were in opposition and mired in a campaign financial scandal surrounding former Chancellor Helmut Kohl. She led her party back into power in 2005.
Thorsten Faas, a political scientist at Berlin's Free University, said Merkel's power has long been eroding and that the poor election results essentially forced her hand.
"She evidently saw no other option than giving up the chair in face of the poor election results and weak opinion poll numbers for her party," he said.
"It looks like she is trying to control the process as well as she can but there is a danger for her because she always said she needed to have both office and party chair. This will hurt her credibility," he added.
It did not take long for at least one other candidate, a former Merkel rival, to announce plans to run for the party leadership. Friedrich Merz, a former parliamentary whip until ousted by Merkel, was planning to run for the position, according to the Bild newspaper.
Others likely to run include Merkel loyalist and deputy party leader Annegret Kramp-Karrenbauer and Health Minister Jens Spahn, a Merkel critic.
Kirschbaum is a special correspondent.
---
UPDATES:
2:20 p.m.: This article has been updated with more background, analysis.
6:25 a.m.: This article has been updated throughout with staff reporting and additional background.
This article was originally posted at 5:25 a.m.
---
Must-read stories from the L.A. Times
Get all the day's most vital news with our Today's Headlines newsletter, sent every weekday morning.
You may occasionally receive promotional content from the Los Angeles Times.