Greece offers to implement pension and tax reforms for 3-year bailout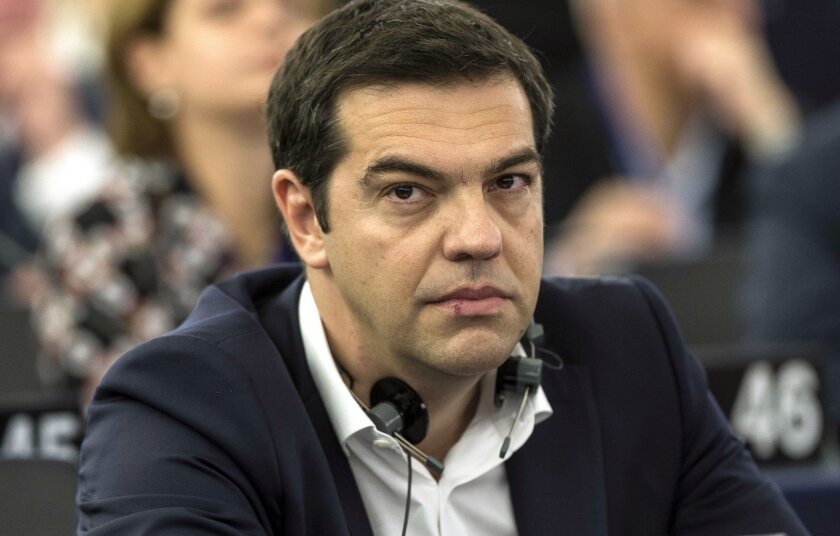 Reporting from Athens —
Greece asked its European partners for a new three-year bailout Wednesday as the clock ticked down on a weekend deadline for an agreement to keep the nearly bankrupt nation in the Eurozone.
A letter from the Greek government said Athens was willing to begin implementing tax and pension reforms as early as next week as part of a deal to secure desperately needed emergency loans from the European Stability Mechanism, a rescue fund set up to deal with Europe's long-running debt crisis.
Although the reforms were not specified, changes to pensions and tax rates have long been "red lines" that Greece's left-wing government has said it would not cross. Their inclusion here suggested that Athens was willing to yield on those points to expedite an agreement and avert financial catastrophe.
The letter formally kicked off a process that Athens hopes will culminate in a bailout deal with its European partners by Sunday. Without at least a preliminary agreement by then, Greece's banks are expected to run out of cash as early as Monday, and the country would almost surely be on the road to crashing out of the Eurozone, the club of 19 nations that share the euro currency.
Greek officials are scrambling to put together a more thorough plan to present to the other Eurozone nations by Thursday detailing how they expect to restructure their economy, cut spending and increase tax receipts in exchange for bailout loans.
Whether such a highly technical proposal can be put forward and successfully negotiated by Sunday, before an emergency summit of all 28 European Union nations, is in some question. The deadline was imposed Tuesday by Eurozone leaders frustrated by their ongoing impasse with Athens over a funding deal after nearly six months of often acrimonious talks.
European officials warned that without credible terms on the table from Athens, they were not prepared to do any more to keep Greece from slipping into financial chaos.
The biggest pressure on Athens right now is the country's banks, which are being propped up through emergency assistance from the European Central Bank. But the central bank says that the aid can't be extended past Sunday without a clear signal that Athens and its creditors are close to an agreement.
If the lifeline is cut off, Greek banks will go under within days, if not hours, sparking financial upheaval and panic among depositors.
Greek banks have been closed since June 29 to prevent a run on cash. The closures were renewed by the government Wednesday and are to last through the weekend. Customers are restricted to about $66 a day in ATM withdrawals.
Merchants are finding it increasingly difficult to do business, with shortages reported in some shops.
"Try telling a Northern European supplier that they can't be paid because the banks are closed in Greece," said Christos Kapatos, head of research and development for HCi Viocare, a biomedical company that is trying to develop new technologies in orthotics and prosthetics. "Suppliers will not grant any credit and demand payment in cash. They don't trust anything Greek. It's absolutely crazy."
The lost revenue means that any new bailout for Athens will need to be even bigger than the one under negotiation between the Greek government and its Eurozone partners before talks broke down late last month.
Negotiations collapsed when Greek Prime Minister Alexis Tsipras abruptly called a public referendum on the bailout proposals on offer and urged Greeks to reject them as too focused on austerity. The move incensed other Eurozone leaders.
The Greek request submitted by letter Wednesday did not specify how much Athens was hoping to receive in what would be its third international bailout in five years. The first two totaled nearly $265 billion at current exchange rates; the second of them expired last week, leaving the Greek government dangerously short of funds.
A study released last week by the International Monetary Fund estimated that Athens would need at least $55 billion and major relief on its massive public-debt load to keep going over the next three years. The report was seized on by Tsipras' government. It has argued that debt relief is necessary but to little avail with other Eurozone nations, which hold a significant portion of that debt.
Wednesday's letter to the European Stability Mechanism repeated Athens' desire to discuss the possibility of action on Greece's debt, which equals 180% of the country's entire economic output. But some European officials, particularly in Germany, remain adamantly opposed, raising questions of whether a compromise can be reached by the weekend.
On Wednesday morning, Tsipras appeared before the European Parliament in Strasbourg, France, to defend his government's handling of the worst crisis to face the Eurozone and possibly the European Union.
He said the Greek economy, which has contracted by a staggering 25% since 2009, had essentially become a guinea pig for destructive austerity policies. Tsipras insisted that the crisis was not Greece's alone but one that confronted Europe as a whole.
But some Parliament members blamed him for pushing Greece to the brink of exit from the euro, known colloquially as a "Grexit," and accused him of undermining confidence in Europe.
"We are in fact sleepwalking towards a Grexit," the former Belgian Prime Minister Guy Verhofstadt, now a member of the European Parliament, thundered in an extraordinary statement. "It is not you and it is not we who shall pay the bill. It's going to be the ordinary Greek citizens who are going to pay the bill of a Grexit."
With trust between Tsipras' government and other European countries at an all-time low, Athens has few friends it can turn to as it tries to stave off financial disaster. Its biggest backer is turning out to be France, whose top officials have emphasized the importance of keeping Greece within the Eurozone for the greater sake of European unity.
"The destiny of Europe is at stake," French Prime Minister Manuel Valls said Wednesday.
In a sign of growing American unease with the possibility that Greek might collapse into chaos, leaving Europe's southeastern flank exposed, the Obama administration made one of its most forceful statements yet in the Greek debt crisis.
U.S. Treasury Secretary Jacob J. Lew said it was time for European and Greek leaders to reach a deal or face potentially devastating consequences. He noted that the two sides "were within a couple of billion dollars" of closing a deal in previous negotiations but were now risking "hundreds of billions of dollars" in economic damage through their unwillingness to yield.
"I think it's a mistake for the European economy, the global economy to take the risks that are involved with an uncontrolled crisis in Greece," Lew said during a forum at the Brookings Institution think tank in Washington. "The risk of an accident goes up dramatically when you create more of these kind of life-and-death deadlines…. Once you're measuring it in days, it's time to get the deal done."
Tsiantar is a special correspondent. Times staff writer Jim Puzzanghera in Washington contributed to this report.
Follow @HenryHChu on Twitter for news out of Europe
---
Must-read stories from the L.A. Times
Get all the day's most vital news with our Today's Headlines newsletter, sent every weekday morning.
You may occasionally receive promotional content from the Los Angeles Times.