Italy becomes the next European country to fall to a populist, anti-migrant wave, this one featuring Silvio Berlusconi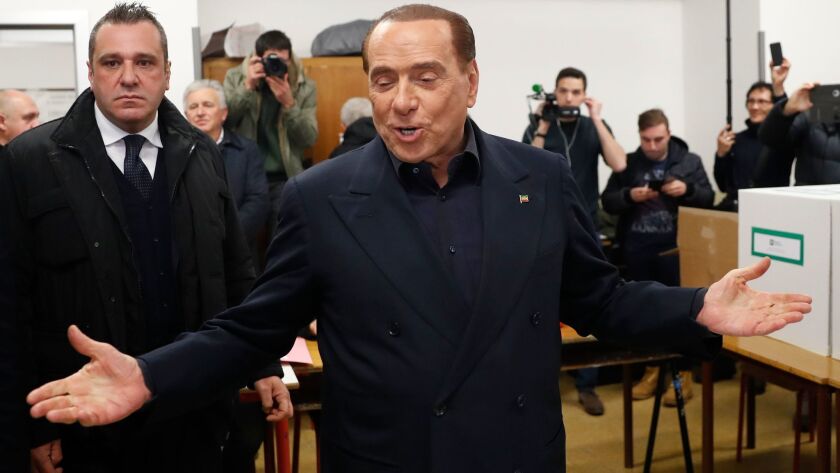 Reporting from Rome —
Former Prime Minister Silvio Berlusconi's right-wing coalition was leading the Italian election late Sunday, exit polls indicated, but appeared unlikely to reach a majority in Parliament, suggesting weeks of drawn-out negotiations to find a broader coalition amid growing populist anger over migration and the weak economy.
Surging populist parties looked set to gain over half the votes, indicating that the anti-establishment rage sweeping Europe since the U.K. "Brexit" vote has found a new home in Italy.

For the record:
7:50 p.m. March 4, 2018
An earlier version of this article incorrectly identified the deputy director of the school of government at LUISS University in Rome as Giuseppe Orsina, He is Giovanni Orsina.
Projections based on 15% of votes counted showed Berlusconi's four-party coalition taking 36.8%, shy of the 40% required for a majority in the lower house of the Italian Parliament.
The 81-year-old Berlusconi cannot reclaim his office because of a 2013 tax evasion conviction, but has cast himself as kingmaker in the coalition, which includes the virulently anti-migrant party known as the League and the hard-right Brothers of Italy party, which traces its political heritage to Italy's World War II-era fascists.
But projections showed the League taking 17.5% of votes on Sunday, comfortably outpacing Berlusconi's Forza Italia party at 14.1%, putting League leader Matteo Salvini in the driver's seat. Italy's largest party, the populist Five Star Movement, appeared set to grab just under a third of the votes, comfortably beating preelection polls. Official vote totals were expected Monday.
"Five Star will be the pillar of the next legislation — that is the result of all these years of work," said Five Star member of Parliament Alfonso Bonafede after the exit polls were published.
"This shows everyone will need to talk to us," said fellow member of Parliament Alessandro Di Battista.
The biggest loser of the night, according to the exit poll, was the governing center left Democratic Party, which was projected to take between 21% and 23% of the vote, far less than the populist coalition.
"If things stay like this, we will have the God of all hung parliaments," said Giovanni Orsina, deputy director of the school of government at LUISS University in Rome.
Berlusconi's coalition was strongly challenged in southern Italy by Five Star, which has railed against a governing class that is mistrusted by 77% of Italians. Five Star had proposed a living wage to be paid to the region's many unemployed young people.
Salvini, 44, staged 300 rallies in the course of the race and ran a successful social media campaign in which he condemned migrants who came to Italy illegally. As he surged in northern Italy, the ruling Democratic Party — widely blamed by voters for allowing more than 600,000 migrants to head for Italy over the last four years — has struggled to cling to votes in its left-wing heartlands in the central regions of the country.
Berlusconi had called for the expulsion of migrants as he tried to keep up with the anti-migrant crusade mounted by Salvini and the Brothers of Italy party.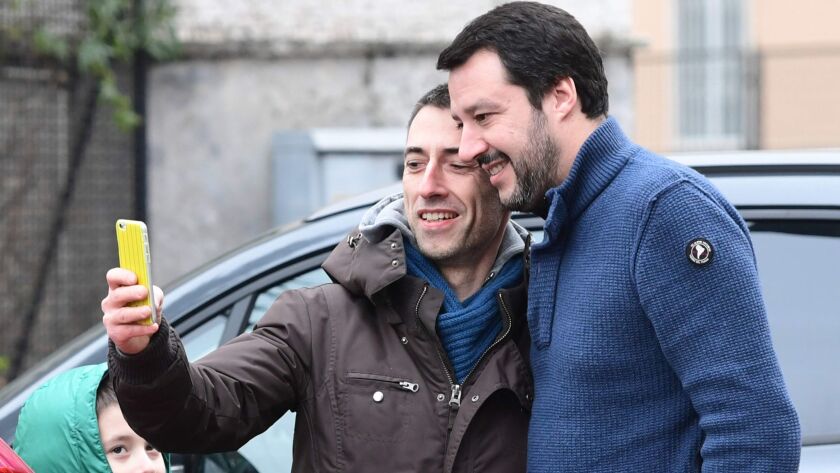 The campaign has seen rallies by far-right groups, threats to leave the European Union and promises by politicians to expel hundreds of thousands of immigrants in the country illegally after more than 600,000 sailed to Italy over the last four years.
The populist surge drew a visit to Rome by former White House strategist Stephen K. Bannon, who told Italy's Corriere della Sera newspaper that a possible alliance between the anti-migrant League party and the populist Five Star Movement was "the ultimate dream."
"The Italian people have gone farther, in a shorter period of time, than the British did for Brexit and the Americans did for Trump," said Bannon.
He said the election was "crucial for the global populism movement."
Growing intolerance of migrants in Italy has dominated the election campaign since the shooting last month in central Italy of six African migrants by a neo-Nazi who once stood as a candidate for the League.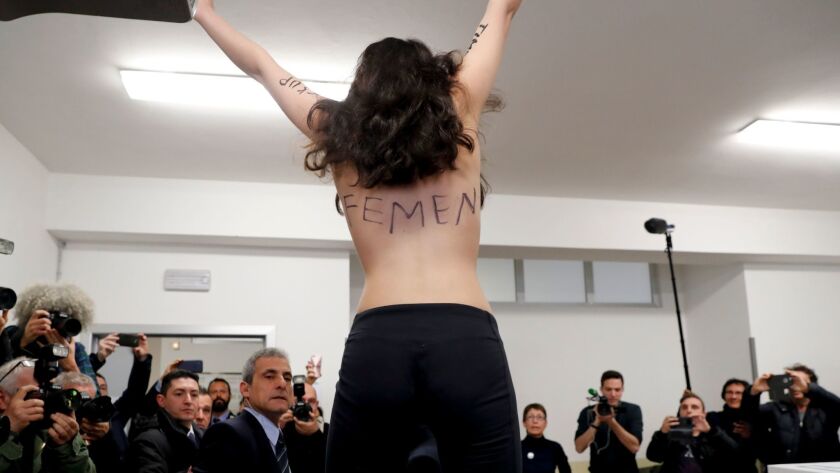 Voters stood in line for up to an hour Sunday as officials struggled with new anti-voting-fraud measures and took time to explain how to fill in voting slips, which have become more complicated since the introduction of a new voting law that combines first-past-the-post and proportional representation voting.
In Palermo, Sicily, polling stations opened late after a mistake with voting slips forced the reprinting of 200,000 slips at the last minute.
Berlusconi, who resigned in 2011 amid a series of sex scandals, was confronted as he voted in Milan by a topless protester from the group Femen who cried out, "Your time is up!" before she was led away by police.
To read this article in Spanish click here
ALSO
Germany's Merkel walks away a winner after vote that could have ended her career
Britain's Theresa May has a big 'Brexit' headache — and his name is Jeremy Corbyn
Pope Francis' sexual abuse commission, hit by resignations and criticism, gets a reboot
Kington is a special correspondent.
---
UPDATES:
6:20 p.m.: This article has been updated with the latest projections.
5:50 p.m.: This article has been updated with exit poll results.
This article was originally published at 12:20 p.m.
---
Must-read stories from the L.A. Times
Get all the day's most vital news with our Today's Headlines newsletter, sent every weekday morning.
You may occasionally receive promotional content from the Los Angeles Times.