Sweden drops some sexual-abuse cases against Julian Assange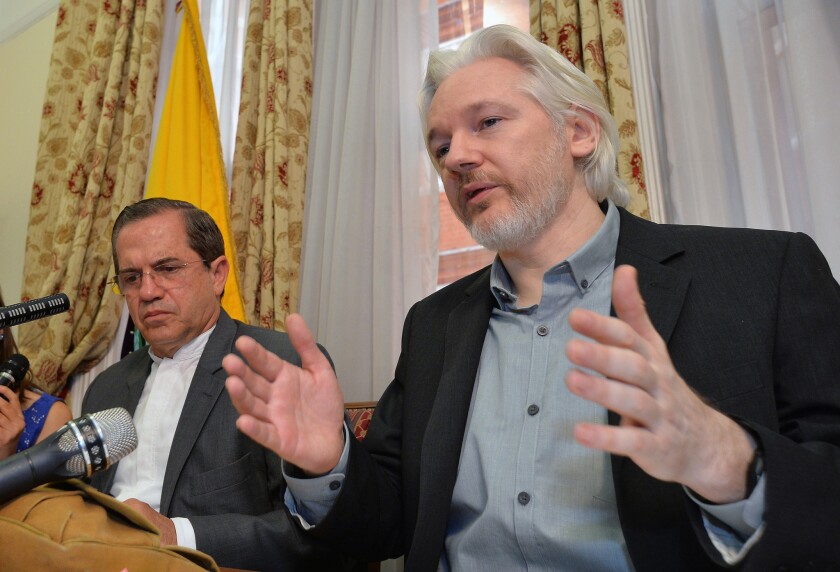 Reporting from London —
Swedish prosecutors announced Thursday that they were dropping their investigation into some of the sexual-abuse allegations against WikiLeaks founder Julian Assange, who has been holed up for three years in the Ecuadorean Embassy here in the British capital.
But a more serious accusation of rape remains lodged against Assange, meaning that the white-maned whistle-blower doesn't plan to quit the small suite of rooms in London's tony Knightsbridge neighborhood, which he hasn't left since June 2012.
His persistence in staying put, out of reach of British authorities charged with arresting and extraditing him to Sweden, has basically allowed Assange to run out the clock on allegations that he sexually abused two women in separate incidents in Stockholm five years ago this month. The investigation into allegations of molestation and unlawful coercion in one of those incidents was dropped Thursday; the allegation of molestation in the other incident will lapse next Tuesday.
"Julian Assange, on his own accord, has evaded prosecution by seeking refuge in the embassy of Ecuador," Marianne Ny, Sweden's director of public prosecution, said in a statement. "As the statute of limitation has [expired] on some of the crimes, I am compelled to discontinue the investigation."
But the deadline for the investigation into the rape allegation is not until August 2020, Ny added. Her office will continue negotiating with Ecuadorean authorities over the possibility of interviewing Assange inside the embassy in London, rather than hauling him back to Stockholm.
The Australian-born Assange denies the accusations against him and insists that he is willing to submit to questioning to clear his name. He says he was forced to seek refuge in the embassy, which counts as Ecuadorean soil, to avoid extradition for fear that Sweden would hand him over to the U.S. to be tried for WikiLeaks' publication of an enormous trove of classified American military and diplomatic files.
Since then, he has been granted political asylum by Ecuador but has no way of getting there, because British police watching out for an attempted escape have been posted outside the embassy in an around-the-clock vigil costing an estimated $19 million so far.
To his supporters, Assange remains a towering hero; to his opponents, a cowering fugitive. He has boasted of frequent visits by celebrities who take his side, including actors John Cusack and Maggie Gyllenhaal.
In his cramped quarters, which he shares with Ecuadorean diplomatic staff, Assange has use of a phone, the Internet, a shower, a treadmill, a kitchenette and a sun lamp to help compensate for his inability to step outside to soak up natural sunlight.
He acknowledges having had sex with the two women at the center of the allegations but says it was consensual.
Claes Borgstrom, the lawyer for one of the women, said his client wanted to put the matter behind her.
"She had wanted him to stand before the court and answer the accusations, but it's five years ago and she's not interested in going to court now," Borgstrom told the BBC. "It's been a difficult time for her, and she's now trying to forget about it and move on with her life."
Assange was first arrested by British police in December 2010 and remained under a form of house arrest at a friend's country estate in eastern England while various British courts heard his appeals against extradition. At the end of May 2012, his final appeal to Britain's Supreme Court was denied.
Three weeks later, he fled to the Ecuadorean Embassy, just a few days before he was to be handed over to Swedish authorities.
MORE ON WIKILEAKS' JULIAN ASSANGE:
WikiLeaks' Julian Assange leads hidden, busy life in Ecuador's embassy
Sweden bends in Julian Assange case, asks for interview in London
New moves to resolve Swedish standoff with WikiLeaks founder Assange
---
Must-read stories from the L.A. Times
Get all the day's most vital news with our Today's Headlines newsletter, sent every weekday morning.
You may occasionally receive promotional content from the Los Angeles Times.