A look at the K-1 visa that gave San Bernardino shooter entry into U.S.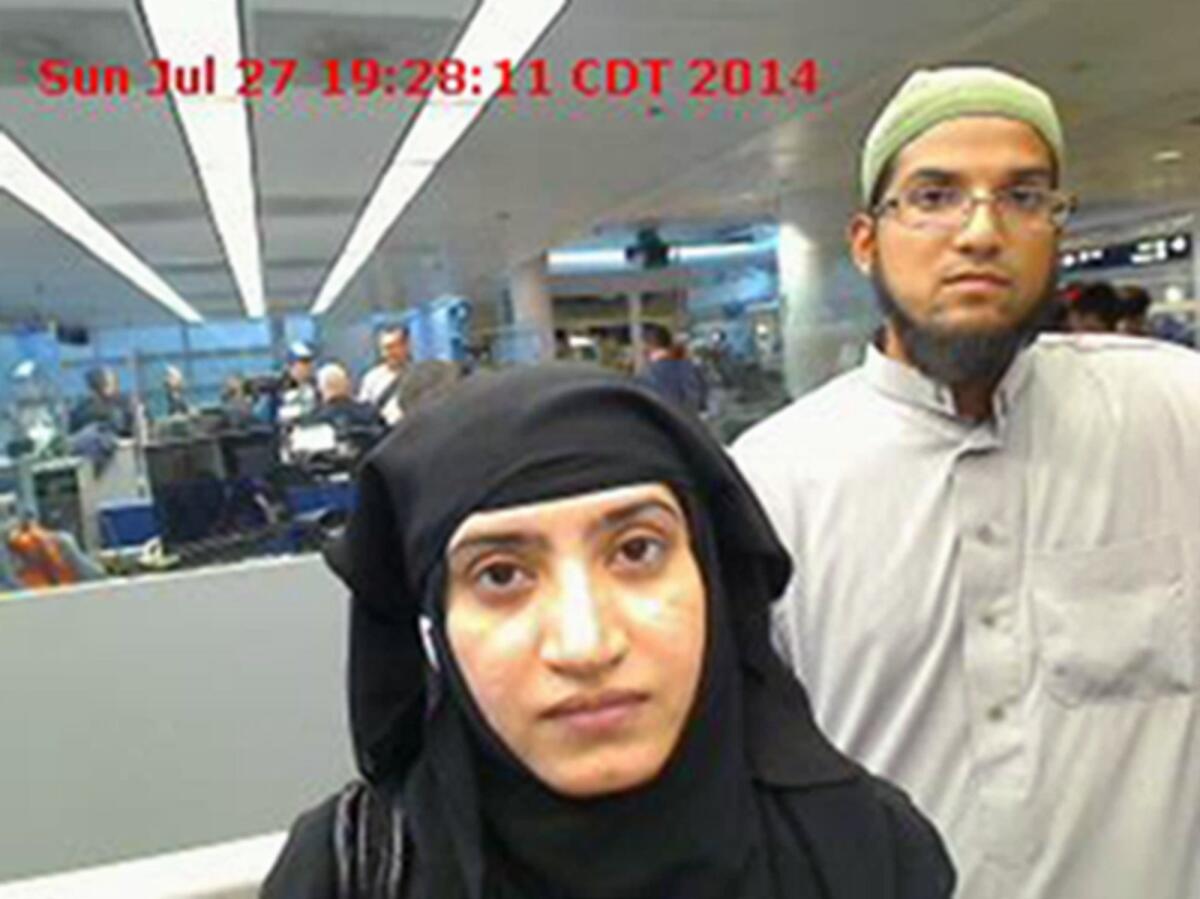 The K-1 immigration visa, issued to men or women seeking to enter the U.S. to marry a citizen, is receiving a lot of scrutiny this week.
That's because Tashfeen Malik, the woman who would later join her husband in slaughtering 14 people in San Bernardino, is a Pakistani national who entered the United States on a K-1 visa, which is also known as the "fiance" or "fiancee" visa.
To get a K-1 visa, a U.S. citizen seeking to marry a foreign national has to file a petition with U.S. immigration officials and prove that the relationship is real and that the couple have physically met.
The petitioner also has to provide evidence of the relationship, which could include travel, phone and hotel records, according to Los Angeles immigration attorney Paul Herzog.
It takes three to five months for United States Citizenship and Immigration Services to review and approve a petition, at which point the petition goes to the State Department. A U.S. Embassy or consulate conducts a medical exam, checks police records and interviews the foreign applicant, Herzog said.
"It's a very detailed petition," said Los Angeles immigration attorney Roman P. Mosqueda. "If you're getting married in a church, you have to show proof of getting a church date for the wedding, a date for the restaurant for the reception.... It's very strict."
If the application is approved, the visa bearer has 90 days after entering the U.S. to marry his or her partner. After the marriage, the bearer can apply for a green card.
Authorities, who are investigating Wednesday's massacre as a terrorist attack, have said K-1 applicants, like other visa applicants, undergo extensive counter-terrorism screening that includes checks based on fingerprints and facial recognition software.
"It's not an easy procedure," Herzog said. "Beginning to end, you're looking at at least six to nine months" from the date of application to the date of receiving a visa.
Questions for the partner seeking to come to the U.S. include: "Do you seek to engage in terrorist activities while in the United States or have you ever engaged in terrorist activities?" and "Have you ever or do you intend to provide financial assistance or other support to terrorists or terrorist organizations?"
Malik was born in Pakistan and moved with her family to Saudi Arabia when she was a child. State Department officials would have asked how Malik and Syed Rizwan Farook met; how they decided to marry; and some details about Farook, as the U.S. citizen.
Malik would have needed to detail for immigration and State Department officials every country to which she had traveled over the last five years and any family members she had in the United States.
"Since 9/11, [any visa application will] involve multiple layers of vetting, with multiple agencies putting folks through various systems, where we watch individuals, what their affiliations are, whether they're on any kind of watch lists," State Department spokesman Mark Toner said in a news briefing Thursday.
U.S. immigration data from 2013 showed that 26,046 people entered the U.S. on K-1 visas. By far the largest number were from the Philippines, with 5,131 Filipinos entering.
China (1,397) and Mexico (1,268) were next. Pakistan accounted for 272 K-1 visa bearers in 2013, the year before Malik arrived in the United States.
"The Philippines is one of the most difficult countries" from which to get a U.S. visa, said J Craig Fong, an immigration attorney with offices in Pasadena and Palm Springs. "There are people in the Philippines with money, but the U.S. is wary that they'll come over and jump off the boat and disappear and go work in a restaurant. We won't give them a visa because we don't trust them."
So when Filipino Americans want to marry someone from the Philippines, dating and getting married are much more difficult logistically than if someone's partner were living in, say, France, Fong said.
"You have to go [to the Philippines] because she can't come here," Fong said. "How does she get here to marry you? She comes on the fiancee visa."
Mosqueda, who is Filipino and Chinese American, said that cultural stereotypes also come into play for American men seeking wives from abroad.
"A lot of American white Caucasians would like to get Filipina wives because they are very caring," Mosqueda said.
China would be the No. 2 country for K-1 visas for "similar reasons," Mosqueda said, also citing "cultural affinity."
"Asians would usually like to go for Asian wives, and [many] Asians here would like to get a wife from their home country," Mosqueda said.
Times staff writer Christina Bellantoni contributed to this report.
Twitter: @MattDPearce
MORE ON SAN BERNARDINO
San Bernardino shooting happened in same room as earlier 'active-shooter training'
Trump's call to ban Muslims pushes the political debate far beyond usual bounds of discourse
San Bernardino attacker was 'normal guy' while practicing at shooting range
Sign up for Essential California for the L.A. Times biggest news, features and recommendations in your inbox six days a week.
You may occasionally receive promotional content from the Los Angeles Times.