Islamic State claims responsibility for London subway attack that injured 29; terror threat 'critical'
Reporting from London —
An Islamic State group claimed responsibility for the latest attack to rock Britain — the fifth this year — after a homemade bomb exploded in a packed London subway car Friday, sending panicked passengers fleeing for cover during the morning rush hour.
In response to the attack, which left dozens of passengers injured, British officials raised the terrorism threat to "critical," meaning another attack was deemed to be imminent.
Authorities said the incident was caused by an improvised explosive device that had been left inside a bucket in a supermarket cooler bag on a busy subway car.
Photos on social media showed a white bucket on fire inside the train.
Twenty-nine people were injured, most suffering flash burns, but no one was killed — unlike the other terrorist attacks this year in which dozens were killed and scores hurt.
The London Ambulance Service said 19 patients were treated for mostly minor injuries at three hospitals in London.
"We arrived on scene in five minutes of the first 999 call … making sure patients received the medical help they needed as quickly as possible," Natasha Wills, assistant director of operations, said in a statement.
Police immediately launched a manhunt. By late Friday evening, no arrests had been made.
The train was entering Parsons Green station in leafy southwest London, heading toward central London, when the bomb burst into flames around 8:20 a.m. It reportedly had a timer attached, but it was not immediately clear whether it detonated as planned or earlier than intended.
Prime Minister Theresa May summoned a meeting of her government's emergency COBRA committee and described the attack as "cowardly."
At first, she said the nationwide terrorism threat level would remain at "severe," and that it was under review. Later, May announced that the level would be raised to "critical" and that "a further attack may be imminent."
"The joint terrorism and analysis center, the independent organization responsible for setting the threat level on the basis of available intelligence, has now decided to raise it from severe to critical," May announced.
May last raised the threat level to "critical" in the wake of the Manchester Arena blast in May at the conclusion of an Ariana Grande pop concert.
President Trump went on Twitter a few hours after the incident to condemn the attack, in tweets that also appeared to suggest that British law enforcement officials were aware of who was behind the blast.
"Another attack in London by a loser terrorist. These are sick and demented people who were in the sights of Scotland Yard. Must be proactive!" he said in his first tweet.
He also renewed his call for a tougher travel ban in the United States.
"The travel ban into the United States should be far larger, tougher and more specific--but stupidly, that would not be politically correct!"
When questioned about those comments, May responded: "I never think it's helpful for anybody to speculate on what is an ongoing investigation."
Mark Rowley, assistant police commissioner for London's Metropolitan Police, commonly referred to as Scotland Yard, said the public would see a heightened police presence at transport hubs and urged anyone with images of the incident, or knowledge of the attack, to contact authorities.
He said the public should remain alert but should not be alarmed.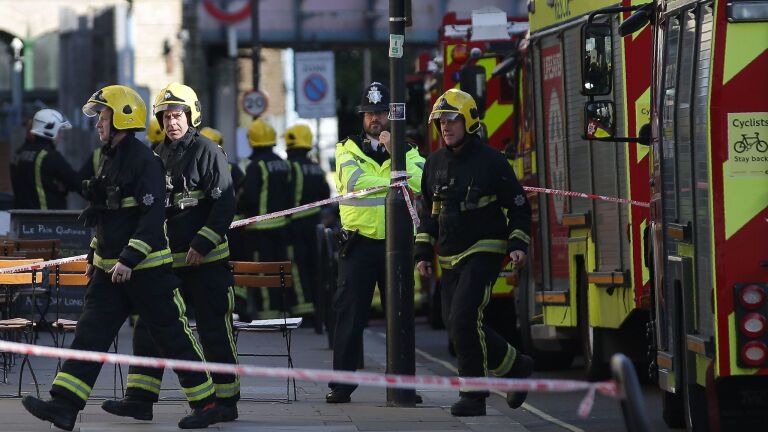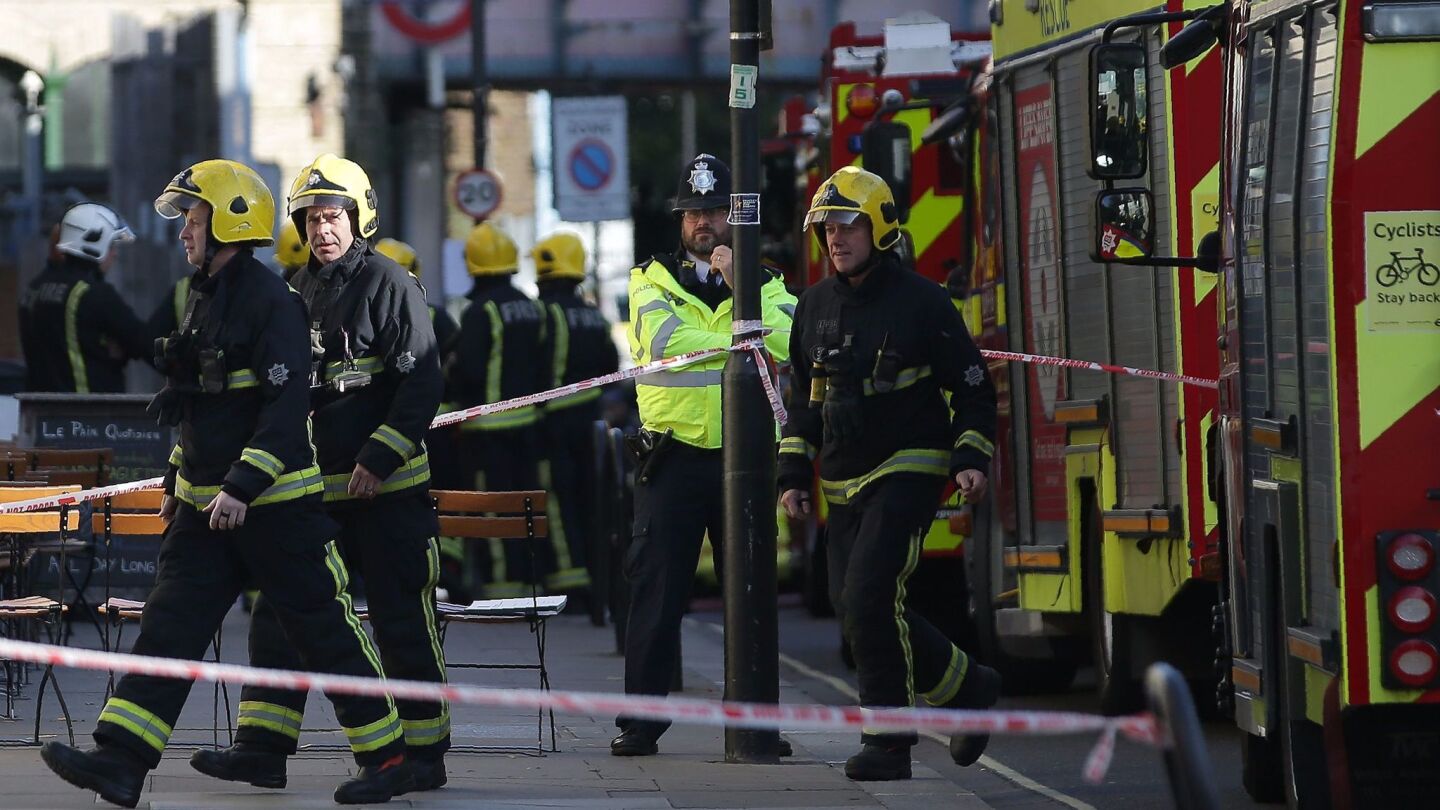 Emergency responders work outside Parsons Green Underground station in London after Friday's explosion.
(Daniel Leal-Olivas / AFP/Getty Images)
Forensics officers in protective gear were at the scene of Friday's terrorist attack at Parsons Green subway station in London.
(Kirsty Wigglesworth / Associated Press)
In a photo provided by police, flames rise from an improvised device left in a shopping bag on a London train before it exploded Friday, injuring 22 people.
(AFP/Getty Images)
A woman is escorted away from Parsons Green Underground station in London.
(Will Oliver / EPA-EFE/REX/Shutterstock)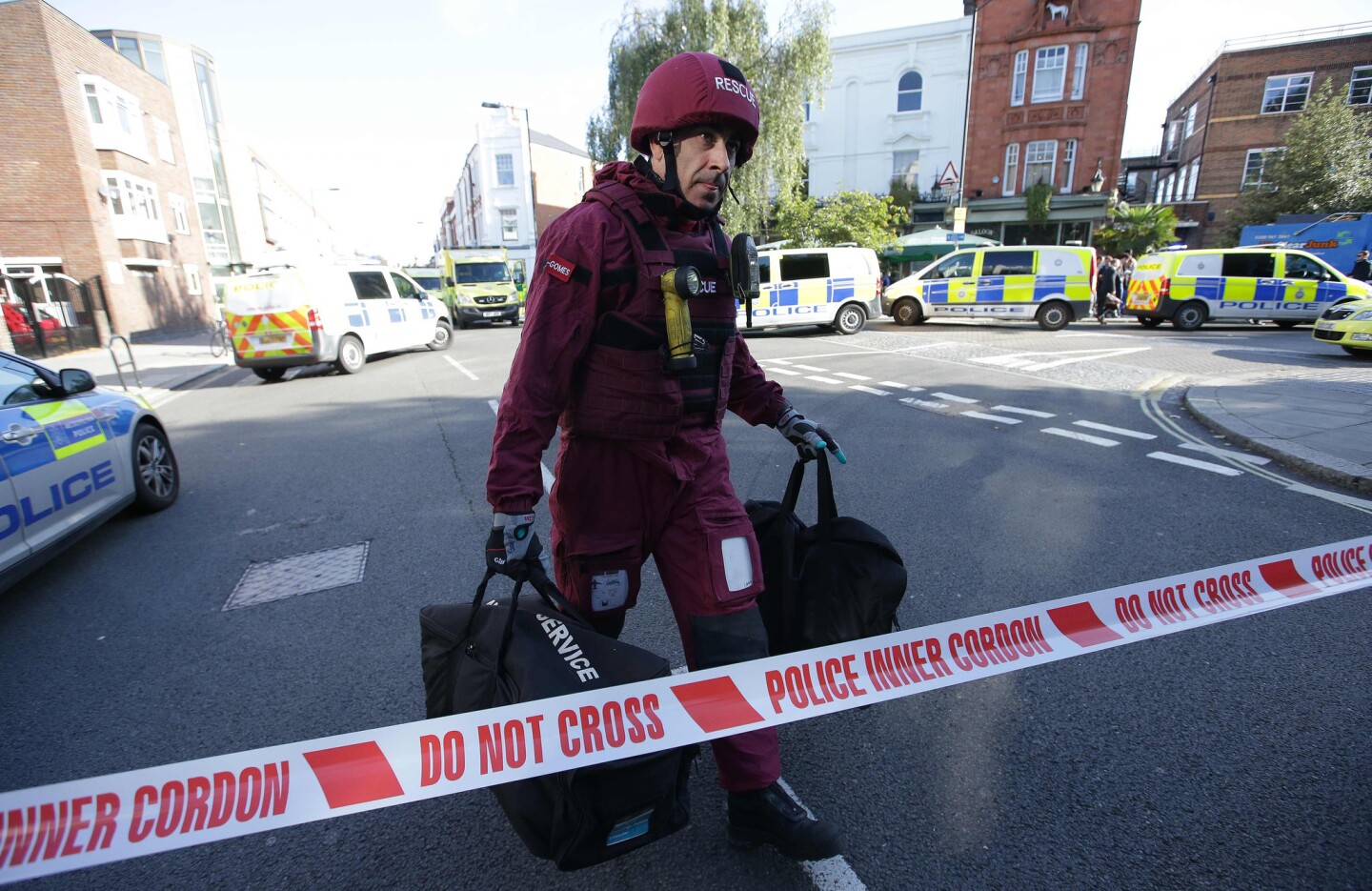 A rescue worker carries equipment toward the Parsons Green subway station after the explosion.
(Daniel Leal-Olivas / AFP/Getty Images)
Friday's attack targeted Parsons Green station in west London.
(Daniel Leal-Olivas / AFP/Getty Images)
A woman reacts as she talks on a phone near Parsons Green tube station in west London.
(Daniel Leal-Olivas / AFP/Getty Images)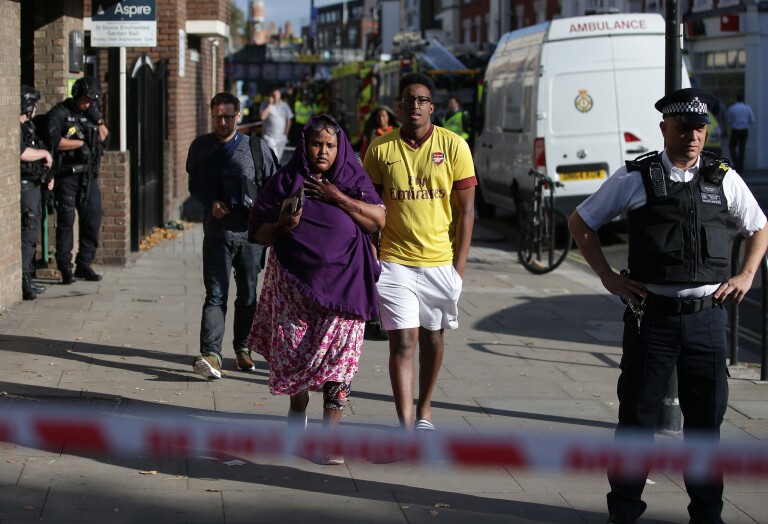 Police escort people to safety as they work near Parsons Green station in west London.
(Daniel Leal-Olivas / AFP/Getty Images)
The mayor of London, Sadiq Khan, said the attack was an attempt by "evil and cowardly" individuals to disrupt the city's way of life, adding that the capital would never be defeated by terrorism.
He also called for more police resources in London, saying he was unapologetic for using this incident to again spotlight the issue of budget cuts.
"Since 2010, we've lost hundreds of millions of pounds from the police budget. We've had to reduce police staff. We've had to sell off police stations," he told Sky News.
"It's simply not possible for a global city like London to carry on keeping our citizens, visitors and businesses safe if the government carries on making the cuts they've been making."
Britain has frequently been the target of terrorist attacks in recent years, including a coordinated assault on London't transit system. In 2005, suicide bombers attacked three Underground subway trains and a double-decker bus, killing 52 people and injuring more than 700.
But experts said this year has been particularly violent, with terrorists using easy-to-access items, such as vehicles or knives to carry out attacks.
In early June, six people were killed when a van rammed into pedestrians on London Bridge and assailants fled on foot, stabbing people. Later that month, a vehicle plowed into a group of Muslim worshipers in Finsbury Park, killing one person and injuring others.
In May, 22 people were killed at the Manchester concert when a suicide bomber detonated a device as fans were leaving the event. And several weeks before that, in March, six people died when a terrorist drove his car into a group on Westminster Bridge, near the Houses of Parliament.
While authorities continue to search for the perpetrators in Friday's blast, Amaq, an agency affiliated with Islamic State, quoted a source saying that a "security squad" had conducted the attack.
Islamic State has repeatedly called on its followers to carry out attacks on trains. Last month, an Islamic State activist offered bomb-making tips on a pro-Islamic State telegram channel, according to the nonprofit Middle East Media Research Institute.
Experts said Friday's attack suggests it took considerable planning.
"This was an attack on London's transportation infrastructure, and it doesn't seem to be an opportunity attack — someone had the time to gather resources and build the device," said Erroll Southers, director of USC's Homegrown Violent Extremism Studies program.
"Trains are open and a vulnerable system. It is a soft target. It is likely to encourage more copycat attacks, and it's also going to require an extraordinary level of security to deter these things from happening."
Outside a Paris subway station in France on Friday, a man wielding a knife attacked a French soldier. The attacker was arrested and did not cause any injuries to the soldier. French counter-terrorism officials are investigating the incident.
Boyle, a Times special correspondent, reported from London. Times staff writer Etehad reported from Los Angeles.
ALSO
The enemies are fake, but Russia's war games are real. So is the alarm.
Hundreds of thousands march in Barcelona for Catalonia independence
France's Macron faces stiff political headwinds as he flies to the storm-tossed Caribbean
---
UPDATES:
2:40 p.m.: This article was updated with comments from British Prime Minister Theresa May about her decision to change the terror threat level.
12:55 p.m.: This article was updated with claims by Islamic State that it carried out the attack and U.K. officials raising the terror threat to critical, meaning another attack is expected.
11:15 a.m.: This article was updated throughout with Times staff reporting.
8 a.m.: This article was updated with failure of the device to fully explode and the U.K. threat level remaining at "severe."
6:05 a.m.: This article was updated with 22 injured.
3:45 a.m.: This article was updated with 18 injured.
2:45 a.m.: This article was updated with details on the explosive device.
2:35 a.m.: This article was updated with police declaring the incident a terrorist act.
1:50 a.m.: This article was updated with a commuter stampede.
This article was originally published at 1:34 a.m.
---
Must-read stories from the L.A. Times
Get the day's top news with our Today's Headlines newsletter, sent every weekday morning.
You may occasionally receive promotional content from the Los Angeles Times.