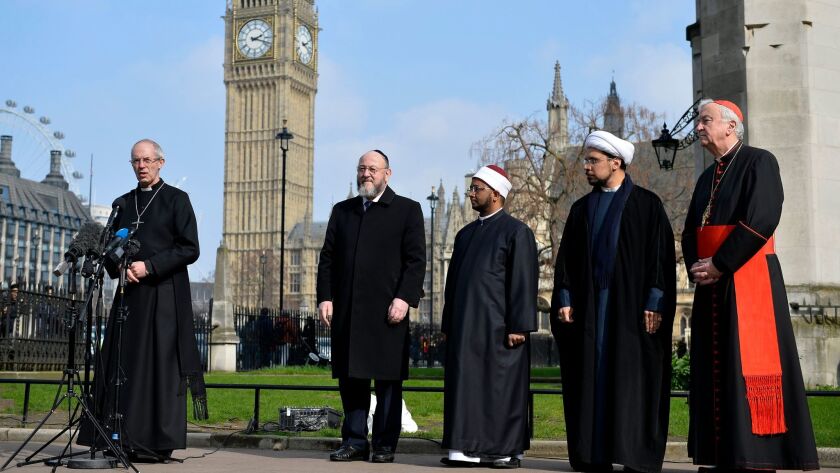 Reporting from LONDON —
The British-born man who plowed his vehicle into dozens of pedestrians on a London bridge outside the Houses of Parliament then stabbed a police officer to death, spent the previous night in a hotel "laughing and joking," showing no signs of his intent to cause harm and mayhem, according to newly emerged accounts.
Assistant Deputy Police Commissioner Mark Rowley said the attacker, Khalid Masood, went by several aliases but was born Adrian Russell Ajao. He grew up in Kent, in southeast England, and converted to Islam as an adult, according to reports. Police say Masood was known to them and had a string of previous criminal convictions, including for assault, inflicting grievous bodily harm and weapon possession. He moved around frequently during his 52 years and had recently been living in the West Midlands, in central England.
Neighbors told the British press he was a keen gardener who lived with his wife and young child until December 2016, when the family suddenly moved out. Exactly what motivated Masood to drive his vehicle through a crowd of people on Westminster Bridge and then attack the police officer with a knife is still unclear, but he was once investigated over concerns about violent extremism, British Prime Minister Theresa May said.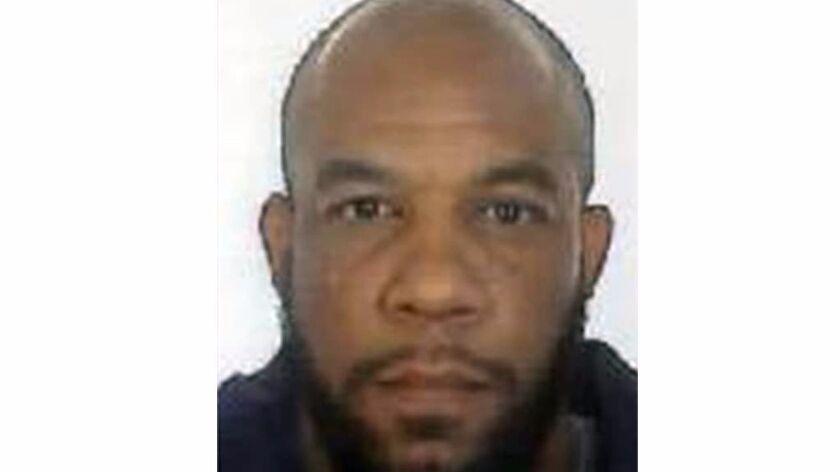 He had never been convicted of a terrorism offense and he was not part of any current intelligence investigations.
Masood spent the night before the attack in a hotel in Brighton, on the south coast, where the hotel manager said he was "friendly, laughing and joking," according to an interview on Sky News.
"We never thought anything of him," he said. "We talked about where he was from, talked about his family. He said his dad is ill and his mom is upset because his dad is ill. He talked about his wife and said he had some wonderful children. He was a normal and in fact friendly guy."
Police have scoured the hotel room where he stayed for evidence.
There was no prior intelligence of Masood's intent to kill and police believe he acted alone, but was inspired by Islamist-related international terrorism.
Authorities said two more "significant arrests" had been made overnight, bringing the total number in custody to nine.
We remain keen to hear from anyone who knew Khalid Masood well.
Assistant Deputy Police Commissioner Mark Rowley
"Nine people remain in our custody and one woman has been released on bail," Rowley said. "We have searches at five addresses ongoing — 16 searches have concluded. So far we have seized 2,700 items from our searches, including massive of amounts of computer data."
in a news conference Friday morning outside New Scotland Yard, Rowley also appealed to anyone who knew Maood to come forward with information as investigators try to piece together his life.
"We remain keen to hear from anyone who knew Khalid Masood well, understands who his associates were and can provide with information about places he has recently visited," Rowley said. "There might well be people out there who did have concerns about Masood but weren't sure or didn't feel comfortable for whatever reason in passing information to us."
At least 50 people from at least dozen were injured in Tuesday's attack, with 31 needing hospital treatment, police said.
Five people lost their lives, including Masood, and two remain in a critical condition with one considered to have life-threatening injuries. Leslie Rhodes, 75, of London was named as the latest fatality on Thursday night.
He was a retired window cleaner who is believed to have been visiting a nearby hospital before he was struck by Masood's car while crossing Westminster Bridge.
A teacher from Spain, Aysha Frade, and Utah tourist Kurt Cochran, who was in London with his wife celebrating their 25th wedding anniversary, also died after being hit on the bridge.
Police Officer Keith Palmer, who was unarmed, was fatally stabbed after Masood exited his vehicle at the base of the bridge wielding a knife and ran into a restricted area outside the Houses of Parliament.
Masood was then shot by armed officers.
A JustGiving fundraising page for the slain officer's family has already received more than $600,000 in pledges and another donation page set up by Muslims United for London to support the attack victims has amassed more than $27,400.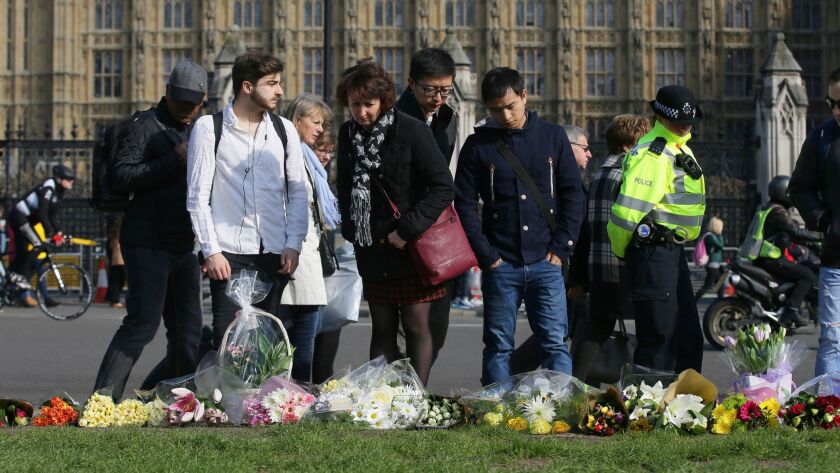 Christina Boyle is a special correspondent
ALSO
Here's what we know about the Russian billionaire at the center of a U.S. political scandal
Another Mexican journalist has been killed — the third one this month
A brazen political killing shakes Myanmar, already teetering on the path to democracy
---