Here's what we know about the Russian billionaire at the center of a U.S. political scandal
He is an aluminum tycoon, one of Russia's wealthiest businessmen, and is tight with Russian President Vladimir Putin. Now Russian billionaire Oleg Deripaska finds himself at the center of a heated American political scandal.
Earlier this week, the Associated Press reported that Paul Manafort, President Trump's former campaign manager, had "secretly worked" for Deripaska a decade ago to advance Putin's interests.
Manafort has denied that any business he did with Deripaska was related to helping the Russian government. And a representative for Deripaska told Russia's Kommersant newspaper that while Manafort did provide consultancy services on investments, that work "was part of contracts that only involved Oleg Deripaska's business interests." And those contracts are currently "a subject of litigation," the representative said.
But just who is Oleg Deripaska?
His rise came with the fall of the Soviet Union
Deripaska was born on Jan. 2, 1968, in the city of Dzerzhinsk, about 250 miles east of Moscow.
According to Reuters, he graduated from the School of Physics at Moscow State University in 1993 and three years later graduated from Moscow's School of Economics at Plekhanov Academy of Economics. After graduating he founded a small metals trading operation and established a foothold within the domestic metals industry, the news agency said.
The Financial Times reported that by the mid-1990s, following the collapse of the Soviet Union, Deripaska had acquired a stake in a smelting factory and by the end of that decade he had managed to secure a strong foothold in the Russian aluminum industry.
The making of a billionaire
In 2008, Forbes magazine listed Deripaska as the ninth-richest man in the world, worth about $28 billion. He almost went bankrupt during the global financial crisis, but managed to bounce back due to shrewd restructuring of his debts, and according to some reports, a helping hand from Kremlin.
He reputedly had ties to organized criminal groups — a charge Deripaska has denied — and to Boris Berezovsky, a Russian tycoon who is widely believed to have been instrumental in installing Vladimir Putin as prime minister and later president, according to Russian media reports.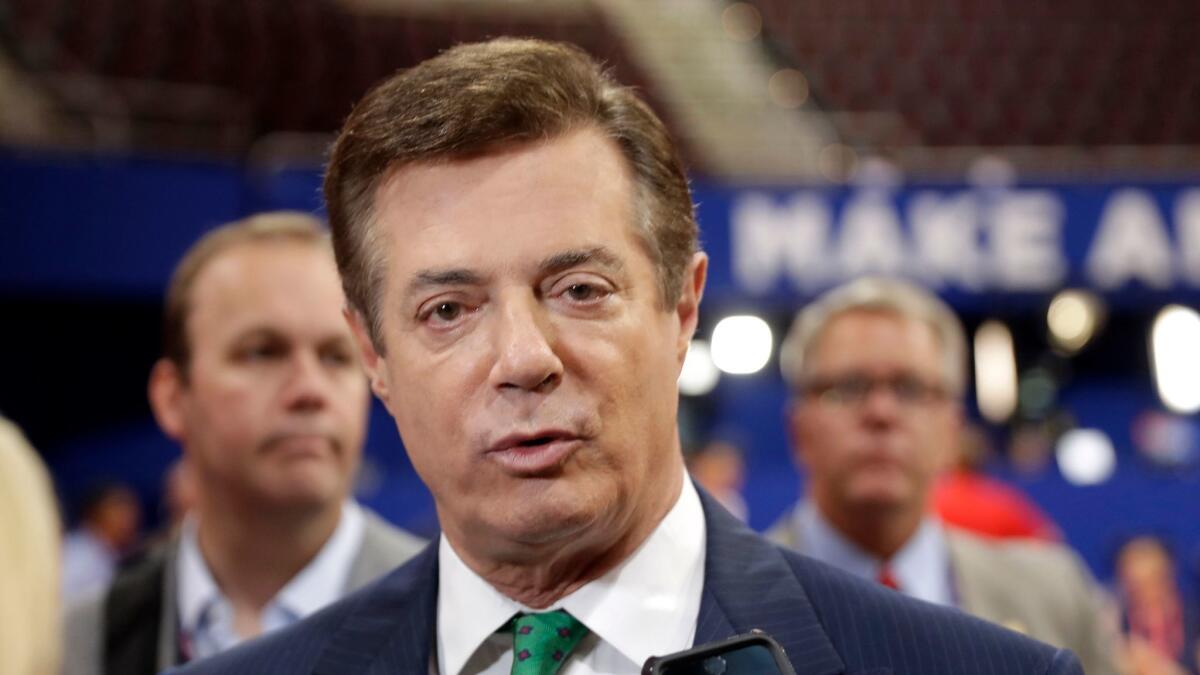 In 2016, Forbes ranked Deripaska as Russia's 41st wealthiest man. He owns Basic Element, Russia's most diversified industrial group, and today his net worth is $5.1 billion, according to financial magazine.
Deripaska "owns stakes in UC Rusal, a leading aluminum producer; EuroSibEnergo, one of the largest hydroelectric power producers in the world; GAZ Group, a leading automotive company; Ingosstrakh, an insurance company, and AgroHolding Kuban, [a] large agricultural company in Russia," Forbes reported. In addition, he "has an investment in the joint venture that operates airports in the South of Russia, including Sochi Airport," the magazine said.
He moves in powerful circles
The 49-year-old Deripaska, a father of two children, is described as being tall and well-built with closely cropped brown hair. He is married to the daughter of an advisor to former Russian President Boris Yeltsin.
As a result, he became part of the "Family," an informal group of tycoons and government officials with links to the now-deceased president, whose administration that stretched from 1991 to 1999 was marred by widespread corruption.
The "Family" lost power after Putin became president in 2000, and Deripaska had to fall in line with the Kremlin's new master.
Ties to Putin
During the late 2000s when the global financial crisis almost made Deripaska bankrupt, "Kremlin friends" helped bail him out, according to a 2011 profile of the magnate in Canada's Globe and Mail.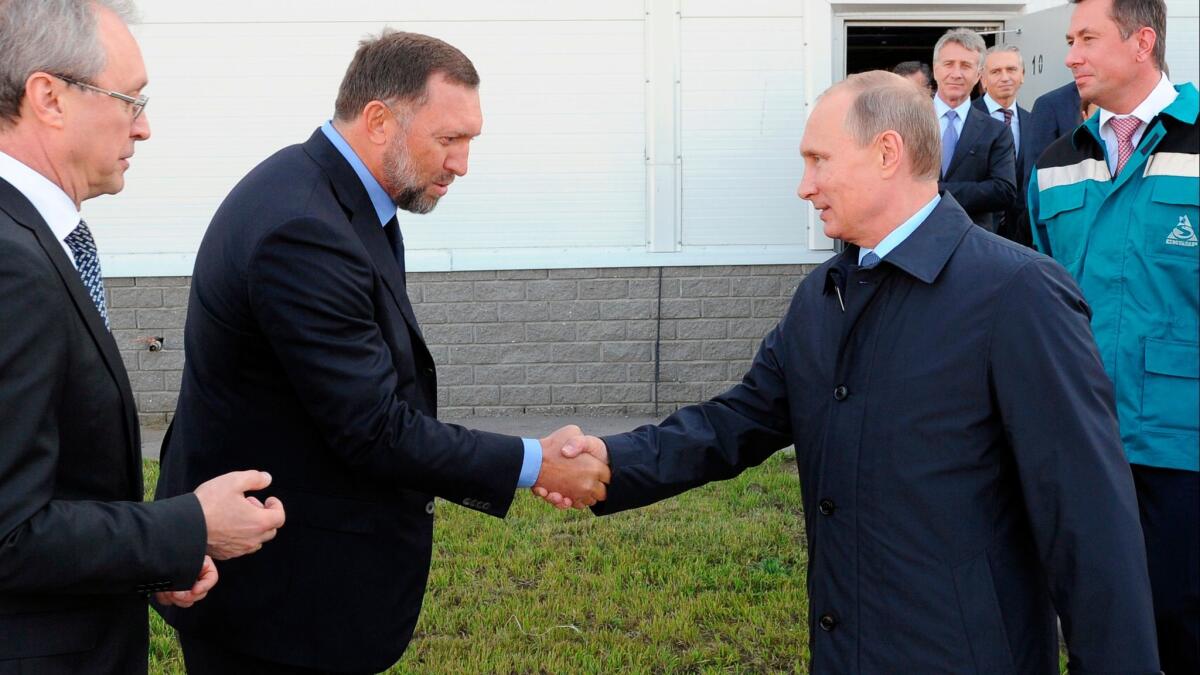 The newspaper reported that in 2009, Putin compared oligarchs such as Deripaska to cockroaches and "forced Mr. Deripaska to sign a document safeguarding the future of a local factory." The two men appeared to fall out, but the tension between them has since eased, according to several media reports.
The Associated Press report said U.S. diplomatic cables from 2006 described Deripaska as "among the two to three oligarchs Putin turns to on a regular basis" and "a more-or-less permanent fixture on Putin's trips abroad."
In the late 1990s, the U.S. State Department refused to allow Deripaska to visit the United States, because of his alleged ties to organized crime, according to several U.S. media reports. Deripaska's ties to Putin were so close that Russia's foreign minister asked U.S. secretaries of state for more than a decade, including as recently as last year, to help Deripaska secure a visa to enter the United States, the Washington Post reported.
The Manafort connection
According to the AP report, Manafort "proposed in a confidential strategy plan as early as June 2005 that he would influence politics, business dealings and news coverage inside the United States, Europe and the former Soviet republics to benefit the Putin government."
Manafort pitched the plans to Deripaska and eventually signed a $10-million annual contract beginning in 2006, the news agency reported.
According to CNN, Manafort acknowledged working for Deripaska but dismissed claims that his work involved "representing Russian political interests."
The Trump administration has denied knowing about Manafort's work for Deripaska. And in recent days, officials appeared to distance themselves from Manafort, with White House press secretary Sean Spicer downplaying the former advisor's influence in Trump's presidential campaign.
A philanthropist who supports education
The 2011 Globe and Mail profile described Deripaski as a shy and not "conspicuously flashy" man who considered himself a patriot. At the time, he owned a chalet outside Moscow, with its own small ski hill, a 239-foot, six-deck yacht, called the Queen K, and properties in Tokyo, London, Montenegro, among other cities, according to the newspaper's report at that time.
The newspaper reported that Deripaska was not even eager to publicize his numerous charities, which over the decade of 2000-09 contributed some $250 million "largely to education projects."
Deripaska's website says he has donated the equivalent of about $185 million to charity and social projects.
"Motivated and active people change the world, create something to be proud of for generations and are changing our world and our lives for the better," Deripaska writes on his website. "How do we achieve these goals? To my mind, primarily through the support of educational and research projects, the development of culture, preservation of traditions and the improvement of the social environment in the regions."
Special correspondent Mansur Mirovalev in Moscow contributed to this report.
For more on global development news, see our Global Development Watch page, and follow me @AMSimmons1 on Twitter
ALSO
Russia, the Supreme Court and the travel ban: Notable storylines from Trump's week
Claims of inadvertent U.S. surveillance on Trump transition team raise questions
Ukraine president suggests a Kremlin-orchestrated attack after former Russian lawmaker is shot dead in Kiev
Sign up for Essential California for news, features and recommendations from the L.A. Times and beyond in your inbox six days a week.
You may occasionally receive promotional content from the Los Angeles Times.