'We are stronger than they are': First Paris cafe reopens after terrorist attack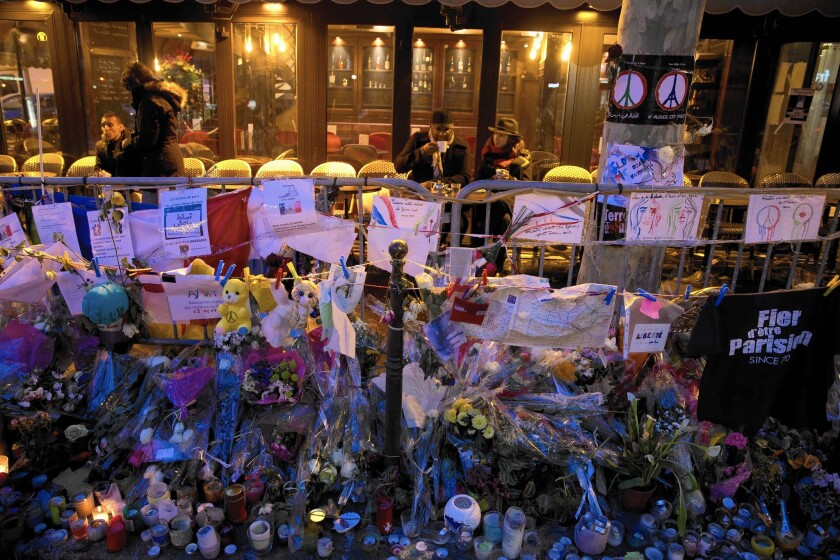 reporting from PARIS —
They came to be with friends, to share their grief and move on, raising a glass to life, on a terrace where five people died in a hail of gunfire.
Just three weeks after Islamic State militants killed 130 people in Paris, A la Bonne Biere became the first of six cafes, bars and restaurants attacked during the bloodbath to reopen its doors. Neighborhood residents and shopkeepers quickly filled its small round tables on a cobblestone street lined with Turkish and Vietnamese restaurants, theaters and other popular nightspots.
More of the establishments are expected to follow in the coming weeks. City cleaning crews have already cleared piles of wilted roses and candle stubs from the pavement outside the nearby Carillon bar and Petit Cambodge restaurant, where 15 people lost their lives.
For some in the neighborhood in the 10th arrondissement, one of the city's hippest and most diverse, it was too soon.
"It makes me a little sad to see the flowers disappear, the candles disappear," said Melanie Sapci, 22, a recent university graduate who brought a visiting aunt to pay their respects at the shuttered sites Sunday. "But at the same time, I want them to reopen. We need to move past this."
Remi Feraud, mayor of the 10th arrondissement, said he had received numerous appeals to remove the mounds of flowers, notes and candles that had filled neighborhood streets in the days after the attack, so residents and their children wouldn't have to feel like they were living in a memorial. But he said space had been set aside in front of the stricken eateries to leave tributes to those who died.
NEWSLETTER: Get the day's top headlines from Times Editor Davan Maharaj >>
"We reached a good compromise that doesn't erase what happened, that allows people to come and gather, but also the neighborhood to find the beginning of a normal life," Feraud told French television last week.
Every day, visitors from near and far continue to make a pilgrimage to the attack sites, taking a moment to reflect on the many notes and photographs, and to leave fresh flowers for those who died.
Some residents want to string garlands across the streets, decked with drawings and poems. A memorial plaque is also envisaged.
Two of the owners of the historic Bataclan concert hall, where 90 people were massacred a short walk away, say they want to reopen by the end of next year.
A la Bonne Biere threw open its doors on a bright and sunny morning Friday. The bullet-shattered windows had been replaced. The smell of fresh paint lingered in the air. Above the entrance, a white banner was emblazoned with the hashtag slogan that has become a cry of defiance for many Parisians: "Je suis en terrace" — "I'm out on a terrace."
One of the managers, Audrey Bily, addressed a throng of reporters.
"We want to show them that we are stronger than they are, so we want to start again," she said, standing near the spot where two gunmen dressed in black had opened fire on the outdoor tables. "We want to make this neighborhood live again."
By nightfall, the place was buzzing. Customers crowded the bar and spilled onto the terrace outside, where television cameras circled.
"We need to move on," said a harried waiter as he lighted candles and filled glasses of water for the tables. "When we work, we don't think."
Catherine Pommier found a spot inside to sip a cup of coffee after work, a daily ritual before Nov. 13.
"I live 200 yards away. I heard the gunfire. I saw the people running," said Pommier, 53, a computer technician. "I hesitated a lot before coming tonight.... But I thought we have to keep living. It's important that the restaurants in the neighborhood don't close, and that the people who did this don't win."
Sylvain Perriot stops to take a picture of the flag at half mast above the Presidential Palace in Paris. France's Sate of Emergency will continue, with flags at half mast.
(Carolyn Cole / Los Angeles Times)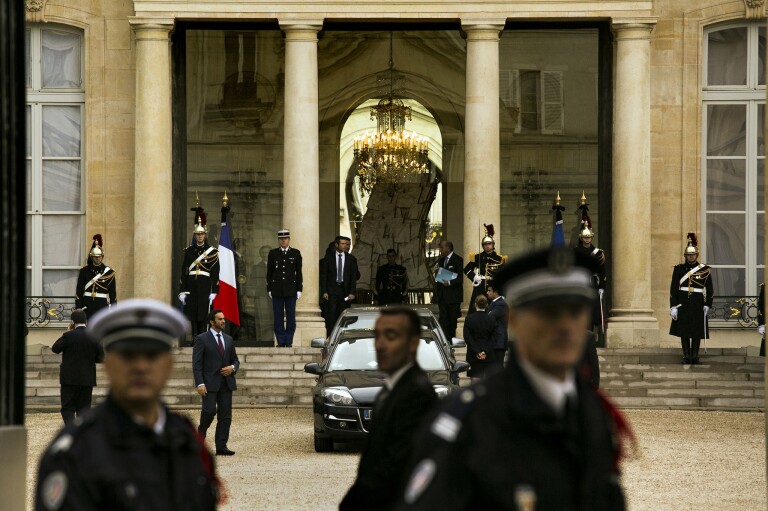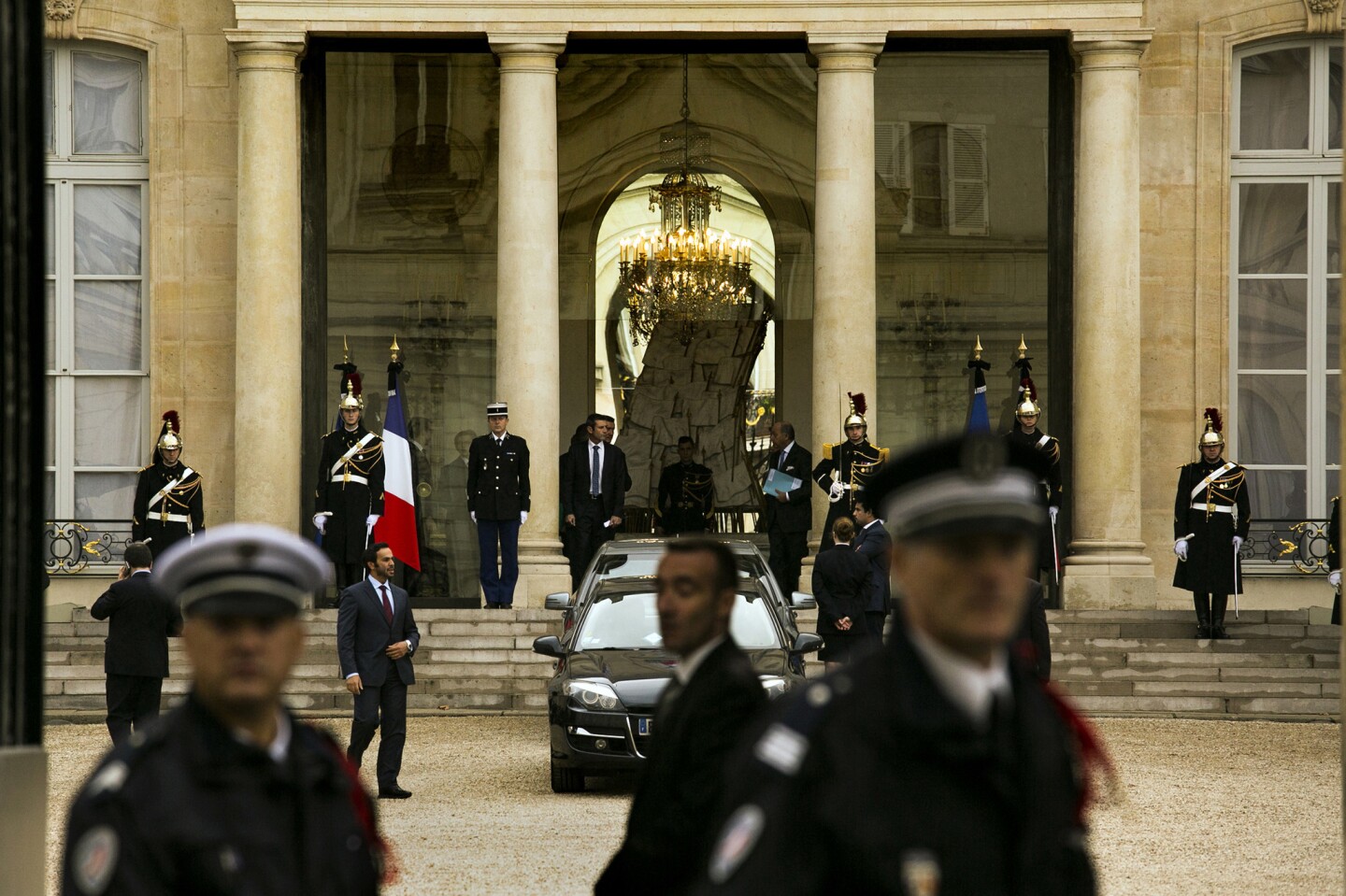 Looking inside the courtyard of the Presidential Palace, guards stand at attention for the departure of Secretary of State John Kerry after his meeting with French President Francois Hollande.
(Carolyn Cole / Los Angeles Times)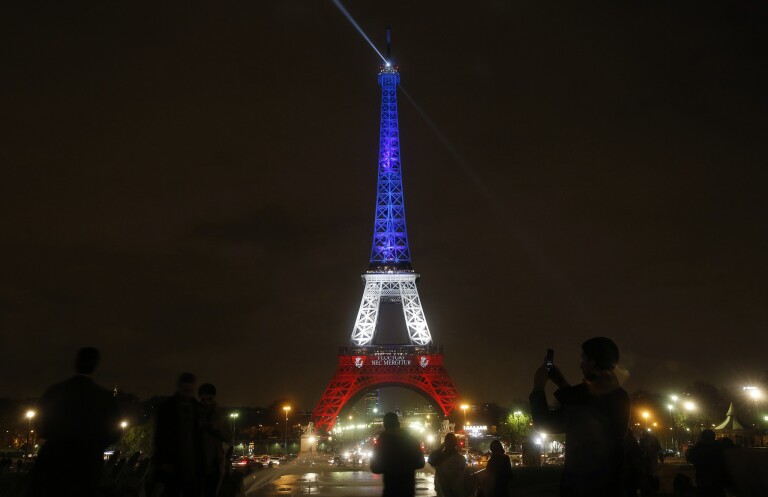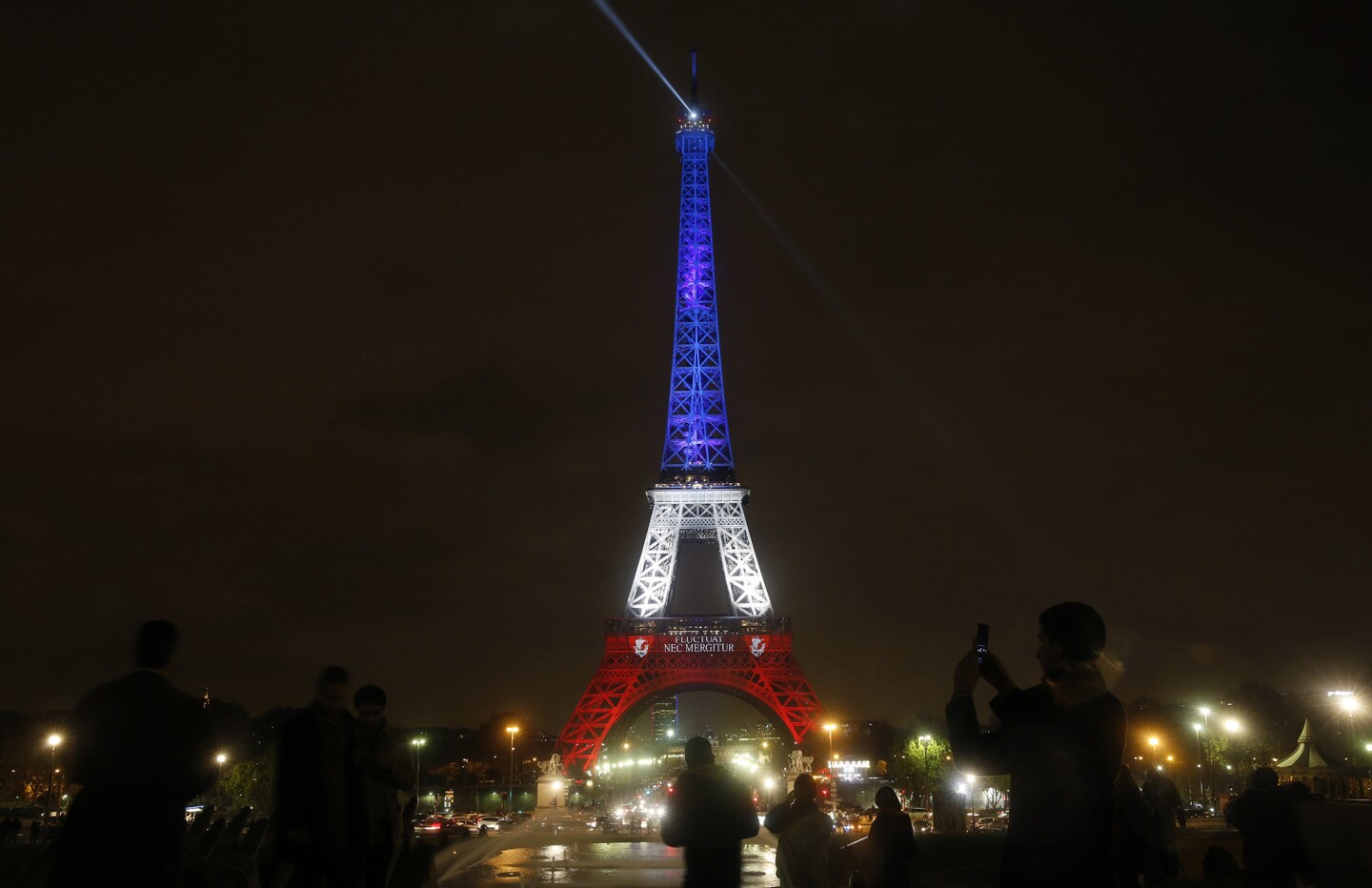 On the third day of national mourning, the Eiffel Tower was illuminated in the colors of the French flag after going dark.
(Carolyn Cole / Los Angeles Times)
On the third day of national mourning, people continue to gather in public places like the Place de la Republique, including Tao Cisse, age 5, and Maya Sutej.
(Carolyn Cole / Los Angeles Times)
People observe a minute of silence in front of the Le Carillon cafe in Paris on Nov. 16, paying tribute to victims of the terror attacks.
(Lionel Bonaventure / AFP/Getty Images)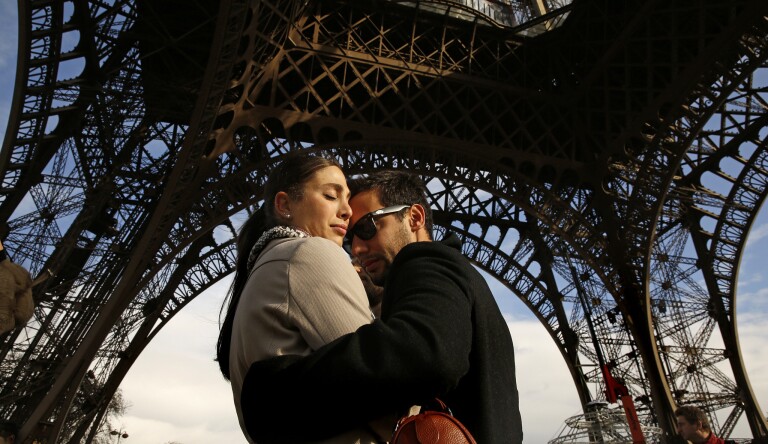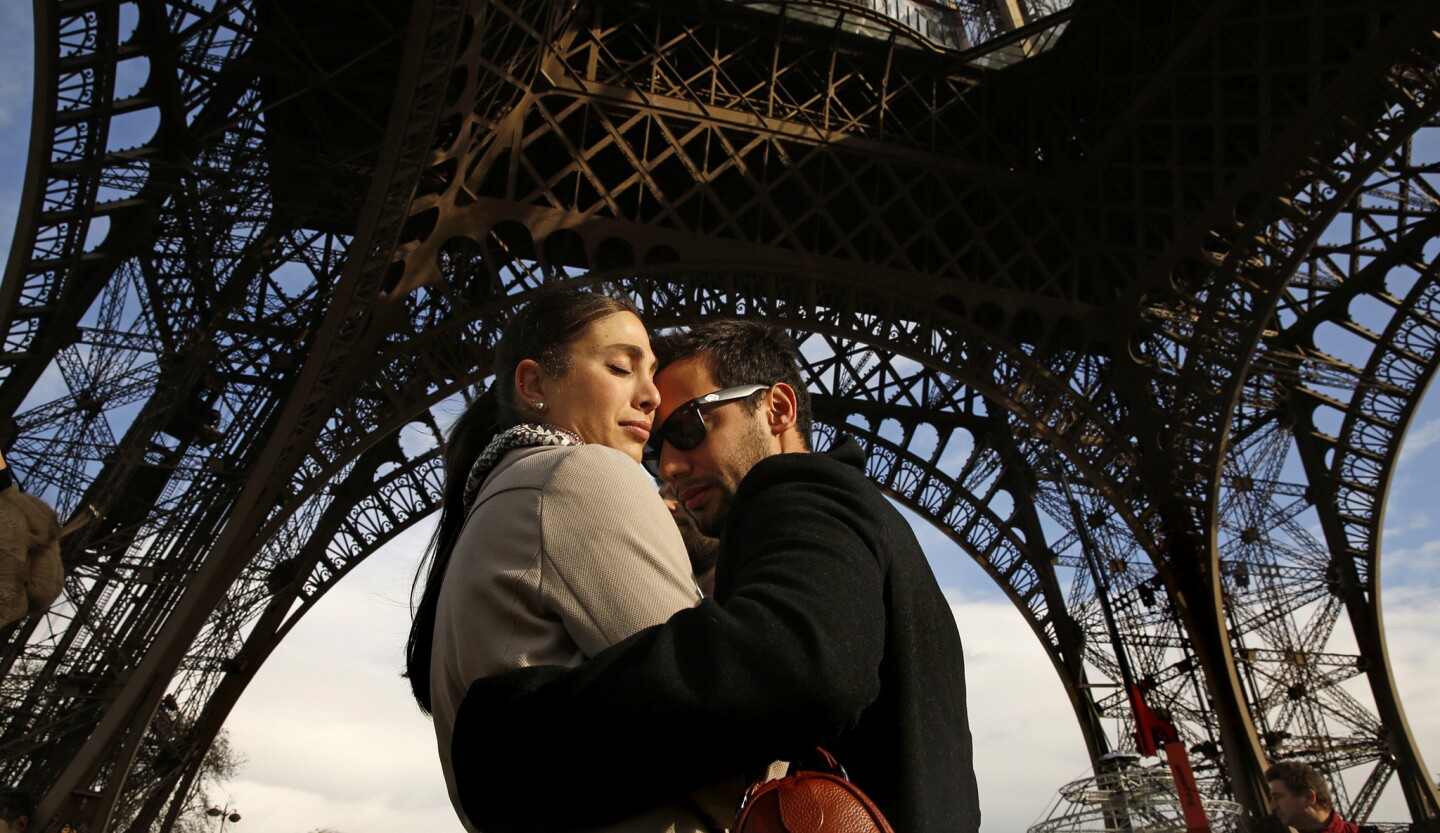 Paris residents take part in a Nov. 16 moment of silence under the Eiffel Tower in observance of those who died during the terrorist attacks three days earlier.
(Carolyn Cole / Los Angeles Times)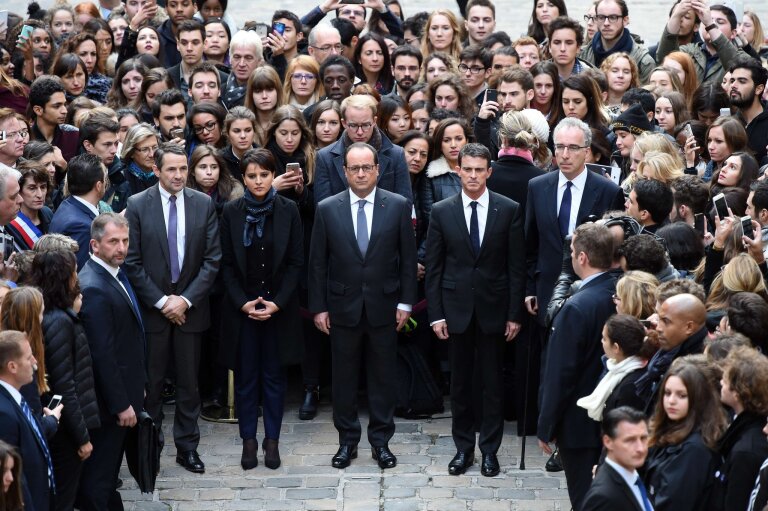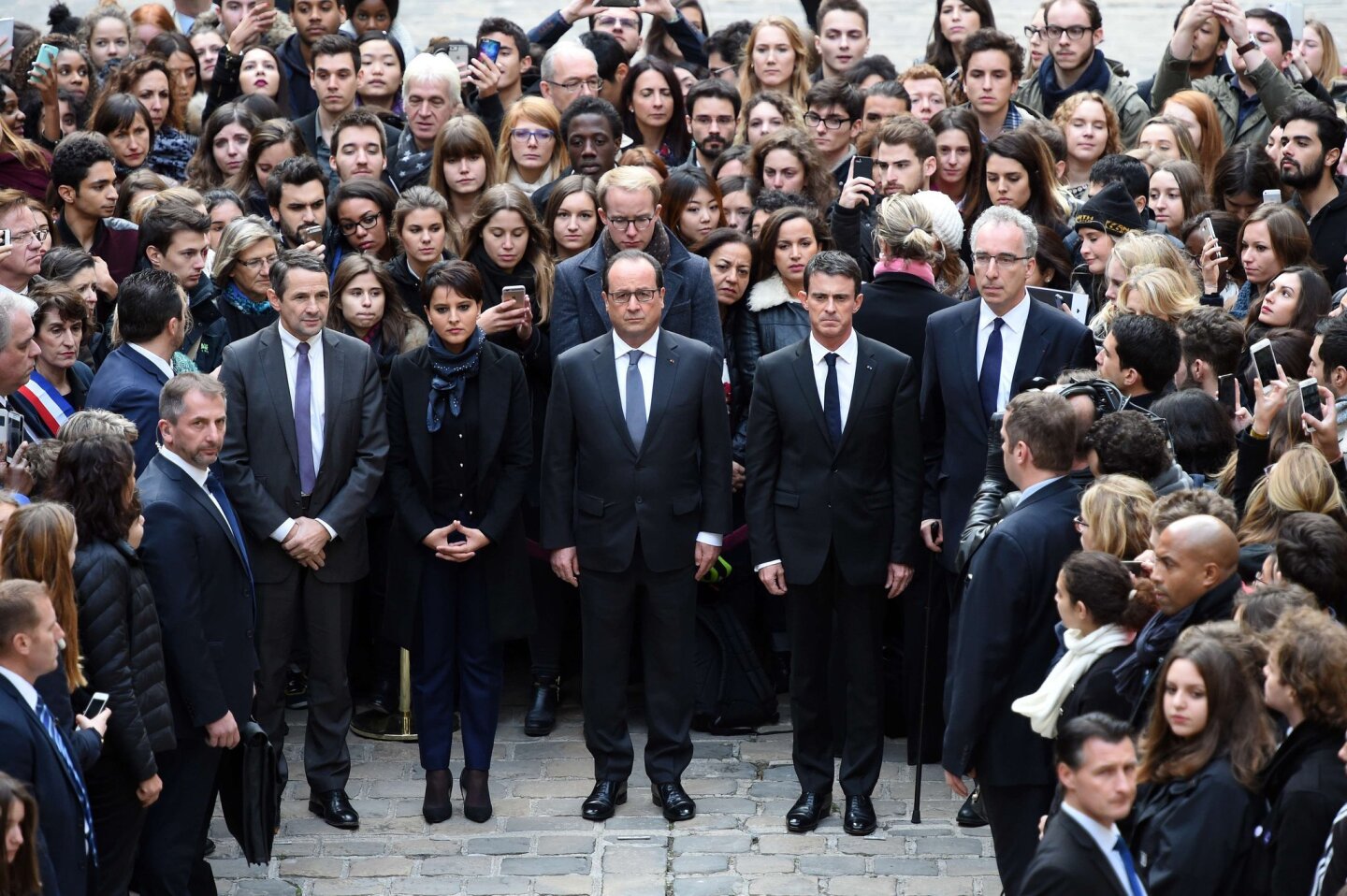 French President Francois Hollande, center, stands with government officials to observe a minute of silence Nov. 16 at the Sorbonne University in Paris.
(Stephane De Sakutin / AFP/Getty Images)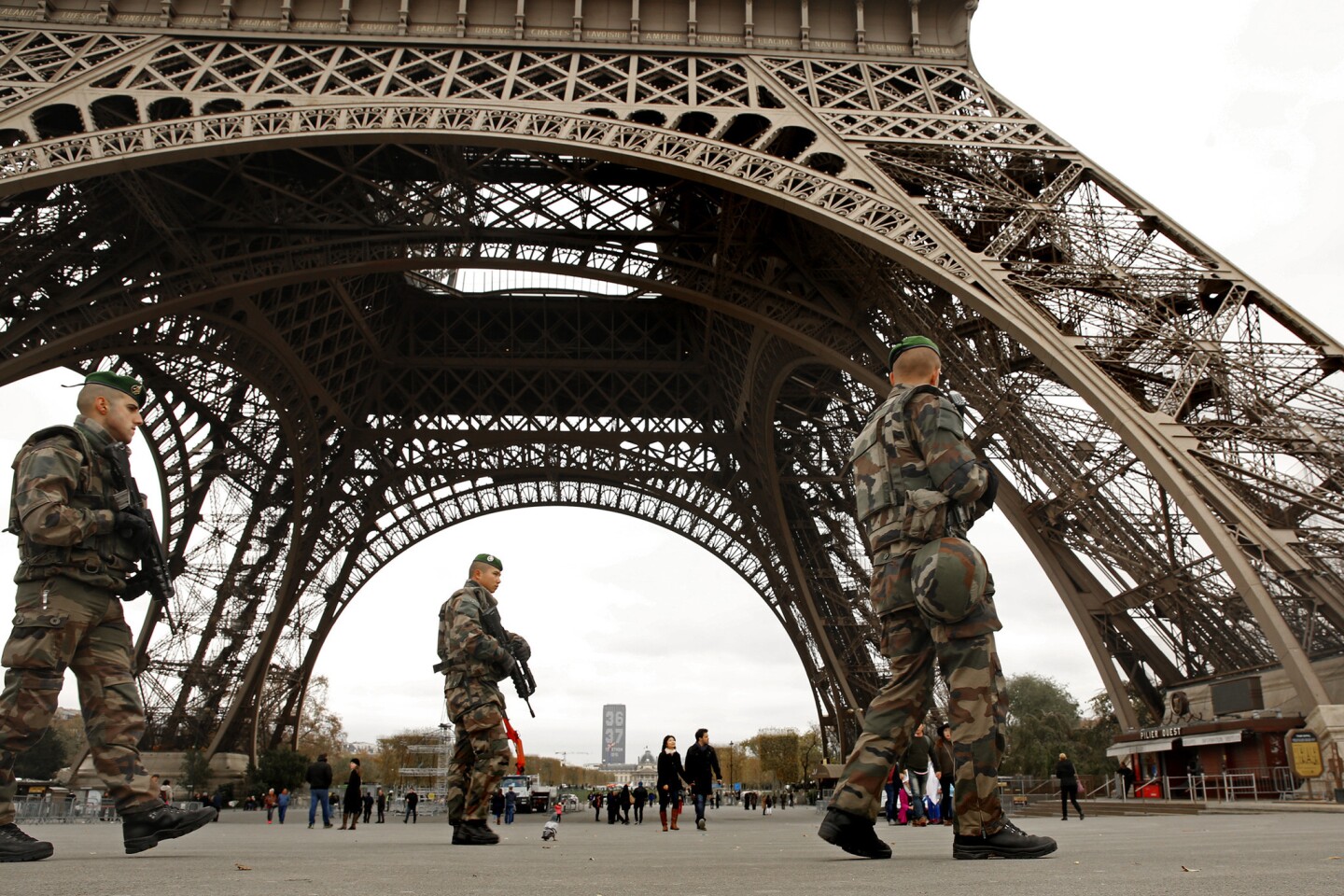 Members of the French Foreign Legion stand guard near the Eiffel Tower on Nov. 16.
(Carolyn Cole / Los Angeles Times)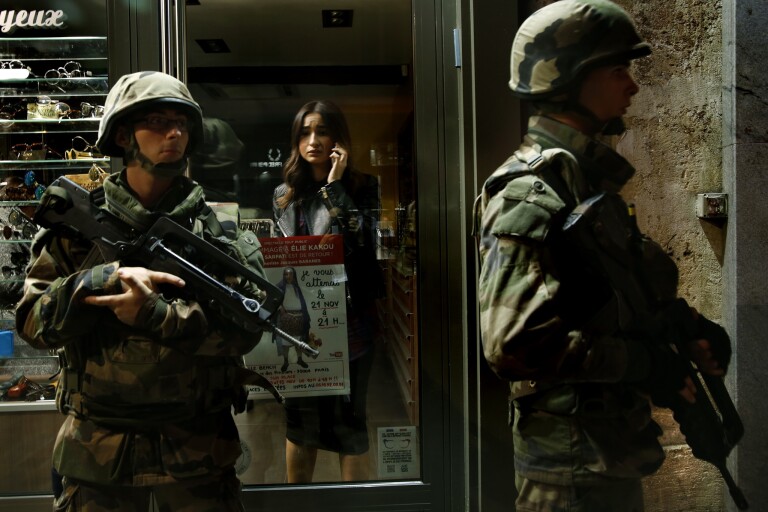 A Paris shopkeeper stays inside Sunday as soldiers guard the street where she works.
(Carolyn Cole / Los Angeles Times)
Women run past French soldiers as panic spread through the streets of Paris when rumors spread of another possible terrorist attack, which turned out to be a car left running in the street.
(Carolyn Cole / Los Angeles Times)
Prelates arrive to celebrate a Mass in memory of the attack victims at the Notre Dame cathedral.
(LIONEL BONAVENTURE / AFP/Getty Images)
An emotional crowd gathers in front of Le Carillon restaurant.
(Carolyn Cole / Los Angeles Times)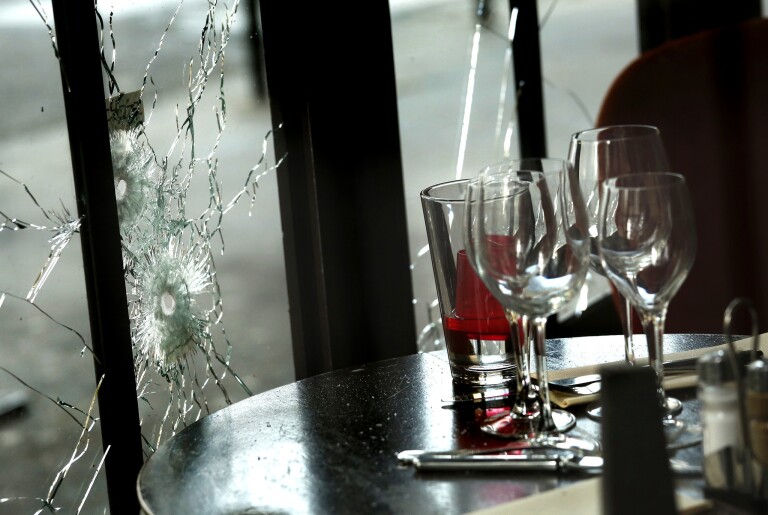 The glasses and silverware remain on the table where bullets were fired at Cafe Bonne Biere.
(Carolyn Cole / Los Angeles Times)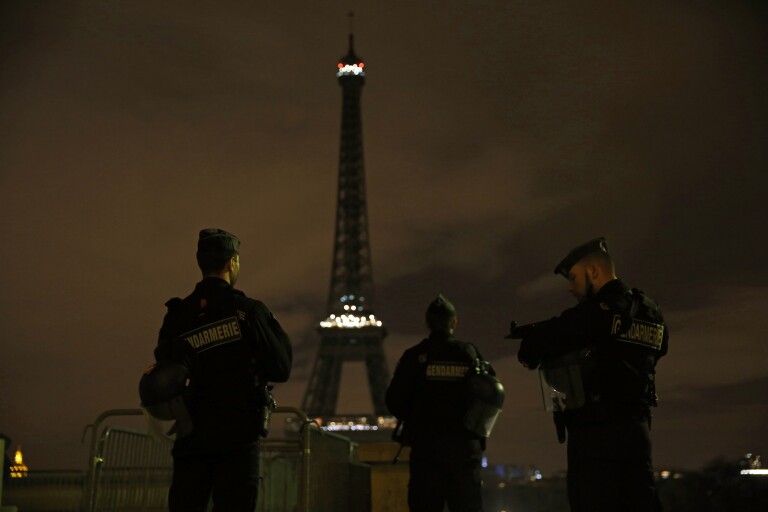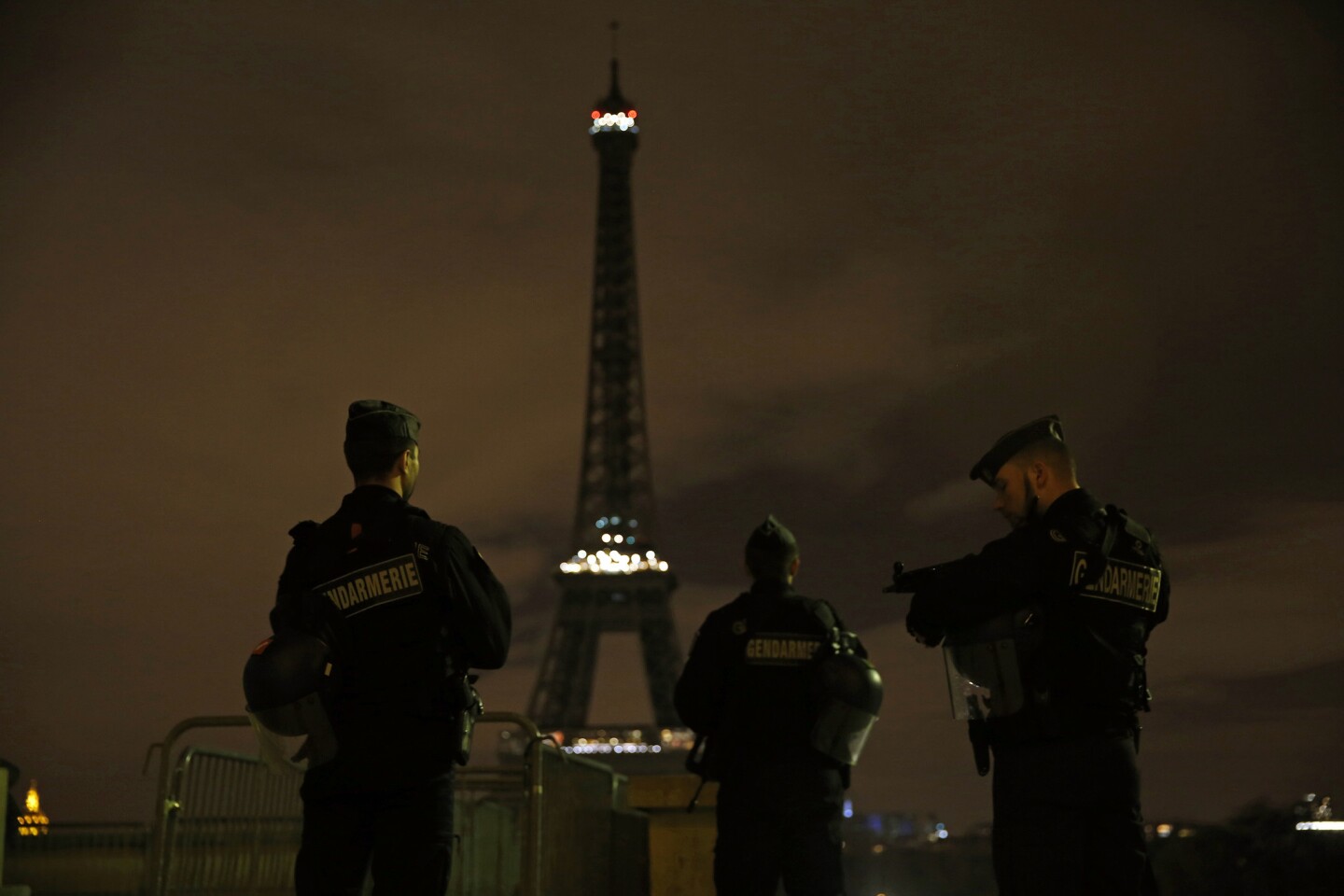 Armed police stand guard Nov. 14 near the Eiffel Tower, which was kept dark in honor of those who died in the terrorist attacks.
(Carolyn Cole / Los Angeles Times)
Mourners place flowers and candles outside the Bataclan theater in Paris.
(Carolyn Cole / Los Angeles Times)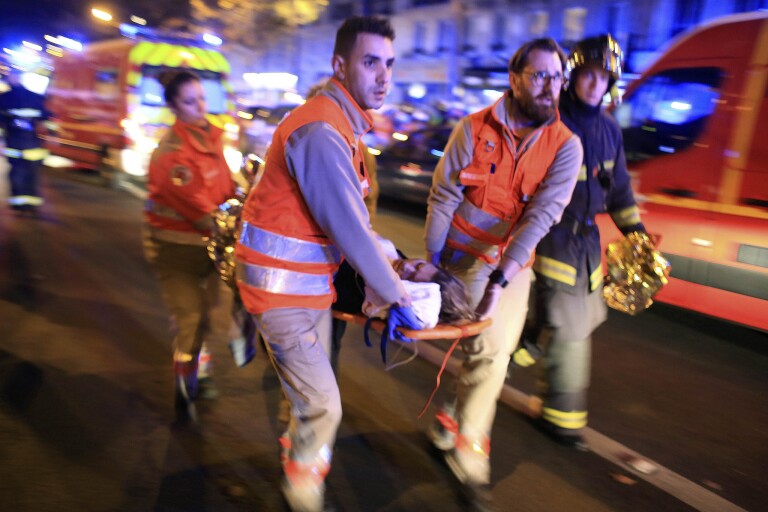 A woman is evacuated from the Bataclan theater after the shootings in Paris.
(Thibault Camus / Associated Press)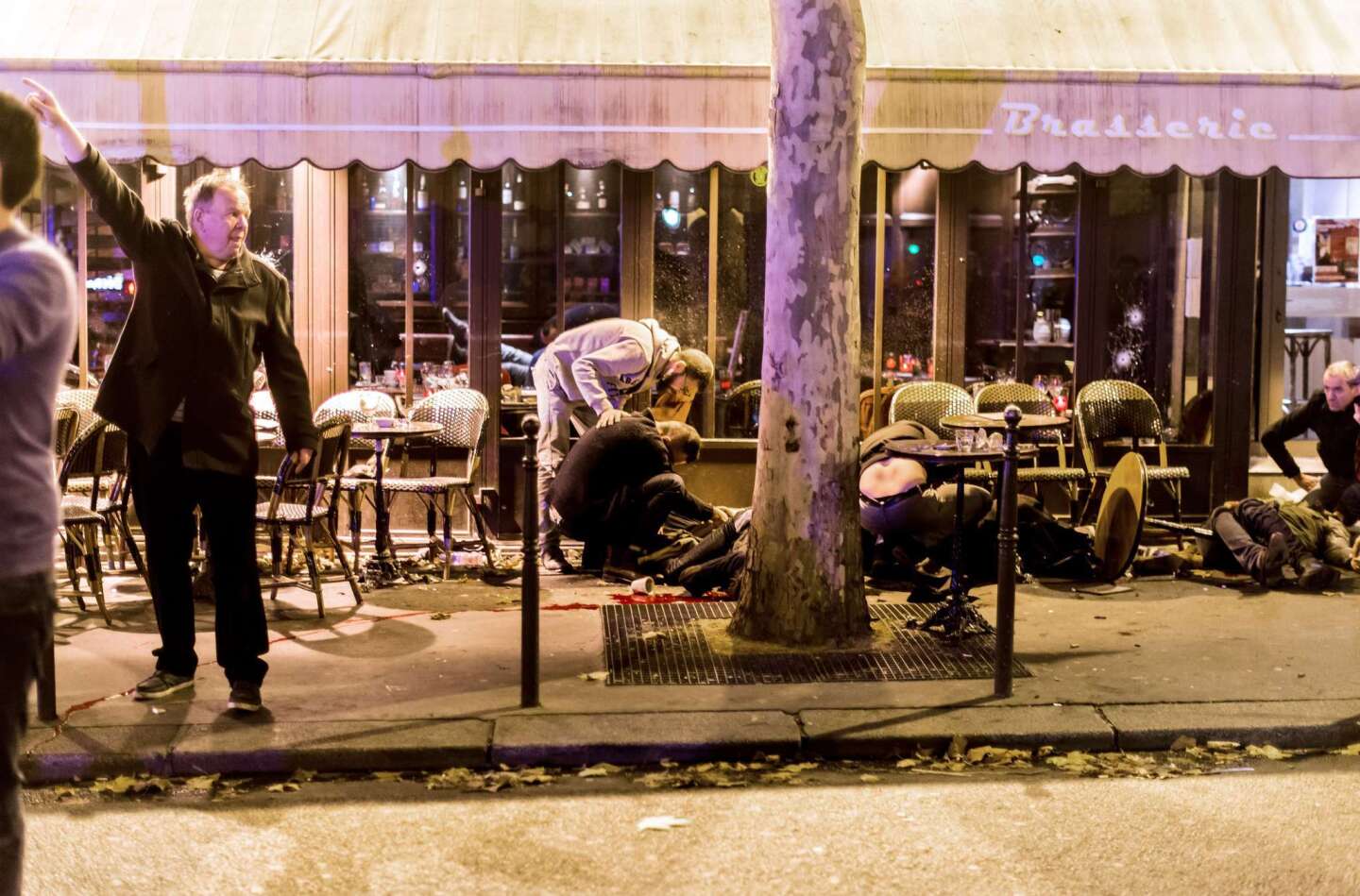 People lie on the pavement near the Cafe Bonne Biere in Paris following a series of attacks.
(ANTHONY DORFMANN / AFP/Getty Images)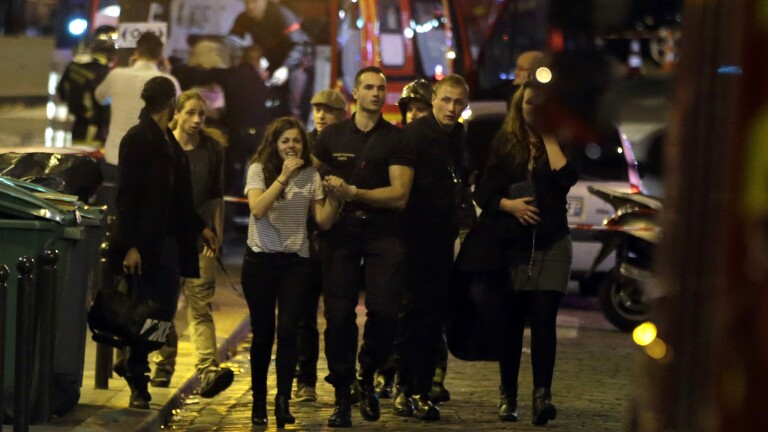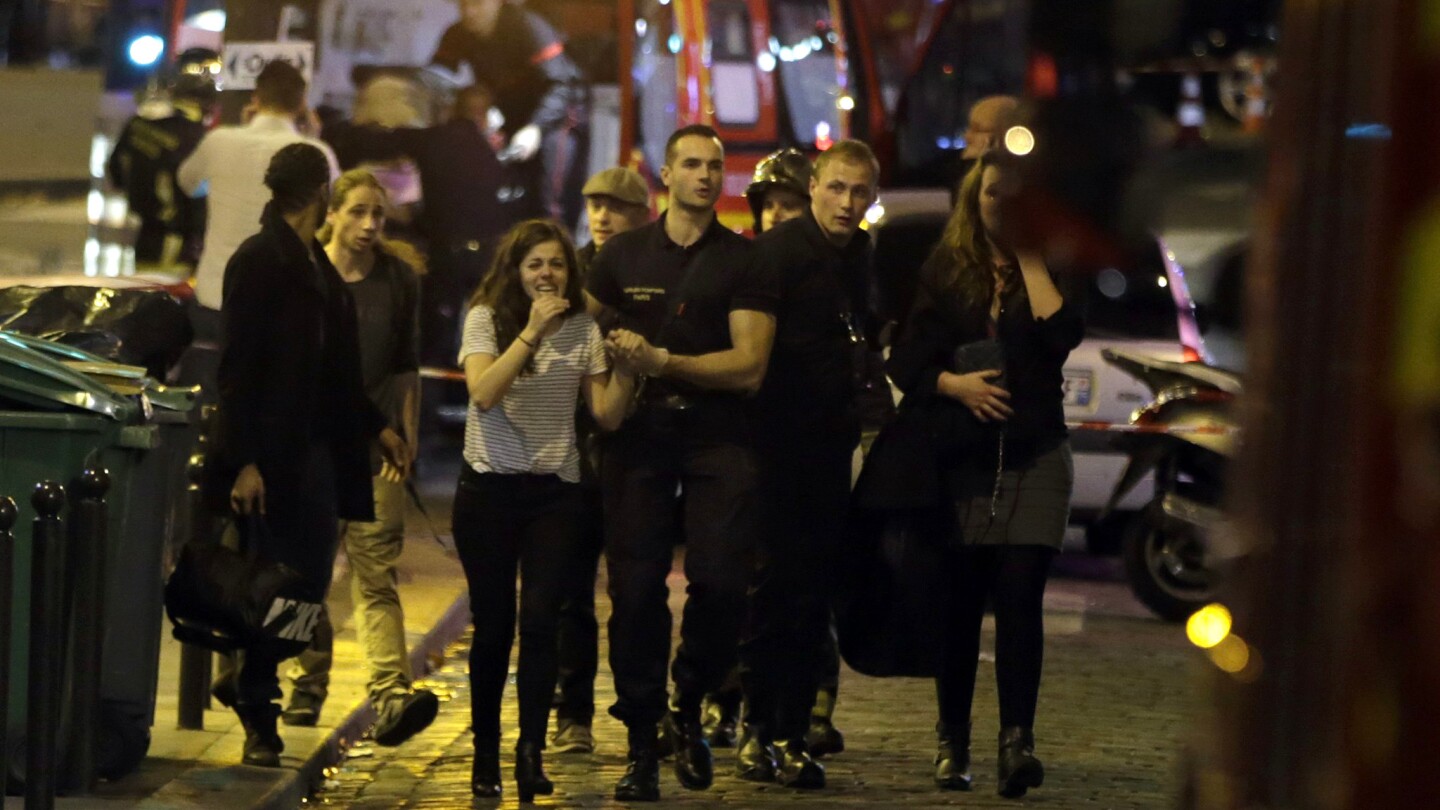 Rescuers evacuate people following an attack in Paris, where there were also reports of an ongoing hostage crisis at a concert venue.
(Kenzo Tribouillard / AFP/Getty Images)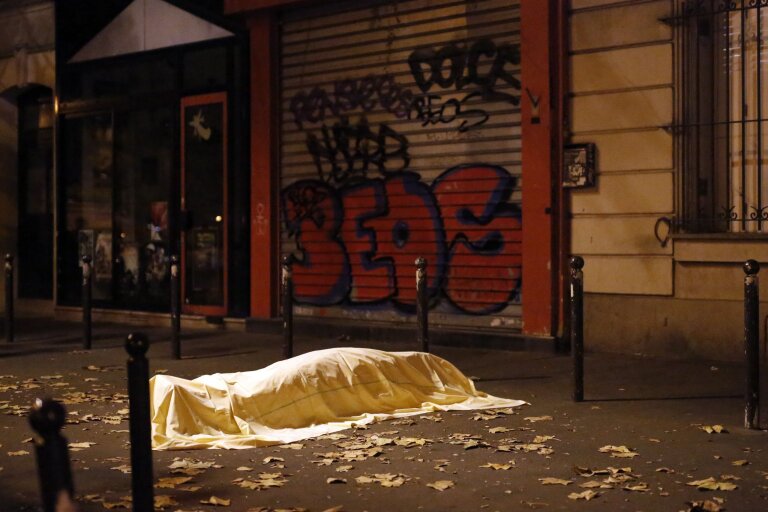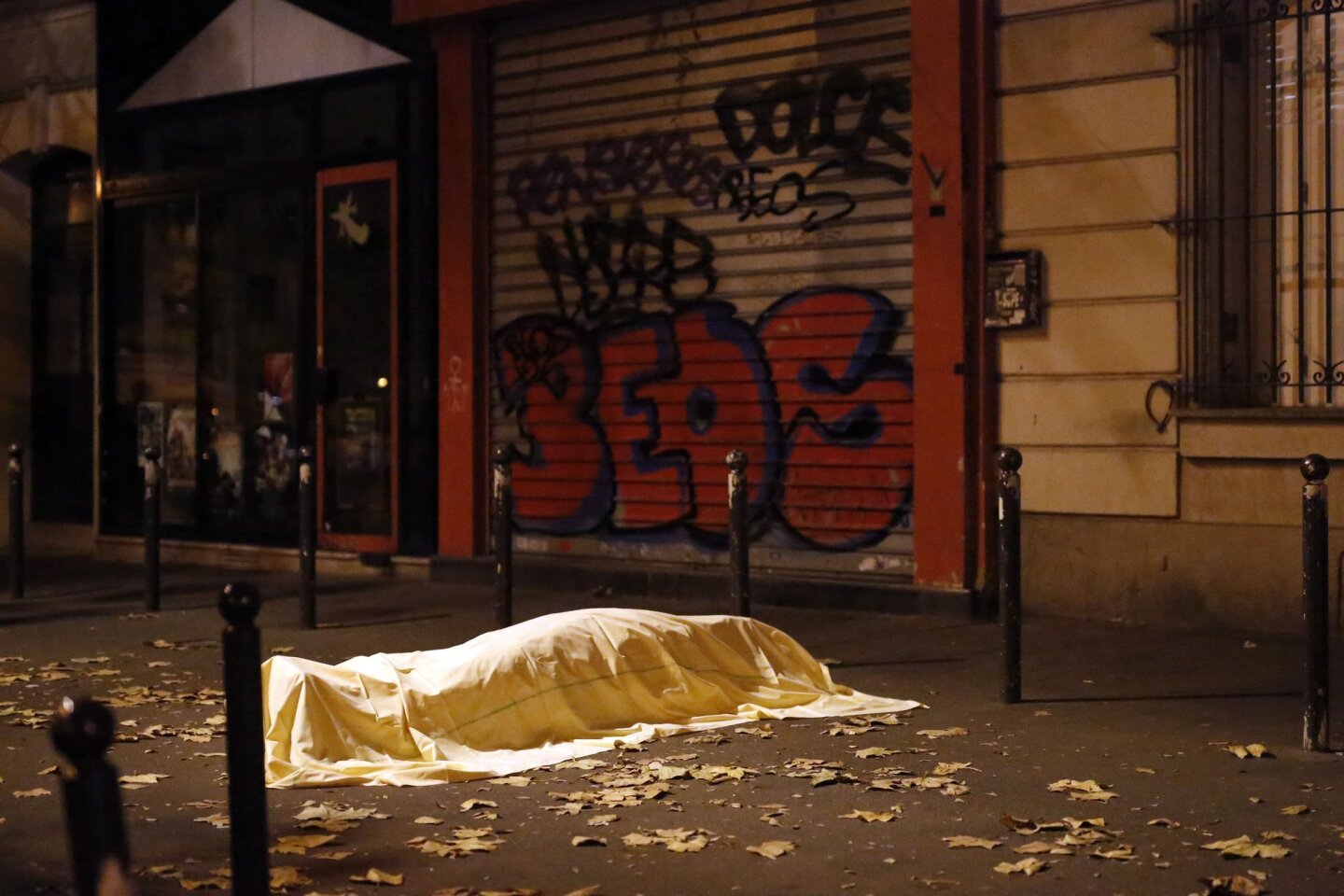 A victim lays dead under a blanket outside the Bataclan theater in Paris.
(Jerome Delay / AP)
Hundreds of people spilled onto the field of the Stade de France stadium after explosions were heard nearby during a match between the French and German national soccer teams.
(Christophe Ena / Associated Press)
At the next table, a couple with a friend from the suburbs were enjoying a pre-theater drink.
"This is our heritage. The bars, the restaurants, they are the soul of the city," said Marie-Laure Truttmann, 55, who caught a train into Paris to catch a show by a popular comedian. "Besides, our economy needs to pick up.... If nobody goes to the restaurants, to the stores, there are businesses that are going to fail."
Nearby shopkeepers have taken a hit. Moroccan-born baker Ahmed Meziane said his receipts were down about 30% since the attacks.
He owns the Boulangerie Lina, a bakery across the street from the cafe. He was baking bread when the gunmen sprayed his store with bullets. He rushed outside to help a woman who had been shot in a car, then hid more than a dozen people in a courtyard behind his bakery until the morning.
Barely 24 hours later, he was back at work. "Even in times of war, the bakery has to open and make bread," he said proudly.
Meziane, 52, was also one of the first to show up when the cafe opened Friday morning and was back again that night.
"This is going to help the whole neighborhood," he said.
When Meziane spotted another regular nursing a tall glass of beer in a corner, he hurried over to say hello.
Patrick Aeberhard, a cardiologist who helped found the medical aid group Doctors Without Borders, lives across the street. He was on his way home from a funeral when he heard the gunfire. In front of the cafe, a young woman had been shot in the thigh and her companion had a bullet wound in his shoulder. Other people were splayed on the sidewalk, dead.
He treated the woman using napkins to fashion a tourniquet, then went inside to see who else he could help. The place looked like a war zone, he said, with blood everywhere.
A longtime friend and neighbor, an anesthesiologist, showed up, then a few first responders. But with all the other attacks happening that night, it took more than an hour for ambulances to arrive.
"The restaurant was transformed into a hospital," said Aeberhard, 70.
He returned Friday, hoping to find out who lived and who died. But restaurant staff said they had had no news of the customers who were taken to the hospital.
"It's a bit surreal," he said, surveying the wood-paneled room brimming with people. But he said it was good to see the place come to life again. For three weeks, there has been a pall over the neighborhood. "This will help us get back to normal," he said.
For others, the emotion was still too raw. One young man teared up as soon as he stepped into the cafe. Aeberhard tried to talk to him — but a few minutes later, the man hurried out the door.
Outside, three friends were in the mood to celebrate. They nabbed a table on the terrace and ordered a bottle of champagne.
"People were waiting for this," said Anne-Valerie Moyal, a 46-year-old clothing wholesaler who has lived in the neighborhood for 25 years.
She acknowledged having some trepidation before heading out Friday night; two suspects are still on the loose. But she said she was tired of being afraid.
"I'm not stopping my life for a bunch of degenerates," retorted her friend, Douniyazed Tafzi, 33.
"Ladies, let's drink."
The women raised their glasses for a toast: "To life."
ALSO
Islamic State claims responsibility for Aden assassination
Somber President Maduro acknowledges 'adverse' results in Venezuelan vote
Tashfeen Malik was 'modern girl' who began posting extremist messages on Facebook
---
Must-read stories from the L.A. Times
Get the day's top news with our Today's Headlines newsletter, sent every weekday morning.
You may occasionally receive promotional content from the Los Angeles Times.