Pope admits 'serious errors' in handling Chilean sex abuse scandal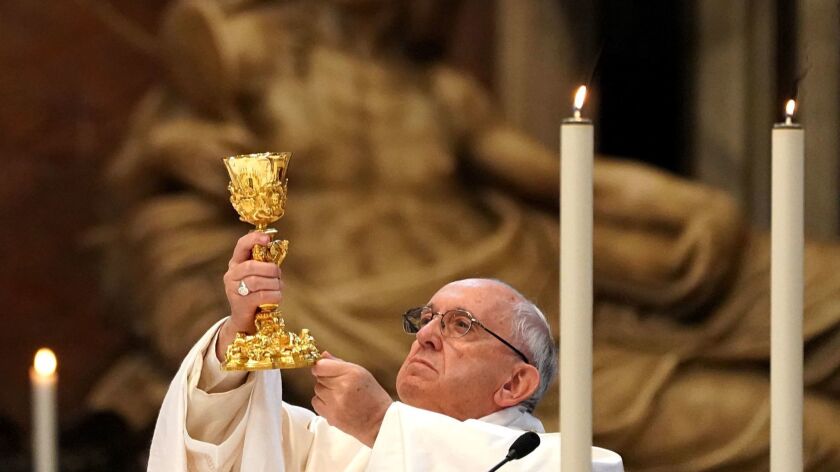 Reporting from Rome —
Pope Francis has admitted he made "serious errors of judgment" in his handling of a sex abuse case in Chile, telling Chilean bishops that he feels both pain and shame for victims and will beg their forgiveness in person.
Francis' letter marks a dramatic reversal in his handling of accusations that Chilean Bishop Juan Barros witnessed and covered up the sexual abuse of minors by Chilean prelate Fernando Karadima, who was removed from the ministry in 2011 and sentenced to a lifetime of penance by the Vatican.
Francis promoted Barros to bishop in 2015 and described his accusers as "lefties," stirring outrage among Chilean Catholics who staged noisy protests when the pope visited the country in January. Several churches were firebombed during the visit.
After hugging Barros publicly during the visit, Francis called the accusations "slander" and said "I can't condemn [Barros] because I don't have evidence," adding, "But I'm also convinced that he's innocent."
On his return from Chile however, he appeared to have doubts, sending archbishop Charles Scicluna, an experienced Vatican abuse investigator, to interview 64 witnesses. Last month, Scicluna handed the pope a 2,300-page report.
Francis said that when he read the report he felt "pain and shame" and decided he should meet the victims to "apologize to all those I have offended."
Scicluna and a second investigator, Father Jordi Bertomeu, were "overwhelmed by the pain of so many victims," the pope wrote.
"This is a remarkable admission by a pope that he got it wrong," said Austen Ivereigh, a papal biographer. "Meeting victims one by one and asking forgiveness for his mistakes is an unprecedented mea culpa."
Francis also invited Chile's 32 bishops to a meeting at the Vatican, which he said would serve as a "fraternal moment, without prejudice or preconceived ideas, with the sole objective of making the truth shine in our lives."
He did not mention whether he would remove Barros from the ministry, but said the meeting would be a chance to "reestablish the trust in the Church, broken by our mistakes and sins, and to heal wounds that haven't stopped bleeding in Chilean society."
The planned meeting could be an extraordinary gathering and would be larger than the summit when Pope John Paul summoned 12 U.S. cardinals to discuss sexual abuse in America, Ivereigh said.
Francis told the bishops that his mishandling of the situation was due to a lack of "truthful and balanced information" about the abuse, although Karadima's victims have been pointing the finger at Barros publicly for years.
One victim, Juan Carlos Cruz, even wrote personally to Francis in 2015 to say that Barros had known about his abuse.
Vatican watchers have said that the pope may have been persuaded by Chilean Cardinal Francisco Errazuriz, a member of his advisory Council of Cardinals, not to take the allegations seriously.
Kington is a special correspondent.
---
Must-read stories from the L.A. Times
Get the day's top news with our Today's Headlines newsletter, sent every weekday morning.
You may occasionally receive promotional content from the Los Angeles Times.