Russian President Putin celebrates election victory, tells crowd it's important to 'preserve this unity'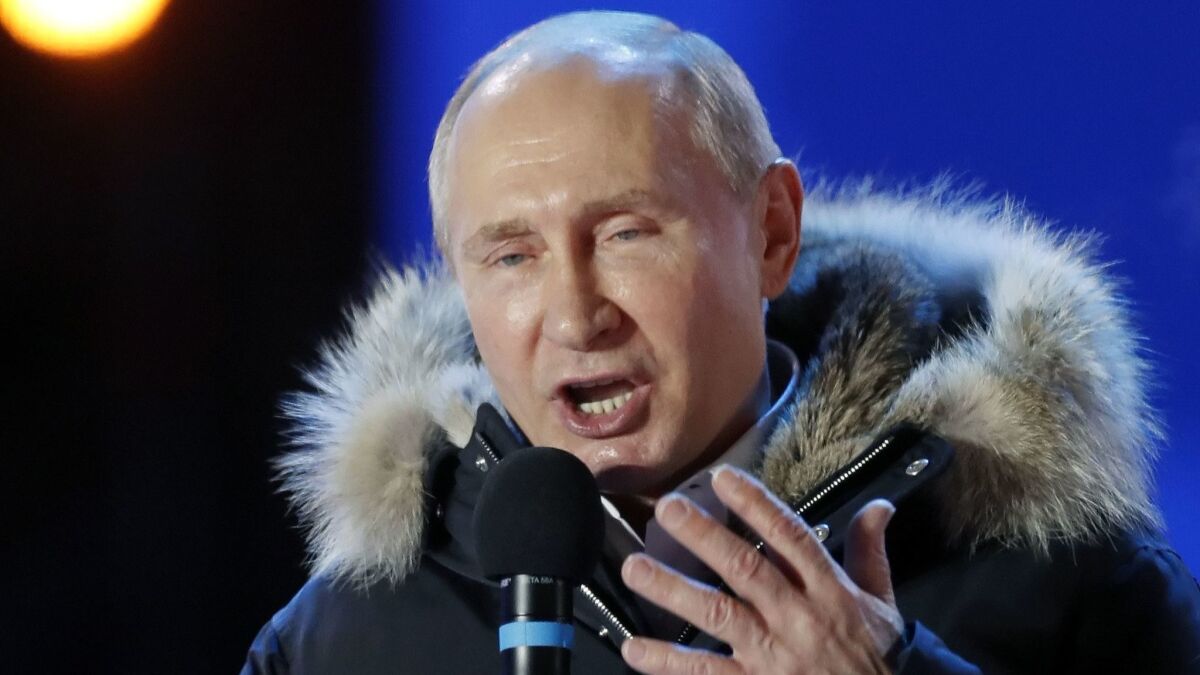 Reporting from MOSCOW —
Russian President Vladimir Putin told a crowd at a celebratory concert outside the Kremlin walls late Sunday that his overwhelming election victory resulted from a united nation looking to the future.
Putin, based on preliminary results, was expected to win more than 70% of the vote, giving him another six years as the country's leader.
"It's very important to preserve this unity," he said as he addressed thousands of people at Manezh Square in central Moscow. "We will not be guided by short-term interests. We will think about the future of our great country."
"We are destined to be successful," the 65-year-old former KGB officer told the crowd before leading them in a round of chants of "Russia."
The speech lasted less than two minutes and did not reference the country's economic challenges or an array of thorny international issues. Among those are Britain blaming Russia for the recent poisoning of a former spy and his daughter and the U.S. accusing the Kremlin of meddling in the 2016 presidential election.
The Moscow crowd had gathered for a series of concerts from top Russian pop stars that was billed all week as a celebration of the fourth anniversary of the annexation of the Crimean peninsula. The timing of the concert was not lost on those in the crowd, who generally participated knowing that the evening would also be a victory event for Putin's reelection.
Putin didn't declare his intention to run for a fourth term until December. He declined to participate in several candidate debates aired on state television and held only one significant campaign rally in Moscow, just two weeks before Sunday's vote.
His campaign plan came in the form of a state of the nation speech 17 days before the election, in which he promised to boost Russia's growth, currently at 1.7% annually, to above the global average of 3.1%, and increase living standards.
Both objectives will be difficult as economists predict setbacks for Russia's two major exports: Global oil prices will remain low and demand for gas will decrease worldwide.
Putin spent much of the state of the nation speech boasting about Russia's latest nuclear-powered missile systems, using graphics and videos to describe their capabilities.
Sunday's vote came at a time when U.S. political discourse surrounding Russian election meddling was approaching a fever pitch.
Tensions with Britain increased this month after Prime Minister Theresa May said it was "highly likely" that Russia was behind the nerve agent poisoning of a former Russian spy in Salisbury, England. The Kremlin has denied the allegation, blaming it on Western "Russophobia."
Russian news has suggested that it's a British plot to spoil Russia's hosting of the World Cup, which starts in June.
"This is not a good thing for Putin, because he expected the World Cup would be a big public relations move for Russia," said Alexander Baunov, a senior fellow at the Carnegie Moscow Center. "Whoever did this, whether it was a provocation from inside or outside [Russia], was harming Russia's strategic goals."
Putin has been in power as either prime minister or president since 1999. His victory Sunday will keep him in power until 2024.
The Kremlin ran a massive get-out-the-vote campaign before the election to ensure Putin's reelection would be viewed as a mandate.
"Our election, our president" posters decorated buses and billboards across the country. Some polling stations offered contests and raffles to win new iPads or microwave ovens. There was also a selfie contest in which voters were asked to take pictures of themselves at polling stations and post them on social media to win prizes such as a new iPhone or a bicycle.
Putin's main political foe, Alexei Navalny, was barred from running in the election because of a 2013 fraud conviction, a trial the anti-corruption campaigner said was politically motivated. He called for his supporters and volunteers, of which there are tens of thousands across the country, to boycott the election in protest of what he says can't be a legitimate vote without an opposition candidate on the ballot.
With Navalny officially out of the race, only two candidates managed to get any significant traction: Pavel Grudinin, 57, of the Communist Party and Ksenia Sobchak, 36, a socialite whose family ties to Putin have called into question how truly independent her run is.
Grudinin came in second with 15% of the vote. Sobchak, who cast herself as a protest candidate, got 1.4%.
This year's vote was a far cry from his third-term election in 2012, which saw tens of thousands of protesters in the center of Moscow decrying what they said was a falsified vote.
The protests led Putin to create a narrative at home that Russia is a country under siege from the West. According to him, the U.S. and other world powers are trying to force change on Russia through overbearing liberal values and globalization.
Putin has fought back by promoting rhetoric that focuses on Russia's conservative, traditional values, which are closely linked to the Orthodox Church. This has created a nationalism in Russia unseen since the Soviet Union.
The 2014 annexation of Crimea was a game changer for Putin, who used it to show he could be a leader who would restore Russia's greatness both in territory and military might. When the West imposed sanctions for Moscow's incursion in Crimea and eastern Ukraine, it only drove home the idea that Russia was being attacked from abroad.
Putin is likely to continue using the idea of Russia as a nation under siege as a distraction from other domestic problems.
"It's quite clear that his strategy for months now, and intensely in the last weeks, has not been about winning the election, it's been about how well he wins the election," said Robert Legvold, a professor emeritus at Columbia University specializing in the international relations of the post-Soviet states. "I think he thinks that it's necessary in order to de-legitimize the opposition and legitimize his leadership in the next phase."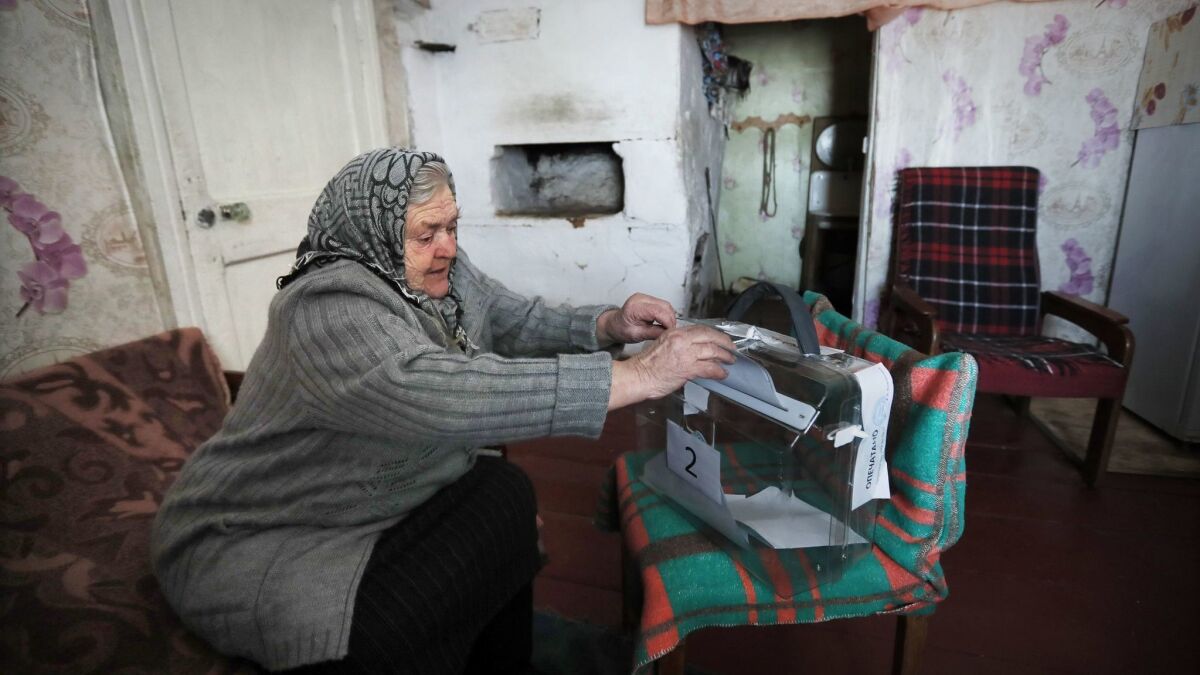 ALSO
Meet the voters in Russia's heartland who are about to give Vladimir Putin another six years in office
British Prime Minister May says it is 'highly likely' Russia is responsible for poison attack on former spy
White House is sanctioning Russians for 2016 election interference and other cyberattacks
Ayres is a special correspondent.
---
UPDATES:
5:40 p.m.: This article was updated with Putin's comments and more details.
9:44 a.m.: This article was updated with staff reporting, background.
8:35 a.m.: This article was updated throughout with staff reporting, background.
This article was originally posted at 4:50 a.m.
---
Must-read stories from the L.A. Times
Get the day's top news with our Today's Headlines newsletter, sent every weekday morning.
You may occasionally receive promotional content from the Los Angeles Times.