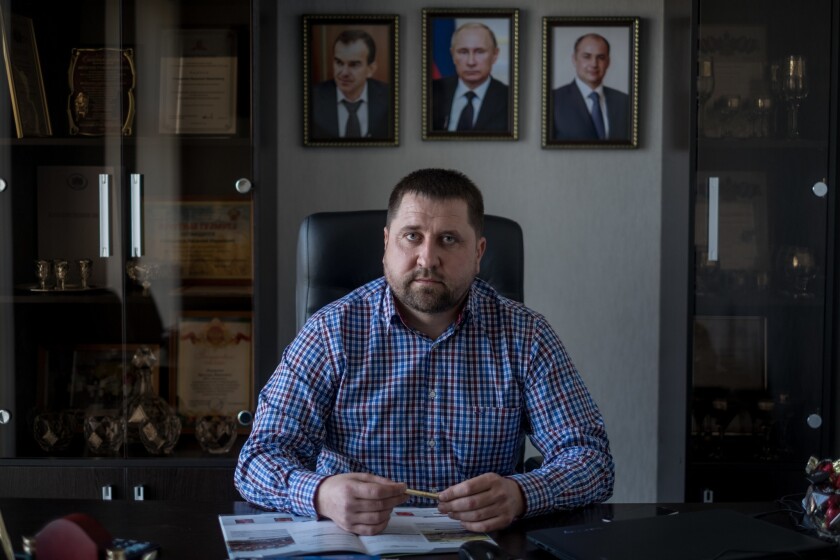 Reporting from Medvedovskaya, Russia —
Looking around his 5,560-acre farm, Vasiliy Onishchenko said he has good reason for wanting President Vladimir Putin to win another six-year term in office. In fact, he thinks the success of the last 18 years under Putin's rule warrants the former KGB officer staying in power for life.
"To understand why we love our president, you just have to remember what things were like before him," the 38-year-old farmer said. "If it hadn't been for Putin, I don't know what would have happened to our country."
Putin may be vilified in the West as an autocratic leader who crushes dissent at home while threatening foreign nations by meddling in their elections and revamping Russia's nuclear weapons, but he remains hugely popular across Russia — especially in regions such as Krasnodar, where the economy is benefiting from Kremlin investments in agriculture.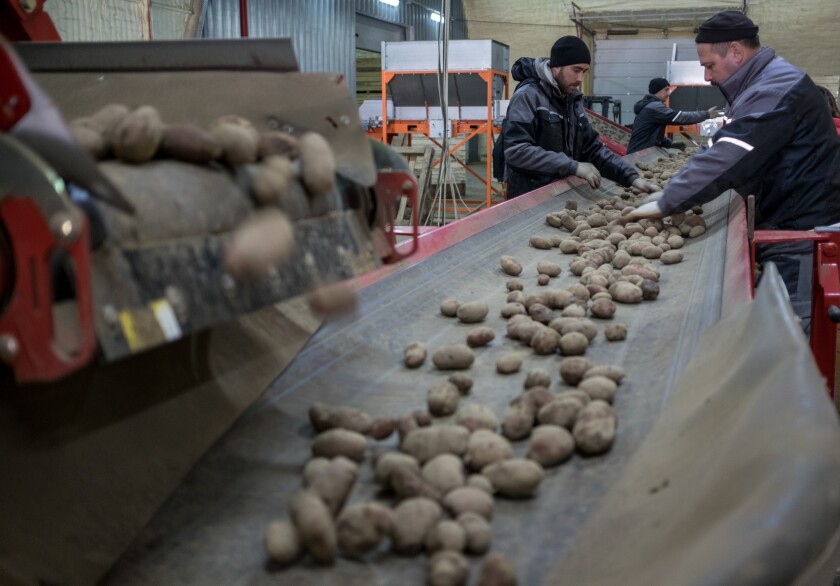 On Sunday, when Russians go to the polls, Putin, 65, is expected to win what will be his fourth term as president, keeping him in power until 2024. He has been the country's leader continuously since 2000, including a term as prime minister under what amounted to a figurehead president, Dmitry Medvedev.
U.S. condemnation of the Kremlin's meddling in the 2016 presidential election has only served to bolster Putin's popularity. And a majority of Russians view the 2014 annexation of Crimea — widely condemned as illegal by the international community — as a justified reclaiming of Russia's historical land, sending a message to the West that it couldn't tell Moscow what to do anymore.
The Kremlin has promoted a view that Russia is a country under siege from Western "Russophobia," and Putin is the leader who has stood up to an aggressive West. Many Russians see Putin as the leader who made Russia great again, and his approval ratings hover around 80%.
"When people are asked if they approve of Putin's activity, this is interpreted the same as the question 'Do you approve of Russia?' " said Andrei Kolesnikov, a senior fellow at the Carnegie Moscow Center.
Russian millennials look to their future: 'If we don't do anything now, we will keep living like our parents' »
Western analysts, and indeed many Russians, have criticized the Kremlin for not allowing the political opposition to participate in the presidential election. Russia's most prominent opposition leader, Alexei Navalny, is banned from running because of a previous fraud conviction, which he says was politically motivated. There are seven other candidates running, most of them friendly to Putin — in fact, there is suspicion that some may have been recruited by the Kremlin to create the facade of a fair election. They are all polling in the single digits.
When it comes to political opposition in Russia, "the Kremlin is afraid of everything because it's absolutely irrational," Kolesnikov said. "The system is visibly stable, but at the same time, the Kremlin is afraid of its fragility."
The lack of serious opposition can be attributed, in part, to the Kremlin's form of a "managed democracy," in which state media has touted Putin's achievements via daily news reports for 18 years. Navalny is never seen or mentioned in state media unless he is arrested. His name recognition remains very low in most of Russia.
For many voters, like Onishchenko, faith in Putin is based on the belief that the president is responsible for Russia's economic and geopolitical achievements.
"I don't see any other leader in the world as strong and decisive as Putin," Onishchenko said.
Thanks in part to the Kremlin's agriculture subsidies and infrastructure development, Russia's agricultural exports are booming. Two years ago, Russia became the world's biggest wheat exporter, outpacing the U.S., Canada and the European Union, according to the U.S. Department of Agriculture. The latest USDA estimates show Russia on course to be the No. 1 exporter again this year.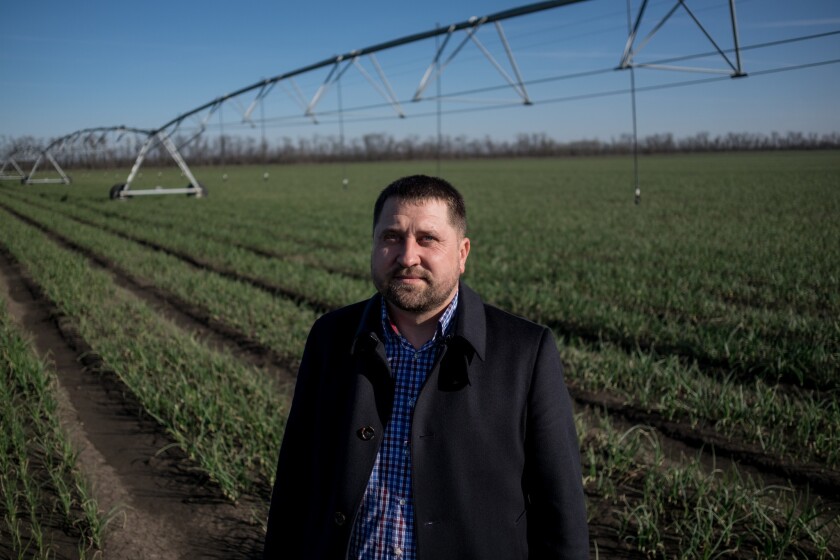 Much of that wheat comes from the mineral-rich, black soil of the southern Krasnodar region, where farmers like Onishchenko are cashing in on the benefits.
Putin, who attended an agriculture forum this week in the regional capital, Krasnodar, said Russian agriculture sales have surpassed Moscow's arms sales by more than a third.
When Western countries, including the United States, sanctioned Russia for annexing Crimea in 2014, Russia retaliated by placing its own sanctions on some foreign food imports. The Kremlin focused on boosting Russia's ability to grow enough food to feed the nation of 143 million and reduce imports.
"We're happy for those sanctions. It really helped us a lot," Onishchenko said. Subsidies have allowed his farm to invest in expanding his crops, and he expects to produce three times what he grew in 2017, he said.
Onishchenko's father was a truck driver on a Soviet-era collective farm in 1991, when the Soviet Union collapsed. Scraping what money he had, he leased 123 acres near the town of Medvedovskaya, about an hour outside Krasnodar, and began growing potatoes and onions.
Making a living in the chaotic days under former Russian President Boris Yeltsin was difficult, Onishchenko said. Money was scarce. Some companies, even state agencies, paid their staff in sausages or potatoes in lieu of rubles, Onishchenko recalled.
Putin had been prime minister when he was appointed acting president on Dec. 31, 1999. He won his first election as president in March 2000. That same year, Onishchenko's father died, and he and his brother and sister took over the family business.
In the early years of Putin's presidency, high global oil prices helped fuel Russia's economy, bringing prosperity to the country. Many of Russia's lucrative oil and gas enterprises were brought back into state control. The oligarchs who had gained enormous power under Yeltsin were quickly tamed, with several winding up either in prison or in exile. Compared to the immediate post-Soviet years, Putin's first years in office were associated with economic stability.
"Putin came in and straightened everything out, and things got better in Russia," Onishchenko said.
At a time when many provincial cities are suffering from brain drain as young Russians seek opportunities in Moscow, St. Petersburg or abroad, Krasnodar's economic boom has been driving population growth. In 2000, the city's population was 639,000. Today, it's estimated to be about 1.4 million.
Forbes' magazine has declared Krasnodar the "Best city in Russia for doing business" three times. It consistently has one of Russia's lowest unemployment rates and one of the highest levels of average wages at 36,000 rubles, or $630, a month.
Sergei Alfurov, 27, moved to the city in 2014 with his wife from neighboring Stavropol to attend college. The couple decided to stay after graduation, and Alfurov started his own web and graphic design business.
"If there's heaven on earth, it's Krasnodar," he said. "Four hours by train to the mountains in Sochi and an hour and a half to the Black Sea. What else could you want?"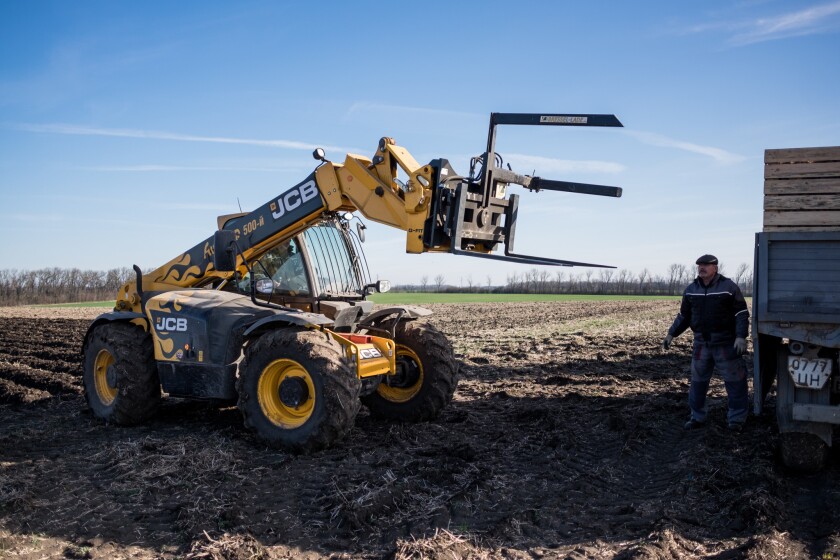 Alfurov grew up in a small town in the North Caucasus. Like other young Russian boys growing up during Putin's first presidential term, Alfurov was inspired by the president's love of judo, and soon took up the sport himself.
"Putin set an example for our generation," he said.
Alfurov continues to support Putin and attributes much of his own economic success to the president. He is now an active member of the Youth Guard, the youth wing of United Russia, the pro-Kremlin political party.
Polls show that despite Navalny's anti-corruption campaign's popularity among many young Russians, 65% of millennials support Putin. Getting them to the polls on Sunday may prove more difficult, as many Russians see the election as a foregone conclusion and may not bother to vote.
"It's all about turnout," Kolesnikov of the Carnegie Moscow Center said. "As with any dictator or autocrat, he wants more love; he wants support. They want big turnout."
The Kremlin has tried to garner enthusiasm by launching several initiatives to get out the vote. Some regional administrations are offering prizes and raffles at the polls. In a suburb of Moscow, polling stations are offering free cancer screenings.
Russian media have linked the Central Election Commission to another initiative, Putin Team, a social media movement of Russian celebrities supporting Putin's reelection. The Kremlin denies any connection. The movement was started by hockey player Alexander Ovechkin, the captain of the Washington Capitals.
In November, Alfurov won a contest to design Putin Team's logo.
Putin Team's latest video posted to VKontakte, a Russian social media site, featured a song by top Russian pop stars urging voters to support Putin on Sunday. Alfurov's logo design, with simple blue-and-white lettering spelling out "Putin Team" against a black background, figured prominently in the video, which had been viewed 11 million times as of March 15.
"I think there's a clear link to my generation's success and Putin," Alfurov said. "To risk change would be dangerous."
Ayres is a special correspondent.
Twitter: @sabraayres
ALSO
British Prime Minister May says it is 'highly likely' Russia is responsible for poison attack on former spy
On a Moscow bridge, volunteers brave weather and provocateurs to maintain memorial to Boris Nemtsov
Radiation levels near this Siberian village were 1,000 times above normal last fall. But no one worried much
---