Amid scenes of chaos and violence, Catalonia independence vote is projected to pass overwhelmingly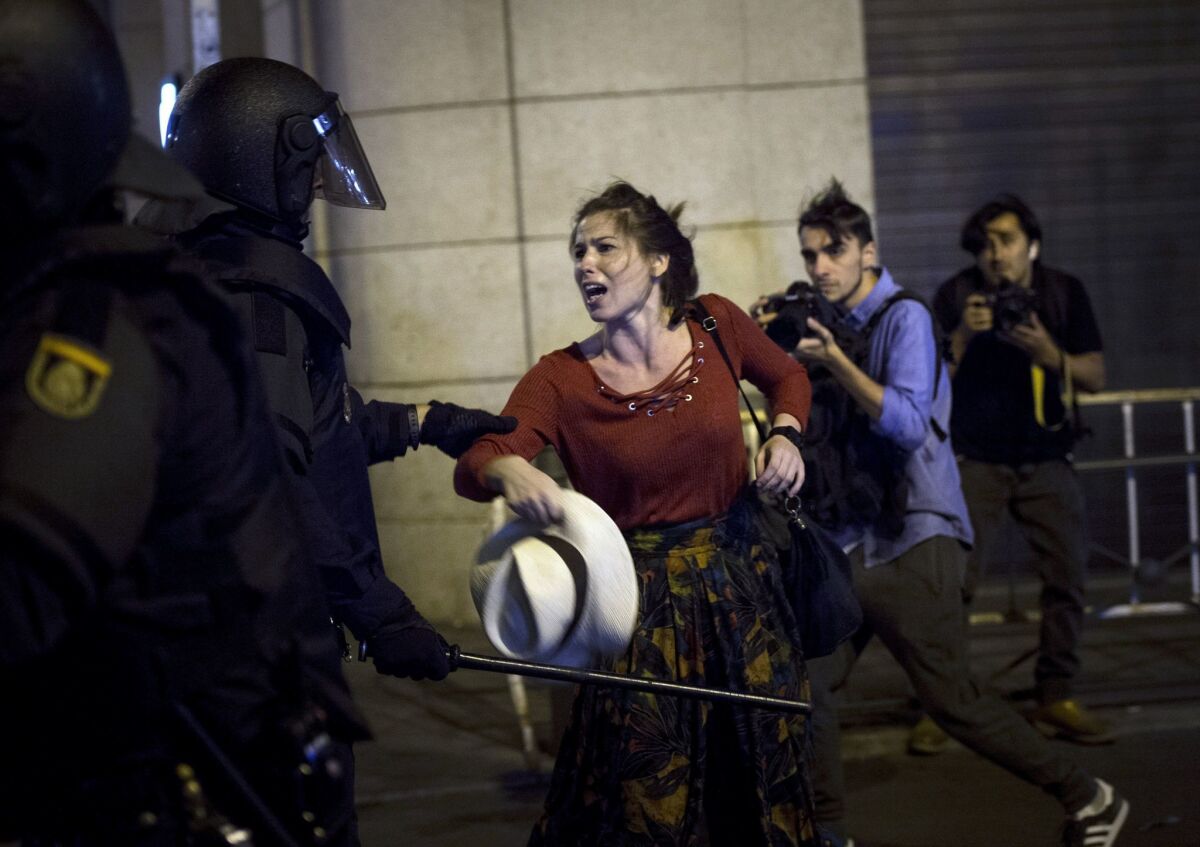 Reporting from BARCELONA, Spain —
Before dawn Sunday, Rose Papel Sanchez, 81, hobbled down her Barcelona street with the help of a cane, joining hundreds of fellow Catalans as they "occupied" their local polling station. They were there to keep police from seizing the ballot boxes in an independence vote the Spanish government considered illegal.
By the time Papel Sanchez returned home about 15 hours later, having cast one of the first votes, Spain's northeastern region of Catalonia was engulfed in violence and Spanish media were reporting that the independence referendum appeared to have passed by an overwhelming majority.
Spanish police smashed windows, severed internet cables with wire cutters, swung billy clubs and fired rubber bullets at voters across Catalonia, a region with its own language and culture and a long-standing desire for more autonomy from the rest of Spain. At least 844 people were injured, regional health officials said. Local media showed images of elderly people with bloodied faces.
Spain has "written a shameful new page in its history with Catalonia," the Catalan regional president, Carles Puigdemont, said in a speech near midnight. He said that the Catalan people had won the right to independence from Spain, and that a declaration would be forthcoming. Catalan laws passed last month give the regional government a 48-hour period within which to declare independence, after the certification of referendum results, if the "yes" votes win.
Although Spanish media reported that provisional results indicated the referendum had passed with a 90% "yes" vote, Puigdemont did not announce official results. His spokesman said more than 2 million ballots had been counted. Catalonia has about 7.5 million residents.
Vote counting was expected to be a long process, amid police raids and clashes that stretched into early Monday. It appeared that rather than keeping people away from the polls, the violence had mobilized them out of anger. Anti-independence parties boycotted the vote, heeding Spain's warnings that it was unconstitutional.
At least one scuffle broke out between rival police forces: the Catalan regional police, or Mossos, who mostly refused to crack down on fellow Catalans; and Civil Guards, a paramilitary force sent in from around the country.
Controversy over the referendum's legal status was overshadowed by allegations of police brutality. Human Rights Watch issued a statement that the Spanish state "has a duty to protect the rights to peaceful assembly and free expression."
Spain's deputy prime minister defended police actions as "proportional," and the Interior Ministry said at least 35 officers were injured. While patrolling streets, some were pelted with stones by residents on balconies above.
Spain's Constitutional Court had ruled Sunday's referendum illegal. Madrid ordered separatists who control the Catalan regional government to desist, but they refused. Thousands of police officers from all over the country were redeployed last week to Catalonia, many of them billeted on ferries in Barcelona's port.
"We did what we had to do," Spanish Prime Minister Mariano Rajoy said, adding that he would appear before parliament and meet with rival parties in the coming days.
Hundreds of demonstrators gathered in Madrid's central Puerta del Sol square around dusk, in rare solidarity with Catalans, often seen as their rivals in both politics and soccer.
Catalonia's unique culture and its language, Catalan, were repressed under Spanish dictator Francisco Franco, who ruled for 40 years until his death in 1975. Since then, it has become Spain's richest region, accounting for about 20% of the nation's economy and more than a quarter of its exports. The tourist hub of Barcelona is the regional capital and Spain's second most populous city.
Papel Sanchez, the voter who helped defend her polling station, was born in 1936, the year the Spanish Civil War broke out. She vividly remembers Franco's dictatorship and said the scenes of police brutality Sunday reminded her of that era.
Overnight into Sunday, families, teachers and neighbors occupied hundreds of public schools that had been designated by separatist leaders as polling stations, holding game nights for children and camping out. Police had orders to evacuate them by 6 a.m. Sunday.
Around that time, the Mossos began arriving at schools. They took note of occupants but failed to evacuate them — and received applause from those inside. Hours later, national police and Civil Guards rolled in — and violence broke out.
On Sunday evening, Catalonia's high court issued a statement that legal complaints had been filed against the Mossos "for inactivity at polling stations."
At times throughout the day, Papel Sanchez linked arms with fellow activists. At other times, she rested in a chair alongside them. She said she was determined "to defend democracy."
"And if we get independence, all the better!" she said. "I have no fear at my age."
Videos shared on social media showed riot police dragging voters out of polling stations by the hair, throwing them down stairs outside and kicking them in the ribs. On one street, next to a long line of armored police vehicles, a woman stood and screamed repeatedly: "Verguenza!" — shame.
"We want the world to know exactly what's happened here," said Carolina Hernandez, a Colombian who immigrated to Barcelona 15 years ago, in line to vote at a Barcelona school with her two young daughters.
No country has said it would recognize an independent Catalonia. Last week, Rajoy won backing from President Trump for a "united Spain." The European Union has treated Catalan separatism as an internal Spanish matter.
"I'm really disappointed. I understand the EU has enough fires to put out as it is. They want to look away," said Xavier Oliver, a Catalan who lives in Scotland and traveled home to vote Sunday in Barcelona. "But at some point, you have to stand up for some of the values you proclaim."
Belgium's prime minister sent a tweet Sunday, calling for political dialogue.
FC Barcelona, one of the most popular soccer teams in the world, played a home game Sunday afternoon, but it was closed to the public for security reasons. The stands were nearly empty.
ALSO
Iraqi Kurds vote on creating an independent Kurdistan — but big obstacles stand in the way
In Spain, police suspect the seed for recent Islamic State attacks was planted years ago
More than a million migrants in Europe stuck in limbo, still waiting for final decisions on their asylum applications
Frayer is a special correspondent.
---
UPDATES:
5:50 p.m.: This article has been updated with the referendum projected to pass, quotes, details, background.
This article was originally posted at 11:05 a.m.
---
Must-read stories from the L.A. Times
Get the day's top news with our Today's Headlines newsletter, sent every weekday morning.
You may occasionally receive promotional content from the Los Angeles Times.