Spain's government moves to halt independence vote for Catalonia, sparking protests
Reporting from MADRID —
After years of largely ignoring Catalan separatism, Spain's central government moved decisively Wednesday to halt preparations for an independence referendum in its Catalonia region, where memories of repression under the Franco dictatorship linger.
The Spanish Civil Guard, a national paramilitary force, raided more than 20 regional government offices and institutions in the Catalan capital, Barcelona, detaining at least 14 separatist officials for their roles in organizing an Oct. 1 secession vote that Spain considers unconstitutional. Those held include aides to Catalonia's vice president.
Civil Guards also raided a warehouse in a rural industrial park north of Barcelona, seizing nearly 10 million ballot papers, as well as referendum posters and voter registry logs.
Protests erupted in the city in response, with crowds filling Las Ramblas, the main pedestrian thoroughfare that is home to one of the government offices where politicians were detained in early-morning raids.
"We will vote!" several thousand people chanted, blocking side streets.
Several hundred protesters also gathered late Wednesday in Madrid's central Puerta del Sol square, in solidarity with Catalans.
"There's a feeling of defiance, anger and incredulousness that people are seeing what they saw under Franco again," Liz Castro, a Catalan American author and activist, said on her way to join the Barcelona street protests, which stretched into the night.
"There's nothing wrong with asking people who act peacefully to vote on their future. But Spain doesn't get it," Castro said. "They go back to tanks and pressure and police."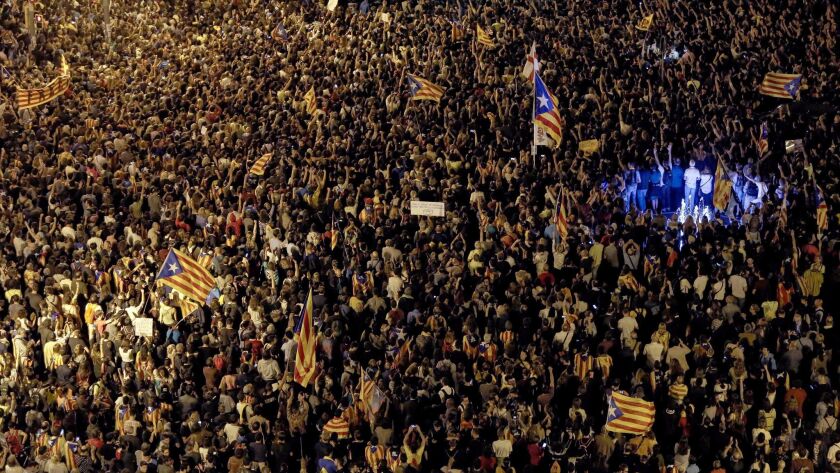 Like the neighboring Basque Country, Catalonia has its own language and culture, which were repressed under the nearly 40-year rule of Gen. Francisco Franco, who died in 1975.
In recent decades, it has become Spain's most prosperous region, accounting for about 20% of the country's economy and more than a quarter of Spanish exports. Barcelona is one of Europe's biggest tourist hubs.
Many Catalans say they resent having their taxes subsidize poorer parts of Spain, especially during a punishing economic crisis from which the country has only just emerged. Catalonia is one of 17 autonomous regions, which enjoy local powers to set policy for education, healthcare and some other services, but rely on the central government for tax collection. The region has a population of about 7.5 million people.
"I want independence because I think we could do much better if we were a country, and could administer our own resources," said Josep Carreras, a health researcher in Barcelona and recent convert to the independence cause.
Opinion polls show Catalans are roughly evenly divided on whether to break away from Spain, but a majority want the right to vote on the question.
Prime Minister Mariano Rajoy insists that is prohibited under the 1978 Spanish Constitution, which enshrines the country's unity.
This month, the Constitutional Court suspended two Catalan regional laws that lay out a framework for the Oct. 1 referendum, as well as plans for secession if the "yes" votes win. National officials in Madrid ordered police to block polling stations, and prosecutors were preparing charges against more than 700 Catalan mayors who have agreed to allow voting in municipal buildings.
In response to reporters' questions about whether the government was being heavy-handed with Wednesday's raids, Rajoy said he believes "no democratic state in the world would accept this."
Catalan separatist leaders "are breaking the law. They are acting against the Constitution. Logically, the state must react," Rajoy said.
For Rajoy, Wednesday's crackdown risked handing Catalan separatists a public relations victory, with unseemly images of paramilitary troops escorting away elected officials, as citizens plead for the right to vote, said Gabriela Bustelo, a Madrid-based political analyst who has also studied California's separatist movement.
"Any country that cannot get a nationalist problem under control, that worsens its image," she said.
Separatists who dominate Catalonia's regional administration insist the Oct. 1 vote is a democratic exercise and have appealed to Europe for support. A multinational team of European observers are expected in Barcelona for the vote. But no European Union country has said it would recognize an independent Catalonia.
After an emergency Cabinet meeting Wednesday, Catalonia's regional president, Carles Puigdemont, gave a televised speech decrying what he called "coordinated aggression" by the Spanish state.
"Spain has de facto suspended the self-government of Catalonia and has applied a de facto state of emergency," he said. "Freedoms are being suspended and repressed."
The Spanish Constitution has a provision — Article 155 — that enables the government in Madrid to revoke self-rule in any region. But that article has not been invoked.
Catalonia held an independence poll in 2014, and voters favored secession. But turnout was low, and Catalan officials acknowledged it was nonbinding. This time, they vow to declare independence from Spain within 48 hours, if the "yes" votes win.
An independent Catalonia would probably have to leave the European Union, at least temporarily, before applying for membership as a new country. It's unclear what currency it would use (Spain uses the euro).
Spain's economy minister this week warned of "brutal" economic collapse and a doubling of unemployment in Catalonia, were it to secede.
Any declaration of Catalan independence would be meaningless without international recognition, but hard-line separatists seem unwilling to back down, Bustelo said.
"This is an absolute crisis, maybe the biggest in our whole democratic era," she said.
Frayer is a special correspondent.
---
UPDATES:
2:35 p.m: This article was updated with additional comments and background on Catalonia's planned independence referendum.
This article was originally published at 11:15 a.m.
---
Must-read stories from the L.A. Times
Get the day's top news with our Today's Headlines newsletter, sent every weekday morning.
You may occasionally receive promotional content from the Los Angeles Times.