The ouster of Spain's conservative leader sets the stage for a new, Socialist government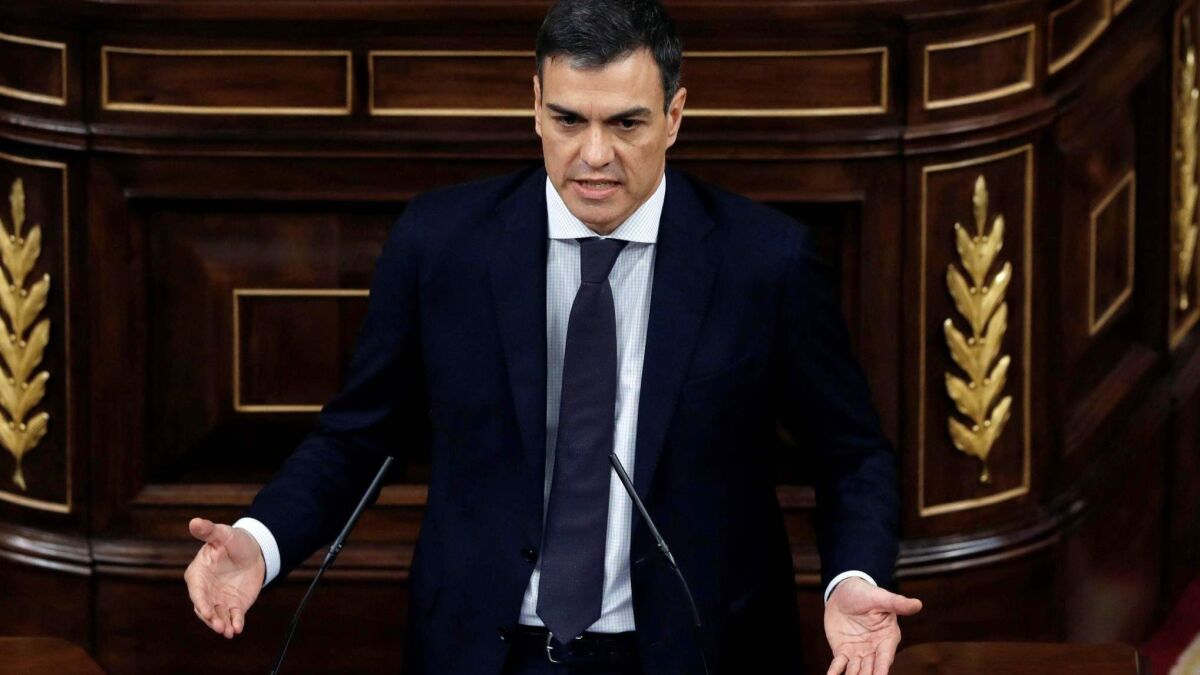 Reporting from MADRID —
The leader of Spain's Socialist party is set to become prime minister after orchestrating the stunning defeat of conservative leader Mariano Rajoy in a no-confidence vote in parliament.
The 180-169 vote Friday against Rajoy in the Congress of Deputies, parliament's lower house, was the first time a Spanish leader had been ousted in a no-confidence challenge. The motion was presented by the Spanish Socialist Workers' Party in response to a major corruption scandal at the heart of Rajoy's Popular Party.
"A new page in this country's democracy has opened," Socialist leader Pedro Sanchez said after describing the need to rid the government of corruption as a question of "democratic hygiene."
Sanchez could be sworn in as prime minister by King Felipe VI as early as Saturday, after which he will begin to assemble a Cabinet.
Last week, a court in Madrid jailed several former Popular Party officials, including the party's onetime treasurer, after the judges concluded that the party had run a slush fund of kickbacks from companies "parallel to its official financial structure" from its foundation in 1989 up to 2005, the last year under investigation in the case.
Rajoy took the stand as a witness in the trial, but his testimony that the party had not used off-the-books accounting was described in the judges' ruling as "not credible."
When it became evident that the arithmetic in Spain's fragmented parliament would lead to a defeat for the incumbent leader, many expected Rajoy to resign and avoid an official vote. That could have plunged Spain into a fresh political crisis as the Congress would have had to choose a new government after spending almost 12 months in 2016 without a majority agreement on an executive. The no-confidence vote had the effect of immediately approving a replacement.
To win Friday's vote, Sanchez's Socialists were joined by the left-wing anti-austerity party Podemos and several Basque and Catalan pro-independence parties.
The arrival of Sanchez brings some hope for a solution to the bitter political conflict between Spain's central government and leaders in Catalonia who seek independence for their region.
Sanchez has said he will seek to establish dialogue with the Catalan government, although he also said he would do so "from within constitutional bounds."
Quim Torra, who last month became Catalonia's president with the blessing of his predecessor, Carles Puigdemont, welcomed the change of government in Madrid.
Puigdemont fled Spain to avoid being jailed, as several of his colleagues were for their part in organizing last October's referendum on independence, which was deemed to be unconstitutional. Puigdemont is in Germany awaiting an extradition hearing.
"The government that sent in the police against citizens who were exercising their right to vote has fallen," Torra wrote on Twitter. The Rajoy administration had used Spanish security forces in a failed attempt to prevent the referendum from taking place, leading to street violence.
But the Catalan leader added that his new regional government, also due to take office on Saturday, would continue its defiance of Spanish law. "We have a republican mandate to fulfill," he said.
The swearing-in of a new team of Catalan regional ministers will mean that direct rule over Catalonia — imposed in November by the Rajoy government after Puigdemont made a unilateral declaration of Catalan independence — automatically lapses.
Sanchez is expected to name his own government drawn from Socialist party colleagues, although with only 84 members of the 350-strong Congress of Deputies, he will need to seek support from several other groups.
Sanchez said he wants to clean up politics and repeal some of the Popular Party's most controversial measures, such as elements of a "gag law" that curtailed the right to demonstrate and express criticism of the security forces.
Sanchez also said he plans to boost environmental protection, work for gender equality and improve pensions and the health service, although he also promised to maintain budget stability and respect the spending limits in place for the current year. He promised to call elections before the legislature's term runs out in 2020, but did not set a date.
---
UPDATES:
12:35 p.m.: This article has been updated with staff reporting, including comments from political leaders, additional details and background information.
This article was originally published at 4:30 a.m.
Must-read stories from the L.A. Times
Get the day's top news with our Today's Headlines newsletter, sent every weekday morning.
You may occasionally receive promotional content from the Los Angeles Times.