Ukraine's separatists propose a new country: Little Russia. Kremlin denies any involvement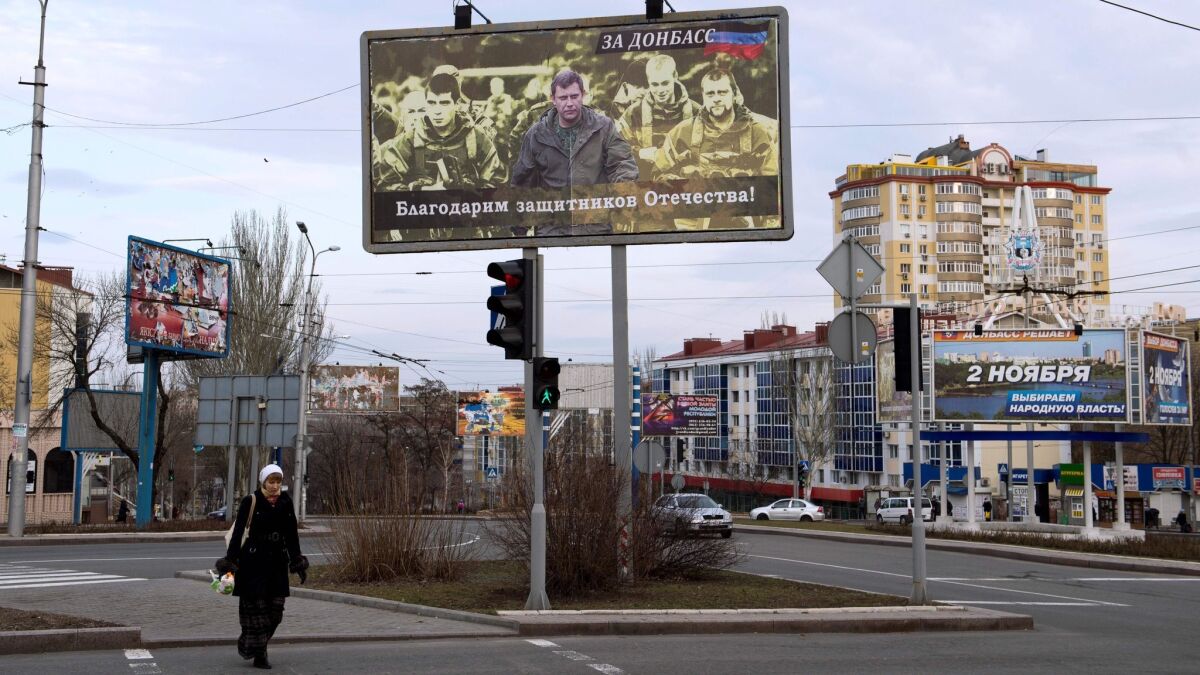 Reporting from Moscow —
The Russian government said it was taken by surprise Tuesday when the rebel leader of a breakaway region of eastern Ukraine proposed the creation of a new nation-state called Malorossiya, or Little Russia.
The head of the self-declared Donetsk People's Republic, Alexander Zakharchenko, told reporters that the new country would include his territory and the neighboring self-declared Luhansk People's Republic, and that it would eventually become part of a wider union with Belarus and Russia.
"We believe that the state of Ukraine cannot be reinstated the way it used to be," he said.
Russia, which openly sympathizes with the pro-Russia separatists but rejects allegations that it has provided military support, denied any role in the proposal and said it still backed the 2015 peace agreement crafted in Minsk, Belarus, to reintegrate the breakaway territories into Ukraine.
The proposal for Malorossiya was nothing more than a "personal initiative" of the rebel leaders, Kremlin spokesman Dmitry Peskov told reporters.
The idea should be subject "to reflection and analysis, but we remain committed to the Minsk accords," he said.
Boris Gryzlov, Russia's envoy to the Minsk talks, remained silent for several hours after the announcement, but later in the day dismissed the idea as nothing more than fodder for public discussion.
"This announcement does not have any legal consequences," he told Russian news agencies.
Even the rebel government in Luhansk seemed caught off guard by the proposal to include it in a new country.
"Luhansk had not been informed of the plans and we are not willing to consider it as something that needs attention," a representative told the news agency Interfax.
Ukrainian President Petro Poroshenko, however, suggested that Russia was behind the rebel announcement, saying at a news conference in Tbilisi, Georgia, that "Zakharchenko is not a political figure, but a puppet transmitting the Kremlin messages."
He promised to bring the eastern regions and Crimea back into Kiev's fold.
The conflict in Ukraine began in 2014 after a mass street movement led to the ousting that February of pro-Kremlin President Viktor Yanukovich.
Russia, which criticized the demonstrations as a Western-orchestrated coup, moved troops into the Crimean peninsula, ostensibly to protect its compatriots and Russian speakers from Ukrainian nationalists. But in March 2014, Russia annexed Crimea, and in the regions of Donetsk and Luhansk, pro-Russia separatist militia groups took over government buildings and declared independence from Kiev.
The Minsk peace talks, which were orchestrated by Germany, Britain and France, have stumbled as fighting has continued to flare up in the region. More than 10,000 people have died in the conflict, many of them civilians. Peace talks were scheduled to resume this week.
Zakharchenko made his announcement at a news conference in the city of Donetsk, which he said would be the capital of the new country. He wore fatigues and various medals on his chest.
He presented a newly written constitution for Malorossiya, a map showing all of Ukraine except Crimea, and a flag to represent the new state. The flag was adapted from that of Bohdan Khmelnytsky, a 17th century Cossack leader who led a revolt against Polish rule in Ukraine and later swore allegiance to Russia.
"It's not a revolution; it's a return to history," Zakharchenko said.
The name "Malorossiya" comes from the historical name for parts of Ukraine that once made up the Russian empire. By choosing the name, the rebel governments seemed to be replacing "Novorossiya," another historical term once used by Russian President Vladimir Putin to describe the southeast territories of Ukraine.
Novorossiya became a concept many rebel leaders and fighters saw as a Kremlin-approved initiative to expand its territories. But Russia distanced itself from the idea as the war raged on, Western sanctions began to hurt its economy and the Minsk agreement came into force.
In Washington on Tuesday, a representative of the State Department who was asked about Malorossiya said: "That is something that's certainly an area of concern to us, but … beyond that, I don't want to dignify it with a response."
Republican Sen. John McCain of Arizona released a statement blaming the Russian president, saying that the "ultimate responsibility for this latest flagrant violation of Ukraine's sovereignty lies squarely with Vladimir Putin's Russia, upon whose leadership, financing, troops and weapons the separatists are entirely dependent."
Ayres is a special correspondent.
Twitter: @sabraayres
Must-read stories from the L.A. Times
Get the day's top news with our Today's Headlines newsletter, sent every weekday morning.
You may occasionally receive promotional content from the Los Angeles Times.