Great Read: Kenyan chief's Twitter feed helps round up stolen cows and lost phones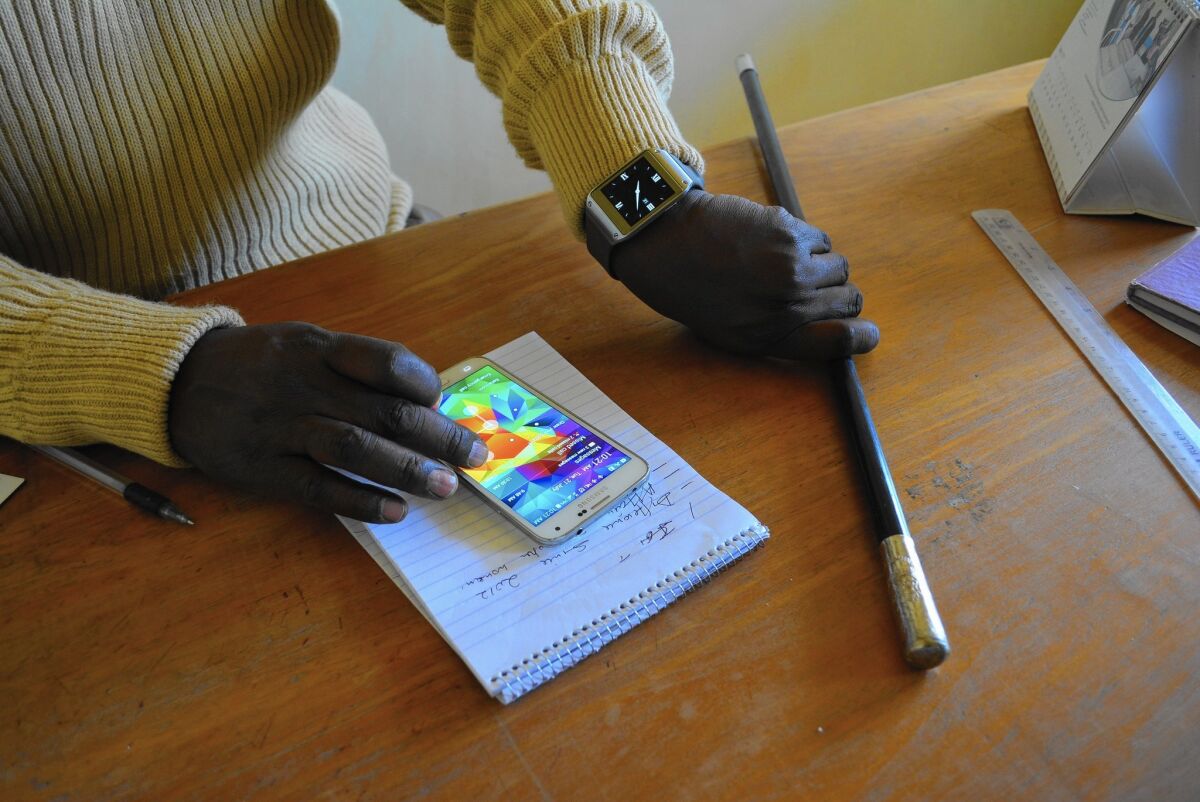 Reporting from Lanet-Umoja, Kenya —
It is morning and young men sit slumped in front of the general store, looking slightly dazed. Tall sunflowers in a field seem to sway to music blasting from a huge, ancient speaker. One man is dancing. Business is slow.
A brown cow was stolen this morning from Gwakiongo.
A man fixes a balcony in front of a small shop, hammering nails noisily into timber. A woman chases her cows into the red dust road. A mother rakes rubbish into a heap to burn.
A child recovered aged 5 yr named Wangui.
A man passes on a bicycle, the tires swishing in the dust. Two boys standing on a cart pulled by three donkeys round the corner of a dirt track, and the driver's tinny cellphone blares out, garish against the gentler sounds of twittering birds.
Parent reunited with the child Wangui.
SIGN UP for the free Great Reads newsletter >>
In this sleepy village in central Kenya, sheep wander off, bicycles get stolen, houses burn down, thieves come in the night. And there's always a fundraiser to pay for someone's hospital bill. (And sometimes their burial.)
Everyone has a cheap, made-in-China cellphone, and everybody knows everybody else's business. Chief Francis Kariuki, the head of the Lanet-Umoja community, makes sure of that with a nonstop Twitter feed on the events of the day.
A child in Umoja had fallen into an open hole but was rescued.
Thanks to the chief, everyone in Lanet-Umoja knows about Twitter. They pronounce it "Too-weeter," and to them, it's the chief's personal messaging system, delivered right to their phones, many times a day.
Anyone with an open hole to make sure is covered, if anything the owner will be held responsible.
::
In the West, tweeting politicians and public officials are banal, tolerated by followers and watched hawkishly by gaffe-trawling opponents. But Kariuki — @Chiefkariuki — has become celebrated in Kenya as the "tweeting chief," sending out a steady stream of 140-character (or fewer) missives.
All the village news, good and bad, trickles across his Twitter feed. He passes on messages from distressed villagers and telegraphs their calls for help.
"My boy Joe gave a strange boy his bike and he ran away with it…"
Kariuki's office is built of stone and bears the sign: "Office of the President Chief's Office." There's a waiting room with seven long benches arrayed like pews in a church. It's a busy day for the chief. There are two burials, a ceremony handing out free water filters to the community, people arriving to visit a clinic offering free medical care.
Telephone lost in the morning by Mother Kairu is found. Thank you…
It's difficult to imagine anyone with shinier black patent leather shoes than Kariuki, who was appointed by the government as chief of this 29,000-member community five years ago. The former school principal sits ramrod stiff at his small wooden desk, wearing his uniform beige trousers and sweater with epaulets bearing the words Kenya Administration, and his large Samsung watch on his wrist.
On the desk is a black beret and his scepter, his symbol of state power: a black leather baton with a gleaming silver top bearing the Kenyan coat of arms. Oh, and his smartphone — the latest-model Samsung. (He also keeps a cheap Chinese cellphone in case the Samsung runs low on battery.)
Amid the minutiae of village life, he inserts hearty daily homilies, morsels of encouragement and exhortations to keep religious faith.
Too often, we get frustrated by the difficulties. But you have to realize, you can't have a harvest without a few weeds.
And, at times, homespun advice.
If an animal can swallow you, don't try to kiss it.
::
Kariuki endeavors to live a simple, humble life, but can't disguise his enthusiasm for his smartphone. He sighs with pleasure, remembering the first cellphone he ever got, a Siemens, back in 1999, as a schoolteacher. He was one of the first people in the community to own one, and even though it was "a small, funny phone" that didn't even send text messages, people were in awe.
"It was like a luxury. Whenever I used it, people would surround me to see how it worked. Even the other teachers didn't know how it worked," he says.
"Generally, I have a passion for technology. Whenever new technology comes along, I want to be the first to get it and find out how it works. I used to get my father's radio and try to look inside it, or create my own radio."
John Njoroge age 5 years found Kiondo area. Now staying with Ann Wangari, a maize roaster at Kiondo area.
It wasn't so much cellphones that he saw as revolutionary, but the capacity, beginning in about 2000, to send text messages, a system that helped Africans stay in touch.
The chief joined Twitter in 2011 and hasn't looked back. He tweets day and night.
A few months ago, he got word that old Mrs. Gicharu's house was alight, the flames shooting into the air. The chief's Twitter message went out and people ran to help. But the building burned swiftly. The house, and everything in it, was lost.
So he tweeted about the fundraiser to help her rebuild.
"I'm only doing my work," he says. "They depend on me for almost everything."
I have lost a sheep and lamb near the transformer. Mama Junior. Plis help in tweeting. Thankyou.
Occasionally, he takes on giants that are far beyond the reach of villagers, like the big cellphone companies or the state electricity provider.
Kenya Power we have no power since morning at Lanet-Umoja area. Kindly do something.
Kariuki denies an interest in politics, despite the national publicity his tweeting has gained him.
But at times, his handsome face thoughtful, he sounds as smooth as the silkiest politician.
"I try to fight conflict with my work," he says. "Mine is to focus on my people. My main mandate is to keep the people safe so they can do their business and go to school and their environment is clean."
He says he has enemies and critics, though he's vague about who they are: "Of course we have some haters. There are some people who are beneficiaries of crime. Even some police thought I was taking their job."
But the tweets have made him extremely popular with locals.
"I lost my cow two months ago and it was found," says Jane Owori, 74. "It's helping us, because he informs us what is happening."
"I know many people who have lost things and got them back," says another villager, Jane Kerubo, 49. "Now everyone has a phone and sometimes we lose a phone, and with the Twitter these phones are always found, even if it is very far away, because once he sends out a message, people respond. Nothing has been lost since that Twitter.
"Even the petty criminals run away because they have phones and they're following him."
Lately, the most social-media savvy of Kenya's chiefs has been training other chiefs in the art. Or trying to.
"They may not be at my level," he says. "But they're trying very hard."
Must-read stories from the L.A. Times
Get the day's top news with our Today's Headlines newsletter, sent every weekday morning.
You may occasionally receive promotional content from the Los Angeles Times.