Reporting from Kabul, Afghanistan —
A suicide bomber targeted students preparing for university exams in a Shiite neighborhood of Kabul on Wednesday, killing at least 48 people and wounding 67 in an attack blamed on the Islamic State group, officials said.
The bombing was the latest large-scale assault on Afghanistan's Shiite community, which has increasingly been targeted by Sunni extremists who consider Shiites to be heretics. It comes amid a particularly bloody week in Afghanistan that has seen Taliban attacks kill scores of Afghan troops and civilians.
The bomber detonated his explosives inside a private building in the Dasht-i Barcha area of Kabul, where a group of young Shiite men and women, all high school graduates, were studying for university entrance exams.
The spokesman for the public health ministry, Wahid Majroh, said the death toll — which steadily rose in the immediate aftermath of the bombing — could rise further.
Majroh did not say whether any teachers were among the casualties or if all the victims were students.
The explosion initially set off gunfire from Afghan guards in the area, leading to assumptions that there were more attackers involved. Officials later said all indications were that there was only one bomber.
No group immediately claimed responsibility for the attack, but Jawad Ghawari, a member of the city's Shiite clerical council, blamed Islamic State, which has carried out similar attacks in the past, hitting mosques, schools and cultural centers.
In the past two years, Ghawari said there were at least 13 attacks on the Shiite community in Kabul alone.
Abdul Hossain Hossainzada, a Shiite community leader in the western Kabul neighborhood, said the bomber apparently targeted the course, which had young men and women studying together.
Taliban spokesman Zabihullah Mujahid denied his group's involvement in the attack.
Meanwhile, a Taliban assault on two adjacent checkpoints in northern Afghanistan late Tuesday night killed at least 30 soldiers and policemen, officials said.
The attack took place in northern Baghlan province, in the Baghlan-I Markazi district, said Mohammad Safdar Mohseni, the head of the provincial council. Dilawar Aymaq, a parliamentarian from Baghlan, said the attack targeted a military checkpoint and another manned by the so-called local police, militias recruited and paid by the Interior Ministry.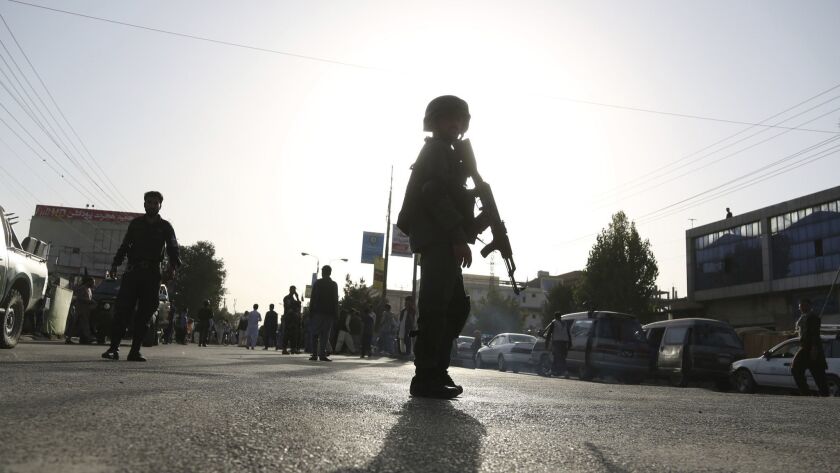 Abdul Hai Nemati, the governor of Baghlan, said at least nine security forces were still missing and four others were wounded in the attack. He said reinforcements have been dispatched to help recapture the checkpoints.
Mujahid, the Taliban spokesman, claimed responsibility for that assault.
Also Wednesday, life was gradually returning to normal in parts of the eastern city of Ghazni after a massive, days-long Taliban attack, though sporadic gun battles were still underway in some neighborhoods.
Afghans emerged from their homes, and some shops reopened in Ghazni, where the Taliban launched a coordinated offensive last Friday, overwhelming the city's defenses and capturing several neighborhoods. Afghan forces repelled the initial assault, and in recent days have struggled to flush the insurgents from residential areas where they are holed up.
The United States and NATO have launched airstrikes and sent military advisors to aid Afghan forces as they fight for the city, just 75 miles from the Afghan capital with a population of some 270,000 people.
Arif Noori, a spokesman for the provincial governor, said Wednesday that "life is getting back to normal" after at least 35 civilians were killed in recent days. But he said wounded people were still arriving at the city's only hospital, which has been overwhelmed by the casualties.
Hundreds of people have fled the fighting in Ghazni, which also has killed about 100 members of the Afghan security forces.
Elsewhere in Afghanistan, the Taliban attacked a police checkpoint in the southern Zabul province early Wednesday, killing four policemen, according to the provincial police chief, Mustafa Mayar, who said three other officers were wounded. He said seven attackers were killed and five were wounded during the battle, in which the Taliban used artillery and heavy weapons.
The Taliban have seized several districts across the country in recent years and carry out near-daily attacks targeting Afghan security forces. The assault on Ghazni was widely seen as a show of force ahead of possible peace talks with the U.S., which has been at war in Afghanistan for nearly 17 years.
Also on Wednesday, six children were killed when they tinkered with an unexploded rocket shell, causing it to blow up, said Sarhadi Zwak, spokesman for the governor of the eastern Laghman province. Zwak said that the victims were girls, ages 10 to 12, who were gathering firewood Wednesday.
He blamed the Taliban, saying the rockets they fire at Afghan security forces often harm civilians.
Afghanistan is littered with unexploded ordnance left by decades of war. It also is plagued by roadside bombs planted by insurgents, which usually are intended for government officials or security forces but often kill and maim civilians.
---