Charity helps foreign troops take Afghanistan pets home
Louise Hastie, a former British soldier, runs Nowzad, a charity that reunites Afghan pets with Western soldiers and contractors who can't bear to leave them behind. All of the dogs adopted are strays, like Joey, who suffers from sores on his nose and paws, but is getting much better, according to Hastie, who has become very close to the dog.
(Carolyn Cole / Los Angeles Times)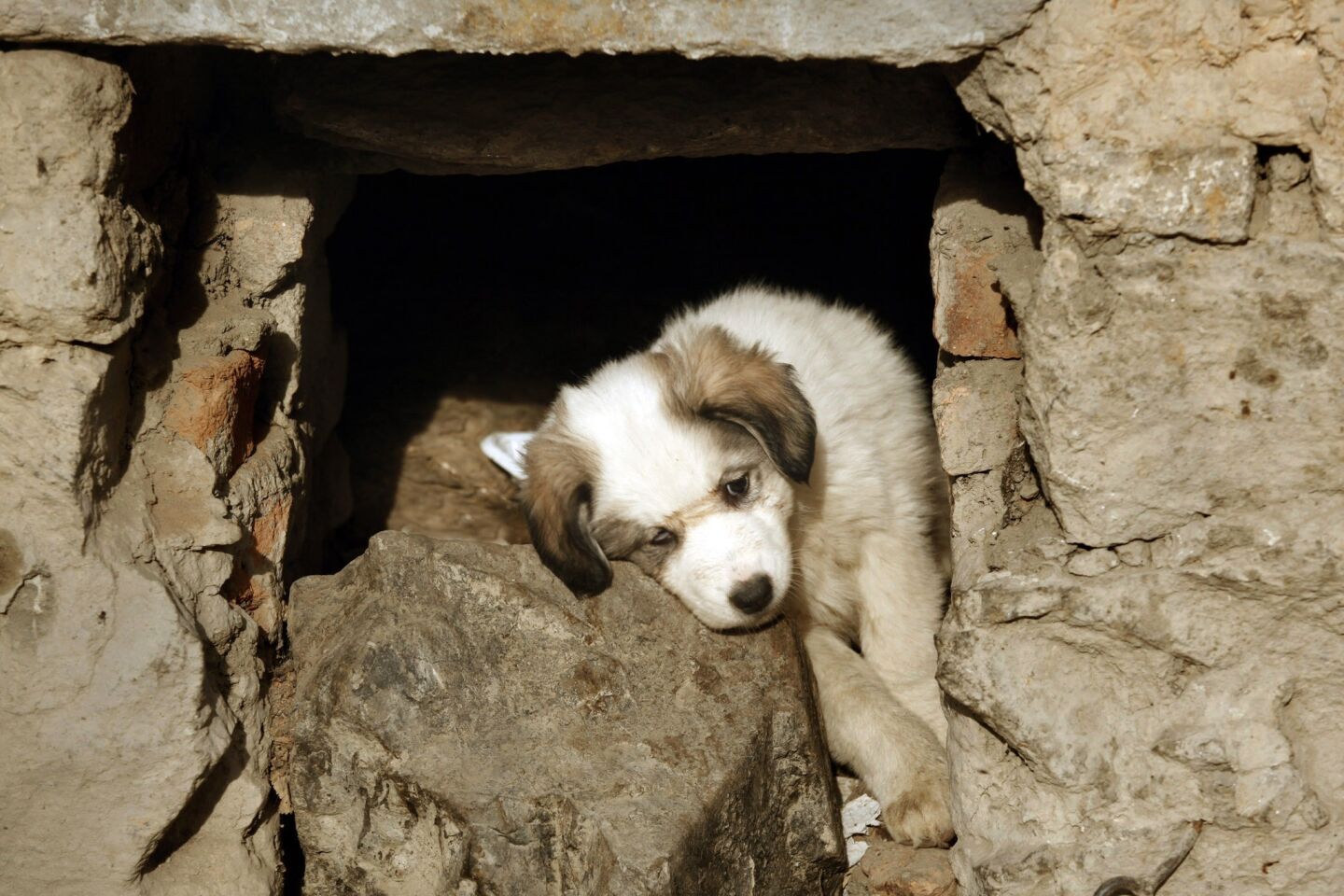 Star, a young puppy living in a hole in a wall, is now available for adoption at Nowzad in Kabul. Nowzad helps reunite Afghan pets with Western soldiers and contractors who can't bear to leave them behind. All of the dogs adopted are strays, like Star.
(Carolyn Cole / Los Angeles Times)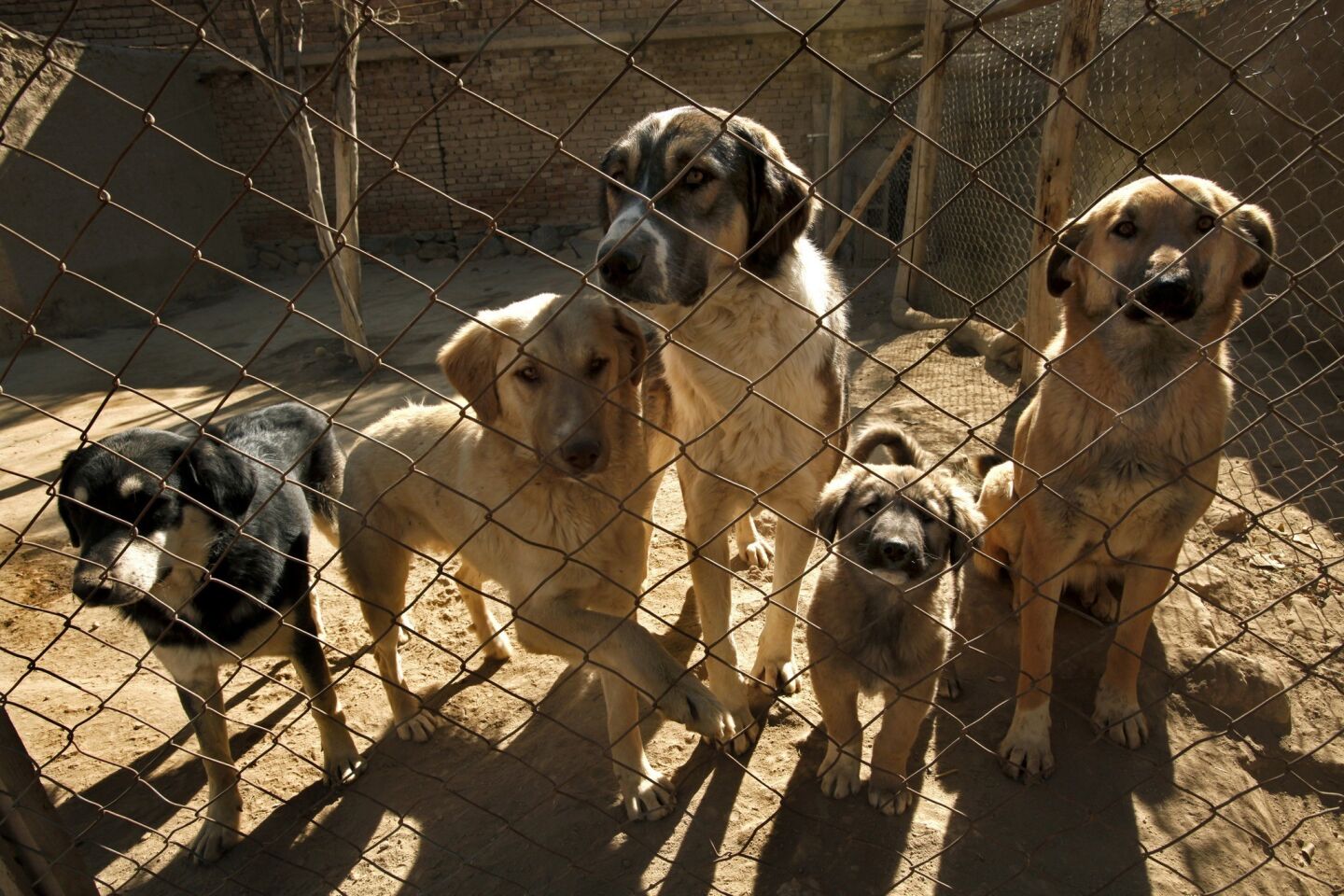 Part of "The Magnificent Seven," a group of Afghan dogs who are being adopted by American soldiers with the help of Louise Hastie and the organization Nowzad. It costs between $3,500 and $4,000 to rescue a dog.
(Carolyn Cole / Los Angeles Times)
Sweet Pea is a young cat who will soon be flying from Afghanistan to the United States, after adoption. Susan Chadima, a visiting veterinarian from Maine, right, volunteers at Nowzad, a charity that reunites Afghan pets with Western soldiers and contractors who can't bear to leave them behind. A cat rescue costs about $2,500, which covers transport, medical, and boarding expenses.
(Carolyn Cole / Los Angeles Times)
Sweet Pea is worked on by visiting veterinarian Susan Chadima. With her are Drs. Abdul Hadi, left, and Zabi, both full-time veterinarians at Nowzad. Chadima, who has her own practice in Maine, volunteers at Nowzad several times a year. Chadima has a Nowzad dog -- Callie, a stray hit by a car in Kabul. Chadima sewed her back together; Callie is now in the care of Chadima's husband in Maine.
(Carolyn Cole / Los Angeles Times)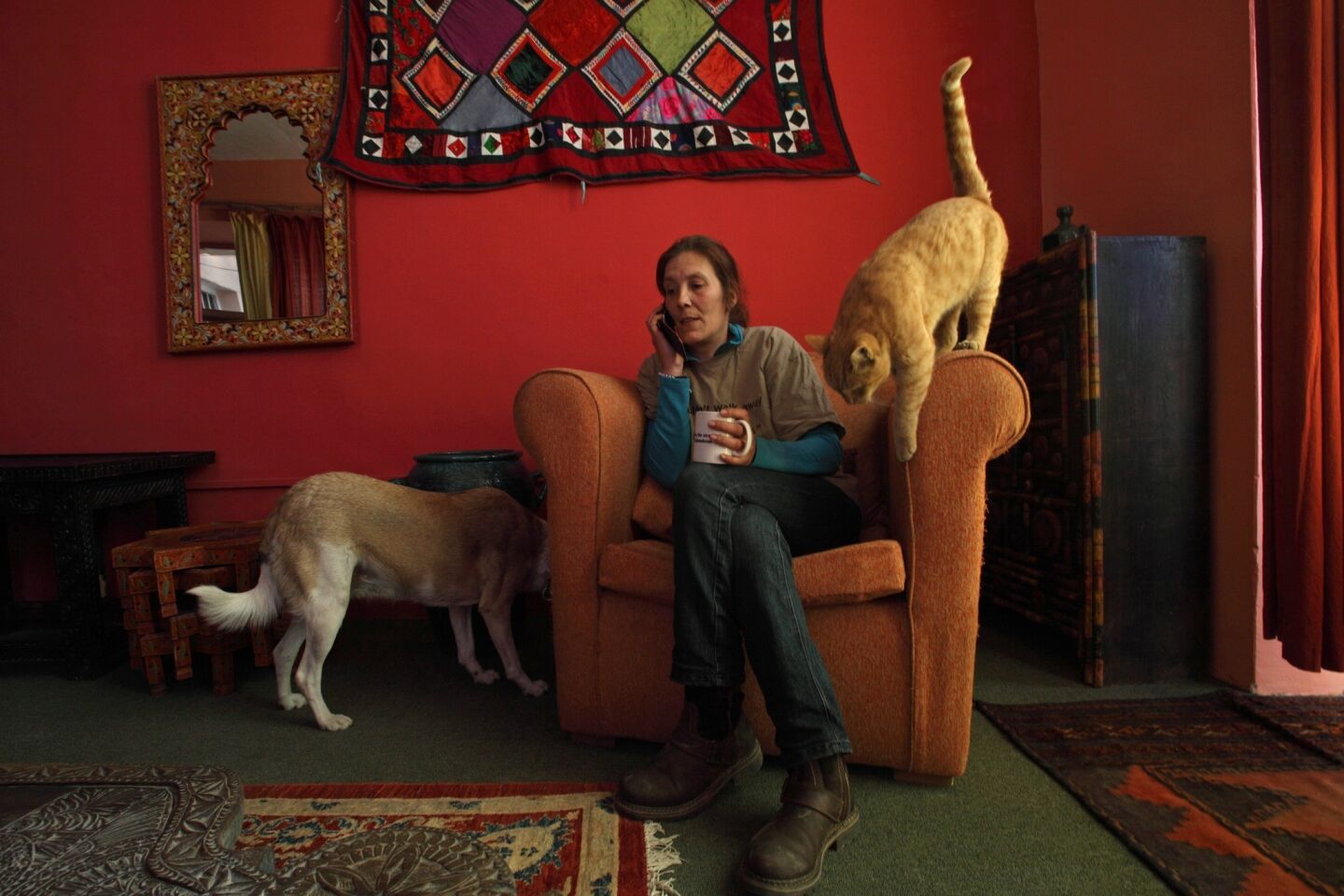 Louise Hastie is often awakened by round-the-clock phone calls from soldiers wanting their pets rescued or delivered. "It's a 24-hour-a-day job," Hastie says."I don't do this for the money. I do it to make a difference, for the animals and for the people who care about them."
(Carolyn Cole / Los Angeles Times)
KABUL, Afghanistan — She was just an ordinary brown mutt, a stray, but Pvt. Conrad Lewis loved her.
Lewis, a British paratrooper in Afghanistan's Helmand province, adopted the dog and named her Pegasus. Everyone called her Peg.
In his letters home, Lewis described Peg as a member of his military family: "I have taught her to sit and give me her paw.... She patrols with us, she is not afraid of the Taliban or their bullets."
When Lewis was on Christmas leave in Britain in 2010, he told his father, Tony, that Peg was so important to him that he wanted to bring her home when he returned from his deployment. "That's your job, Dad," he said.
Two months later, in February 2011, Pvt. Lewis was dead at 22, shot by a sniper.
Tony Lewis and his wife, Sandi, were determined to honor their son's wish. A friend put them in touch with Pen Farthing, a former British Royal Marine whose charity, Nowzad, helps reunite adopted pets with soldiers and contractors after they leave Afghanistan.
The parents, the charity and Conrad's fellow paratroopers hatched a plan: Peg was slipped aboard a military helicopter, then disguised as a military working dog. Afghan army soldiers were paid to deliver her to Kabul.
The Nowzad kennels in the Afghan capital nursed her back to health. Six months later, in November 2011, Peg leaped into the arms of Tony and Sandi Lewis in Claverdon, Warwickshire.
"Having her here means so much to us," Tony Lewis said on Thanksgiving Day. "She is a link to Conrad's time in Afghanistan, a symbol of his sacrifice. She is something he loved, and we love her too.... She has his spirit."
***
Obia, a skinny white mongrel, was packed up and ready to travel from the Nowzad kennels.
A computer chip had been implanted in his neck to identify him. He'd been given a rabies shot and vaccinations. He was free of distemper, parvo virus, mange, ticks and worms. And, although Obia protested, his manhood had been surgically removed.
Obia was headed to the United States along with Stan, an excitable tabby cat. Obia will be reunited with an American soldier who had adopted him. Stan, freshly neutered, was headed back to an American security contractor who had transferred home.
"And here's Bruno — yes, hello, Bruno! You're going next!" Nowzad kennel manager Louise Hastie cooed to an eager, slobbering mastiff soon to be reunited with a soldier now in Italy.
Rescued dogs and cats yowled and meowed at Hastie, a former British soldier, in the noisy Nowzad compound on Kabul's dusty western shoulder.
Hastie hustled from cage to cage, tending to pets whose owners apparently can't bear to live without them. "Re-homing," she calls it.
More than 400 dogs, and a few cats, have been flown to new homes overseas by Nowzad. But first, most have to be recovered from military bases, where pets are technically against regulations. Then they are driven along insurgent-infested roads to the capital by an underground network of hired Afghan drivers.
The dogs don't travel in pet containers. That would give them away as pets of Westerners. They ride freely in the vehicle, the Afghan way, barking furiously until they're safely in Hastie's arms.
Nowzad's efforts "are almost like military operations: They require a lot of planning and precision," Hastie said as she stroked the ears of Ladybug, a lazy stray dog who wandered into her kitchen one day and never left.
Most pets go to the United States or Britain, but some have been flown to Australia, Germany, Canada, South Africa and Italy. Hastie negotiates the exhausting business of health certificates, blood tests, quarantines, customs clearances, manifests and pet flight containers.
In addition to Peg, the charity has delivered Lexie, a small white stray, to the family of another fallen soldier. Lexie was sent in June 2011 to the Michigan family of Marine Sgt. David Day, 26, who had contacted Nowzad for help in sending her to his home a month before he was killed in combat in April 2011.
More typical are dogs like Rio, the malnourished pup of a stray, adopted by U.S. Army Staff Sgt. Bob Cook in Afghanistan last year. Cook called Hastie just in time to save Rio from euthanasia at his base.
Hastie cared for Rio at Nowzad while Cook raised money from friends and strangers to send the dog to Cheektowaga, N.Y., where Rio joined Cook's wife, Kristin, in November 2011. Rio was waiting for Cook when he returned from deployment in March.
"She greeted me at the door; she's the love of my life," Cook said.
Rescuing a dog costs $3,500 to $4,000. A cat rescue costs about $2,500. On average, soldiers, contractors or families contribute $500 to $1,000 per rescue. Donations from animal lovers worldwide take care of the remainder.
"It's bloody expensive," Hastie said, citing flights, food, boarding, medical treatment, wages for Afghan staff members.
Nowzad was founded in 2007 by Farthing. While serving in Helmand province in 2006, he rescued a stray from an organized dogfight and named it Nowzad, after a district in Helmand. He eventually got Nowzad home to Britain and later decided to help other soldiers recover their pets.
"The dogs want nothing more than human company — and to be fed," Farthing said from his home in Britain. "And the soldiers want nothing more than a bit of normality in their daily routine."
But most soldiers wait until they're about to transfer home to contact Nowzad.
"Normally we receive an emotional plea for help in getting the dog away from the base just as the soldier is about to be sent home," Farthing said. "We have to work extremely quickly to make it all happen."
Nowzad's headquarters is in Britain, with an office in Peoria, Ill., and the kennels in Kabul.
In Kabul, Nowzad relies on the efforts of Hastie, a slender, harried woman who dotes on the animals. She sleeps in snatches, awakened by round-the-clock calls from soldiers wanting their pets rescued or delivered. Her email account is clogged with notes of thanks from soldiers whose pets have been safely delivered.
"It's a 24-hour-a-day job," Hastie said, raising her voice to be heard over the howling of Sherak, a huge mastiff that greeted her with a clumsy lunge. She's paid a modest salary, which she figures works out to a few cents an hour.
"I don't do this for the money," she said. "I do it to make a difference, for the animals and for the people who care about them."
Hastie's home, next to the kennels, houses 14 rescued dogs — Rocky, Socks, Malik, Panda and so on — that are now her pets. They and the kennel animals outside constantly compete for Hastie's attention.
Here's Buster, a stray dog who had a bullet removed from his leg. Here's Mouse, a female mutt whose leg was amputated after a car accident.
And here's Joey, a skeletal creature Hastie found in the street "looking for a place to die." Sores and infections festered on the dog's coat and snout. Hastie figured Joey was certain to die, but she has nursed him back to health. He greeted her with a tortured wag of his tail.
A few rescued dogs have been adopted by Afghans, but Joey and the others will probably also be adopted by Hastie. Her heart melts, she confessed, at the sight of a stray.
Hastie, who had served seven months in Iraq with the British army, heard about Nowzad three years ago when she was back in Iraq as a contractor. She offered her services and was eminently qualified: She'd already helped several of her friends get pets out of Iraq.
"The only word to describe Louise is intrepid," said Susan Chadima, an American veterinarian who volunteers at the kennels.
Chadima spoke as she sliced into Sweet Pea, a rescue cat she had anesthetized. Sweet Pea was having her ovaries and uterus removed. She followed Garfield, a short-haired cat, who had just undergone neutering on the same surgical table.
Controlling the dog and cat population is a central mission for Nowzad in a country where people sometimes poison or shoot strays. Many Afghans consider canines filthy, using them only for protection, livestock herding or dogfights.
"If we can control the population and make these animals clean and healthy, maybe we can change attitudes," Chadima said.
Even Chadima has a Nowzad dog: Callie, a stray who had been hit by a car in Kabul. Chadima sewed her back together; the dog is now in the care of her husband in Maine.
A Chicago charity recently asked Nowzad to supply therapy dogs for soldiers with post-traumatic stress disorder. Hastie sent Kala and Pippa, two female dogs who she thought had the right personalities for therapy.
Nowzad also took in Ted, a U.S. military working dog suffering the canine equivalent of PTSD after sniffing for bombs in combat. Hastie arranged for Ted to get a quiet home by reuniting him with his handler, an American soldier now in Germany.
Not all pet stories end happily. Two stray dogs taken in died of rabies. Another dog, trained by Afghans to fight, bit both Hastie and Farthing. He's still at the kennel, but he's not going to be anyone's pet.
Next to the kennel, Hastie bent down to greet seven dogs that had just arrived — "the Magnificent Seven," she called them. They had been adopted by soldiers who were scheduled to return to the U.S. Hastie was arranging for the dogs to rejoin them.
The soldiers were willing to contribute money, but Hastie still needed a lot more, about $25,000.
"We'll raise it," she said. She looked into the sad brown eyes of one of the seven dogs and told him, "You've hit the jackpot."
***
In Warwickshire, Peg has made her peace with the Lewises' bulldog, Fergie, but still competes with him for attention and food. She has also taken to stealing his bed.
"Peg is cute, fun, cheeky, very streetwise and smart" … and bold and dominant just like Conrad, said Tony Lewis.
Sandi Lewis can't look after her son anymore. "But we can look after his beloved dog."
Peg gave Conrad something he needed at a pivotal juncture in his young life, his father said: love, comfort and loyalty. "The least she deserves is a loving home back with us."
Must-read stories from the L.A. Times
Get the day's top news with our Today's Headlines newsletter, sent every weekday morning.
You may occasionally receive promotional content from the Los Angeles Times.