Afghan forces are battling to keep another major city from falling to the Taliban
Reporting from Chah-e-Anjeer, Afghanistan —
Crouched behind walls in this village outside the capital of Helmand province, Afghan special forces soldiers have been dug in for more than a week, trying to stave off an advance by Taliban insurgents.
In some of the most intense fighting in recent months, Afghan soldiers and police — backed by U.S. airstrikes — have battled insurgents in four districts of Helmand, the heart of Afghanistan's opium production and a longtime haven for the Taliban.
Nearly a year after the Taliban briefly overran the northern city of Kunduz, the fighting outside Lashkar Gah, the provincial capital, is the latest threat to the Afghan government's control of a strategic part of the country.
Afghan and U.S.-led international forces eventually wrested Kunduz back from the insurgents. Helmand, site of some of the greatest casualties suffered by U.S. and British forces over the past 15 years, represents a greater prize because of its poppy crop, the Taliban's biggest source of revenue.
Afghan military officials said that soldiers and police this week pushed back about 200 Taliban fighters from the outskirts of the city and defused 20 roadside bombs planted by the insurgents. The fighting has forced thousands of Afghan families to flee their homes and overwhelmed the few hospitals equipped to treat heavy casualties in Lashkar Gah, a city of about 300,000 people.
U.S. warplanes, part of the U.S.-led NATO mission that is supporting Afghan forces, have conducted approximately 30 airstrikes in Helmand since July 29, officials said.
A spokesman for the NATO coalition, Brig. Gen. Charles Cleveland, described the situation as "contested." But in a visit to Helmand over the weekend, senior Afghan security officials said they were confident that Lashkar Gah would not fall.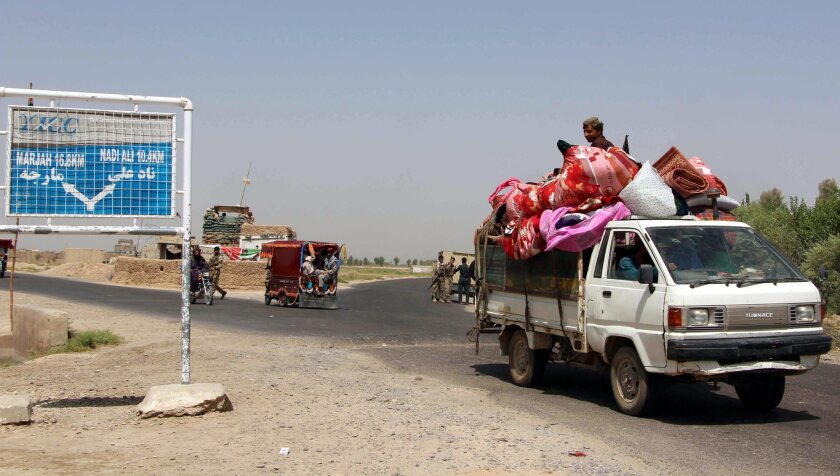 The Taliban onslaught in Helmand has raged for several months as Afghan forces have struggled with defections, poor leadership and a lack of equipment. Along with recent gains in northern Afghanistan, the Taliban now are believed to control more territory than at any point since the 2001 U.S.-led military invasion of Afghanistan.
The Taliban offensive in Helmand gained ground nearly two weeks ago when police forces abandoned most of their 27 checkpoints here in Nad Ali district, northwest of Lashkar Gah, said Col. Nematullah Khalil, commander of an Afghan army brigade in Helmand.
Officials were investigating why the police left their posts without fighting; some suspect that they may have been paid off by the Taliban.
"There have been some problems and irregularities among security forces, but we have been working hard to eliminate and prosecute those violating rules," said Gen. Abdul Rahman Rahman, deputy interior minister.
With the Taliban close to capturing the district center in Nad Ali, police, army commandos and intelligence units arrived to repel the insurgents. By Saturday, Taliban fighters were still holed up in parts of Chah-e-Anjeer, less than 10 miles northwest of Lashkar Gah, and remained in control of several outlying districts in the province of some 1.1 million people.
Visiting Helmand over the weekend, the deputy Afghan army chief, Gen. Murad Ali Murad, acknowledged "a lack of fighting abilities" among the soldiers and police. But he added that the army was struggling to train new recruits and resupply forces in the field quickly enough because of ongoing hostilities.
Fighting in Afghanistan typically picks up pace in the warmer months, and a provincial security official said the ranks of the Taliban in Helmand swelled to 4,000 this summer. The militants move freely across the province's unsecured, 130-mile border with Pakistan to treat wounded fighters and resupply their forces.
"The Taliban are well-equipped with snipers, night-vision binoculars and heavy artillery," said the provincial official, who requested anonymity because he wasn't authorized to speak to the media.
The governor of Helmand, Hayatullah Hayat, said more than 200 insurgents had been killed over the past two weeks, while Afghan forces suffered 15 deaths and had 35 soldiers and police injured.
The governor's office said more than 1,800 families had fled their homes in three districts surrounding Lashkar Gah over the past two weeks. The medical charity Doctors Without Borders said this week that sick and injured people were struggling to reach the city's Boost Hospital, a 300-bed facility that it operates in partnership with the Afghan health ministry.
Patients report that blocked roads and Afghan security checkpoints have delayed them from reaching the hospital, the largest health facility in the area.
"The intensification and proximity of fighting is clearly limiting access to the hospital," Guilhem Molinie, Doctors Without Borders' country director in Afghanistan, said in a statement.
This week, a 15-year-old girl from Nawa district, just a few miles southwest of Lashkar Gah, was brought to Boost Hospital after suffering from meningitis for more than a week. Normally curable with antibiotics, the infection can be fatal if untreated. The girl arrived at the hospital in a coma and died within 24 hours, doctors said.
Doctors also are concerned because the child malnutrition ward is treating only 25 children, significantly fewer than normal for this time of year.
"When we see empty beds, it's always worrying, especially in the pediatric wards," said Erland Gronningen, a doctor at the hospital.
"We know these children are sick, and normally the beds are full. An empty bed in the pediatric ward is like the face of war."
A hospital in Lashkar Gah operated by Emergency, an Italian medical charity, has admitted 180 victims of the fighting in recent days, said medical coordinator Vesna Nestorovic.
Shah Mohammad, 60, a farmer in Chah-e-Anjeer, was admitted this week with shrapnel injuries to his hand, leg and shoulder. He was hurt when Afghan forces launched a counter-offensive to drive the Taliban out of the village, home to a few hundred families.
"When mortars started raining down, one hit my room and injured me," Mohammad said in the hospital. "I shouted and asked for help from the Taliban, but they left me alone."
It wasn't until the morning after the battle that villagers were able to bring him to the hospital. Many families have sought shelter at private homes in Lashkar Gah.
Shirin Jan, 40, left Chah-e-Anjeer three days ago with about 20 family members after her husband, an army soldier, was taken hostage by the Taliban at his checkpoint. On Saturday, she gathered with other displaced people at the provincial office for refugees, pleading for help.
"We can't return home because Taliban planted many roadside bombs," she said. "We have nothing to eat, even for today's dinner."
Faizy is a special correspondent. Times staff writer Bengali reported from Tehran.
Follow @SBengali on Twitter for more news from South Asia
---
Must-read stories from the L.A. Times
Get all the day's most vital news with our Today's Headlines newsletter, sent every weekday morning.
You may occasionally receive promotional content from the Los Angeles Times.