Afghan city of Kunduz, briefly captured by the Taliban last year, is in danger again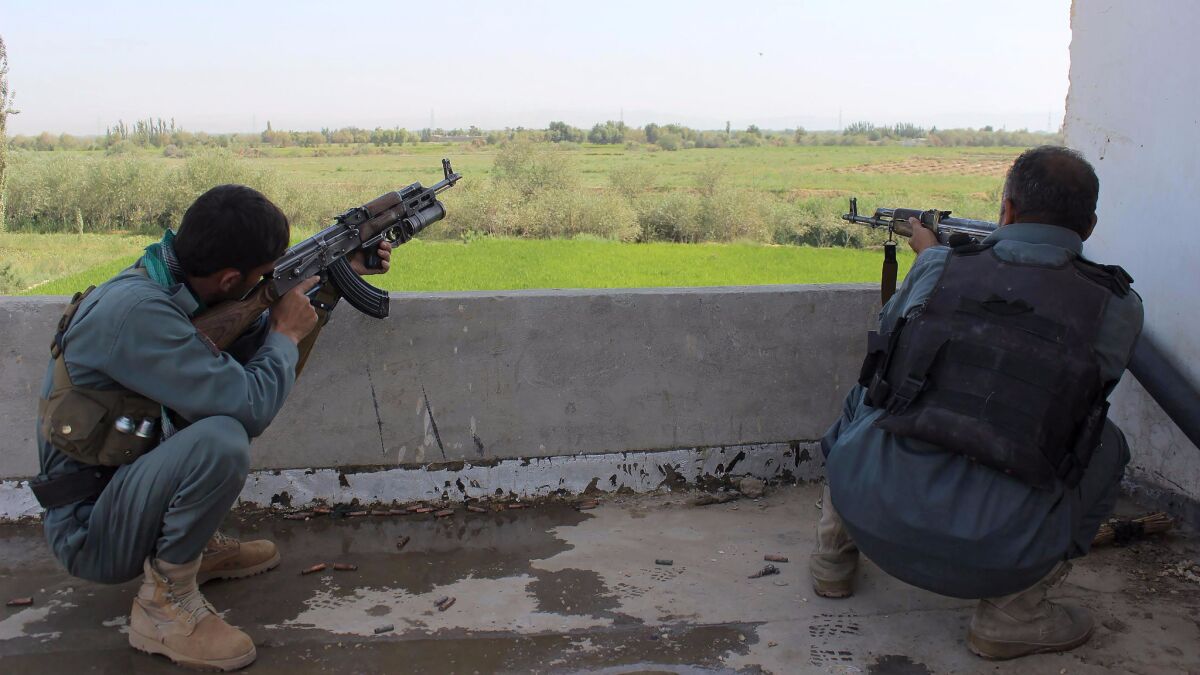 Reporting from Kabul, Afghanistan —
The Taliban and Afghan government forces were wrestling for control of districts in northern Afghanistan on Sunday as officials vowed not to let the strategic city of Kunduz fall back into militant hands.
Kunduz, the country's fifth-largest city, was briefly captured by the Taliban nearly one year ago. At the time, the loss marked a devastating blow to the struggling Kabul government and its beleaguered security forces, and prompted the U.S.-led military coalition to deploy dozens of troops and airstrikes to help the Afghans regain control of the city.
Early Saturday, the Taliban launched another major effort to take Kunduz, attacking two districts on its eastern flank. The militants were then able to capture Khanabad.
While Afghan ground forces backed by airstrikes late Saturday recaptured the district of Khanabad, east of Kunduz, militants seized the district of Qala-e-Zal, west of the city, officials said.
"Unfortunately, the center of Qala-e-Zal district fell to the militants last night, but we will soon retake the district," Gen. Murad Ali Murad, deputy chief of army staff, told reporters.
The militants also blew up a bridge to the north that connects the province to Tajikistan and is an economic lifeline for the area.
Officials said the Taliban began its operation against Kunduz on Wednesday, cutting power to the city the day before commemorations were being held nationwide to mark Afghanistan's independence.
"The Taliban took the opportunity of the national independence day celebrations and increased their movements," said Asadullah Omarkhel, governor of Kunduz.
With the Taliban threatening the city, several provincial officials and hundreds of residents fled. Omarkhel warned his staff members that they would be suspended from their posts if they did not show up for work.
Afghan forces in Kunduz also fled the advancing Taliban. The governor of neighboring Takhar province led about 50 police into Khanabad to drive out the militants by late Saturday, officials said. Afterward, the governor, Yasin Zia, lamented the performance of the Afghan army.
"The army didn't provide us with a single tank to expel the Taliban from Khanabad," Zia said.
Murad, the deputy army chief, traveled to Kunduz from the southern province of Helmand, where Afghan forces backed by U.S. airstrikes have been battling for weeks to keep the Taliban from capturing the provincial capital, Lashkar Gah. He said 43 Taliban fighters had been killed in the battle in Kunduz.
Faizy is a special correspondent.
ALSO
Older brother of Syrian boy wounded in Aleppo airstrike dies
Turkey's president says wedding attacker who killed dozens was Islamic State bomber as young as 12
Iraq executes 36 men convicted in massacre carried out by Islamic State
---
Must-read stories from the L.A. Times
Get the day's top news with our Today's Headlines newsletter, sent every weekday morning.
You may occasionally receive promotional content from the Los Angeles Times.