In a first for post-Taliban Afghanistan, a grass-roots protest movement challenges the government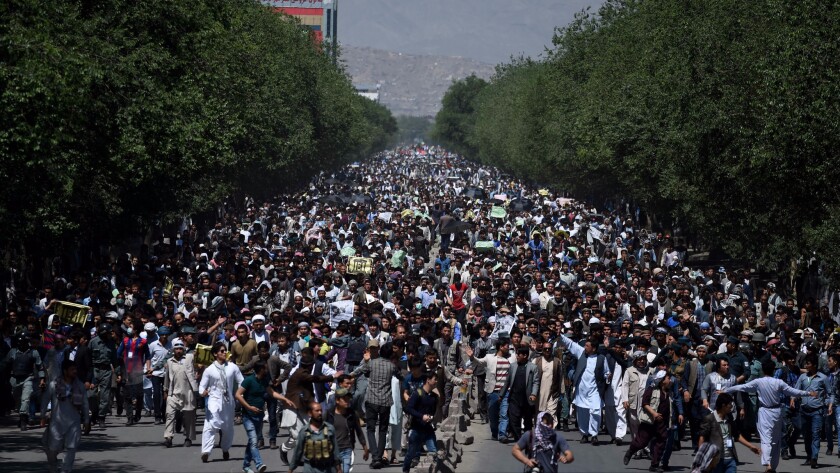 Reporting from Kabul, Afghanistan —
Two years after assuming power, Afghanistan's flailing, U.S.-brokered unity government is facing a growing challenge from the biggest grass-roots protest movement since the fall of the Taliban in 2001.
Calling themselves the Enlightening, members of the Hazara ethnic minority have mobilized several mass demonstrations against what they say is systematic discrimination by President Ashraf Ghani's government. They want more economic development and a greater share of positions in the Cabinet, ambassador corps and military.
Organizers called off a protest planned for this week in Kabul and agreed to begin talks with the government, averting a possibly tense showdown as the government marks its second anniversary Thursday.
With security in Kabul increasingly fragile, United Nations and civil society representatives persuaded Enlightening leaders to cancel the protest.
"Given the security challenges, we can't reach our goals only by continuing protests," said Sultan Haidari, 36, an activist in Kabul. "There are ways to achieve our demands through talks. … I think more protests will be the last option."
But the group said it would resume demonstrations if the negotiations with the government fail.
The Afghan government said in a statement that it "respected the civil movements and [is] ready for any discussions about demands that have been considered by the people."
The last time the group took to the streets of Kabul, two months ago, twin explosions killed more than 80 people and wounded hundreds. The Islamic State militant organization claimed responsibility for the attack, saying it targeted Shiite Muslims; most Hazaras are Shiite. Enlightening leaders say the government has failed to launch a proper investigation.
Another mass gathering would have embarrassed Ghani's government just a week before an international conference in Brussels at which the United States and other donor countries are expected to tout progress in Afghanistan and renew funding pledges.
Jafar Mahdavi, a Hazara lawmaker from Kabul and member of the Enlightening board, said the group wanted to send a message to the international community.
"We want to raise our voices to show the U.S. and other countries what kind of government you are supporting," said Mahdavi. "It's your money and your sacrifice, but supporting a racist government in Afghanistan is not good for us or the American people."
In the upcoming negotiations, the group says it will press the government for greater political representation. Hazaras are estimated to make up 9% of Afghanistan's 30 million people but hold a relatively small share of top government posts, and have long complained of a lack of development in their central Afghan heartland.
When Secretary of State John F. Kerry brokered a compromise between Ghani and his election rival, Abdullah Abdullah, following a disputed vote in 2014, leaders from Afghanistan's major ethnic groups were given positions in a top-heavy unity government. But in a country where ethnic political leaders have long commanded great authority, Enlightening protesters are increasingly critical of Hazara representatives in the government – led by Sarwar Danesh, who holds the title of second vice president, and Mohamed Mohaqiq, the second deputy chief executive.
Read more: Why Afghans are fleeing their country in the biggest numbers since 2001 »
Traditional Hazara standard bearers, they are now widely seen as window dressing in a government that has failed to mend the economy, stop a fresh exodus of Afghan refugees or stem a Taliban insurgency that now controls more territory than at any point since 2001.
"What's happening in the Hazara community is an indication that traditional leaders are losing popular support," said Haroun Mir, an independent political analyst in Kabul.
"If the Enlightening continues to have broad support, the government and international community will have to listen to them. They could emerge as a new kind of leadership."
The movement gained a wide following earlier this year over its opposition to a government plan to route a new electricity transmission line through the Hindu Kush mountains away from Bamiyan province, which has a large Hazara population.
Ghani's aides said the government's preferred route – through the narrow Salang pass – was shorter and that Bamiyan would be connected to the electrical grid once it goes online.
Hazara leaders argue that installing the line in Bamiyan would speed development of the province's large and mostly untapped mineral caches.
"The whole of Afghanistan would benefit if the line goes through Bamiyan," Mahdavi said. "It's as if the government doesn't want the Hazara community to gain anything, so the whole country must suffer."
But the protests have grown bigger than the controversy over the power line. In the 15 years since the U.S.-led invasion that toppled the Taliban and attempted to set the country on a path to democracy, Afghanistan has not seen a protest movement as big or well organized.
Despite their economic challenges – or perhaps to surmount them – Afghan Hazaras have high levels of education and political participation. The Enlightening movement has spread via social media and been bolstered by funds from expatriates in Britain, Australia and the United States.
Many Kabul residents marveled that at past protests, the demonstrators exchanged flowers with soldiers and police deployed to keep order – and picked up after themselves before going home.
After the July 23 bombing, Enlightening leaders said they spent $200,000 to have 40 seriously wounded demonstrators treated in India, and provided bereavement payments to the families of those killed.
"The strength of this movement is that they have a clear message and they are capable of mobilizing people in a way that other ethnic groups have not," Mir said. "It's a novelty in Afghan politics."
It is also a sign of how ethnic fissures have widened under Ghani's government.
Last month, Abdullah, the government's chief executive, lashed out at Ghani for refusing to share power. Analysts say the president has concentrated authority with a handful of members of his Pashtun ethnicity, Afghanistan's largest.
Minority Tajiks and Uzbeks – who clashed last month in Kabul over a reburial ceremony for a long-dead Tajik king – have their own grievances but are sympathetic to the Hazaras, particularly after the July attack, analysts say.
Ghani tried to placate the Hazaras last month by visiting Bamiyan to highlight infrastructure projects, but his trip was overshadowed by reports that security forces assaulted reporters and detained protest organizers.
Whether Enlightening retains public support will depend on whether it can extract concessions from the government.
"We don't want to bring down the government – that won't help the people of Afghanistan," Mahdavi said. "But we cannot go forward with this injustice."
Special corespondent Sultan Faizy contributed to this report.
Follow @SBengali on Twitter for more news from South Asia
---
The Latinx experience chronicled
Get the Latinx Files newsletter for stories that capture the multitudes within our communities.
You may occasionally receive promotional content from the Los Angeles Times.