Gunfire apparently strikes bus caravan of Brazil's Lula Da Silva; no one injured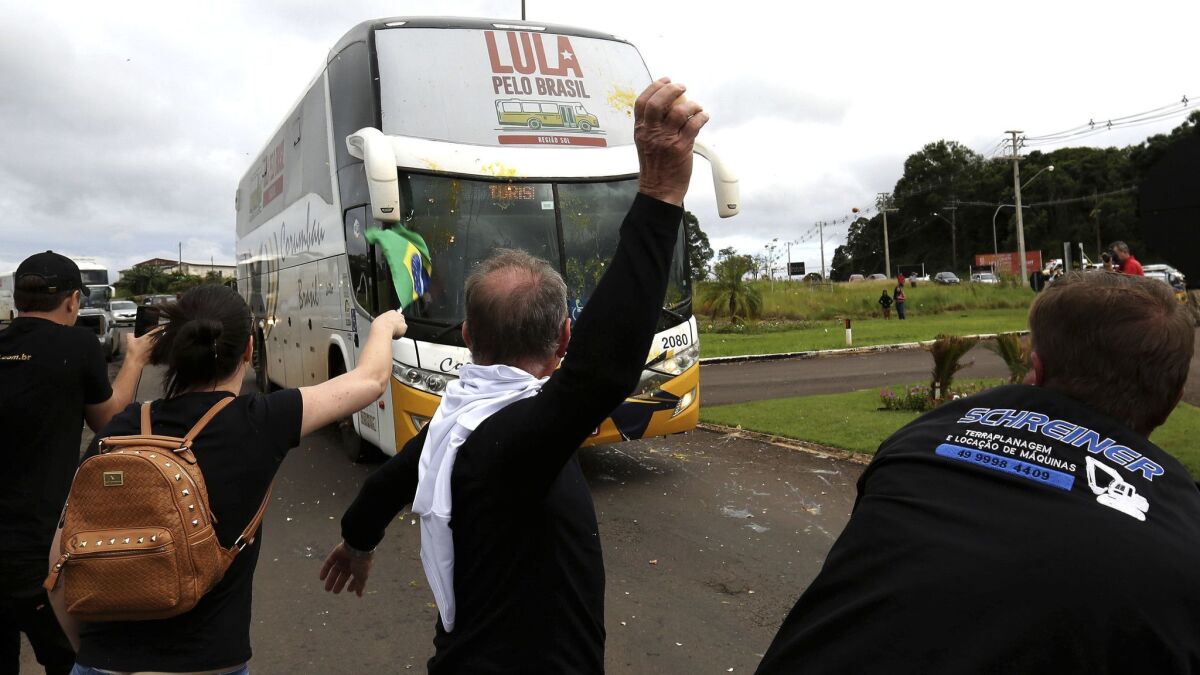 Reporting from LARANJEIRAS DO SUL, Brazil —
Gunshots apparently hit two buses in a caravan for former President Luiz Inacio Lula da Silva's campaign tour in southern Brazil on Tuesday, officials in his Worker's Party said. No one was hurt.
Lula wasn't in either of the two buses, which were carrying guests and journalists, da Silva spokesman Jose Crispiniano said.
Lula has been traveling around southern Brazil to rally support for another presidential run in October. But the former president has been convicted of corruption, and it looks increasingly likely that he will be jailed and barred from contesting the election.
In a sign of how divisive the once spectacularly popular leader has become, his caravan has been the target of protests at several sites along the tour.
"If they think that they can do away with my will to fight, they are wrong," Lula said at a rally Tuesday night. "The day I cannot shout anymore, I will shout through your throats! The day my mind stops thinking, I will think through your minds!"
Initial reports of the incident while the caravan was traveling from Quedas do Iguacu to Laranjeiras do Sul in Parana state were slightly contradictory.
The left-leaning Workers' Party said in a statement that one bus had two bullet holes in its side, while the other bus was grazed on a side window. A statement on Lula's website said there were at least three shots.
Meanwhile, police officer Helder Lauria said passengers reported hearing a single gunshot while the buses were on the road and then found one "perforation" in each bus once they arrived in Laranjeiras do Sul. Police were still investigating Tuesday night, including taking statements from the people who were on the buses.
Associated Press journalists saw two marks that could have been from bullets, one in each bus.
Gleisi Hoffmann, the Workers' Party president, complained in a statement that authorities haven't provided enough security for the caravan and later called the attack an attempted homicide. Officials noted that Parana state is the only one the caravan has passed through that hasn't provided a police escort.
"It's not normal in a democracy that people fire on a democratic caravan," Hoffmann told supporters Tuesday night.
Public Security Minister Raul Jungmann called the attack unacceptable and said he would ensure that state authorities pay close attention to the investigation.
---
Must-read stories from the L.A. Times
Get the day's top news with our Today's Headlines newsletter, sent every weekday morning.
You may occasionally receive promotional content from the Los Angeles Times.