Brazil's Lula turns himself in to police, ending dramatic standoff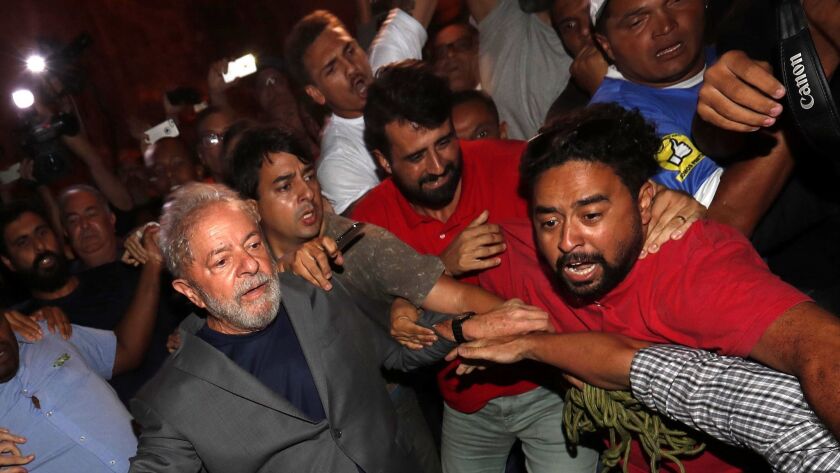 Reporting from SAO BERNARDO DO CAMPO, Brazil —
Former President Luiz Inacio Lula da Silva put an end to a standoff with authorities on Saturday when he turned himself in to federal police to begin serving a 12-year prison sentence.
The popular politician left the ABC Steelworkers Union building in Sao Bernardo do Campo at 6:40 p.m., walking toward the awaiting police escort as his supporters crowded around him and tried to stop him from turning himself in.
Earlier in the evening, Lula tried to leave the union building by car, but supporters blocked the exit, forcing him to go back inside.
His next destination was not revealed for security reasons, but he was expected to be taken directly to the airport to fly to Curitiba.
Lula, who was convicted of corruption last July, gave a speech earlier in the day to supporters who camped out in front of the steelworkers union where the former president spent the last two nights. He maintained his innocence and argued that his conviction was just a way for his opponents to keep him off the ballot for October's presidential elections.
"The police and Car Wash investigators lied. The prosecutors lied," he said as the crowd cheered and chanted 'free Lula!'. "I'll go there and face them eye to eye. The more days they leave me [in jail], the more Lulas will be born in this country."
Car Wash is the billion-dollar corruption scandal that has led to a far-reaching investigation where top Brazilian politicians and business elite have been accused, charged and jailed for crimes like money laundering and being part of a criminal organization.
Support for the former president was strong over the last few days, as Lula and his allies called for supporters to join them in Sao Bernardo do Campo and protests in his favor spread across the country. Roads were blocked, Lula's old campaign songs were sung, and the red and white of the Workers' Party could be seen on T-shirts, flags and signs.
Judge Sergio Moro, who oversaw Lula's trial, ordered an arrest warrant on Friday that gave the former president until 5 p.m. that day to turn himself in to federal police. Lula, however, ignored the order, and instead spent two nights in the steelworkers union where he got his start in politics, meeting with his lawyers, political allies and supporters.
Moro's order came after a marathon Supreme Court session that lasted almost 11 hours and ended in the rejection of Lula's request to remain free while he continued to appeal his case.
Since then, Lula's legal team has filed two more petitions to keep the popular politician out of jail. Both were denied.
In January, the former president's appeal of his corruption conviction was rejected and his 9½-year sentence was increased to 12 years and a month.
Lula, who was expected to win this year's presidential election, may not be allowed on the ballot. Under Brazil's Clean Slate law, which bars candidates who have had a criminal conviction upheld from running for election for eight years, Lula wouldn't be able to hold office until he is 80.
Despite Lula's decision to turn himself in on Saturday, the Workers' Party maintains that it will register him as its presidential candidate in August. Once he is registered, it will be up to the electoral court to decide whether his name can appear on the ballot. The deadline for its final decision is Sept. 17. If it chooses, the party could swap in another candidate before the deadline, but it has yet to announce any possible replacements.
Lula was convicted of accepting $1.2 million in bribes from contractor OAS in exchange for contracts with state-run oil giant Petrobras, money that prosecutors say was used to buy and renovate a penthouse apartment in the seaside town of Guaruja.
---
UPDATES:
4:30 p.m.: This article was updated throughout with staff reporting and additional details.
This article was originally published at 10:40 a.m.
---
Must-read stories from the L.A. Times
Get the day's top news with our Today's Headlines newsletter, sent every weekday morning.
You may occasionally receive promotional content from the Los Angeles Times.