Burkina Faso breaks ties with Taiwan in fresh blow to island, boost to China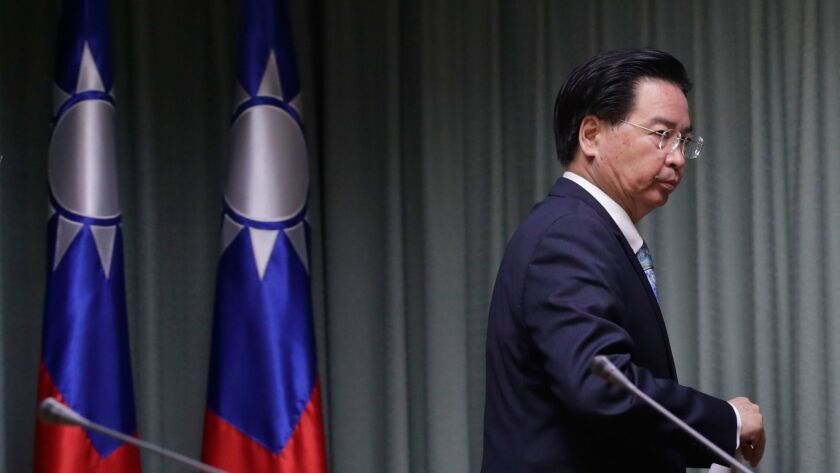 Reporting from Taipei, Taiwan —
Burkina Faso gave notice Thursday that it planned to establish diplomatic relations with China, leading Taiwan to break ties with the tiny West African nation and leaving just one country in Africa — Swaziland — in Taipei's camp.
The decision by Burkina Faso means Taiwan is now recognized as a sovereign country by only 18 mainly small and developing nations.
In recent months, China has been tightening its squeeze on Taiwan's foreign relations, threatening the island with international isolation.
China claims sovereignty over self-ruled Taiwan and believes the island has no rights to foreign relations. Backed by more than 170 foreign allies plus the world's No. 2 economy, China also has pushed Taiwan away from United Nations agencies. This month, it began asking international airlines to avoid calling Taiwan a country on their reservation websites.
Burkina Faso's announcement that it would end 24 years of recognizing Taiwan met with anger in Taipei, where President Tsai Ing-wen vowed not to "tolerate" more of such acts by China. Taiwan will tighten scrutiny of Chinese travelers to the island, the government's Mainland Affairs Council said in a statement.
Taiwanese Foreign Minister Joseph Wu offered to resign over the entire matter.
The break by Burkina Faso reignited fears that the 18 countries still allied with Taiwan will switch to China because Tsai disputes Beijing's ambition to unify with Taiwan. Neither side allows its allies to form diplomatic ties with the other.
"There will be more countries that break relations with Taiwan because China has a lot more leverage and can provide more assistance," said Alex Chiang, international relations professor at National Chengchi University in Taipei. "It matters because you want to be recognized by some countries as a sovereign state. I think to keep them in the double digits is psychologically important."
China arranged the cut in ties by Burkina Faso, Taiwan's foreign ministry said in a statement Thursday without saying how it did so. China had offered Burkina Faso $50 million last year, Taiwanese news media reported. China also persuaded the Dominican Republic to switch sides on May 1, the government in Taipei said.
"The Mainland Affairs Council … strongly condemns mainland China for using the advantage of money to viciously take away two allies in less than a month, destroying the foundation for peace (with China)," the statement said.
Panama dropped Taiwan last year. The African island nation Sao Tome and Principe left in 2016.
Tsai visited Taiwan's one remaining African ally, Swaziland, in April and called the four-day trip a success for the expansion of Taiwan's international space.
Since Tsai took office in 2016, China has added pressure on Taiwan by flying military aircraft nearby at least a dozen times. It has blocked Taiwan from two World Health Assembly meetings, including one this month. Airlines are changing wording on their websites to favor China as they depend on the giant Chinese travel market.
China will stop pressuring Taiwan only if Tsai's government agrees to the communist leadership's idea that both sides belong to a single China, scholars in Taipei say. Government surveys show at least 70% of Taiwanese prefer autonomy.
The two sides have been separately ruled since the Chinese civil war of the 1940s, when the Nationalists lost and retreated to Taiwan.
Most of Taiwan's allies are poor countries in the Americas and the South Pacific. They rely on Taiwan for development aid, leading them to switch to China if it offers more. "They can get more aid from China," Chiang said. "It's a more rational decision."
Burkina Faso, a landlocked country of 18 million west of Nigeria, is one of the poorest nations in the world. It looked to Taiwan for medical and agricultural aid but had cut ties in 1973 in favor of China before restoring them in 1994.
Taiwan should prioritize its informal relations with Japan and the United States rather than fighting for the smaller, formal allies, some believe. The United States sells Taiwan arms and encourages high-level visits.
"We are grateful for real friends of Taiwan like the U.S. and Japan, who genuinely care about Taiwan without being paid," said Coen Blaauw, executive director of the Washington-based Taiwan advocacy group Formosan Assn. for Public Affairs.
Jennings is a special correspondent.
---
Must-read stories from the L.A. Times
Get the day's top news with our Today's Headlines newsletter, sent every weekday morning.
You may occasionally receive promotional content from the Los Angeles Times.