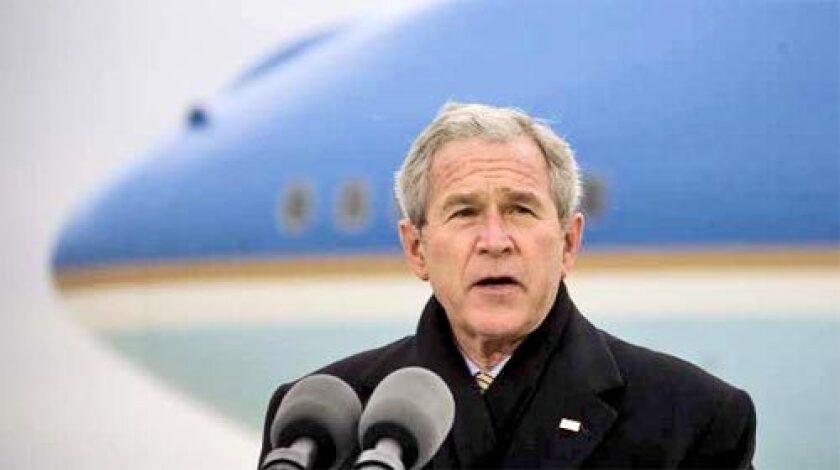 Los Angeles Times Staff Writer
WASHINGTON —
President Bush and his aides spent a second day trying to keep pressure on Iran, with the White House saying Wednesday that the disclosure that the Islamic Republic halted its nuclear weapons program in 2003 would not affect conditions for opening negotiations with Tehran.
As Monday's report by the 16 U.S. intelligence agencies continued to reverberate in capitals around the world, raising doubts about Washington's push to punish Iran, Bush consulted with top advisors on their talks with counterparts in Britain, Germany, France and Russia.
"These countries understand that the Iranian nuclear issue is a problem, and continues to be a problem that must be addressed by the international community," he said.
The administration is seeking to maintain support for a third set of United Nations sanctions to isolate Iran economically and diplomatically until it also gives up its efforts to enrich uranium. Highly enriched uranium can be used in a nuclear weapon; uranium enriched at a lower level can fuel nuclear power plants, which Iran says it wants to build.
Asked whether diminished international support for new sanctions might lead Bush to relax his opposition to unconditional negotiations with Iran, Tony Fratto, a deputy White House press secretary, said, "The talks with Iran should be conditional." He noted that Secretary of State Condoleezza Rice had offered to meet with Iranian officials at any place or time, as long as they complied with U.N. demands that they suspend uranium enrichment.
Speaking to reporters Wednesday in Omaha, where he visited a healthcare center and spoke at a political fundraising event, Bush said the National Intelligence Estimate made it clear that "the Iranian government has more to explain about its nuclear intentions and past actions, especially the covert nuclear weapons program."
Noting that Iranian leaders have never acknowledged the existence of a secret nuclear weapons program, the president said they had "a strategic choice to make."
"They can come clean with the international community about the scope of their nuclear activities and fully accept the long-standing offer to suspend their enrichment program and come to the table and negotiate, or they can continue on a path of isolation that is not in the best interest of the Iranian people.
"The choice is up to the Iranian regime."
The package of economic and diplomatic enticements that the United States and its partners have held out to Iran, if it adheres to U.N. demands, includes assistance in developing civilian nuclear power, membership in the World Trade Organization and, ultimately, normalized diplomatic relations.
Iranian President Mahmoud Ahmadinejad, however, has said the report vindicates Iran. Fratto disputed his interpretation, noting that the report concluded "with the highest degree of confidence" that Iran had "been lying about its nuclear program to the international community."
Ahmadinejad also has demanded an apology and compensation from the United States.
Asked about those demands, Bush laughed and told reporters, "You can mark down I chuckled."
james.gerstenzang
@latimes.com
---