Catalan separatists agree to reelect fugitive Carles Puigdemont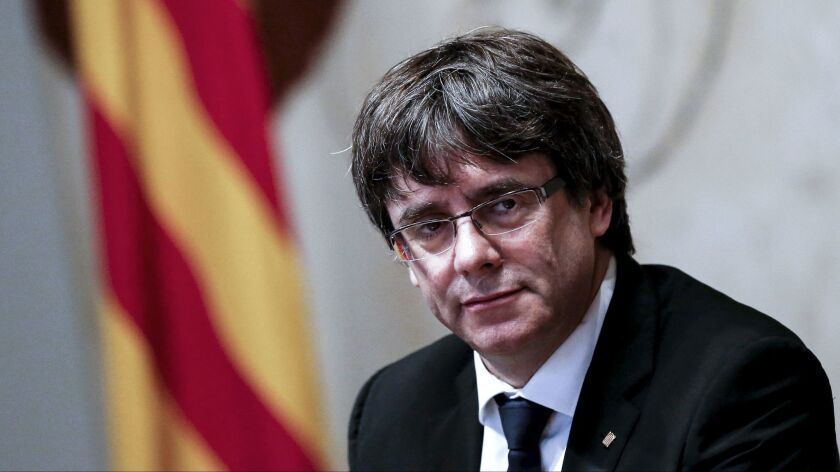 Reporting from MADRID —
Catalonia's main separatist parties said Wednesday they have agreed to reelect fugitive Carles Puigdemont as president of the region later this month, although how to make that legally possible is still up in the air.
Puigdemont, who has been in Brussels since he was sacked in October over an attempt to secede from Spain, faces immediate arrest if he returns home. He wants the separatist majority in the new regional parliament to appoint him despite his absence.
The Catalan assembly's regulations are ambiguous about that possibility, but the anti-independence opposition says a president can't govern from afar.
"It's evident that for governing Catalonia you have to be in Catalonia, you can't do that via WhatsApp or as a hologram," said Ines Arrimadas, the leader of the anti-independence Ciutadans (Citizens) party. "A person who is fleeing justice can't be the president."
A spokesman with Puigdemont's Junts per Catalunya (Together for Catalonia) ticket said the separatist politician secured the backing of the left-republican ERC party Tuesday evening in Brussels.
The parties jointly hold 66 of the 135 seats in the regional chamber, and can add the support of four antiestablishment lawmakers.
The separatists' dominance of the chamber, however, depends on jailed or fugitive elected lawmakers who won't be able to vote unless they are released or give up their seats to someone else on the party list. But a new president can form a government with a simple majority in a second attempt.
An ERC spokesman also confirmed the deal, adding that Puigdemont will propose to speak via video conference to the regional parliament later this month or have a fellow party lawmaker read the mandatory speech that candidates to the regional leadership need to deliver before being voted in.
Both officials spoke anonymously because they weren't authorized to be identified in news reports.
Spanish Prime Minister Mariano Rajoy ordered the Dec. 21 regional election under constitutional powers he invoked in October to dissolve the previous parliament after separatist lawmakers voted to declare Catalonia an independent republic. He also removed Puigdemont and his Cabinet.
While the anti-secession Ciutadans (Citizens) collected the most votes of any single party, the prime minister's hope that the separatists would suffer a stinging rebuke at the polls went unfulfilled.
---
Must-read stories from the L.A. Times
Get all the day's most vital news with our Today's Headlines newsletter, sent every weekday morning.
You may occasionally receive promotional content from the Los Angeles Times.