Chinese actress Fan Bingbing apologizes for tax evasion and is ordered to pay fines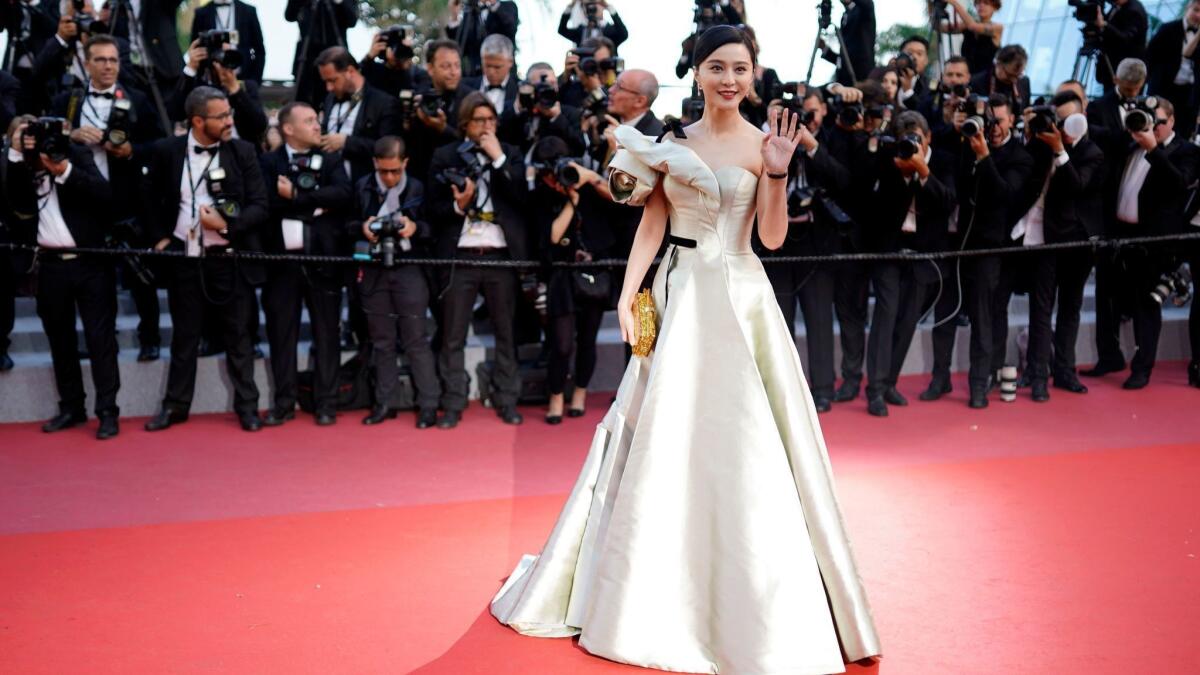 Reporting from Beijing —
China's top female movie star was seemingly everywhere. Then, she was gone.
On Wednesday, after months of mysterious absence, Fan Bingbing was suddenly back, issuing a groveling apology for massive tax evasion.
Chinese authorities announced that Fan, whom some worldwide fans may recall as Blink in "X-Men: Days of Future Past," had been released from secret detention and that she and her company were ordered to pay about $130 million in fines and back taxes.
Fan's apology on her social media account extolled the ruling Communist Party.
"I am deeply ashamed and guilty about what I have done. My sincere apologies to you," wrote Fan, 37. "There can be no Fan Bingbing without the good policies of the party and the country and the love of the people."
The scandal surfaced in May when former TV host Cui Yongyuan used his social media account to expose what he said was a "yin-yang" contract bearing her name. The practice involves two contracts — one a secret, genuine agreement, and another one that vastly understates income. Fan immediately denied any wrongdoing, but had not made any public statements since early June.
Under President Xi Jinping, the government launched a crackdown on corruption and tax evasion by the wealthy. It also started a social credit project being tested in several provinces to track ordinary citizens, penalizing them for failing to pay debts and fines and rewarding them for such things as paying on time and volunteering.
Celebrities who fall afoul of the law typically see their careers swiftly obliterated in China, where it is difficult to remain in a high social position without influential political supporters.
Tax authorities said Wednesday that Fan had been released from "residential surveillance at a designated location." Instead of facing a criminal conviction and jail, she was ordered to repay the money because she was a first-time offender, state-run New China News Agency reported.
Fan admitted she had taken a long time "to correct the relationship between national interests, social interests and personal interests."
With 62 million followers on the Weibo social media service, Fan has been associated with luxury brands such as Montblanc, Louis Vuitton, Guerlain and De Beers. She became famous in Asia in the late 1990s with a hit television series called "My Fair Princess" and has been involved in many foreign language films and produced and performed in television programs, according to her biography on IMDB.
If Fan manages to salvage her film career, she would be a rare case. In China, celebrities are held to exacting standards of social and financial behavior. The government sometimes uses prominent figures to send a message to the population about crime or unacceptable behavior.
In 2014, several TV, film and pop stars, including Jaycee Chan, the son of kung-fu movie star Jackie Chan, were arrested for drug use, including marijuana, signaling a tough government crackdown. None has made a career comeback in mainland China.
That same year, prominent film director Wang Quan'an was arrested for soliciting prostitutes, along with acclaimed actor Huang Haibo. Huang apologized. Wang and Huang served six months under China's "custody and education" law. Wang's wife, Zhang Yuqi, divorced him. Neither has been featured in a film in China since.
In a speech last year Xi said that artists and writers should reflect the values of the Communist Party of China and "extol our party, our country, our people and our heroes."
In June, the government announced moves to limit the salaries of movie stars to no more than 40% of production costs and 70% of the total paid to all actors in a film.
Social infractions by stars often attract the ire of state media or netizens on social media. When two stars Huang Xiaoming and Angelababy (Yang Ying) married in 2015, Forbes reported the wedding banquet was estimated to cost $31 million, which included cellphones handed out to each of the 2,000 guests. They were slammed in the Communist Party-owned People's Daily for their "negative social impact" after the event caused a major traffic jam in Shanghai.
"As public figures, celebrities have immense influence over society, and their actions are imitated by their fans," the paper wrote at the time. Last year, the paper criticized Chinese movie stars for demanding exorbitant salaries.
Last November, about 100 top celebrities and film industry figures gathered in Hangzhou at a forum to study and implement the spirit of the 19th congress of the Communist Party and to reflect on their influence on society.
Zhang Hongsen, deputy head of the State Administration of Press, Publication, Radio, Film and Television, told the forum it was "imperative" that filmmakers stayed in line with Communist Party thought, producing stories that reflected socialism with Chinese characteristics, state media reported.
Zhang Huiyu, an analyst at Peking University wrote recently that a crop of recent blockbuster movies reflected China's current mood of assertive nationalism.
"Both consciously and unconsciously, popular art, film and literature have started to express this return to great-nation status and depict China as an ultramodern entity," he wrote in an analysis published on the website Sixth Tone.
"This powerful, prosperous self-portrait is now coming through in a number of popular and domestically acclaimed movies and TV shows, most of which illustrate both an awareness of ongoing social issues and a growing faith in the state to resolve them," Zhang wrote.
Chinese authorities warned Wednesday that those in the entertainment industry who do not rectify tax evasion and repay taxes before the end of the year could face criminal penalties.
Authorities said Fan's agent, Mou Enguang, had obstructed the initial investigation by concealing and destroying evidence.
Cui had also implicated film director Feng Xiaogang in the scandal when he released two contracts for the Feng-directed film, "Cell Phone 2." One showed Fan was paid $1.56 million for four days' work on the film. The second blurred her name but showed a payment figure of $7.8 million.
Last month Feng denied tax evasion on a post on his social media account, saying he could prove he had never used yin-yang contracts.
Cui responded, "The evidence of your crime is lying in my drawer, waiting for your movie 'Cell Phone 2' to be released." Cui has said an earlier film directed by Feng, "Cell Phone," was purportedly about his life and cast him in a poor light.
Feng also has been largely out of the public eye, but was spotted last month in Los Angeles when director Joe Russo threw a party to celebrate the opening of his restaurant Simone, Variety reported.
Cui has said he never intended to publish Fan's name when he posted the contract on social media.
His daughter had been trying to teach him how to use an application that allowed him to blur certain features of a document online, but lost patience with him because he was slow. He said that he had intended to blur Fan's name and realized too late that it had been published online.
Cui reportedly said in June that he had spoken to Fan after his post appeared on social media.
"I then said I was sorry to her," he said.
Twitter: @RobynDixon_LAT
---
UPDATES:
3:05 p.m.: This article was updated with additional background on Fan Bingbing and the tax evasion case.
This article was originally published at 7:30 a.m.
Sign up for Essential California for news, features and recommendations from the L.A. Times and beyond in your inbox six days a week.
You may occasionally receive promotional content from the Los Angeles Times.