U.N. accuses China of holding more than a million Muslims in a secret web of detention centers
Reporting from Beijing —
They are the detainees whose very existence China denies, as many as a million Uighur and other Muslim people who human rights activists say are being held in a vast web of detention camps in western China.
A United Nations committee in Geneva examining China's record on racial discrimination rebuffed Beijing's denials of the reeducation camps and called on it to acknowledge the existence of the facilities and release those who are being detained. In a report released Thursday, the committee dismissed China's justifications that it faced a terrorist problem in the Xinjiang region as nothing more than "a pretext" for detaining the minority Muslims.
A bipartisan group of 17 U.S. lawmakers, meanwhile, urged the Trump administration to sanction Chinese officials and companies allegedly involved in the detention centers.
During hearings on China's human rights record by the U.N. Committee on the Elimination of Racial Discrimination, Gay McDougall, an American human rights attorney and committee vice chairwoman, cited credible reports that more than 1 million Muslim people had been detained and said Xinjiang had been turned "into something that resembles a massive internment camp that is shrouded in secrecy."
The U.N. committee report expressed alarm over "numerous reports of detention of large numbers of ethnic Uighurs and other minority Muslims held incommunicado and often for long periods, without being charged or tried, under the pretext of countering terrorism and religious extremism."
Chinese Foreign Ministry spokeswoman Hua Chunying rejected the accusations, saying they had "no factual basis."
"As for certain counterterrorism and stability maintenance preventive measures, I think that internationally this is in general use by lots of countries," she added.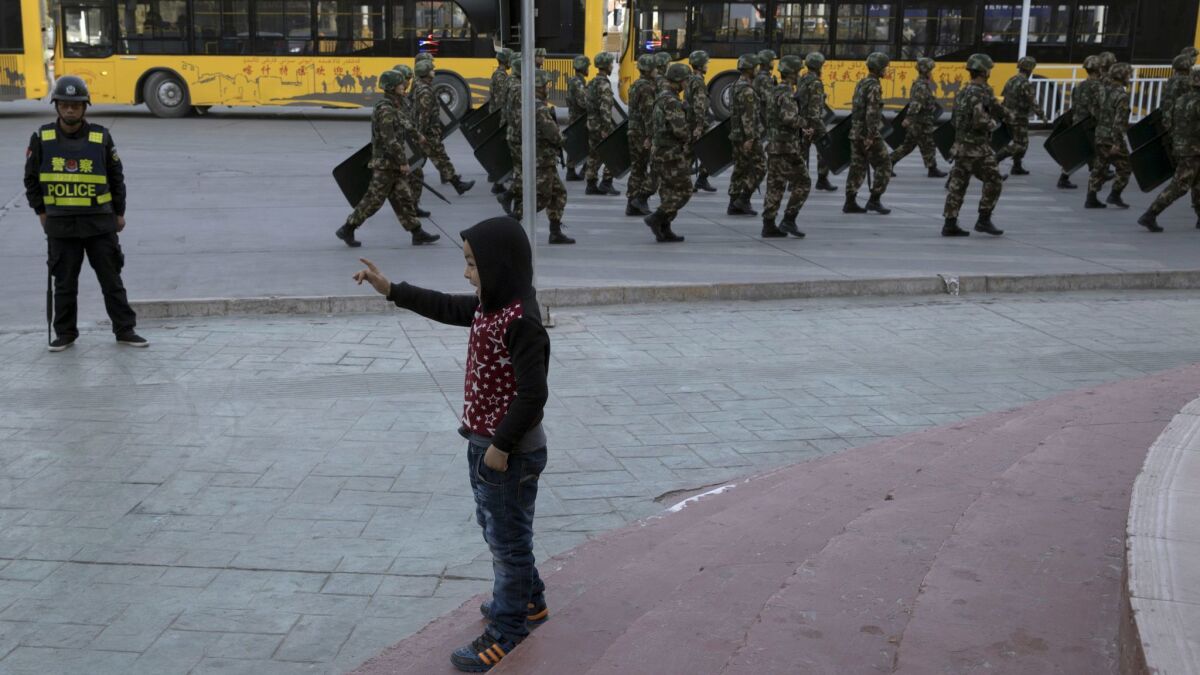 In its submission to the U.N. committee earlier this month, China said that "there are no such things as reeducation centers or counter-extremism training centers in Xinjiang," but it noted that the region faced a terrorism problem. It said the claims that a million Uighurs were being held in reeducation centers were "completely untrue."
China's response to the committee, delivered by Chinese representative Hu Lianhe, did mention what it called vocational and employment training centers, where people convicted of minor offenses were sent "to acquire employment skills and legal knowledge with a view to assisting in their rehabilitation and reintegration." The officials offered no further details, including how many people were at these centers or whether they were being held against their will.
Hu said China has jailed convicted terrorists in Xinjiang.
The U.N. committee called on China to provide detailed information on the number of people detained in the last five years in the region and the duration and grounds for their detention. It also sought information on what kind of training people received at the vocational centers, including any political content.
China should also eliminate travel restrictions affecting minority Muslims and hold government officials accountable for racial profiling of those detained, the committee said.
The 17 U.S. lawmakers, including Sen. Marco Rubio (R-Fla.) and Rep. Christopher H. Smith (R-N.J.), urged the Trump administration to sanction companies and individuals, including Chen Quanguo, the Communist Party secretary in Xinjiang who previously gained attention implementing tough security policies in Tibet.
"Muslim ethnic minorities are being subjected to arbitrary detention, torture, egregious restrictions on religious practice and culture, and a digitized surveillance system so pervasive that every aspect of daily life is monitored," the letter from the lawmakers said.
The administration has shown a willingness to sanction officials using the Global Magnitsky Act.
In December, it slapped sanctions on Gao Yan, a Chinese police official in Beijing, for denying medical care to Cao Shunli, a human rights activist who died in custody. Another alleged human rights abuser hit with sanctions is Myanmar Gen. Maung Maung Soe, who was accused of the ethnic cleansing of Rohingya people.
Originally, the Magnitsky Act of 2012 was used to impose travel bans and freeze the assets of Russian officials after Sergei Magnitsky, an attorney who exposed a Russian fraud scheme, was jailed and died in prison. But use of the act began to widen in 2016 to allow sanctions against human rights abusers.
Hua, the Chinese spokeswoman, said Thursday that China's human rights record is far better than the United States'.
"If China's policies on ethnic minority groups and the equal rights enjoyed by them are viewed without bias and prejudice, the conclusion will be drawn that China's policies and record in this regard are actually far better than the U.S.," she said.
"These U.S. lawmakers have no right to make these unwarranted accusations on ethnic minority issues against China," Hua added. "I would like to advise those U.S. lawmakers, who are paid by taxpayers' money, to focus on doing their job and serving Americans, instead of poking their noses in other countries' domestic affairs, acting as some kind of 'human rights judge' to make groundless accusations, or even threaten to impose unreasonable sanctions."
Twitter: @RobynDixon_LAT
Must-read stories from the L.A. Times
Get the day's top news with our Today's Headlines newsletter, sent every weekday morning.
You may occasionally receive promotional content from the Los Angeles Times.