'Christopher Robin' won't play in China amid government censorship of Winnie the Pooh
The Washington Post
For many, the name Winnie the Pooh recalls childhood bedtime stories and Saturday morning cartoons. But in China, the famous honey-hunting bear has become a symbol of resistance.
Starting in 2013, memes comparing Winnie the Pooh's appearance to that of Chinese President Xi Jinping began to circulate on China's internet. The government responded by cracking down on images of the paunchy cartoon character. And now, according to the Hollywood Reporter, China is yet again censoring Pooh by declining to release Disney's "Christopher Robin," starring Ewan McGregor and a computer-generated Pooh, in Chinese movie theaters.
Though the government gave no reason for the denial, a source told the magazine that past censorship of the bear had something to do with it.
The government has not completely banned photos of Pooh from the internet, but it has restricted them. In 2015, the Financial Times reported, a photo of Xi waving at supporters from a parade car next to an image of Pooh in a toy car was named the most censored image of the year by Global Risk Insights.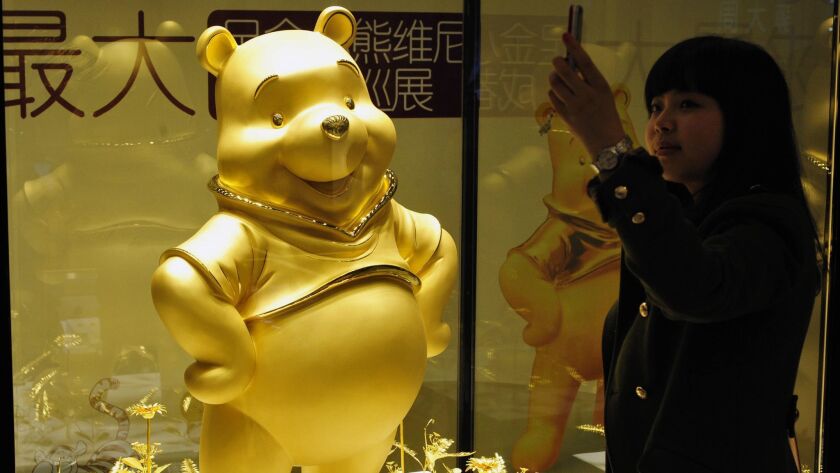 Even images that don't compare Pooh to Xi can face trouble. In 2017, according to the Financial Times, attempts to write "Winnie" in Chinese characters on Sina Weibo, China's equivalent of Twitter, were met with "content is illegal" messages.
In June, China also blocked access to HBO after its show "Last Week Tonight with John Oliver" criticized the country over its human rights record and poked fun at Xi's aversion to the Winnie the Pooh comparison.
"I'm not even sure it's that strong a resemblance, to be honest. But the fact he's annoyed about it means people will never stop bringing it up," Oliver said.
"Trust me, Xi, if your face even remotely resembles that of a beloved cartoon character, the smart move here is to lean in," he added.
China could also be passing on the film for less controversial reasons. As the Guardian reported, the country allows only 34 foreign films to play in Chinese cinemas each year.
---
Must-read stories from the L.A. Times
Get the day's top news with our Today's Headlines newsletter, sent every weekday morning.
You may occasionally receive promotional content from the Los Angeles Times.