Colombian politics pose new challenges for the former guerrillas still known as the FARC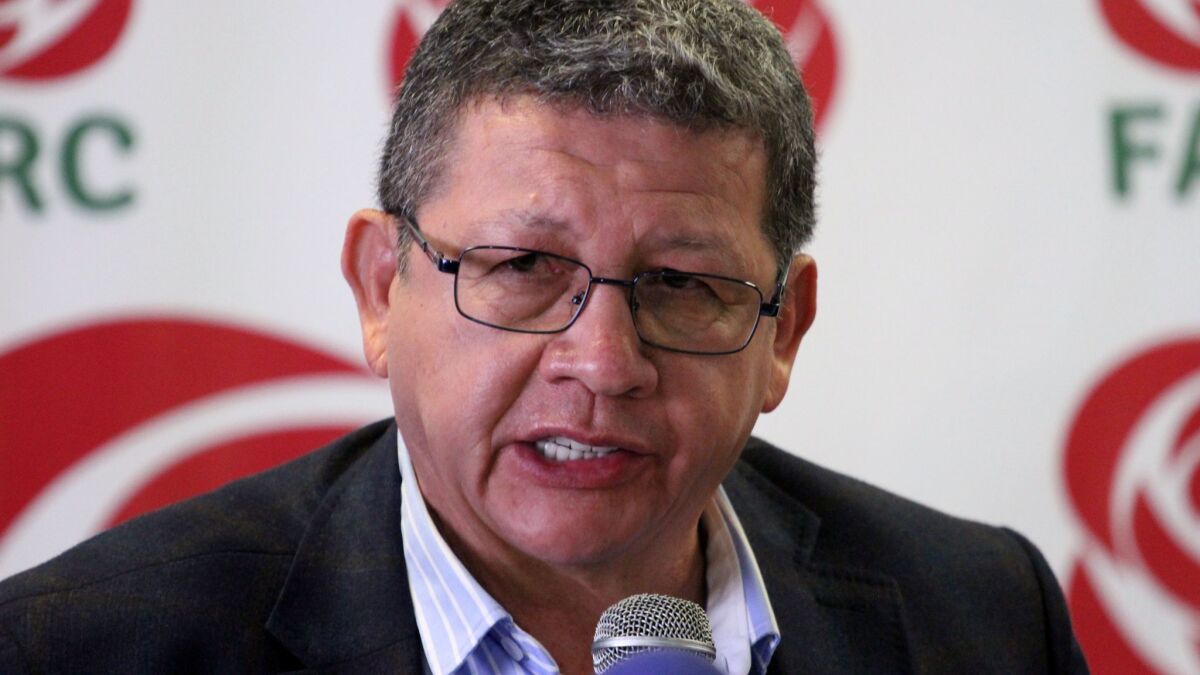 Reporting from BOGOTA, Colombia —
After five decades of civil war, the former guerrillas of Colombia never thought it would be easy to reinvent themselves into a political party.
The party known as the FARC, making its debut in mainstream politics, suspended its campaign activities Friday in the run-up to congressional elections after several campaign events were disrupted this week by protesters.
The party's presidential candidate, Rodrigo Londono, also known as Timochenko, was harassed at rallies this week in Quindio and Valle del Cauca provinces. At events Thursday in the Valle del Cauca capital, Cali, Londono was shouted down by onlookers screaming, "Assassin!"
Later that day, his caravan was met with a cascade of eggs, bottles and rocks.
A 2016 peace agreement between the government and the FARC — which then stood for its wartime name, the Revolutionary Armed Forces of Colombia — opened the way for its participation in politics.
Terms of the peace accord guarantee the new FARC — which now stands for the Common Alternative Revolutionary Force — at least 10 congressional seats in the session convening this summer and again in 2022.
But last month the party introduced a slate of candidates to run in the March 11 congressional elections with hopes of a strong showing that, in the words of House candidate Carlos Alberto Marin, would legitimize those guaranteed legislative seats.
He and FARC leader Carlos Antonio Lozada said in interviews that the party set a goal of garnering 500,000 votes, or more than 3% of the 15 million expected to be cast. Attracting that many votes would mean the party would have won two or three Senate seats even without the peace accord's guarantees.
But even before Friday's announcement, political analysts and researchers said the goal might be unrealistic. The former rebels have image problems after half a century of warfare that claimed 220,000 dead and displaced millions from their homes.
Turnout at FARC rallies has been sparse. Fewer than 3% of those questioned in opinion polls have positive perceptions of the former insurgents. A majority of Colombians think the group's leaders should face a special war crimes tribunal set up by the peace deal before being allowed to run for office.
Those thoughts are top of mind for many Colombians this month because Feb. 7 was the 15th anniversary of one of the FARC's most notorious attacks, the car bombing of the El Nogal social club in north Bogota, which killed 35 people.
"The FARC's image problems stem from the fact they still have not adequately asked for forgiveness, handed over ill-gotten gains, nor gone through any transitional justice mechanism," said Alejandro Eder, former head of the Colombian agency that helps disarmed rebel and paramilitary fighters reintegrate into society. "They have been acting arrogantly, and that makes people resent them."
The former rebels have admitted war crimes but say that the armed forces and paramilitaries that disarmed in 2006 committed more atrocities — a claim supported by the National Center for Historical Memory, which was set up by the government in 2011 to study the conflict and memorialize the victims.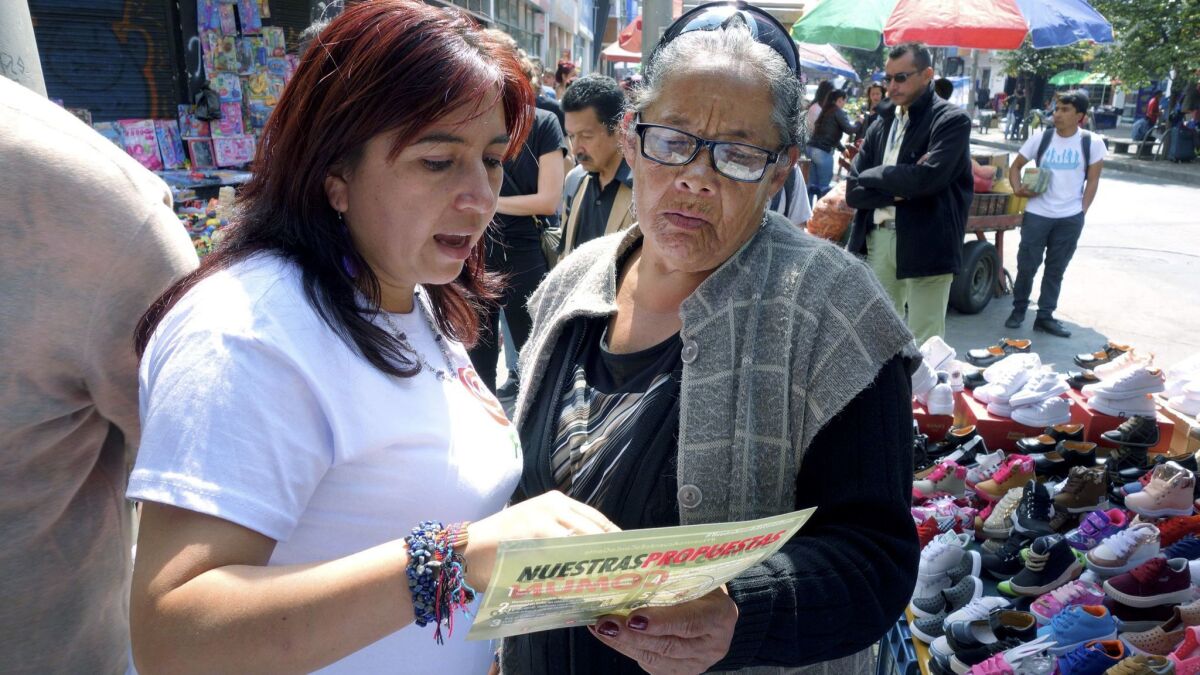 Isabela Sanroque, a 33-year old former rebel who is running for Congress to represent Bogota, the capital, said on the campaign trail last week that it was natural that some Colombians would have negative feelings toward the FARC after so many years of warfare and a long-running "media campaign to sow hatred."
"The war produced many events committed by us and by the armed forces that were unjustified and which painted us very poorly in public opinion," said Sanroque as she handed out fliers in the 20th of July barrio of southern Bogota. "It doesn't discourage us. It just makes us more determined to plant seeds of reconciliation."
Sanroque, whose husband and fellow FARC ex-fighter was killed in a 2007 clash with the army, said the party's platform is finding acceptance among youths and the poor, particularly its promises to give pensions to homemakers, introduce strict recycling laws and fight corruption.
But the FARC's electoral chances are also being affected by external factors. The increasingly autocratic government of Nicolas Maduro in Venezuela, whose late predecessor, Hugo Chavez, gave shelter and support to FARC leaders, has raised fears that the former rebels could usher in an age of "Castro-Chavismo" — or socialist dictatorship, in the mold of Chavez and late Cuban leader Fidel Castro.
Ariel Avila, a political analyst with the Peace and Reconciliation Foundation in Bogota, said the party's ambitions may also be frustrated by left-leaning voters' desire to cast ballots for other candidates with better chances of winning.
Also, the FARC, admittedly new to the campaign trail, has shown itself to be politically inept, he said: "In view of the negative image the FARC had during the war, their choice of the same letters as an acronym for their new political party was a serious error of political marketing."
At a news conference Friday, party officials blamed the recent campaign disruptions on a "coordinated plan" to frustrate their entry onto the political stage. In particular, they blamed regional leaders of a center-right party headed by former President Alvaro Uribe. Now a senator, Uribe was an implacable foe of the rebels during his presidency and opposed the 2016 peace deal.
"We call on the national government to make effective guarantees of the political rights of the Common Alternative Revolutionary Force just as for the other parties and movements that participate in the electoral campaign now in progress," said a statement issued by the FARC.
That same day, Sanroque and other FARC candidates appeared at a sparsely attended rally at the National University of Colombia. As she handed out fliers to students at the college, a hotbed of rebel support during the conflict, she said a key strategy of the FARC is to harness youth's "nonconformity and rebelliousness in the defense of peace."
Cesar Garzon, a 25-year old sociology student, said he wasn't quite ready to throw his support behind the party but was willing to listen to their candidates' ideas on fighting corruption and social inequality.
"The country needs a drastic change. We ended the war but not the conditions that caused it," Garzon said. "If we can just get the FARC to respond to the question, 'Why did you take up arms?' then maybe it will be possible to change the conditions so war isn't repeated."
Kraul is a special correspondent.
---
UPDATES:
3:55 p.m.: This article has been updated with political analysis and reporting from a campaign event.
1:35 p.m.: This article was updated throughout with Times reporting.
This article was originally published at 10:30 a.m.
---
Must-read stories from the L.A. Times
Get the day's top news with our Today's Headlines newsletter, sent every weekday morning.
You may occasionally receive promotional content from the Los Angeles Times.