Right-wing former senator wins Colombia's presidential election, beating left-wing former guerrilla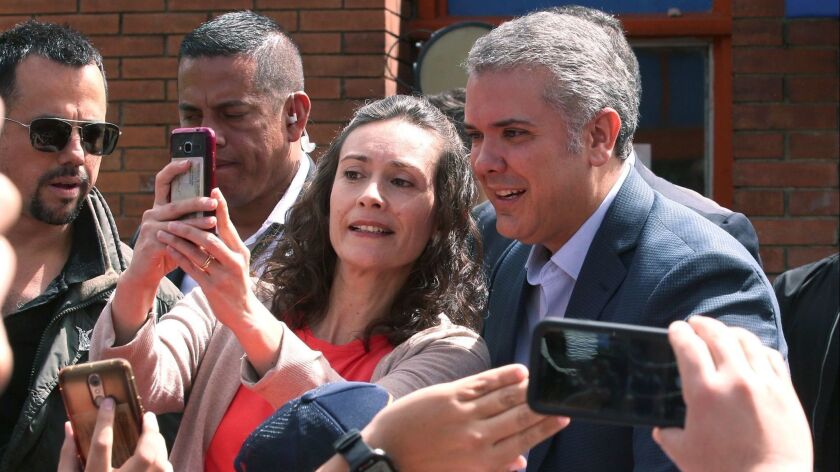 Reporting from BOGOTA, COLOMBIA —
Right-wing former Sen. Ivan Duque easily defeated left-wing former guerrilla Gustavo Petro in Colombia's presidential runoff election Sunday, winning the right to lead a country struggling with deep divisions over a troubled peace deal.
Duque had a 2.3-million-vote margin of victory, receiving 54% of the vote versus 42% for Petro, results showed.
He will lead a country sharply divided over the terms of a peace deal with rebels signed in 2016 that ended a long-running war. Although the economy is gaining strength, Colombia remains socially and economically unequal, making it vulnerable to conflicts.
Duque will be sworn into office on Aug. 7 to begin a four-year term. The Colombian Constitution was recently changed to limit presidents to one term.
In a victory speech before supporters in Bogota with his running mate, Vice President-elect Marta Lucia Ramirez, Duque pledged to unite the country, promising to make constructive changes to the peace accord while attacking corruption that has disillusioned many Colombians.
"I say to you and to all of Colombia that today there are no losers." Duque said. "This election is the opportunity we have waited for to turn the page of polarization….. Our hope is to build consensus."
Earlier, Petro conceded defeat before a gathering of supporters in Bogota. He served notice that the 8 million votes he received established the left as a legitimate political movement and an "opposition force" that would not permit the destruction of the peace accord.
"We accept the triumph of Duque. He is the next president of Colombia," Petro said. "But we will not permit that we slide back into war or return to violence."
Duque was the candidate of the Democratic Center party led by former president and now powerful senator Alvaro Uribe. The candidate earned endorsements from virtually every business association and trade group by promising business-friendly measures including tax cuts and less regulation.
Many voters indicated they were voting against Petro, a 58-year-old former mayor of Bogota, the capital, whose friendship with late Venezuelan President Hugo Chavez raised fears he would try to lead Colombia down a populist path.
Those fears were stoked by efforts by Duque backers, including Uribe, to identify Petro as a "castro-chavista" candidate, whose election would be the first step toward the socialist policies that have left neighboring Venezuela in economic ruins.
"Duque is the lesser of two evils," said Mauricio Rey, a 44-year-old real estate broker. "Petro wants us to go the way of (socialist) Bolivia and Nicaragua. There is nothing about Duque in particular that I like, but I prefer him over Petro."
Perhaps the Duque campaign pledge that resonated most with voters was his promise to toughen up the November 2016 peace accord that outgoing President Juan Manuel Santos signed with the Revolutionary Armed Forces of Colombia, or FARC, in late 2016. A majority of Colombians feel terms of the deal were too generous to the rebels.
Duque, a 41-year-old economist who earned a graduate degree at Georgetown University in Washington and who worked several years at the Inter-American Development Bank, said he would force rebels convicted of heinous crimes to serve jail terms and extradite leaders implicated in drug trafficking.
"Duque wants to modify the peace agreement, which I like, because Santos gave the country away to the FARC," said office manager Carlos Gomez, 28, after he voted in a supermarket plaza in north Bogota.
"Duque will change the country, stimulate the economy and reduce taxes," said Carlos Alberto Sanz, 54, an auto salesman. "Petro — no way. He's only tried to stir up resentments against the higher classes. Just talking about him puts me in a bad mood."
Duque moved to moderate his positions in the final weeks of the campaign in a bid to soften his image for centrist voters. The shift to the center came in response to widespread calls from international civil society groups and Colombian opinion leaders that changes to peace deal terms could jeopardize the pact altogether.
The peace deal's benefits were evident in Sunday balloting which, according to Atty. Gen. Nestor Martinez, was virtually free of violence.
"Petro has some good social reform proposals to reduce inequality, including agrarian reform and universal education and health care," said German Rubio, 67, an emergency room physician. "But we need jobs, not handouts. Unfortunately, I voted for him for mayor in 2011 and he disappointed me. I don't want to make the same mistake twice."
Duque, who was relatively unknown prior to the presidential campaign, was Uribe's handpicked candidate. The strength of his Democratic Center party, the block that is the most powerful in congress, should smooth the path for Duque's legislative agenda.
"Duque is the only one I trust as president. He is honest, young and has credibility with the business community," said Claudia Gomez, 48, a trade group director. "Petro was a terrible mayor who made a lot of promises but didn't do anything."
Many voters said Sunday they voted in favor of Duque because they were concerned about Petro's initial campaign promise, which he subsequently retreated from, to call a constitutional convention, a measure Chavez had used to consolidate power.
Andres Certain, a 38-year-old attorney, said: "It's important to maintain the rules of the game. With Petro's flip-flops, you don't know what you are going to get at the end of the day."
Still, Petro's candidacy benefited from his promises to address Colombia's endemic corruption and concentration of wealth in the hands of too few.
"I'm for Petro because I want a change from the typical politicians who get elected and do nothing for us but steal us blind," said Jhon Casa, a 27-year-old glass worker. "Duque will take care of the oligarchs who support him, but it's the poor who need help in this country."
Kraul is a special correspondent.
---
Must-read stories from the L.A. Times
Get the day's top news with our Today's Headlines newsletter, sent every weekday morning.
You may occasionally receive promotional content from the Los Angeles Times.