After Philippine leader says he'd swear at Obama if questioned on death squads, White House cancels meeting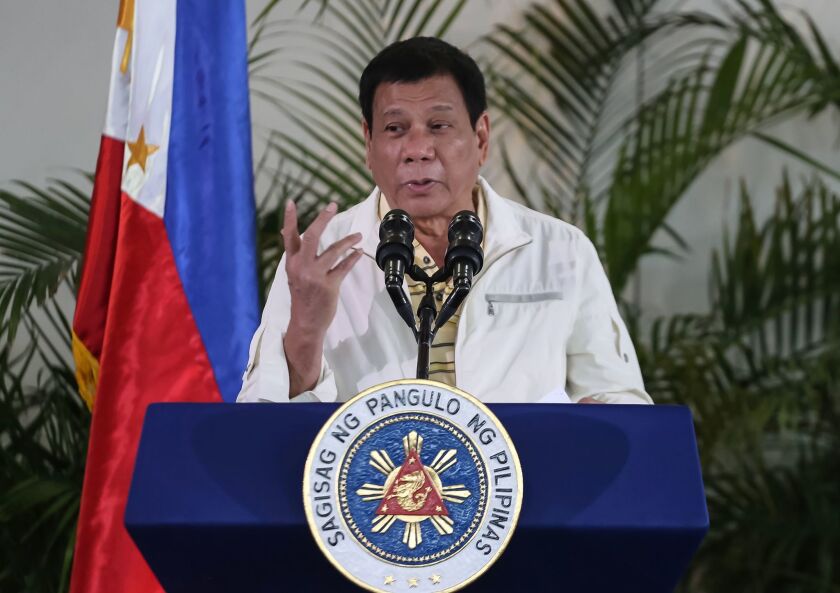 Reporting from Vientiane, Laos —
President Obama canceled a meeting with Philippine President Rodrigo Duterte Monday, after the Filipino leader publicly swore while warning him not to raise questions about alleged death squad operations in his country against suspected drug dealers.
Earlier in the day, during a news conference before leaving the Philippines for Laos, where both men are to attend a summit of Southeast Asian leaders, Duterte had said that if Obama were to raise the issue during their scheduled meeting, "son of a bitch, I will swear at you."
He is a leader of a sovereign country and is answerable only to the Filipino people, Duterte said, and Obama must be respectful.
More than 2,000 alleged drug dealers and users have been killed since Duterte launched a war on drugs after taking office on June 30.
Asked later in the day, during his own news conference, about Duterte's remarks, Obama said he had told his staff to investigate whether a meeting with the Philippine president would still be "productive."
A few hours later, as Obama reached Laos, National Security Council spokesperson Ned Price announced that the meeting with Duterte had been canceled. Obama will, instead, hold a meeting with the president of South Korea, Price said.
At the news conference, which took place in China, before Obama left for Laos, the president had described the recently elected Philippines leader as a "colorful guy."
The Philippines is a U.S. ally and a key strategic partner in U.S. policy in Asia. The U.S. has given the Philippines strong backing in that country's dispute with China over maritime boundaries.
But even when meeting with the leader of an allied country, Obama said at the news conference, "I always want to make sure that if I have a meeting, it's productive."
Fighting drug trafficking is "tough," Obama said, but the U.S. will always assert the need to have due process "and to engage in that fight against drugs in a way that's consistent with basic international norms."
"If and when we have a meeting," Obama said, "this is something that's going to be brought up."
Follow me on Twitter: @CParsons
ALSO
Anti-Beijing forces gain momentum in Hong Kong election
Blast in Philippine market leaves 12 dead, at least 24 wounded
Obama and Putin come up short on Syria cease-fire negotiations, agree to keep talking
---
UPDATES:
1:03 p.m.: Updated with announcement that the meeting had been canceled.
6:40 a.m.: Updated with additional Obama comments and context.
4:55 a.m.: Updated with Obama's comments
This story was posted at 3:40 a.m.
---
Must-read stories from the L.A. Times
Get the day's top news with our Today's Headlines newsletter, sent every weekday morning.
You may occasionally receive promotional content from the Los Angeles Times.