In European vote, far-right surge fails to materialize, but mainstream parties lose support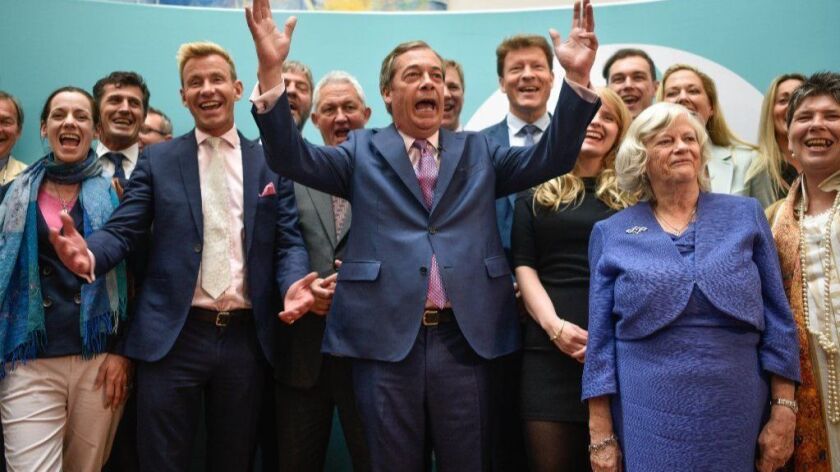 Reporting from Berlin —
Supporters of the European Union garnered a majority in continent-wide parliamentary elections, fighting off a populist challenge, according to tallies released Monday. But the results also showed a polarized electorate that points to continuing discord over hot-button issues such as immigration and the power of EU institutions.
Although traditional mainstream parties were the chief casualty of the pan-European vote that took place over four days ending Sunday, gains by the EU-bashing far right were largely offset by victories on the left.
Populist-nationalist parties pursuing a strident anti-immigrant agenda made some inroads, notching a high-profile victory in Italy and an extremely narrow win in France, but failed to attain the continent-wide surge they had hoped for.
"The nationalist movements certainly did not take over power in Europe, despite some spectacular successes," said the lead editorial in Germany's liberal newspaper Sueddeutsche Zeitung in Munich. "But that is not any reason to relax, because the nationalists were too strong in a number of nations."
Greens make gains
Showcasing the dramatic split between Europeans and the Trump administration over climate change and other environmental issues, the Green party and its offshoots turned in a powerful performance.
In Germany, the Green party was the second-biggest vote getter, capturing 20% of the vote and winning in 9 out of 10 of the country's biggest cities. France's Greens also polled strongly, placing third.
"The big winners are the Greens," wrote Nikolaus Blome, a columnist at Germany's best-selling Bild tabloid. "They have turned their skillful marketing into real power…. They want dramatically more protection against climate change and present themselves as a sort of bulwark against the far right."
Turnout was the highest in two decades in the Europe-wide vote for the 751-seat legislative body. The European Parliament represents more than 500 million people across 28 countries, making this election the world's second-largest democratic exercise, after India's.
Domestic political fallout
Some countries saw swift domestic political fallout from the vote, although the tallies do not directly affect national governance. In Greece, the governing left-wing party's showing was so weak that the prime minister called new national elections.
There was a hardening of Brexit battle lines in Britain, where the mainstream Conservative and Labor parties were far outpolled by the newly created Brexit Party, which is determined to have the country leave the European Union with or without a deal.
But reflecting the bitter national divide, "remainers" — who would like a chance to overturn the 2016 referendum to abandon the bloc — picked up as many or more parliamentary seats, though those votes were split among several parties, complicating comparisons to the single-issue Brexit Party.
Prime Minister Theresa May, who announced her planned departure last week after she was unable to forge a consensus on terms for leaving the EU, employed some classic understatement after the wipeout of her governing Conservative Party, which placed fifth, falling into single digits of vote share. May termed the outcome "very disappointing."
In Austria, the conservative party of Chancellor Sebastian Kurz won the largest share of votes, but his government was toppled Monday when the far-right Freedom Party, previously allied with him, joined in a no-confidence vote to bring him down.
Kurz last week ejected the Freedom Party from his governing coalition after scandal erupted over a video that appeared to show one of its leaders, the country's vice chancellor, offering to sell political favors to a woman posing as a wealthy Russian. The scandal-disgraced vice chancellor, Heinz-Christian Strache, won the right to a parliamentary position under party-list rules, news agency reports said, but it wasn't certain whether he would take up his seat.
Populists, nationalists again test their strength in pan-European vote »
Tight finish in France
The centrist party of French President Emmanuel Macron, who has styled himself as the champion of a more integrated Europe, had hoped for a repeat of 2017 presidential election results, when Macron soundly defeated the far-right National Rally's Marine Le Pen.
In this matchup, Le Pen's party won the larger vote share, but the margin was so slender that both parties will apparently have the same number of European Parliament seats. Le Pen's National Rally, together with populist counterparts elsewhere, wants to try to bring the EU's policies more in line with its own and diminish the bloc's regulatory powers.
Macron's backers sought to put the best possible face on the result, with government spokeswoman Sibeth Ndiaye saying Monday that the election outcome did not trigger a domestic "political crisis."
Analysts said that based on so narrow a loss, Macron was unlikely to accede to Le Pen's demand for a dissolution of France's Parliament.
"This defeat isn't sufficiently serious to warrant political consequences such as a change of prime minister," said Bruno Cautres, a politics scholar at Paris' prestigious Sciences-Po university.
Tepid far-right gains
Giving rise to expectations of a possible populist wave, Italy's hard-line interior minister, Matteo Salvini, sought before the vote to band together with his nationalist counterparts from across the continent, cheered on by former White House strategist Stephen K. Bannon.
Salvini's League was the runaway winner in Italy, garnering more than one-third of the vote, but his strong showing did not give much of a lift to his partners elsewhere. In Hungary, Prime Minister Viktor Orban's authoritarian-minded party garnered an easy win, but Orban has not committed to joining Salvini's coalition in the European Parliament.
Relatively tepid far-right gains did not prevent Salvini from striking a triumphalist pose in a Twitter post of himself, with a MAGA hat among the items displayed on a shelf behind him. He held a hand-lettered sign that read, in Italian: "No 1 party in Italy" and added: "Grazie!"
Special correspondent Kirschbaum reported from Berlin and Times staff writer King from Washington. Special correspondent Kim Willsher in Paris contributed to this report.
---
Must-read stories from the L.A. Times
Get the day's top news with our Today's Headlines newsletter, sent every weekday morning.
You may occasionally receive promotional content from the Los Angeles Times.