Brexit-battered Theresa May resigns, and the scrum to replace her begins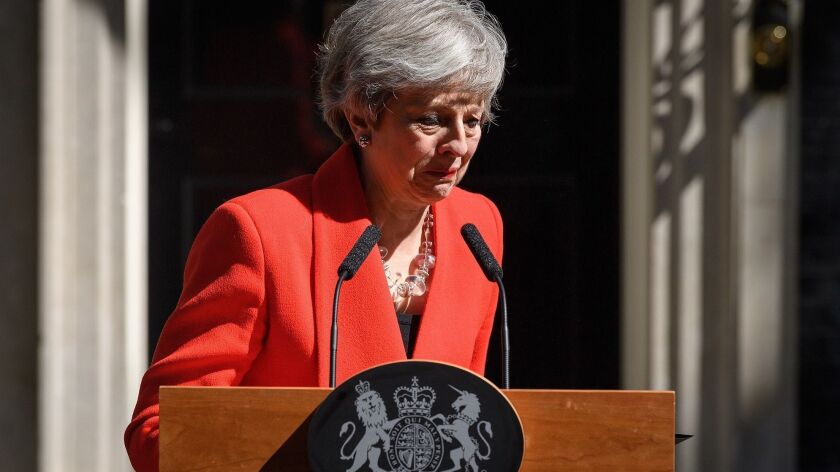 Reporting from London —
When Theresa May became Britain's prime minister in July 2016, only the second woman to hold the post, the vicar's daughter-turned-politician inaugurated her tenure with the brisk declaration: "Brexit means Brexit."
Few political catchphrases have ultimately rung so hollow. Whatever Brexit turns out to mean, British voters' narrow decision just a month earlier to bolt from the European Union was a code May never managed to crack.
On Friday — Brexit-battered, ridiculed and reviled, abandoned by her own Conservative Party — the 62-year-old prime minister bowed to the inevitable and bowed out. Her announcement that she would step down June 7 as party leader inaugurated a near-instantaneous scrum to replace her, with a new prime minister likely to be picked sometime in July.
May will stay on in a caretaker capacity until then.
For a farewell so long foretold, the end was swift. In a brief but emotional appearance outside the prime minister's official residence that was carried on nationwide television, May said she would be leaving a job that had been "the honor of my life to hold."
In a voice that trembled and finally broke, the prime minister declared that she would leave office "with no ill will, but with enormous and enduring gratitude to have had the opportunity to serve the country I love."
The departure drama came just one day after the British voted in European parliamentary elections — a normally little-watched political exercise that took on heavily freighted significance against the Brexit backdrop.
Results were not due until Sunday, when voting is completed across the 28-nation bloc, but May's Conservatives faced a likely trouncing at the hands of the new Brexit Party, whose sole aim is to finalize Britain's divorce from the EU.
When she took the helm less than a month after the shock referendum result of June 2016, May seemed like an inspired choice: a no-nonsense, competent pair of hands to steer the deal to completion.
But over time, the prime minister's efforts to persuade lawmakers to agree to terms of a divorce from the EU boiled down to a pitiless national meme: May once again on the podium in the House of Commons, stoic in a statement necklace, her resolute oratory all but drowned out by a raucous chorus of jeers.
During her tumultuous tenure, May was tasked — in the eyes of sympathizers and even some critics — with squaring an impossible circle. She searched in vain for ways to extract Britain from the EU's rules and regulations while somehow enabling her country to enjoy key privileges of membership in the 28-nation bloc.
Among other thorny issues, the prime minister tried desperately to stave off any risk of a "hard" border between Ireland, an EU member, and Northern Ireland, part of the United Kingdom. A fortified frontier would threaten the hard-won peace accord of two decades ago.
Beset by discord and division, Britain blew past the original March 29 deadline for its EU exit, which is now set for the end of October.
May's departure could heighten prospects for a no-deal Brexit, a crashing out of the EU with no new trade accord in place. The front-runner to replace her, former Foreign Secretary Boris Johnson, signaled readiness to brush aside predictions that a no-deal departure could cause chaos: enormous truck-traffic jams at the frontier, potential shortages of basic goods and medicine.
"We will leave the EU on Oct. 31, deal or no deal," Johnson told an economic conference in Switzerland. "The way to get a good deal is to prepare for a no deal. To get things done, you need to be prepared to walk away."
May, Oxford-educated but from a relatively humble social background, spent much of her career navigating a British political scene that was in large measure clubby and posh, insular and male-dominated.
Rising from local councilor to ambitious parliamentarian, by 2010 she had attained the Cabinet rank of home secretary, responsible for affairs of immigration and citizenship.
Britain's changing demographics would eventually become a driving force behind the Brexit referendum, which May's predecessor as prime minister, David Cameron, initiated almost casually, in what would prove a disastrous attempt to shore up his own political support.
During the divisive run-up to the Brexit vote, May was in the "Remain" camp — those who wanted to stay in the EU — but her support was tepid enough that it was not seen as disqualifying when her Conservative Party vowed to bring the voter-mandated split with Europe to fruition.
She emerged as a compromise candidate to become prime minister after last-minute stumbles by other, more staunch proponents of Brexit — including Johnson, the flamboyantly theatrical former London mayor who now hopes to replace her.
Johnson quit the foreign minister post last July in protest over May's plans for a so-called soft Brexit, which would maintain close trade ties with Europe.
RELATED: Theresa May says 'Brexit' won't be any easier if she's gone »
A timetable set out Friday by senior Conservative Party officials said they hoped to have voting rounds concluded by the end of June, meaning a new prime minister would probably be in place by mid-July.
Regardless, May will still be in office when President Trump arrives June 3 for a visit.
Despite the traditional "special relationship" between the United States and Britain, May's relationship with Trump has been a rocky one. Even before his own election, Trump was a Brexit enthusiast, claiming to have predicted the referendum outcome. In office, he has denigrated the EU and suggested that Britain would be better off on its own.
As a candidate in 2016, Trump became friendly with Nigel Farage, a prominent Brexit proponent who emerged from Britain's political far right and now heads the new Brexit Party. After Trump was elected, he suggested that Farage, already a thorn in May's side, be named as London's ambassador to Washington — a suggestion May's government politely rebuffed.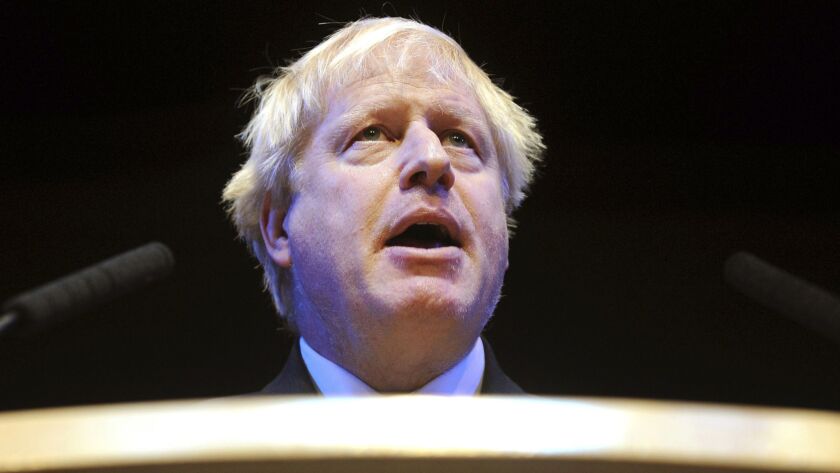 The prime minister's departure will trigger a fierce party leadership contest in which any Conservative lawmaker can run. The early front-runner is Johnson, but there will probably be an array of contenders. Foreign Secretary Jeremy Hunt announced his candidacy Friday, the first of May's Cabinet to do so.
RELATED: Taking the temperature in the heart of Brexit land »
Tributes to May poured in after her speech — including from some political figures who had pilloried her in recent days as her resignation came to be seen as inevitable. Most centered on praise of her grit and tenacity, while sidestepping criticism of her inability to strike a Brexit deal.
"A very dignified speech," wrote fellow Conservative politician Andrea Leadsom, who resigned from May's Cabinet this week, saying she had no confidence in the government's Brexit strategy. "She did her utmost, and I wish her all the very best."
Populists, nationalists again test their strength in pan-European vote »
Dominic Raab, who'd resigned as May's Brexit secretary and is considered a leadership contender, called May a "dedicated public servant, patriot and Conservative."
Heartfelt praise also came from some EU leaders who have been visibly frustrated by British infighting and lawmakers' inability to move forward.
French President Emmanuel Macron sent a personal message to May. "She has led a courageous effort to make Brexit happen," his spokeswoman said.
Cameron, the former prime minister who — perhaps unwittingly — set the years-long Brexit battle in motion, said he felt May's pain.
The prime minister, he said, faced huge difficulties but "worked incredibly hard to overcome them."
Special correspondent Boyle reported from London and Times staff writer King from Washington.
---
Must-read stories from the L.A. Times
Get all the day's most vital news with our Today's Headlines newsletter, sent every weekday morning.
You may occasionally receive promotional content from the Los Angeles Times.