Texas executes Mexican killer amid international protests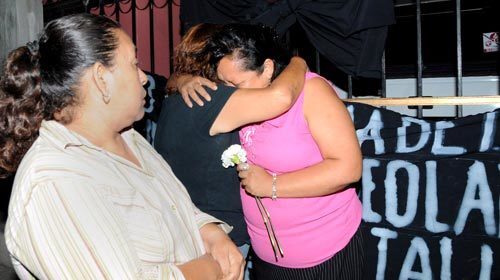 Relatives of death row inmate Jose Medellin try to comfort one another in the border city of Nuevo Laredo, Mexico, where Medellin was born. Medellin was executed in Huntsville, Texas.
(Marcos Esquivel / European Pressphoto Agency)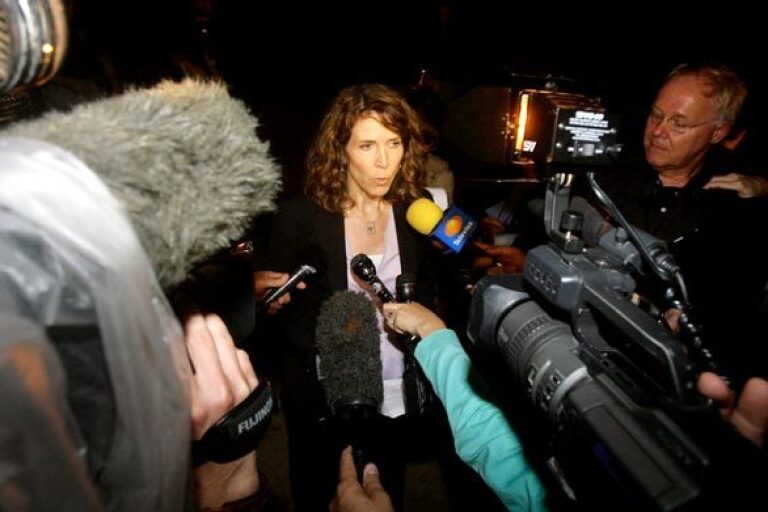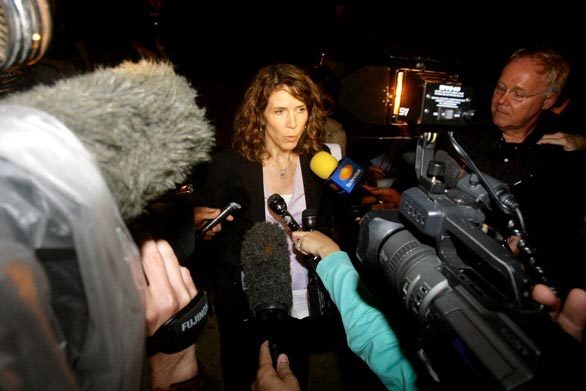 Sandra Babcock, attorney for Mexican-born death row inmate Jose Medellin, speaks to the media after his execution in Huntsville, Texas. Medellin was one of six teenagers arrested and charged with the 1993 gang rape and murders of two teens in Houston.
(Matt Slocum / Associated Press)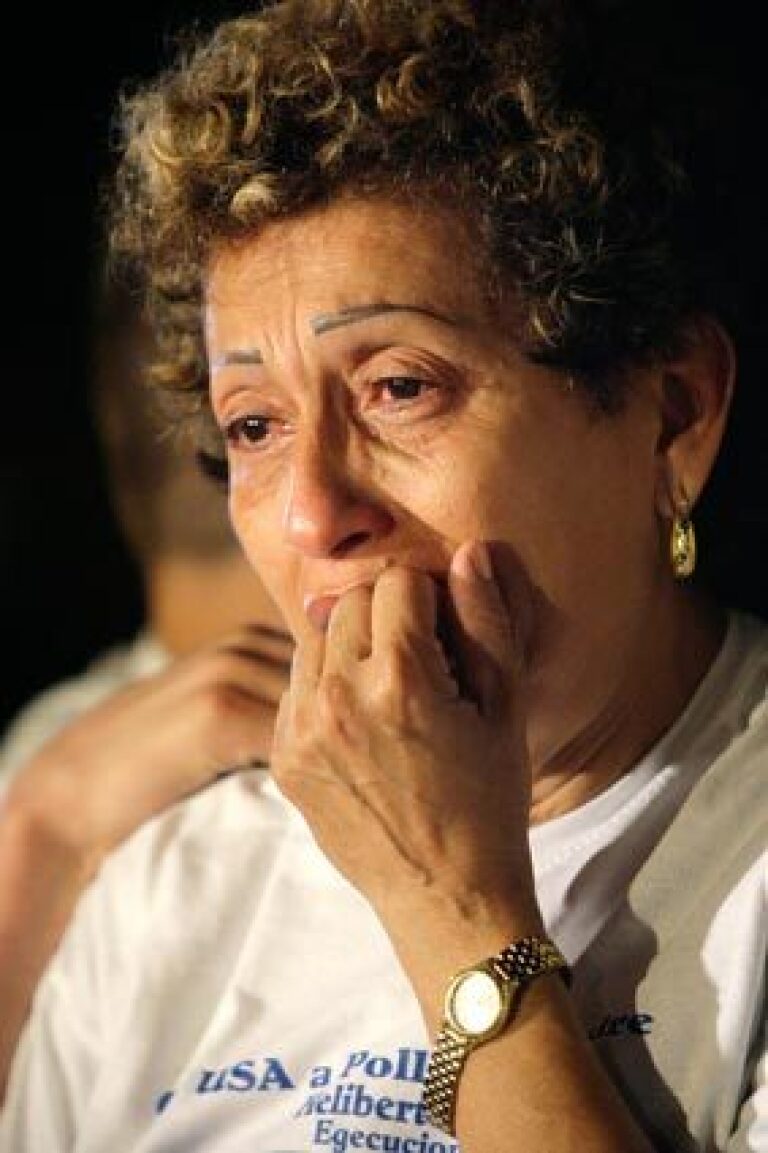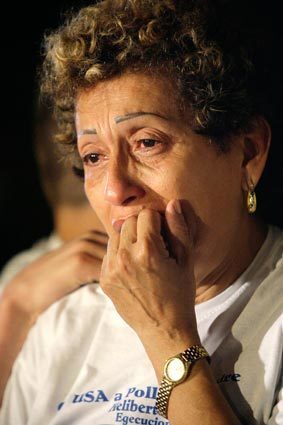 Mirna Chi, the mother of Honduras-born death row inmate Heliberto Chi, cries during a protest against the execution of Jose Medellin.
(Matt Slocum / Associated Press)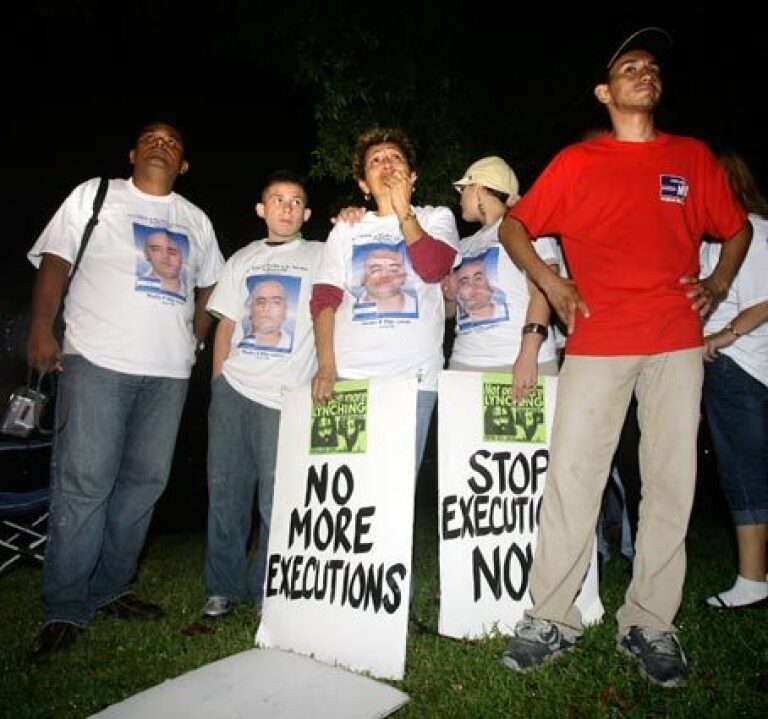 Family and friends of Heliberto Chi protest against the execution of Jose Medellin in Huntsville, Texas. The state has scheduled Heliberto Chi's execution for Thursday.
(Matt Slocum / Associated Press)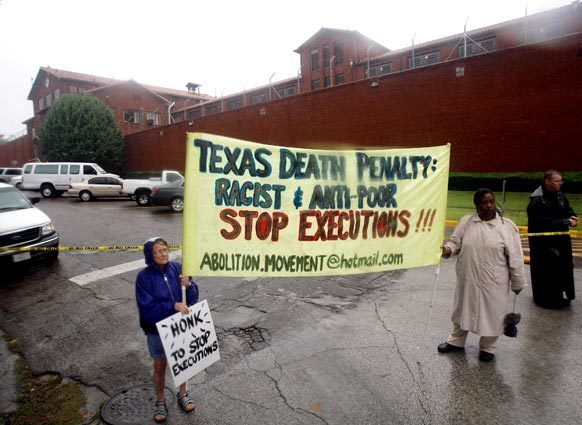 Protesters picket before the scheduled execution of Medellin in Huntsville, Texas.
(Matt Slocum / Associated Press)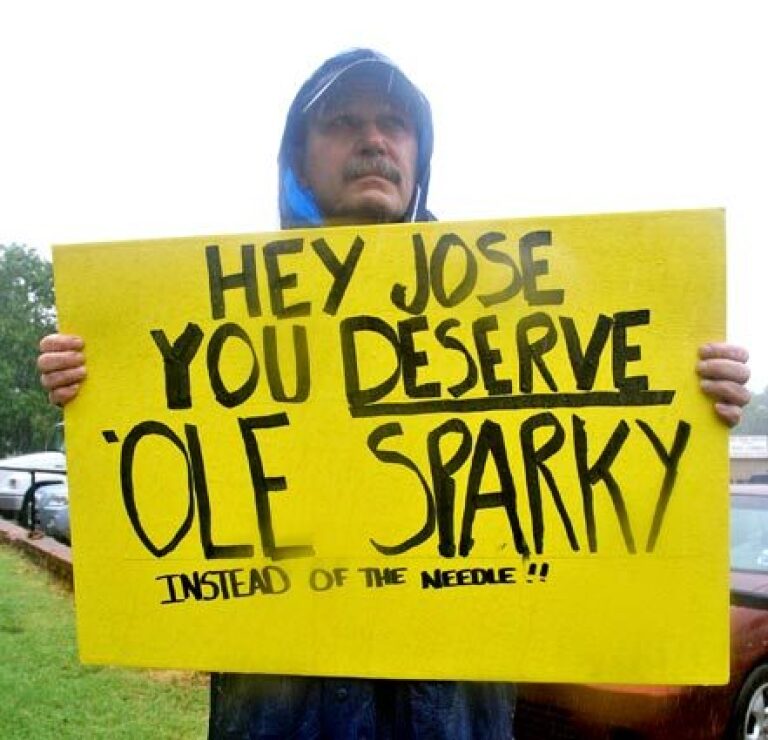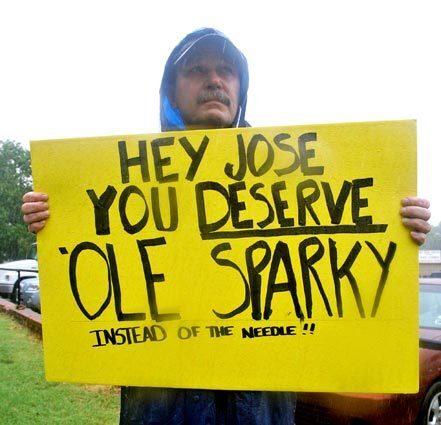 Death penalty advocate Fred Gavin, of Beaumont, Texas, holds up a sign before the execution of Jose Medellin in Huntsville, Texas.
(Matt Slocum / Associated Press)
Los Angeles Times Staff Writer
MEXICO CITY —
Jose Ernesto Medellin, a Mexican national convicted of the 1993 rape and murder of two Texas girls, was executed Tuesday night in Texas after the U.S. Supreme Court refused to grant a reprieve.
"I'm sorry my actions caused you pain. I hope this brings you the closure that you seek. Never harbor hate," Medellin, 33, told those gathered to watch him die. He was pronounced dead at 9:57 p.m. local time.
Demonstrations had been held in Mexico in anticipation of the execution. The controversy surrounding his execution, as well as concern here over the fate of 50 other Mexican citizens on U.S. death rows, appears likely to continue.
"It is striking the difference of perspective between the United States and many other countries," said David Fathi, U.S. program director for the group Human Rights Watch, which had opposed the execution.
"I think that [this] illustrates the widening gap."
Medellin was 18 when he and five fellow gang members raped Elizabeth Pena, 16, and Jennifer Ertman, 14, then beat and strangled them. Medellin later boasted to friends about the deed.
The buildup to Tuesday's execution drew worldwide attention and involved a host of players and institutions beyond the United States and Mexico.
The International Court of Justice in The Hague sided in 2004 with the Mexican government's argument that the United States had violated the 1963 Vienna Convention on Consular Relations by failing to inform the arrested Mexican nationals of their right to seek help from the Mexican Consulate.
Mexico has asked that all 51 convictions be reviewed, creating the possibility for new trials or outright dismissals. The Hague court had ordered the United States not to execute any of five men on death row in Texas while the court reviewed their cases.
But the court, a branch of the United Nations, has no power to enforce its rulings. A spokesman for Texas Gov. Rick Perry, a Republican, has said that "the world court has no standing in Texas."
The Bush administration had intervened in support of the Mexican government, urging Texas prosecutors to reopen the death row cases.
But in March, the U.S. Supreme Court rejected the administration's arguments, ruling 6-3 that under the Constitution, the president did not have the "unilateral authority" to compel state officials to comply with an international treaty.
The issue of capital punishment for Mexicans convicted of crimes in the United States is extremely sensitive here, driven by the perception that Mexicans convicted of capital crimes north of the border are more likely than U.S. citizens to face the death penalty.
Capital punishment was abolished in Mexico in 2005 during the Vicente Fox presidency.
Human Rights Watch and Amnesty International contend that executing foreign citizens in opposition to the court order could put U.S. citizens abroad at risk of being convicted and even executed for crimes without having access to U.S. consulates or embassies.
In a Monday opinion piece in the Los Angeles Times, former U.S. Ambassador to Mexico Jeffrey Davidow expressed that same view.
The heated debate in both countries over immigration policy probably has contributed to the controversy surrounding the execution.
"I think because of the politics around immigration more broadly, the fact that Mr. Medellin is Mexican rather than Swedish, does make a difference," said Fathi, of Human Rights Watch.
"It certainly does play into a bigger debate and bigger fears that many people have about immigration from Mexico."
Times wire services were used in compiling this report.
---
Must-read stories from the L.A. Times
Get all the day's most vital news with our Today's Headlines newsletter, sent every weekday morning.
You may occasionally receive promotional content from the Los Angeles Times.