Food demand fuels South America profits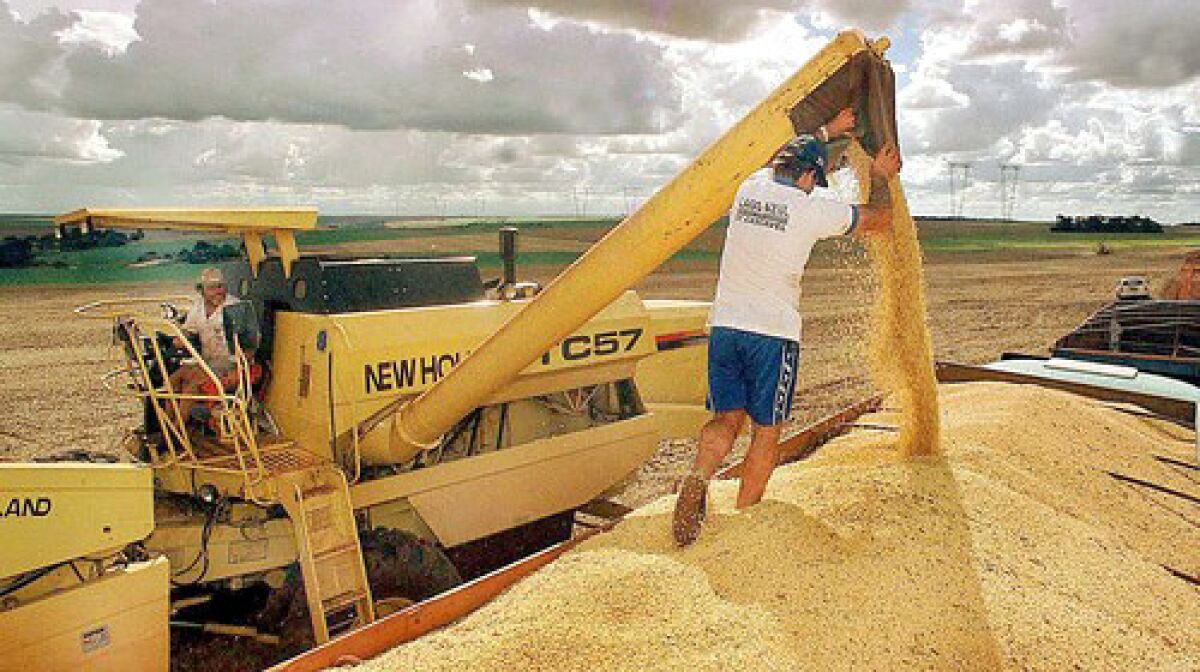 Los Angeles Times Staff Writers
BUENOS AIRES —
Soaring demand for foodstuffs, from soybeans to salmon, has helped launch a new era of growth for a broad swath of South America.
While consumers worldwide face rising prices and shortages, many producers across the continent are enjoying record profits.
Among the winners are Alberto Bressan, a soybean farmer in northern Argentina. Like others, he is wary of the buccaneer capitalist label that critics such as President Cristina Fernandez de Kirchner have slapped on South America's new elite, the export-oriented soy barons. "We've always reinvested in our communities and created jobs," said Bressan, 47, a lifelong farmer.
Between 1996 and 2006, according to government statistics, Argentina's soybean production more than tripled, from 12.5 million tons to more than 38 million tons. The number of acres planted in soybeans more than doubled.
The food bonanza is largely due to the feverish demand in China, India and other emerging nations.
Soybeans are generating wealth, not only for agricultural powerhouses Argentina and Brazil, but also for Paraguay, Uruguay and perpetually underdeveloped Bolivia, where soy plantations are spreading in the eastern lowlands.
The advance of the soy fields continues unabated despite concerns that forests are being flattened and other food crops are being pushed aside.
But the South American food bonanza is not just about soybeans.
Meat exports are also escalating, good news for beef- producing giants Argentina and Brazil. Across the Andes in Chile, coastal salmon farms have become a multibillion-dollar industry in response to demand from Europe, Asia and the United States.
The sugar cane market has revived thanks to the rapidly expanding biofuels industry. In Colombia, farmers in the lush Valle del Cauca plant cane to meet demand from four nearby ethanol plants. Brazil is trying to position itself as the world biofuels leader.
However, the profits come with inflation and political unrest. Retail food prices are soaring here as well.
The left-leaning Argentine government moved last month to take a bigger share of farmers' profits, unveiling plans to raise levies on soybean and other exports.
Farmers blocked roads and shut down food shipments, creating shortages in a major food-exporting nation. On Monday, they rejected a government plan to end the impasse.
"We feel like outsiders," Gustavo Grobocopatel, whose family-owned firm is the country's major soy producer, told Argentine radio. "We are helping, but the government doesn't recognize it, doesn't say hello to us, doesn't appreciate us."
patrick.mcdonnell
@latimes.com
McDonnell reported from Buenos Aires and Kraul from Bogota, Colombia. Times staff writers Marla Dickerson and Cecilia Sánchez in Mexico City, Andrés D'Alessandro in Buenos Aires and special correspondent Marcelo Soares in Sao Paulo, Brazil, contributed to this report.
---
Must-read stories from the L.A. Times
Get the day's top news with our Today's Headlines newsletter, sent every weekday morning.
You may occasionally receive promotional content from the Los Angeles Times.