On the Ground: In Paris falafel war, it's neighbor vs. neighbor in the city's changing Jewish quarter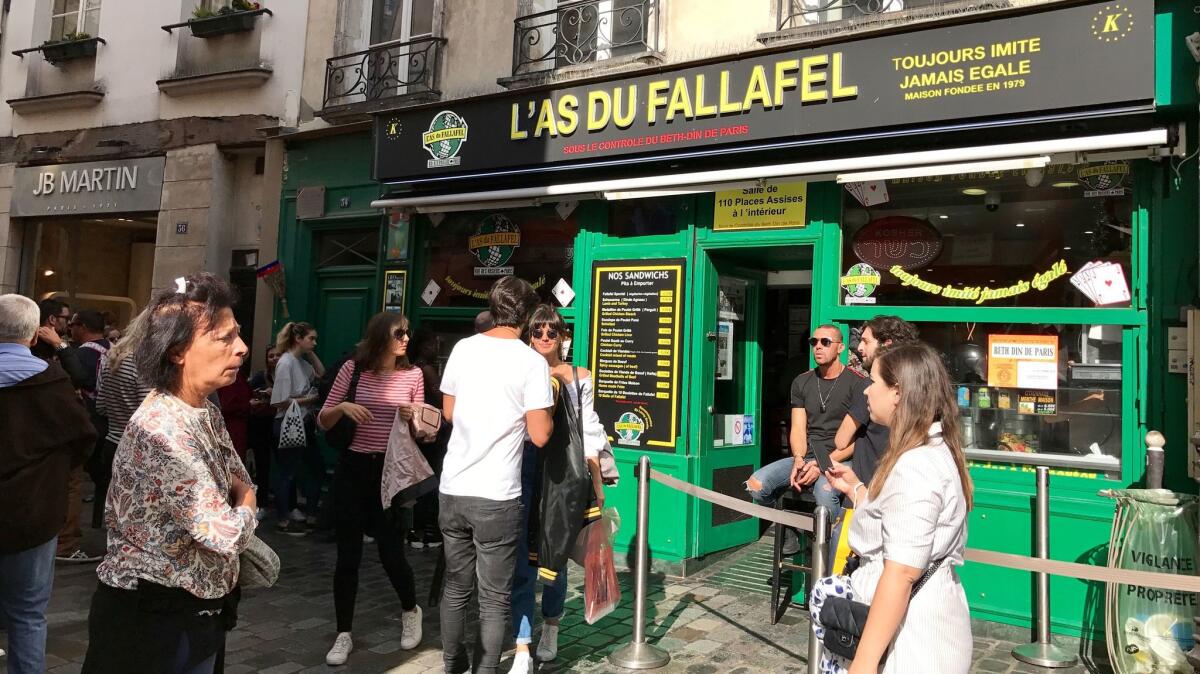 Reporting from Paris —
They line up like pilgrims at a sacred site and cradle the famous offering in their hands, swaddled in paper and napkins that soon prove hopelessly insufficient.
The crowd that jams Paris' old Jewish quarter at midday is drawn by what some describe as one of the world's best falafel sandwiches.
In a city synonymous with Michelin stars and coq au vin, where cloud-like croissants and brightly colored macaroons beckon from shop windows, a messy, saucy Middle Eastern street food has carved out a place as one of Paris' do-not-miss dishes.
Five shops selling falafel and shawarma sandwiches line the narrow, cobbled Rue des Rosiers. Tucked into the storybook Marais district, it was once the city's liveliest Jewish neighborhood, lined with synagogues, bookshops, kosher delis and bakeries hawking fluffy challah and Yiddish cheesecake.
But the humble chickpea is the star here, and its most popular stage is undoubtedly L'As du Fallafel (the Falafel Ace), a green storefront with a globe logo, 110-seat dining room and the lines of customers snaking down the block.
The sandwich is familiar: lightly fried balls of chickpeas and spices nestled in a pita with pickled cabbage, chopped cucumbers, silky tahini and chunks of oily eggplant grilled to a lurid purple.
Topped off with a red sauce piquante — and a plastic fork that offers only a fleeting hope of eating with dignity — it is one of the most filling and no-nonsense meals in Paris, and a welcome bargain at 6½ euros (about $7.60). Those qualities, perhaps more than the ingredients, are what have made the sandwich famous.
When I lived in Paris in 1999, on a college semester abroad, my friends and I made weekly lunchtime visits to L'As, a respite from the usual bakery fare of baguette sandwiches and quiches. It had already earned a measure of renown because the musician Lenny Kravitz was a fan, his picture taped to the doorway.
But it was still quiet enough that we often ate at an inside table, lingering over falafel or one of the meat offerings, either spicy chicken or lamb pitas.
A generation of foreigners in Paris spread the word as if it were some kind of insider's tip. L'As soon became the worst kept secret in the city.
"It's tinted with romanticism for me," said Elisa Fernandez-Arias, a 29-year-old from Bethesda, Md. As a student in Paris a decade ago, she would take sandwiches down to a bench along the Seine and eat while looking out at the river.
Now working as a writer in London, Fernandez-Arias returned to Paris in September with friends and led the way to L'As after a five-hour walk through the city. But the line was so long on an unseasonably warm afternoon that they opted to eat at the place across the street — a red-painted storefront called Mi-Va-Mi.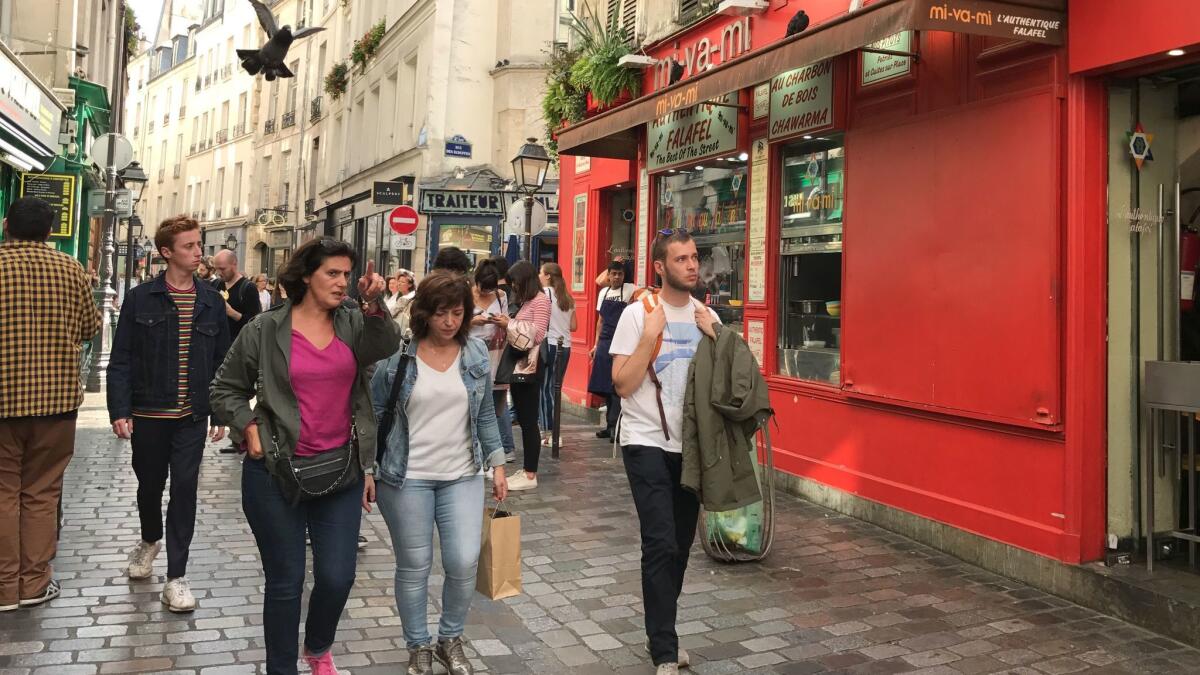 The two restaurants sit less than 30 feet apart. Their menus are similar. But unknown to most visitors, the neighbors have engaged in a quiet, bitter war for years.
When Mi-Va-Mi opened in 1999, L'As had already been in business for two decades, founded by Isaac Peretz, a Russian Jew from Tel Aviv, and his Tunisian-born wife, Daisy, whom he met in Israel. He followed her to the Marais, where she grew up. They opened a small grocery that sold falafel on the side, slowly adding tables and chairs before converting it to a full-time restaurant in 1997.
Their son Yomi dropped out of school at 14 to work there and now owns L'As, running it alongside his sister, brother-in-law and wife, who handles the cash register.
"There is no secret to our success," Yomi Peretz said. "There's just the food, the quality of ingredients, the ambience, the family spirit."
Perched on a barstool at the entrance wearing sunglasses, a buzz haircut and ripped jeans, Peretz looked more like a nightclub bouncer than a restaurateur. The vibe was multiplied by the rope barriers set up for crowd control, young staff taking orders with walkie-talkies and a speaker playing dance music.
It seemed to fit with the transformation of the Marais into one of Paris' trendiest districts, where designer boutiques and foreign brands now outnumber the old Jewish shops. Chanel opened a pop-up last year; the Goldenberg deli, site of a terrorist attack in 1982, became a store selling faux-vintage clothes.
"It has changed a lot, but I like it," Peretz said. "It's very cosmopolitan. You see everyone here, all colors, all nations — Koreans, Chinese, blacks, Brazilians, Americans."
Other falafel shops have sprung up too, but Peretz dismissed them as imitators.
"They have just Xeroxed our business," he said. "They haven't invented anything."
While he is cordial with the others, Peretz can barely hide his contempt for Mi-Va-Mi, which was started by a Russian from the same section of Tel Aviv as his father.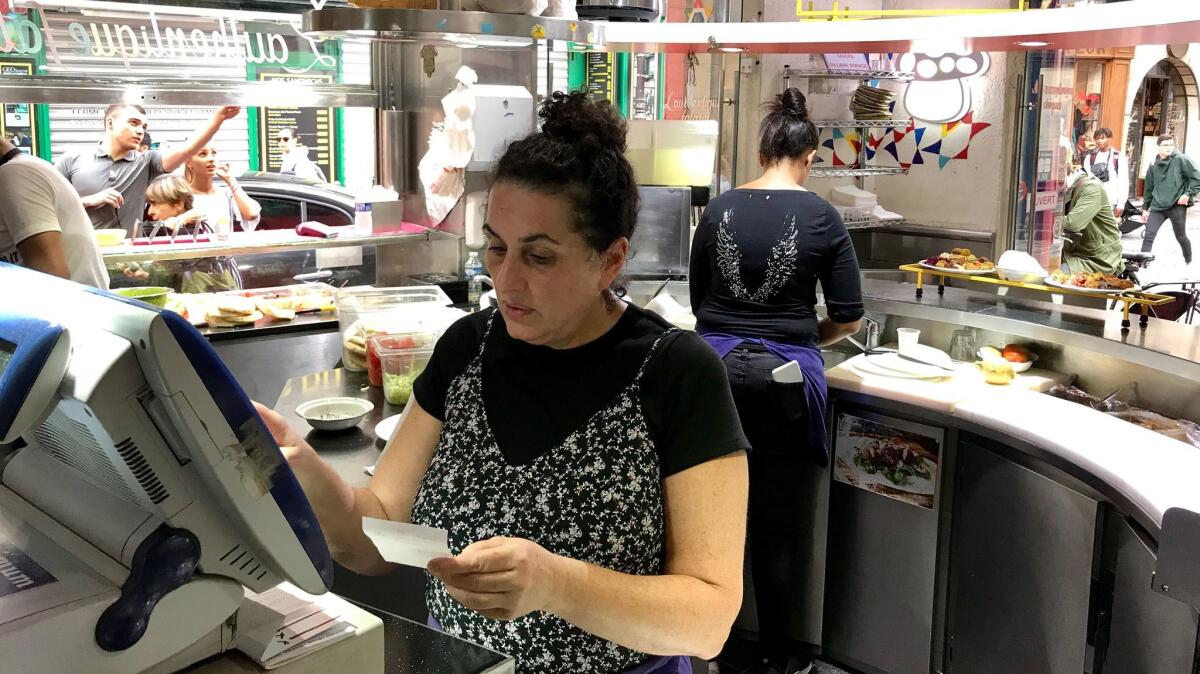 The neighbors squabbled from the start. L'As accused Mi-Va-Mi of copying its menu; Mi-Va-Mi's Moroccan-born manager, Martine Ouaknine, said L'As spread false rumors that her meat wasn't kosher.
Peretz's mother kept a lid on tensions. But after she died a few years ago, Ouaknine said, the Paris beth din, or rabbinical court, revoked Mi-Va-Mi's kosher certification, robbing it of its Jewish customers.
Ouaknine accused Peretz — whose orange kosher certificate is plastered in the window, and who closes promptly at 4 p.m. on Fridays for the Sabbath — of putting pressure on a kosher butcher to testify against her. Peretz denies involvement, saying, "I am too busy working to make war."
But not too busy last year to try to put his competitor out of business by purchasing the building where Mi-Va-Mi is located. The lease expired more than a year ago, and Peretz warned that it wouldn't be renewed. Mi-Va-Mi is fighting eviction in a Paris administrative court, a case that could take years to decide.
"I will probably be retired by then, looking after my children," said Ouaknine, a warm, middle-aged woman with curly hair, fielding orders from behind a circular counter while a Sri Lankan cook worked the fryer.
"To be honest, I'm tired," she went on. "Everything in this neighborhood has changed. It's all boutiques, fancy clothes. These are not real things. Ours is just normal food for normal people."
She gestured to the small dining area, where families, mostly tourists, hunched over their overstuffed pitas. There was no music, no walkie-talkies.
"Our place is calmer," she said. "I wouldn't want to do what they do across the street. And anyway, our food is better."
"Taste and compare," proclaims the chalkboard outside Mi-Va-Mi.
"Always imitated, never equaled," boasts the sign atop L'As.
Perhaps there was a quicker way to resolve the dispute.
Enter Richard Fan Dyk, a 35-year-old consultant from Rotterdam in the Netherlands, who ate at Mi-Va-Mi in January and recently returned to Paris for a long weekend. This time, he opted for L'As.
Two bites in, did he have a verdict?
"Both are delicious," he said, wiping his mouth.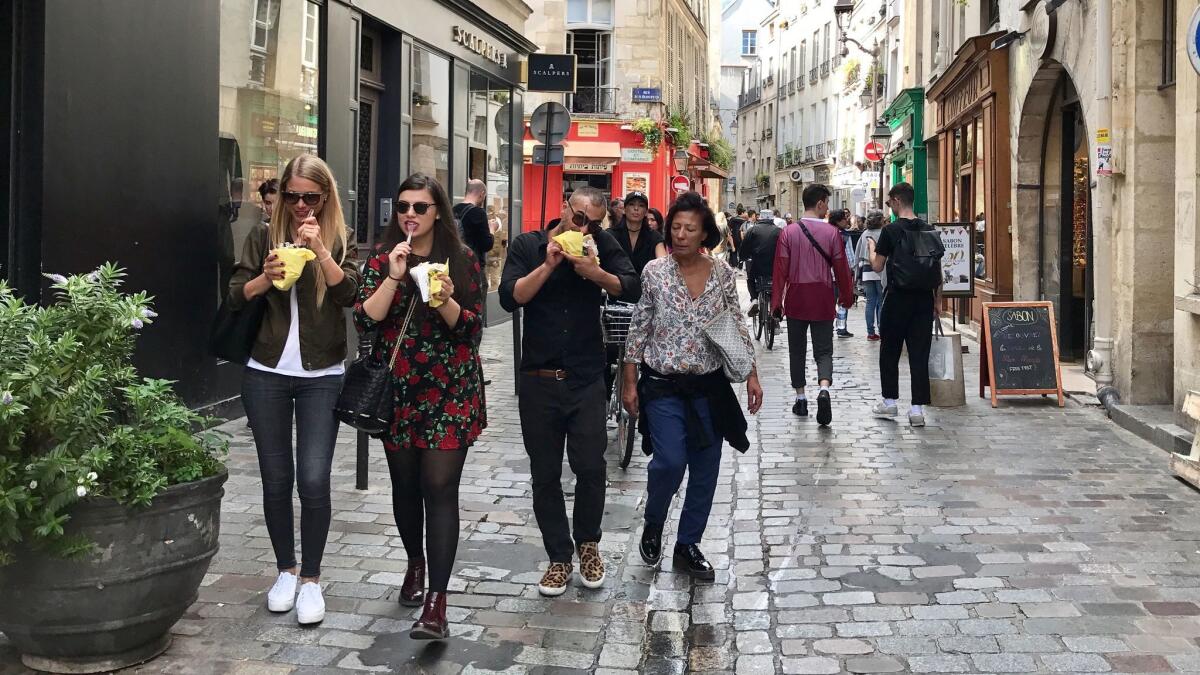 Follow @SBengali on Twitter for more news from South Asia
ALSO
Welcome to Special Rich Guest Hamburger, the China edition of Fatburger
Costco stores in South Korea offer chopped onions for hot dogs. Koreans have a different idea
At $80 an ounce, it's not for everyone. But Iranian caviar is eyeing a comeback in the U.S.
American rap, local whiskey: Tiny Bhutan guards tradition as it opens up to the world
Sign up for Essential California for news, features and recommendations from the L.A. Times and beyond in your inbox six days a week.
You may occasionally receive promotional content from the Los Angeles Times.