Tensions as Paris suburb tries to stop Muslim street prayers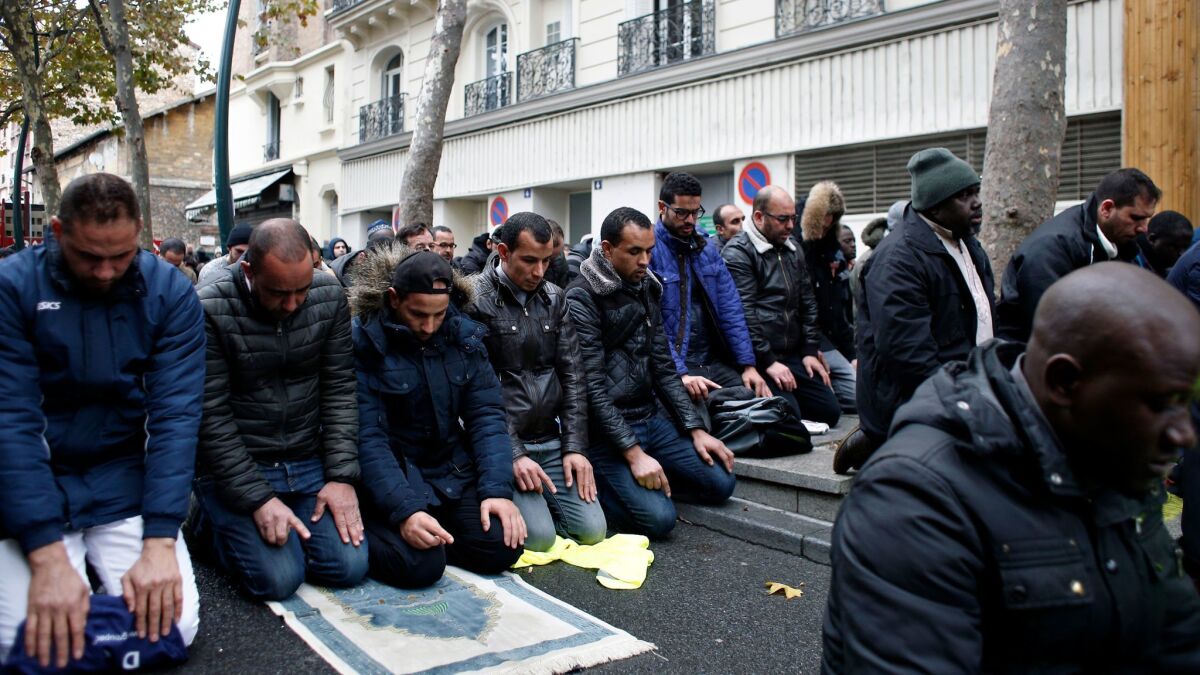 Reporting from CLICHY-LA-GARENNE, France —
Tensions erupted Friday as French officials and residents of a Paris suburb tried to block Muslims from praying in the street — a dispute that reflects nationwide problems with mosque shortages.
No one was hurt in the skirmishes in Clichy-la-Garenne, but both sides appeared to be digging in their heels in the dispute over prayer space in the town.
Carrying a large banner reading "Stop Illegal Street Prayers," Mayor Remi Muzeau led more than 100 demonstrators Friday in a show of force to dissuade Muslims from praying on the town's market square. Worshippers have been praying there every Friday for months to protest the closure of a prayer room.
A few dozen worshippers tried to pray anyway but retreated to a less visible spot, seeking to avoid confrontation with the protesters. But the demonstrators squeezed them toward a wooden wall.
As worshippers chanted "Allahu akbar," Arabic for "God is great" the large,r group of demonstrators loudly sang the French national anthem. Some held French flags and a crucifix aloft.
Amid pushing and shoving, a banner the worshippers were carrying reading "United for a Grand Mosque of Clichy" was torn down.
Police with shields then formed a human barricade between the groups and Muslims eventually unrolled their rugs on the pavement, took off their shoes and held their prayers.
When the incident was over, the worshippers clapped, and the mayor pledged to come back again next week — as did the Muslim worshippers.
"We'll do it every Friday if necessary," said Muzeau.
"I must assure the tranquility and freedom of the people in my city," he said. "We must not allow this to happen in our country. Our country, the French Republic, is tarnished."
Hamid Kazed, president of the Union of Muslim Associations of Clichy, who led the prayers, said, "We are going to continue until there's a dialogue for a definitive venue."
"That's what they want. To divide the citizens," he said. "We are not fundamentalists. We are for Islam of France."
The demonstrators were joined by the president of the Paris region, Valerie Pecresse, and officials and residents of other Paris suburbs
While Islam has long been France's No. 2 religion, the country has a chronic shortage of mosques for its estimated 5 million Muslims. Muslims in several towns have resorted to praying in the streets, fueling the anti-immigrant sentiment of far-right National Front leader Marine Le Pen.
Clichy Muslims had been renting a prayer hall from City Hall. But the town's mayor decided to turn that space into a library for the town's 60,000 residents, and the prayer hall was shut down in March following a court battle.
City Hall says Muslims can worship at a new Islamic cultural and prayer center, already used by hundreds, that the town inaugurated last year. However some Muslims say the new facility is too small and remote and doesn't meet safety standards.
---
Must-read stories from the L.A. Times
Get the day's top news with our Today's Headlines newsletter, sent every weekday morning.
You may occasionally receive promotional content from the Los Angeles Times.