Tax protesters in Paris clash with police; 107 arrested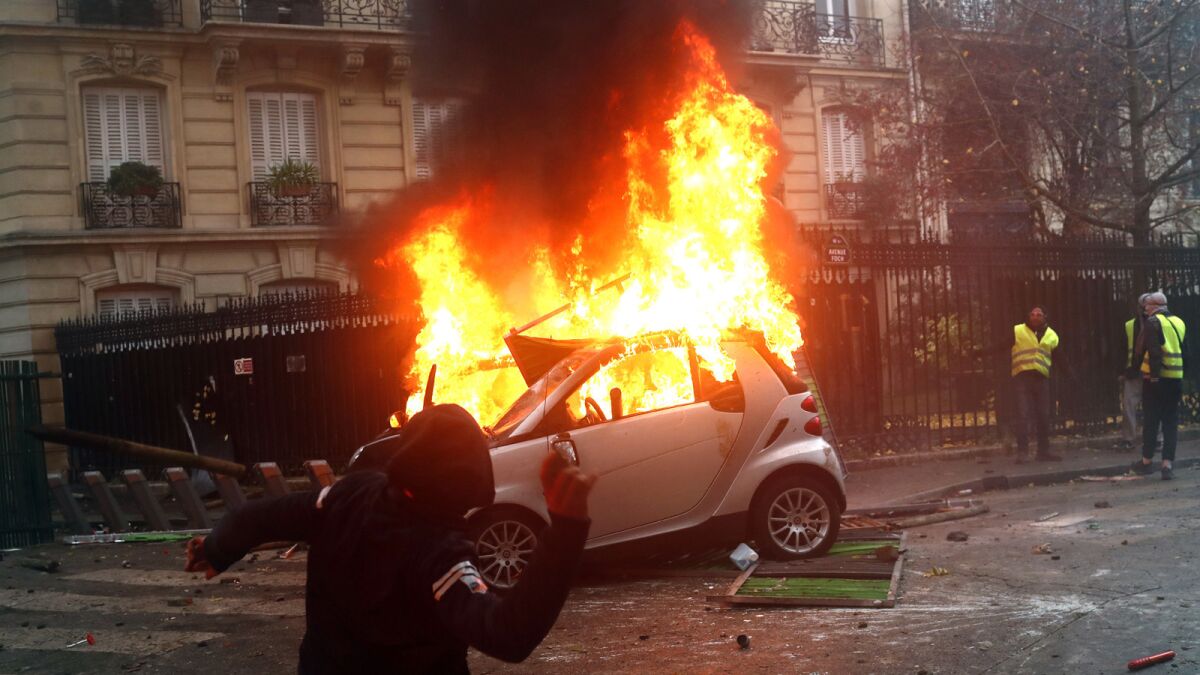 Reporting from PARIS —
Protesters angry about rising taxes clashed with French police for a third straight weekend and more than 100 were arrested Saturday. Pockets of demonstrators built makeshift barricades in the middle of streets in central Paris, lit fires, sprayed graffiti on the Arc de Triomphe and threw rocks at officers.
Protesters, including some wearing black hoods, piled up large plywood planks and other material in the middle of a street near the Arc de Triomphe and set the debris ablaze.
Police fired tear gas and used water cannons to try to push back the protesters who gathered around the Arc de Triomphe. Some demonstrators responded by throwing large rocks.
Others removed the barriers protecting the Tomb of the Unknown Soldier from World War I, under the monument, to pose near its eternal flame and sing the national anthem. They were then dispersed by police.
Graffiti sprayed onto the Arc de Triomphe wrote: "yellow jackets will triumph," in reference to the fluorescent vests protesters wear.
French Prime Minister Edouard Philippe said some protesters attacked police forces "with a rarely seen violence," leading to the arrest of at least 107 people.
Speaking at Paris police headquarters, Philippe said more than 5,000 protesters were on and around the Champs-Elysees avenue.
Authorities said 5,000 police were deployed in Paris to try to contain the protests.
Several hundreds of peaceful protesters passed through police checkpoints to reach the Champs-Elysees. They marched on the famed avenue behind a big banner that read, "Macron, stop taking us for stupid people."
Access to the Champs-Elysees was closed to cars and strictly monitored by police with identity checks and bag inspections.
In addition to rising taxes, demonstrators are furious about President Emmanuel Macron's leadership.
Rabah Mendez, a protester who came from a southern suburb to march peacefully in Paris, said, "people say it's difficult to reach the end of the month. People work and pay a lot of taxes, and we are fed up."
Paris resident Hedwige Lebrun said, "The purchasing power is severely diminishing every day. And then: taxes, taxes and taxes. And the state is asking us to tighten our belts, but they, at the contrary, live totally above all standard with our money."
All subway stations in and around the famous avenue were closed for security reasons, Paris public transport company RATP said.
The clashes in Paris contrasted Saturday with protests in other French regions, where demonstrations and road blockades were largely peaceful.
The protests, which began with motorists demonstrating against a fuel tax hike, now involve a broad range of demands related to the country's high cost of living.
Last week, French authorities said 8,000 people demonstrated on the Champs-Elysees. Some of the protesters torched barriers and plywood boards. Police fired tear gas and water cannons to push back angry demonstrators.
Since the movement kicked off Nov. 17, two people have been killed and hundreds injured in accidents stemming from the protests.
Meanwhile, hundreds of road blockades were also held quietly across the country.
Must-read stories from the L.A. Times
Get the day's top news with our Today's Headlines newsletter, sent every weekday morning.
You may occasionally receive promotional content from the Los Angeles Times.