Ex-French President Sarkozy detained, questioned about $61 million Kadafi allegedly gave his campaign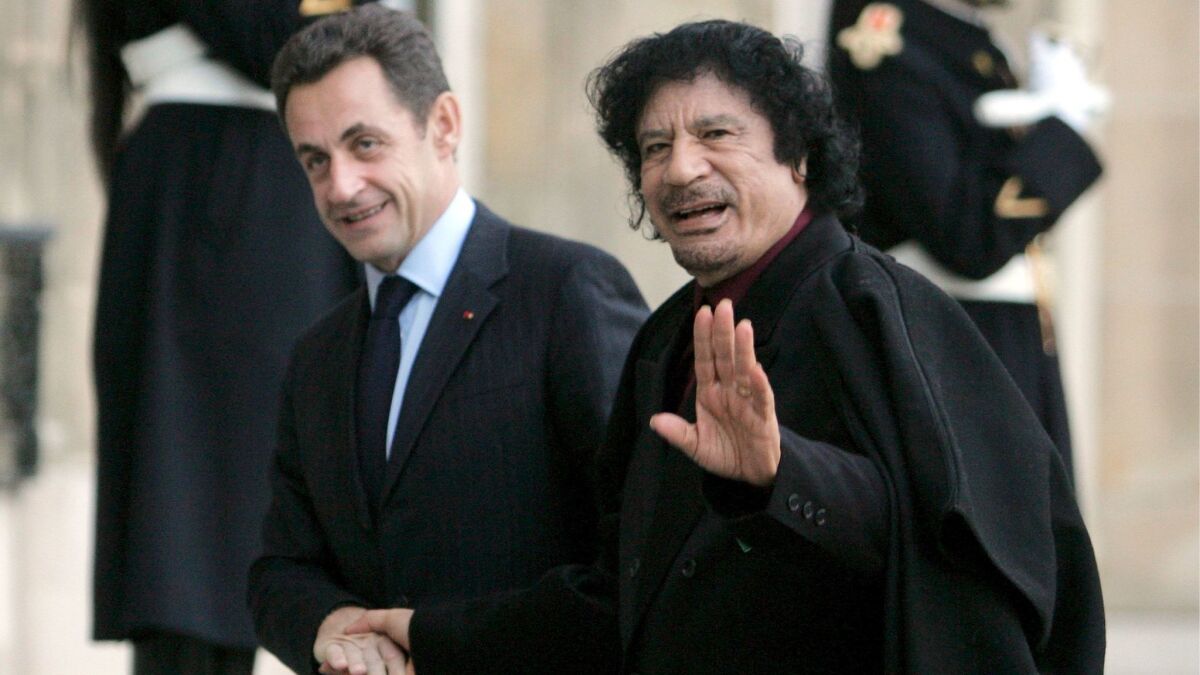 Reporting from PARIS —
Former French President Nicolas Sarkozy was being held by police Tuesday and questioned by authorities investigating whether he received millions of dollars in illegal campaign funds from the late Libyan dictator Moammar Kadafi.
The investigation dates back seven years, and the right-wing politician who led France between 2007 and 2012 has repeatedly denied the allegations, which nevertheless have refused to go away.
It is the first time Sarkozy has been officially questioned over the scandal, possibly the most incendiary of the allegations leveled against him and members of his team.
Sarkozy, who was being held at the police station in Nanterre, west of Paris, has described the accusations to French journalists as "grotesque" and a "crude manipulation."
French detectives first opened an inquiry into possible corruption, influence peddling, forgery, misuse of public funds and money laundering without naming any specific suspects in 2013, one year after Sarkozy left office when he was beaten by Socialist rival Francois Hollande.
Since then, the allegations have become more specific and Sarkozy's name has surfaced, mainly as a result of reporting by the investigative website Mediapart that has made the case a cause celebre.
Until now, Sarkozy, 63, has refused to answer the investigating magistrate's summons to turn up for questioning.
The investigation centers on claims that Kadafi and his supporters secretly handed over almost $61.4 million in illegal donations to Sarkozy's 2007 election campaign, more than double the $25.8 million candidates were allowed to spend at the time. Any such donation would also contravene French regulations banning foreign financing of campaigns and requiring donations to be declared.
We financed his campaign, and we have proof
— Said Islam Kadafi, son of Moammar Kadafi
One of Sarkozy's former ministers and a close friend, Brice Hortefeux, also was being questioned by detectives on Tuesday. Another ally and former minister, Claude Gueant, is already under official criminal investigation for fraud in the same inquiry.
In 2012 Mediapart published a document signed by Moussa Koussa in 2006 when he was head of Libya's external intelligence services indicating that Kadafi had agreed to send 50 million euros ($61.4 million) to help Sarkozy's campaign. A French expert ruled in 2015 that the document was authentic.
In 2016, Ziad Takieddine a wealthyLebanese-French businessman close to Kadafi's government, told Mediapart that he had personally traveled from the Libyan capital, Tripoli, to Paris on three occasions to deliver suitcases containing a total of $6.2 million in cash to fund Sarkozy's campaign in 2006 and 2007.
Takieddine, who is under formal investigation in France for a number of alleged offenses, including receiving illegal kickbacks on French arms deals to Pakistan and Saudi Arabia in 1993-95, also told investigators that Libya had agreed to fund the campaign to the tune of 50 million euros.
Shortly after his 2007 election victory, Sarkozy invited Kadafi to Paris and feted him with honors, most famously allowing the Libyan leader to sleep in a Bedouin tent pitched near the Elysee Palace. Three years later, the leaders had a falling-out after Sarkozy backed airstrikes led by the North Atlantic Treaty Organization that helped rebels overthrow Kadafi's government in 2011.
After the Libyan dictator was killed, his son Saif Islam Kadafi told the news channel Euronews that Sarkozy should give back the money. "We financed his campaign, and we have the proof," he said. "The first thing we are demanding is that this clown gives back the money to the Libyan people."
Sarkozy has been implicated in a number of political scandals in France but has repeatedly denied any wrongdoing. In a separate case, a judge has declared he must appear in court over allegations relating to the funding of his failed reelection attempt in 2012. His campaign team is accused of using a system of false accounting to hide an enormous overspend on electioneering.
---
UPDATES:
12:55 p.m.: This article was updated with additional background information and a comment from Nicolas Sarkozy.
This article was originally published at 4:20 a.m.
Must-read stories from the L.A. Times
Get the day's top news with our Today's Headlines newsletter, sent every weekday morning.
You may occasionally receive promotional content from the Los Angeles Times.