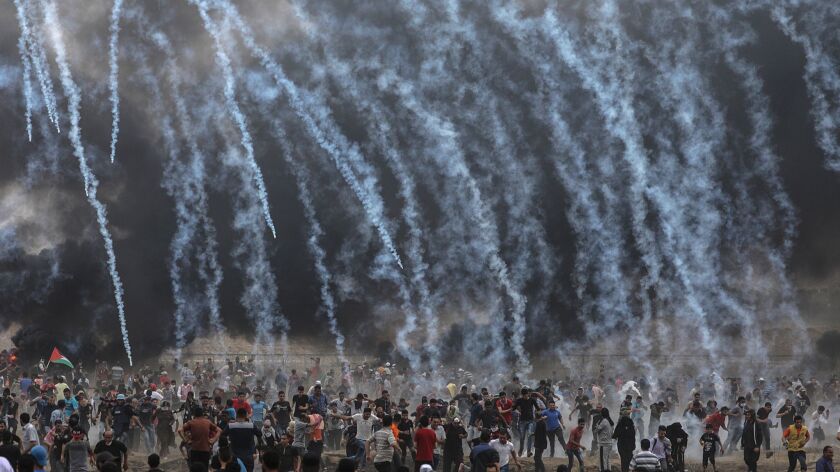 Reporting from KFAR AZA, Israel —
It should have been a relaxing time as Shlomit Almog and her husband, Giora, nursed cups of coffee at their favorite cafe, the C Espresso, early on a Friday afternoon.
But she can't distance herself from the news — or the worry. "I can't disconnect," she said.
It's been like this every day since March 30, when, on the Israeli-Gaza Strip border half a mile from their home in Kfar Aza, a prosperous village of about 850 inhabitants, thousands of Palestinians started protesting every Friday. They begin after Muslims leave mosques following Friday prayers, and most of the demonstrations have turned into bloody clashes with the Israeli military.
"I'm glued to TV and radio. I can't detach," Almog said, then mentioned to her husband that she had forgotten her purse at home.
Her cellphone, however, she didn't forget, and it pulsed with news alerts. It was about 1 p.m., half an hour before the rallies would start.
The anxiety of Israelis living by the border is escalating as May 15 approaches. That's when Palestinians observe Nakba, or catastrophe day. May 15, 1948, was Israel's full day as a new country — it had declared independence a day earlier — and this year Palestinians are planning to mark the day with huge protests at the Israeli-Gaza Strip border.
Hamas, the Palestinian Islamist militia that rules Gaza, projects that thousands of Gazans will storm the insubstantial fence that marks the border.
Friday's protest was the first without fatalities since the demonstrations, together dubbed the Great March of Return, started.
Forty-eight Gazans have died and thousands have been wounded in the clashes, which quickly turned violent.
Almog frets over her daughter and four grandchildren, who live close to the border in Kfar Aza, or Gaza Village, which was established by refugees from Egypt and Morocco in the early 1950s as a kibbutz, or collective settlement.
Some parents in Israeli border communities don't let their kids out of the house as of noon on Fridays. Almog said with relief that two of her grandchildren are teens "so they understand" having their movements restricted, but the family has to keep close watch on the youngest two.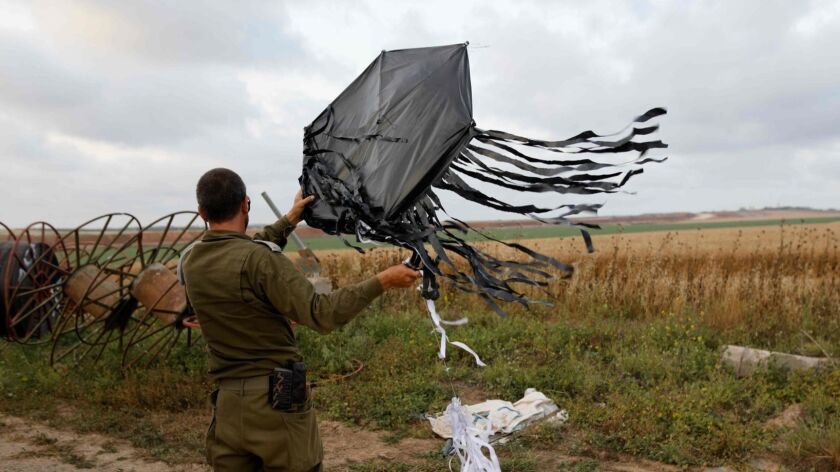 Adding to fears are so-called Molotov kites, which are set on fire and released from the Gaza side. Last month, a wheat field near the village was burned to the ground by such a kite, and on Wednesday another incinerated dozens of acres of forest adjacent to Kfar Aza.
On Thursday, Muhammad Harazin, a member of the Great March of Return organizing committee, said that "the kites sent by Gazan children is what most terrifies the occupation. The fires and the ensuing damage is draining Israeli coffers. We've terrified the settlers living there."
The Almogs can't hear the protests from their home, but the smell of burned forests and fields penetrates the air.
For decades, Giora Almog ran a well-known preschool here. In his retirement, he has turned to writing, and has just published his first book, "The Kindergarten Teacher's Song," aimed at young children, with each hand-drawn page displaying a poem he wrote about one of his former pupils.
His aim, in each poem, is to remind himself "that no child who arrives at preschool is a tabula rasa; each child arrives pre-packed with baggage. It's my aim to meet that soul. I may not succeed, but I will never stop trying."
Schools, he says, "in general oppress the imagination of children."
In his poem about Tal, now a man of 33, Almog writes about a dreamy boy who conjures jeep treks and spaceships, and even now, "you can't decide if the tractor is from your own sphere or a tractor from John Deere."
Unlike his wife, Almog does not listen obsessively to the news, but he acknowledges, "Of course, we're very worried." He lamented the ruined wheat field,which he compared to a nurturing womb, and the "huge amount of money we have spent for cement to fill up the tunnels excavated from Gaza."
The tunnels, like this year's protests, are a defining part of life on the Israeli-Gaza Strip border. Since the last showdown between Israel and Gaza, in 2014, Israel has unearthed and demolished numerous tunnels built by Hamas, reportedly for smuggling armed terrorists into Israeli border communities or kidnapping Israeli soldiers into Gaza.
Three weeks ago, the Israeli army demolished a tunnel "ready for use" that stretched about 60 feet into Israeli territory, adjacent to Kfar Aza.
In 2006, Gilad Shalit, an Israeli soldier, was captured by Hamas militants in a cross-border raid and abducted via tunnel to Gaza, where he was held for five years until 2011, when Israel released 1,027 prisoners in exchange for his freedom.
On Aug. 1, 2014, two hours after a cease-fire was announced, a group of Israeli soldiers discovered a Hamas tunnel near the Egyptian border and were decommissioning it when a suicide bomber detonated himself. Two soldiers were killed, and another, Lt. Hadar Goldin, was seized by gunmen.
Goldin, who was later killed, was 23 years old and engaged to be married a month later.
Enough blood and tissue from Goldin were retrieved from the tunnel that a rabbi authorized a funeral, but an empty coffin was buried at the state military service.
"He was declared dead, but he is also a prisoner of war," Leah Goldin, Hadar's mother, said at the time.
On Friday, the Goldin family and supporters gathered at a well-known site on the edge of Kfar Aza's agricultural fields — the Black Arrow memorial, which honors eight Israeli soldiers killed in a 1955 operation against Palestinian guerrillas who had attacked Israeli border villages when Gaza was still under Egyptian control.
Goldin, a professor of computer science, and her husband, Simha Goldin, a professor of medieval history, had come the memorial for the first activity of Team Hadar, a group they launched in April to demand the return of their son's body.
Less than a week after Prime Minister Benjamin Netanyahu boasted about Israeli agents as he revealed that half a ton of Iranian nuclear-related documents had been seized in a suburb of Tehran, Leah Goldin pointed at Gaza, a few steps away.
"Are we supposed to believe that Netanyahu can order our guys to operate in Iran, but he can't get a mile into Gaza and bring my son back?" she asked.
She looked shattered. Her husband looked incensed.
"Netanyahu can't do anything!" he said. He then asked why the prime minister could not intervene the way Egyptian President Abdel Fattah Sisi did in another case involving human remains.
Goldin was referring to the burial last month in Gaza of Fadi Batsh, a Hamas engineer and reputed explosives expert who was assassinated in Malaysia in an act widely attributed to Israel.
Batsh was buried after Sisi granted Hamas special permission to bring his body to Gaza via Egypt, citing the Muslim commandment to bury the dead.
Why, Leah Goldin asked, couldn't Netanyahu insist that Hadar Goldin receive a decent burial before Batsh was buried?
"So al-Sisi can say, 'This is a high value for the Muslim faith' and make an exception, but Netanyahu can't say, 'This is a high value for the Jewish faith,' and demand that Hadar be returned before [Batsh] gets his decent burial?" Leah Goldin demanded.
The Black Arrow memorial, named after the 1955 operation's code name, is located in a pleasant, shaded spot, where the Almogs enjoy taking their grandchildren for after-school strolls, where kids pick potatoes and onions and the occasional kohlrabi left over after harvesting. The atmosphere is solemn, but not serene — soldiers in armored vehicles drive by.
Back at the cafe, the Almogs prepared to head out into the 99-degree heat. The rallies would soon start.
Anticipating the coming days of strife, Giora Almog recalled something he saw again and again at his pre-school. The kids used to flood a kibbutz sandbox with water, then use their hands to excavate tunnels from two sides, and erupt with pleasure when their hands finally touched in a gritty, subterranean encounter. "We adults should be able to do that," he said.
He is not alone in this yearning. On Friday, in reaction to the campaign of fiery kites, a group of Gazans wrote notes to Israelis with messages such as, "We want freedom," "We want peace," "We want to live in safety," "We want to lift the siege," "We want justice and democracy" and "We want to live in dignity."
They affixed the notes to pigeons, and sent the birds flying across the border, towards the Almog family home.
Tarnopolsky is a special correspondent.
---