4 die, including a 15-year-old boy, as clashes continue at border of Gaza Strip and Israel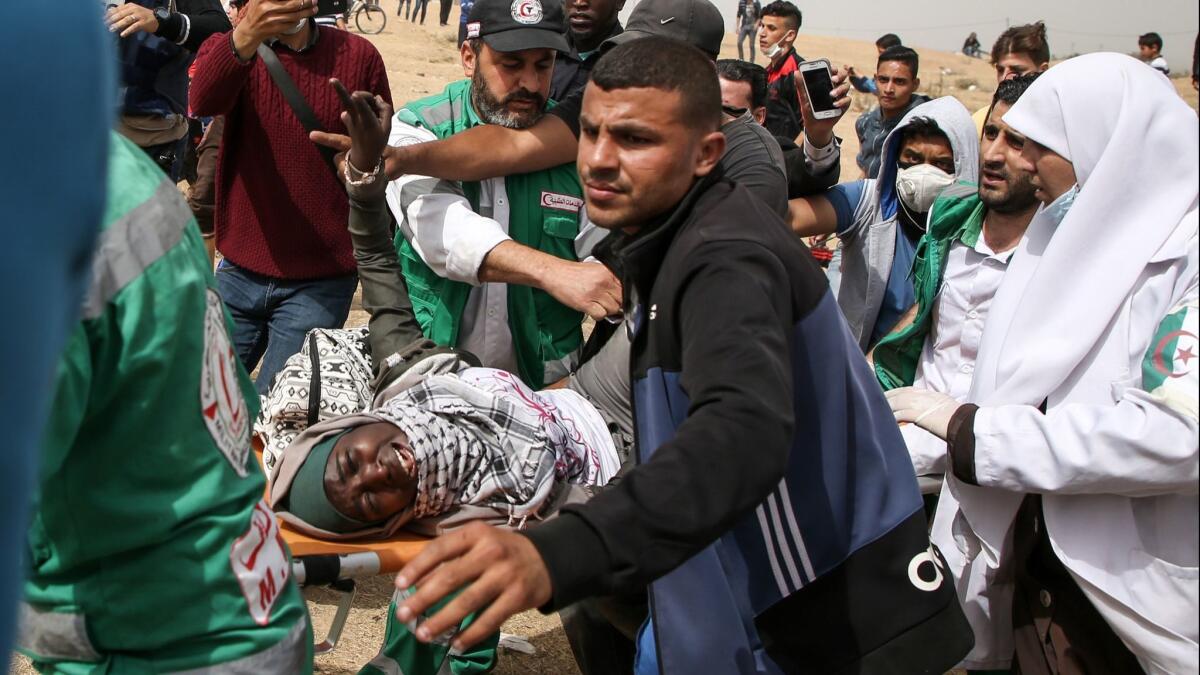 Reporting from KHAN YUNIS, Gaza Strip —
Four people were killed, including a 15-year-old boy, in the fourth consecutive week of protests organized by the Islamist militant group Hamas along the border between the Gaza Strip, which it controls, and Israel.
The Palestinian Health Ministry in Gaza reported 96 injured. The boy, Mohammed Ayyoub, was shot by Israeli forces near the Jabaliya refugee camp, and died about two hours later. Palestinian officials said the others slain, three men in their 20s, were also killed by live fire from the Israeli army.
The army said approximately 3,000 Palestinians took part in Friday's demonstrations.
The Israeli government had not commented on the deaths Friday, but Nickolay Mladenov, the United Nations' special coordinator for the Middle East Peace Process, posted scathing remarks on Twitter.
"It is OUTRAGEOUS to shoot at children! How does the killing of a child in #Gaza today help #peace? It doesn't! It fuels anger and breeds more killing. #Children must be protected from #violence, not exposed to it, not killed! This tragic incident must be investigated," Mladenov wrote.
Friday's demonstration was the fourth of six planned protests organized under the rubric "Great March of Return." They are scheduled to last two more weeks and culminate in a massive march along the Gaza-Israel border fence.
Palestinian sources estimated the number of participants in Friday's protest at about 4,500, much lower than in previous marches. Estimates of those crowds have ranged from 10,000 to 30,000.
Friday's march was dedicated to Palestinian prisoners held in Israeli jails, and some protesters brandished bilingual Hebrew-Arabic banners reading, "Our prisoners are our number one priority."
The Israeli army accused demonstrators of "attempting to approach the security infrastructures, burning tires adjacent to it and attempting to fly kites with burning items attached to them." Several kites crossed into Israel and were extinguished upon landing.
The army posted pictures of a few burning kites, including one decorated with a Nazi swastika.
In anticipation of possible rioting, Israeli security forces dropped leaflets over Gaza on Friday morning warning residents against using violence against Israeli civilians and soldiers or causing any damage to the border fence.
"You are participating in violent disturbances," the leaflets read in Arabic. "Hamas is taking advantage of you to carry out terrorist attacks. The Israel Defense Forces (IDF) are prepared for any scenario. Stay away from the fence and do not attempt to damage it."
The Israeli army alleged in a statement that Hamas has used the protests "to cover terrorist acts against Israel's security infrastructure and IDF forces." The army warned that it would "not allow an attack on security infrastructure and the fence that protects Israeli citizens."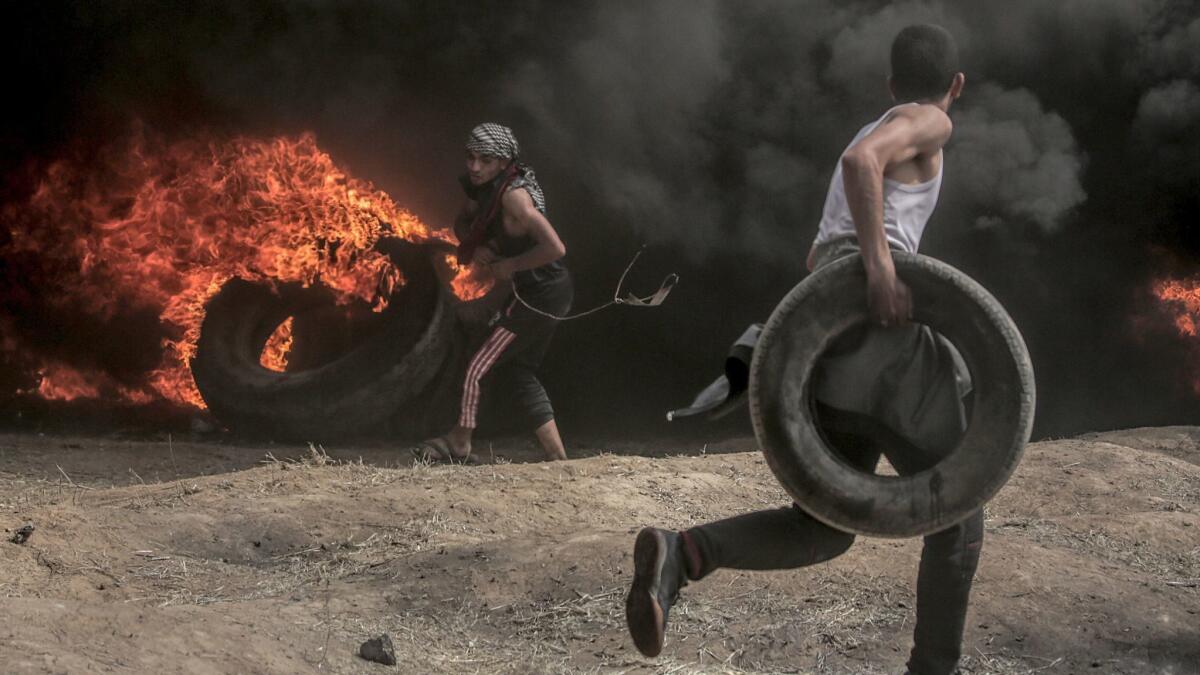 Thirty-four Palestinians have been killed in the weekly clashes since they started on March 30.
Israel has yet to release the results of its investigation into the April 6 death of Yasser Murtaja, 30, a Palestinian photographer who was shot while wearing a vest emblazoned with the word "Press."
On Friday, an Israeli army spokesman said that "the circumstances in which the journalist was allegedly hit by IDF gunfire are currently under investigation."
Last week, the office of Israeli Prime Minister Benjamin Netanyahu announced that Murtaja had been a Hamas militant, but released no evidence to support the claim.
Asked for supporting material this week, David Keyes, Netanyahu's spokesman for the foreign media, replied, "Murtaja was 100% a Hamas officer. I saw the intelligence myself. There is not a scintilla of doubt."
Palestinian media in the West Bank, the seat of the Palestinian Authority, have reported on numerous attempts to quell the protests, in particular by the Egyptian government. The Gaza Strip, an enclave of about 2 million people, is bordered by Egypt, Israel and the Mediterranean Sea.
It has been isolated by a siege almost continuously since 2007, when Hamas, considered a terrorist group by much of the world, wrenched control of the Gaza Strip from the Palestinian Authority in a bloody conflict.
Hamas' organizing committee says the marches will not stop before May 15, the Gregorian calendar date on which Palestinians commemorate the "Nakba," or catastrophe, which is how they refer to the first full day of Israel's existence.
Israel, which declared independence on May 14, 1948, celebrated its Independence Day this year on April 18, in accordance with the Hebrew calendar.
Special correspondents Abu Alouf and Tarnopolsky reported from Khan Yunis and Jerusalem, respectively.
---
UPDATES:
3:25 p.m.: This article was updated with comments from U.N. official Nickolay Mladenov.
This article was originally published at 9:55 a.m.
Sign up for Essential California for the L.A. Times biggest news, features and recommendations in your inbox six days a week.
You may occasionally receive promotional content from the Los Angeles Times.