An extremist Hindu leader rises in India, along with hopes for a controversial temple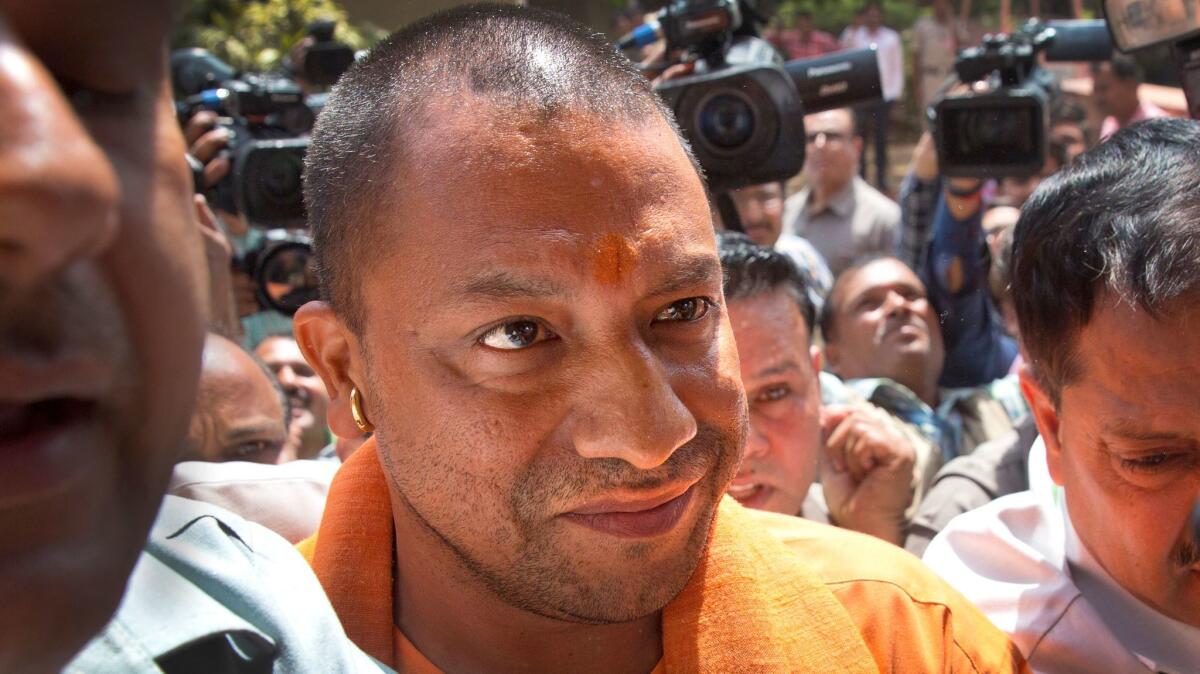 Reporting from Ayodhya, India —
At an open-air workshop in this northern Indian town, craftsmen have painstakingly chiseled columns and beams out of giant slabs of stone, engraved each with a number and stacked them three stories high.
The stones are meant to form a temple to the Hindu god Ram at his mythological birthplace in Ayodhya — a site where extremists tore down a mosque in 1992, sparking riots between Hindus and Muslims that left more than 2,000 people dead.
The work is purely speculative, as ownership of the three-acre site picked for the temple has been the subject of a legal battle for decades. But there have been few more vocal champions of the controversial project than the Hindu monk Yogi Adityanath, a firebrand in saffron robes, who told a crowd last year: "When nobody could stop us from demolishing [the mosque], who can stop us from building a temple?"
The provocative words by the boyish-faced, buzz-cut wearing Adityanath will be tested now that he has been appointed to lead the state of Uttar Pradesh, which includes Ayodhya. The surprise move by Prime Minister Narendra Modi came after his party's sweeping victory in assembly elections this month.
The selection of the 44-year-old radical priest to lead the country's most populous state is a symbol of the muscular Hindu nationalism taking hold in Modi's India.
In the three years since Modi has led the majority-Hindu nation, Adityanath has cemented his place as one of its most reliable rabble-rousers — whether by comparing Muslim Bollywood star Shah Rukh Khan to a terrorist leader or by saying that those who don't practice yoga should leave the country.
In 2014, when Hindu leaders accused Muslims of carrying out a "love jihad" by marrying women to convert them to Islam, Adityanath called on Hindu men to convert Muslim women. After a Hindu mob in the state lynched a Muslim man wrongly suspected of possessing beef — which is banned because the cow is sacred to orthodox Hindus — Adityanath demanded the victim's family be arrested for eating beef and the suspected killers let free.
His supporters in Uttar Pradesh believe he will realize their dream of a temple at Ram's birthplace.
"Modi-ji in Delhi and Yogi-ji in U.P.," crowed Annubhai Sompura, who supervises the workshop run by the Vishwa Hindu Parishad, a radical Hindu group with links to Modi's party, while using the honorific "ji" for each man. "The Ram temple is now inevitable."
Adityanath is embraced by radical Hindus in Ayodhya, where history and mythology are often used interchangeably. Thousands of devotees throng the bustling narrow alleys or ride from temple to temple aboard aging bicycle rickshaws, pedaled by guides who recite the Hindu lore attached to every site.
The town of 55,000 people became the epicenter of one of the worst outbreaks of communal violence in the history of independent India in December 1992, when hundreds of Hindus razed the Babri Masjid, a mosque that experts said dated to the time of Mughal conquerors.
Hindu groups said the site was the birthplace of Ram, a Hindu warrior-king, and that only a temple to the deity could stand there.
Pedaling his rickshaw through streets lined with temples and sweet shops, guide Ranjit Jha told visitors with enthusiasm — though without evidence — that the Mughal emperor Babar had destroyed a Hindu temple that predated the Babri Masjid.
Dinesh Bhatt, a customer from Kerala state, listened intently.
"Whether it is true or not, we should believe in it," Bhatt said. "It is our culture and it explains our existence."
Hindu and Muslim groups both claim ownership of the site, and Indian courts have been unable to resolve the dispute. Last week, India's Supreme Court called on the parties to seek an out-of-court settlement because the issue was "sensitive," although Muslim groups have said an amicable settlement is impossible.
A hearing is scheduled for April on whether senior members of Modi's Bharatiya Janata Party, or BJP, were complicit in the mosque's destruction.
The party has used the temple as a rallying cry since the 1990s, galvanizing support among conservative Hindus as it became the country's dominant political organization.
The overwhelming scale of its victory in India's most politically important state — with more than 200 million people — emboldened Modi to select a hard-liner as its chief minister, experts said. Until now, the prime minister had sought to project the image of a pragmatic modernizer and avoided embracing the more aggressively sectarian elements of his party.
"I think that this is Modi at the peak of his political power," said Prashant Jha, a journalist with the Hindustan Times who covered the election.
The choice of Adityanath "would deepen the psychological and political alienation of Muslims" in Uttar Pradesh, Jha said.
Muslims make up slightly less than 20% of the state's population — they constitute 14% of the country's 1.25 billion people — but are vastly underrepresented in political positions.
Since taking office, Adityanath has not spoken publicly about the temple, focusing instead on closing unlicensed slaughterhouses and deploying "anti-Romeo squads" to curb sexual harassment. He is an unlikely law-and-order man, having once spent 15 days in jail for inciting riots.
With a court resolution on the disputed site unlikely, and national elections looming for Modi in 2019, some experts believe his party will attempt to shift focus from the temple.
"Is it worth it for the BJP to push the cause of the temple at the cost of drawing Muslim pushback, instability and even violence?" Jha said. "I don't think so. There are other ways they can push their cultural agenda. … And Yogi's mere presence is enough of a signal to the Hindu base."
Near the would-be temple site, supporters remain buoyant. Amid flags of saffron — a holy color in Hinduism — and religious songs blaring from speakers, worshipers line up for hours to glimpse a small idol of Ram under a tent, a placeholder for the hoped-for temple.
A short distance away, an intricate model of the planned temple sits behind a metal barrier, watched over by a middle-aged man in a saffron scarf. The model and workshop are run by the Vishwa Hindu Parishad, which is financing its temple plans through private donations.
At the workshop a few hundred yards away, Hridayram Lohar, a bespectacled 60-year-old hammering away at a slab of stone, said he has been working on the project for a third of his life.
"I will continue to work until my body permits," he said. "It is my wish to see the day when the temple I have worked on for so long takes form."
Special correspondent Parth M.N. reported from Ayodhya and Los Angeles Times staff writer Bengali from Mumbai, India.
Follow @SBengali on Twitter for more news from South Asia.
ALSO:
India is about to make it easier for political parties to hide where their money comes from
An Indian charity battled caste-based discrimination for three decades. Then it became a target
A Muslim father and son engrave the headstones at one of India's oldest Jewish cemeteries
Sign up for Essential California for the L.A. Times biggest news, features and recommendations in your inbox six days a week.
You may occasionally receive promotional content from the Los Angeles Times.