Why India's killing of a 21-year-old militant sparked days of deadly rioting in Kashmir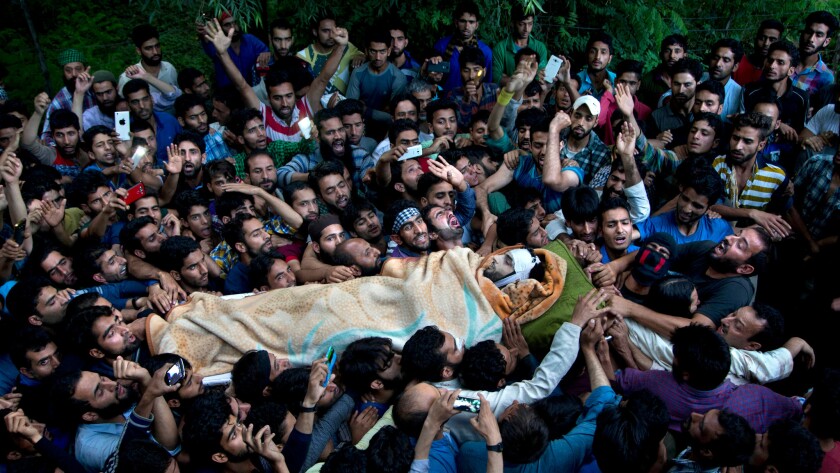 Reporting from Mumbai, India —
Clad in a military uniform, a handsome young man appears on a video flanked by two other men with weapons. It is an appeal to youth in the disputed territory of Kashmir to join him in a battle for independence.
The young man is Burhan Wani, who was killed last week at age 21 in an operation by Indian security forces, touching off protests and a security crackdown that had left 37 people dead as of Thursday, hospital officials said.
The latest flare-up of violence in the rugged, volatile Kashmir valley has put on display the growing threat of militancy among young people in a territory that both India and Pakistan claim in its entirety.
Wani was a commander with the Hizbul Mujahideen armed group who became a poster boy for new-age militancy, using social media to expand his reach and persuade educated young men from financially stable backgrounds to resist Indian rule in Kashmir.
His story influenced people across the valley, his videos seeming to reach every young person's phone via the WhatsApp mobile messaging service, as Internet access improved in Kashmir.
Born into an educated family, he reportedly took up arms at 15 after his older brother, Khalid, was beaten unconscious by Indian state police while they were out for a bike ride. Khalid was gunned down last year by security forces who said he had been gathering recruits for Hizbul Mujahideen, a charge his friends denied.
After Wani's death on July 8, throngs of people poured into the streets to observe his funeral, sparking hundreds of clashes with security forces over the next four days, including some attacks on police stations.
While militant funerals in Muslim-dominated Kashmir have turned violent before, experts say the size of the protests and scale of the bloodshed are worrying signs for India. In an effort to keep control of the territory, they say, New Delhi's heavy-handed security tactics have fueled disillusionment among a younger generation that opposes Indian control but sees no chance for self-determination.
"When educated youngsters become militants, it shows the Indian state has failed to engage them in a dialogue," said Shujat Bukhari, editor of the Rising Kashmir newspaper.
"The government has, at various times, signaled that it does not care about the dissenting voices in the valley, which is why Wani has emerged as an icon."
Under a special anti-terrorism law, Indian forces operate in Kashmir with near impunity and have been accused of abuses against civilians, which they deny. Many in Kashmir hold no love for Muslim-dominated Pakistan, but they also oppose the idea of being Indians.
Experts say India's attempt to suppress anger at its policies has sparked an intense backlash.
"Kashmir will not be normal [until] it is treated like it is normal," columnist Mihir Sharma wrote for India's NDTV website. "It is not going to be a normal Indian state while basic Indian rights are suspended, and those omnipresent soldiers know they are above the laws that constrain them in the 'mainland.'"
Days after Wani's killing, police forces were still patrolling the streets in heavy numbers, enforcing a curfew in most major towns and villages. Hospitals were packed with hundreds of injured, many with eye wounds from nonlethal pellet guns that hospital officials say could cause them to lose their sight.
Wani hailed from southern Kashmir, a pristine region of sparsely populated villages, paddies and dense forests. But it has emerged as a hotbed of militancy in the past year and a half, since the People's Democratic Party, whose power base is in the south, formed an alliance to lead the state with the Bharatiya Janata Party, or BJP, the party of Indian Prime Minister Narendra Modi.
Analysts say the alliance provoked anger because Muslim youth are skeptical of the BJP, which has close ties to Hindu nationalist groups that have shown little willingness to listen to their demands.
PDP spokesman Waheed-ur-Rehman Parra said there was no connection between the alliance and growing militancy.
"Militancy has been a problem in Kashmir for decades," he said. "To reduce it to one event is inappropriate."
Kashmir has long been beset by unemployment and low economic growth, problems that worsened after deadly floods in 2014. But many believe the protests following Wani's death — which included many educated people like him from well-to-do backgrounds — showed that Kashmiris were agitating not for jobs, but for a political settlement.
Kashmir "only gets noticed when it is on fire," Omar Abdullah, former chief minister of the Indian state of Jammu and Kashmir, said in an interview.
"There is this on-again, off-again engagement, which inevitably only follows from trouble. Until we see some sort of forward movement on the political problem, these things will continue to flare up."
Parth M.N. is a special correspondent.
MORE WORLD NEWS
Residents of impoverished Gaza Strip turn to Turkey for lifesaving medical care
New British Prime Minister Theresa May vows to rise to the challenge of facing a split from the European Union
One year after Iran nuclear deal, President Rouhani feels heat of corruption allegations
---
UPDATES:
June 14, 10:49 a.m.: The story was updated with a new death toll from the security crackdown.
This story was originally published June 13 at 11:39 a.m.
---
Must-read stories from the L.A. Times
Get the day's top news with our Today's Headlines newsletter, sent every weekday morning.
You may occasionally receive promotional content from the Los Angeles Times.