Nine killed in Indian-controlled Kashmir as violence grows in the disputed territory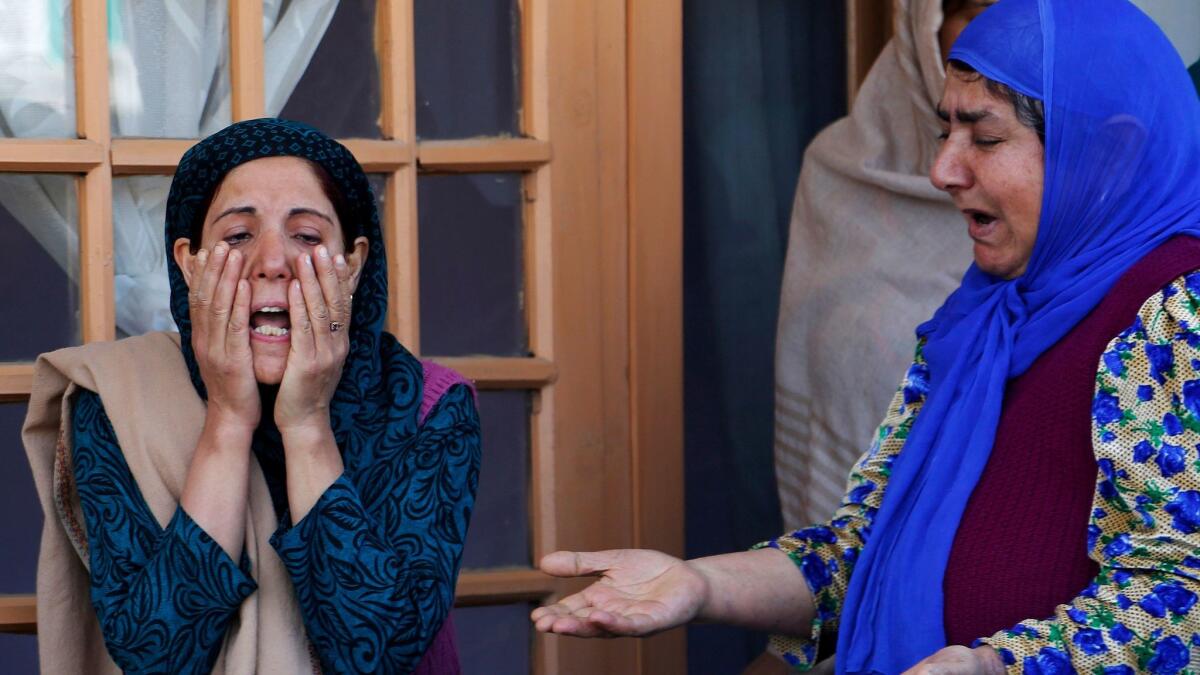 Reporting from Mumbai, India —
India has long maintained that Kashmir, the Himalayan region that is the object of its long tug of war with Pakistan, is an "integral part" of its territory.
But amid growing violence, street protests and international pressure for a resolution to the 70-year-old dispute, critics are asking whether India is losing control in Kashmir.
In the latest deadly attacks, seven security personnel and two civilians were killed Monday in Indian-controlled Kashmir, including two soldiers who India said were beheaded by Pakistani commandos.
Indian defense officials said that Pakistani forces fired across their disputed border and that a special forces team then sneaked across and killed an Indian soldier and a border security guard, whose bodies were found mutilated.
Calling the act "barbaric," Indian Defense Minister Arun Jaitley vowed a response, saying the soldiers' "sacrifice will not go in vain."
Pakistan denied the accusations, saying it had no such commando unit in the area.
"The Pakistan army is a highly professional force and shall never disrespect a soldier, even [an] Indian," the Pakistani military said in a statement.
Separately, five Indian police officers and two private security guards were reportedly killed when suspected militants attempted to rob a van outside a bank about 10 miles south of Srinagar, the regional capital.
Indian news agencies reported that the assailants made off with at least four rifles belonging to security forces.
Omar Abdullah, the former chief minister of India's Jammu and Kashmir state, called it a "terrible 24 hours" in Jammu and Kashmir, the Indian state that encompasses India's portion of the disputed region.
Hizbul Mujahideen, a Kashmiri separatist group that opposes the Indian army's presence in the territory, claimed responsibility for the attack, which comes amid worsening tensions between the majority Muslim residents and the Hindu nationalist government in New Delhi.
Since Indian forces killed a charismatic young Kashmiri militant nearly one year ago, families say that more young men have joined the anti-Indian insurgency. Large crowds of civilians have taken to the streets to throw stones at Indian soldiers and paramilitary forces, which have killed hundreds of civilians in a response that has human rights groups say has employed excessive force.
In a sign of Kashmiris' growing disillusionment, just 7% of voters cast ballots in an election last month for a parliamentary seat in Srinagar, the lowest turnout on record.
Public outrage increased after Indian forces tied a Kashmiri shawl weaver to the hood of a military jeep and drove through several villages, apparently to warn civilians not to throw stones. Video of the incident went viral and added to widespread allegations that Indian forces have committed serious human rights violations in the territory.
In a bid to quell protests, Indian authorities have attempted over the last week to block use of Facebook, Twitter and other social media sites – although many Kashmiris are finding ways to circumvent the ban.
India has accused Pakistan of fomenting the violence against its forces, a charge Pakistan denies.
The nuclear-armed rivals have fought two wars over Kashmir since the countries were split upon independence from Britain in 1947. Both countries claim the territory in its entirety.
The violence and heavy-handed military response have led critics of Indian Prime Minister Narendra Modi to warn that his government risks squandering the chance at a peaceful settlement to the Kashmir issue.
"The path that the government of Jammu and Kashmir and the central government have taken is a perilous path," P. Chidambaram, a leader of the opposition Congress party, said last month. "This path will not lead to any kind of peace or any kind of engagement with the people."
On Monday, Turkish President Recep Tayyip Erdogan waded into the fray ahead of an official visit to India, calling for "multilateral dialogue" to resolve Kashmir's status. India has long rejected any outside involvement on the issue, saying that Kashmir is a bilateral dispute that can only be resolved through talks with Pakistan.
ALSO
Forty years ago, my parents honeymooned in 'Paradise on Earth.' Kashmir doesn't feel the same
The elaborate ceremony that says everything you need to know about India-Pakistan tensions
Indian officials can no longer use flashing lights to skip traffic — but that's only one sign of a 'VIP culture' run amok
Special correspondent Aoun Sahi contributed to this report from Islamabad, Pakistan.
Follow @SBengali on Twitter for more news from South Asia
Sign up for Essential California for the L.A. Times biggest news, features and recommendations in your inbox six days a week.
You may occasionally receive promotional content from the Los Angeles Times.