Forty years ago, my parents honeymooned in 'Paradise on Earth.' Kashmir doesn't feel the same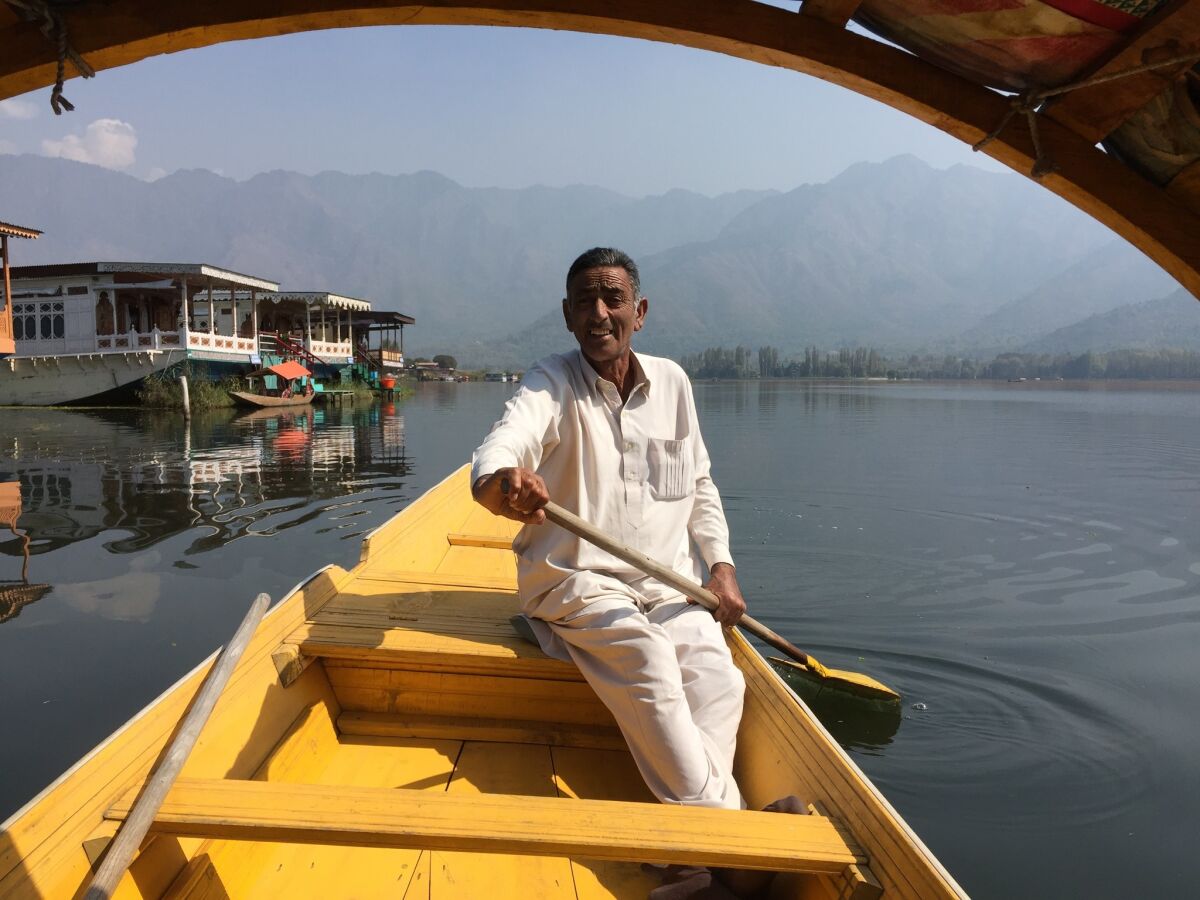 Reporting from Srinagar, India —
Bashir Ahmad slid his oar into the gray-green water, making a gentle splash. Ripples rolled across the wooden houseboats and azure peaks reflected in the glassy surface of the lake.
Rowing from the rear, Ahmad eased his bright yellow boat along Dal Lake, the mountain-ringed jewel at the center of Srinagar, the summer capital of the Indian-held portion of Kashmir.
He stopped to point out the home of the grandson of Kashmir's last maharajah or to pluck a waterlily and hold it to his nose, inhaling the faint citrus scent. His clients reclined on a cushioned divan-style seat.
I tried to imagine if this was what my parents saw when they took a ride on a shikara, a gondola-style boat, four decades ago while on their honeymoon. It was 1975, and they had married in Mumbai, India. Kashmir was seen as a local answer to Switzerland, a country that held a deep fascination among Indians since it became a popular location for Bollywood song-and-dance montages.
No pictures survive of that trip. My parents soon moved to the United States, where my father was doing postgraduate studies, and although they visit India every year or two, they have not been able to return to Kashmir.
Their visit came during a period of calm in South Asia's beautiful and volatile territory. Pakistan and India have tussled over Kashmir since they gained independence in 1947, but conditions were largely quiet until the late 1980s, when a violent separatist insurgency erupted in the Indian-controlled south.
Peace prevailed for much of the 2000s, and just a few years ago more than 1 million tourists were visiting the Kashmir Valley annually. When I traveled there in October, Srinagar was enduring its worst upheaval in years, due to an Indian military crackdown and a statewide general strike called by separatist leaders.
The sign outside the airport read, "Welcome to the Paradise on Earth." Elsewhere, shops were shuttered, hotels sat empty, anti-Indian graffiti screamed from street corners and pairs of helmeted soldiers were posted at regular intervals along the roadsides.
Normally at this time of year, the valley would teem with traffic as Indians escaped the soul-sapping end-of-summer heat for the crisp air of its northernmost region. As I stepped into Ahmad's shikara, he said he had not had a passenger in nearly a week.
The lake was nearly empty of boats at midday. A father rowed along with his son, who ran his hand through the placid water. The houseboats with their intricately carved awnings sat deserted. A couple of boatmen pulled up next to us, halfheartedly hawking cheap metal trinkets that glinted in the sharp sun.
"We used to have a lot of weddings at this time of year," said Ahmad, who has spent most of his 62 years guiding tourists and lovers across the lake. "Couples would come to get married in the beautiful outdoors, then stay for their honeymoon. Now no one would dream of coming here."
Ahmad's forehead was dark and creased, and his tall, lean frame spoke to a career of exertion. His father was an oarsman who taught a 10-year-old Ahmad to pilot the shikara.
NEWSLETTER: Get the day's top headlines from Times Editor Davan Maharaj »
Now it appears the family business will likely die with Ahmad. His sole child, a daughter, works as a tailor. He has nephews but none are interested in a lifetime on the lake.
"The new generation does not want to do such work," Ahmad said. "If I sold carpets or did some other business, I could pack up and move to another city to practice my trade when things got bad here. But I am a boatman — where else can I work?"
A water bottle floated past the shikara, and Ahmad groaned as his oar began to pick up clumps of vegetation at the surface.
Dal Lake has slowly been dying, another casualty of the political unrest in Kashmir. Millions of gallons of untreated sewage flow into the lake from the houseboats and communities living at the water's edge, spawning weeds and algae that have clouded the lake.
Kashmir authorities have mounted periodic attempts to restore the lake by resettling families, curbing the dumping of waste and even flooding the lake with weed-eating Chinese carp.
But every time violence breaks out, restoration efforts cease.
"The lake will never be clean again," Ahmad said. "They clean up some and then the mess just regrows."
Soon the shikaras will be hauled away for winter, when the lake freezes over. There was little sign that visitors would return before that, meaning that the thousands of Kashmiris whose livelihoods depend on tourism would lose an entire season's worth of income.
Ahmad prefers not to talk politics with his guests, he said. But this summer's violence, which has killed nearly 100 civilians and wounded thousands, was the worst he had seen since the 1980s. More than ever, he believed Kashmir should be an independent state.
"I don't think I will live to see it," he said, tying the boat to the dock where half a dozen shikara drivers sat idle. "But I have hope."
Follow @SBengali on Twitter for more news from South Asia
MORE WORLD NEWS
Across the globe, caution and dismay greet Trump victory
A new museum devoted to Yasser Arafat reflects Palestinian nostalgia — and discontent
Scenes from a Mexico City bar the night Donald Trump won the presidency
Must-read stories from the L.A. Times
Get the day's top news with our Today's Headlines newsletter, sent every weekday morning.
You may occasionally receive promotional content from the Los Angeles Times.