On the Ground: Life in an Indian slum: Piped water and metered electricity, but the bulldozers can come at any time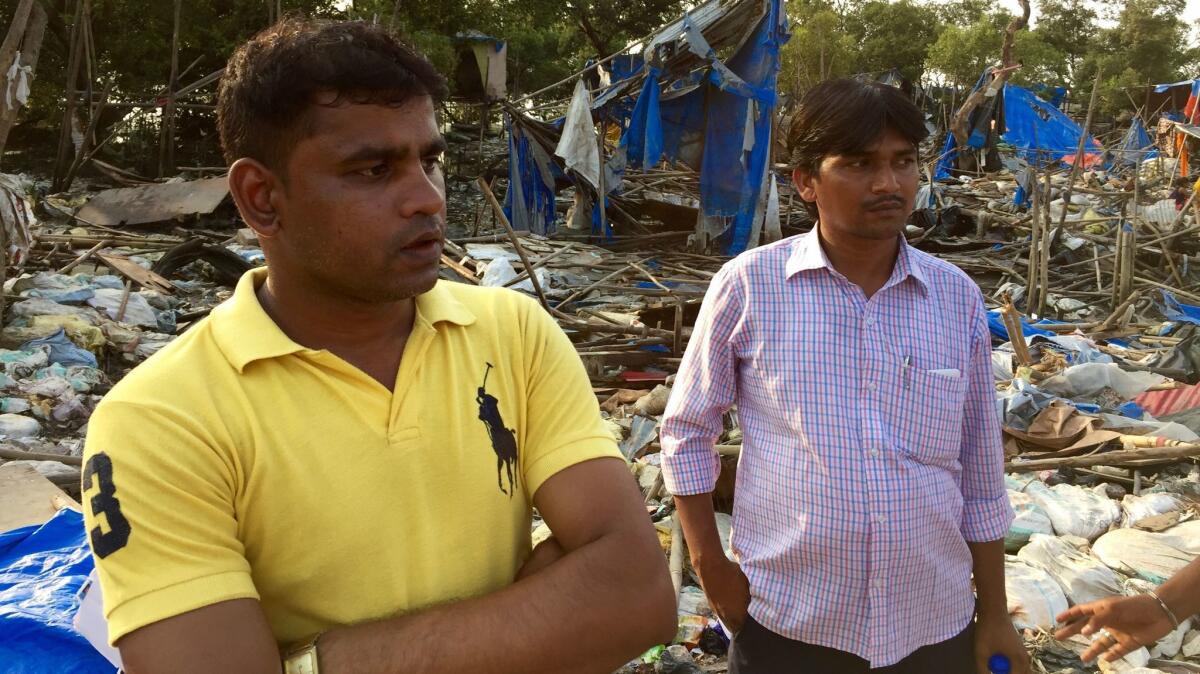 Reporting from Mumbai, India —
Hareram Raut greeted his visitors with an apology: "Sorry there is no place to sit."
It was hard to tell if he was being darkly funny or impossibly polite. All around him was devastation.
A wide field of flattened bricks stretched toward a low, golden sun. Tiled walls and squat toilets lay half-buried in rubble. Children stepped over bamboo poles, broken doors, exposed water pipes and bits of insulation that poked through the crevices like grimy cotton candy.
Raut, a shaggy-haired, 34-year-old mechanic, stood atop the bare foundation of what was once his two-story brick house. He was here the morning the bulldozers arrived.
He and his wife rescued a few documents and a red cylinder of cooking gas before authorities ordered everyone out of their houses — and beat those who resisted. Their television, cooking vessels and the suitcases that stored the rest of their possessions were destroyed as the giant machines leveled 1,500 houses covering more than 30 acres at the southern tip of Mumbai.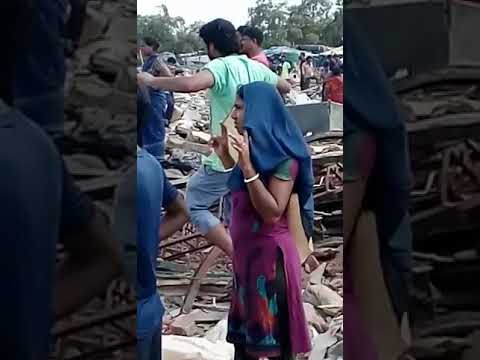 The demolition in early May was carried out by the state forest department, which said the settlement encroached on a cluster of mangroves — a vital shrub-like species that fringes this coastal metropolis. A 2005 court order protecting mangroves is one of many pretexts that authorities use to periodically raze slums across the city, even as bigger private developments built on questionable legal ground are generally allowed to stand.
Two days before the bulldozers came, a warning played over a loudspeaker, telling residents to vacate. Few believed it, considering that many families settled here in the 1990s and the neighborhood had acquired all the signs of permanence.
The city provided piped water and electricity meters, hammered into brick walls. Children attended local schools. Politicians canvassed the narrow lanes at election time. Young people had grown up here, married and had children on the same small plots that now lie in ruins.
"We thought we were safe," Raut said.
Half of Mumbai's 15 million people live in slums, which Indian census officials characterize as residential areas where "dwellings are unfit for human habitation."
In reality, India's commercial and entertainment capital would cease to function without slums, which house the drivers, housekeepers, plumbers, day laborers, errand boys, nannies and other blue-collar workers who allow the island city's middle and upper classes to live lives of relative comfort.
You glimpse the slums — tightly packed houses covered in multicolored tarps and metal roofs, like a mashup of Legos — out the window upon landing at the Mumbai airport, or over the sides of the rooftop bars at one of the city's five-star hotels. Otherwise, they exist largely out of sight of the city's most powerful, which makes it easier to tear the structures down.
Raut's neighborhood of Ambedkar Nagar — named for the 20th century social reformer B.R. Ambedkar, who campaigned for the rights of women and lower-caste Indians — is sandwiched between a naval officers' colony and an upscale commercial complex dubbed the World Trade Center. A few hundred yards away stands a vacant, 31-story high-rise that is one of Mumbai's most glaring symbols of political corruption.
The Adarsh apartment tower was intended to house veterans and war widows. Instead, developers allotted the prime residences to politicians and bureaucrats, and ignored environmental regulations limiting the size of buildings in the coastal zone.
A judge last year ordered Adarsh to be torn down, but apartment owners appealed to India's Supreme Court to halt the demolition. In cellphone videos shot by Ambedkar Nagar residents, the disgraced tower looms in the background as bulldozers lay waste to the slum.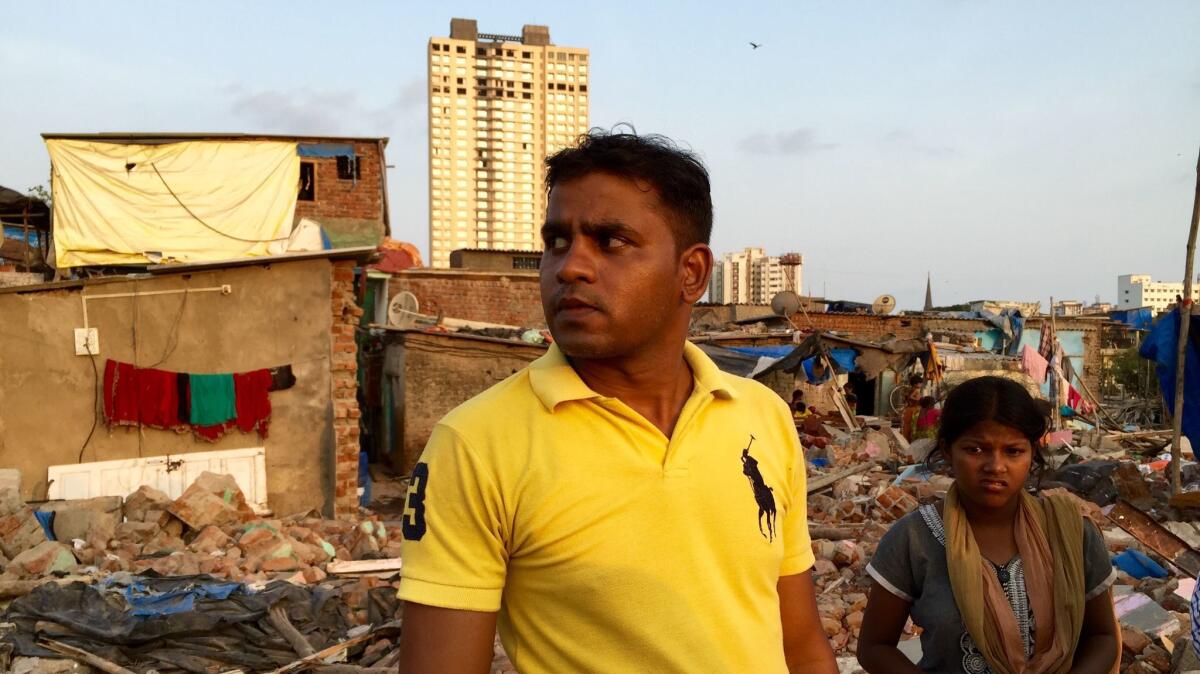 Santosh Gond, a tall 33-year-old with a protruding belly, wandered about the wreckage carrying a sheaf of papers. They included his electricity bill and other documents showing his address in Ambedkar Nagar, where he has lived since he was a teenager.
Four months ago, Gond, an assistant at a prestigious law office who earns about $2,000 a year, asked his boss for a $3,000 loan to renovate his house. He replaced the tin walls with brick and installed a private toilet so his wife and child no longer would have to wait in line at the filthy public restroom.
All of it was destroyed by the bulldozers.
"It will take me 10 years to earn back what I lost in four days," Gond said. "They call us encroachers, but why was the city supplying water and electricity here if our houses were illegal?"
Under city redevelopment laws, slum dwellers are to be resettled if their homes are torn down. But there are complex eligibility rules, and so far, authorities have not given Ambedkar Nagar residents any indication they will be compensated.
Gond has been sleeping at the home of a neighbor who was visiting his village for the summer and whose house was spared. Others were spending nights outdoors under plastic sheets, the annual monsoon rains just weeks away.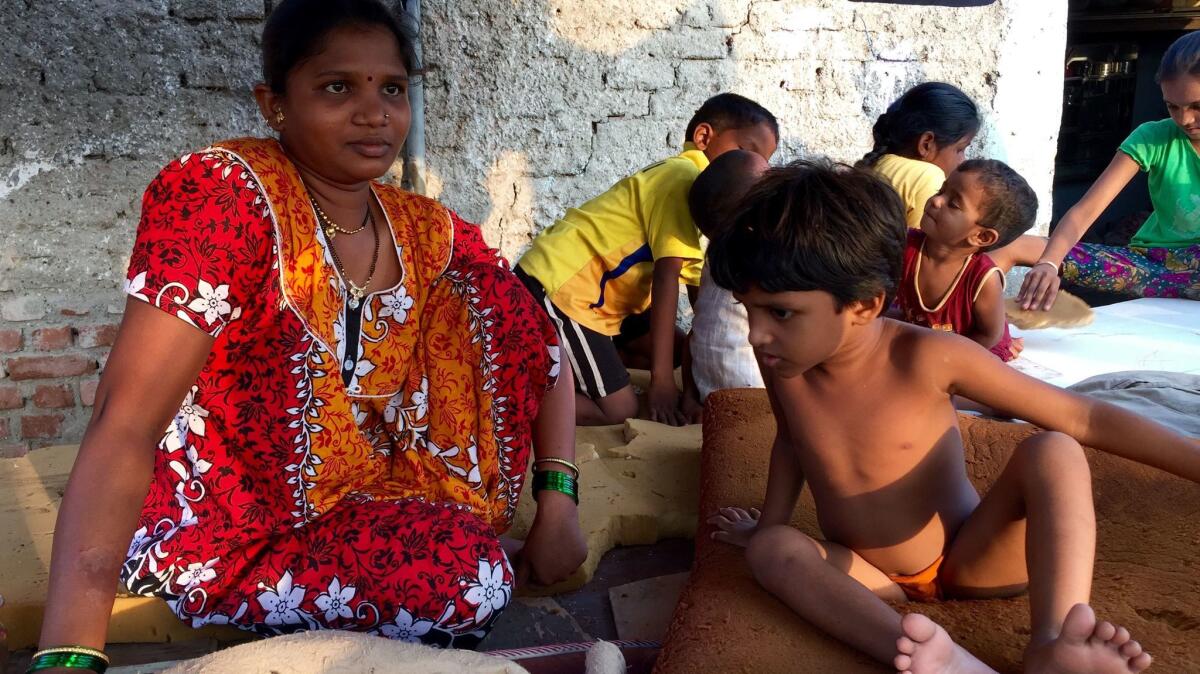 As the sun ducked below the tops of the mangroves lining the Arabian Sea, Jyoti Togre sat with her 5-year-old daughter, Shweta, who picked at the crumbling foam of the mattress they salvaged from their house.
Togre, 26, was born in the slum and married to a local boy when she was a teenager. Both her daughters were enrolled at nearby schools, and she wondered how her 9-year-old would manage to do homework when classes resumed after summer break.
Her husband, a chauffeur for a rich family living in a nearby co-op, earns about $180 a month. One-room apartments in the area now require rental deposits of three times that, she said.
"We are looking for a place at any cost," she said. "The important thing is the children's education should not be compromised. That's how we are going to get out of this."
Two years earlier, a fire gutted several hundred homes in the slum. Togre's was spared, but she had grown accustomed to living in fear.
"Here," she said, "tragedy can strike at any time."
Follow @SBengali on Twitter for more news from South Asia
ALSO
Was that Manila attack an act of terrorism? Trump and Philippine officials differ
Cycle of violence continues in Afghanistan with bombing at funeral; at least 7 die
Jerry Brown in China with a climate message to the world: Don't follow America's lead
Sign up for Essential California for the L.A. Times biggest news, features and recommendations in your inbox six days a week.
You may occasionally receive promotional content from the Los Angeles Times.