Jerry Brown in China with a climate message to the world: Don't follow America's lead
Reporting from BEIJING —
When Gov. Jerry Brown stepped to the stage in Beijing on Wednesday, he still was recovering from a 15-hour time difference, a cavalcade of business meetings and ceremonial events, a flight and a train ride to three Chinese cities and a last-minute meeting with President Xi Jinping.
But he looked more energized than ever. He'd just helped gather local leaders from around the world to the Chinese capital in a united effort to slow the pace of climate change.
"Nothing is more difficult. Nothing is more important," he said in a keynote speech at the Under2 Clean Energy Forum, hosted alongside an international gathering of energy ministers in Beijing. "We're talking about turning around the whole of modernity."
Brown's message to those gathered in China: Chart a path toward a clean energy future that differs from the one adopted by the United States.
Move past the course set by President Trump.
The governor officially concludes his five-day tour on Thursday, but the forum largely wrapped up a trip that sought to distance California from Trump's climate change policies and offer an alternative vision for the world.
Trump, in some ways, did Brown a favor last week when he announced his decision to pull the U.S. out of the landmark Paris accord committing nations around the world to emissions reduction targets. The governor left for China the following day amid a swarm of media coverage.
"The election of Donald Trump gave Jerry Brown not only the opportunity but the mandate to speak up in the international policy realm," said David Victor, a professor of international relations at UC San Diego who has studied regulatory efforts to combat climate change. "He's going to be an even more important voice than before."
Brown signed green energy agreements in the southern Chinese cities of Chengdu and Nanjing, opened a California-Beijing clean tech fund and encouraged companies to work with the state on the development of batteries and electric vehicles.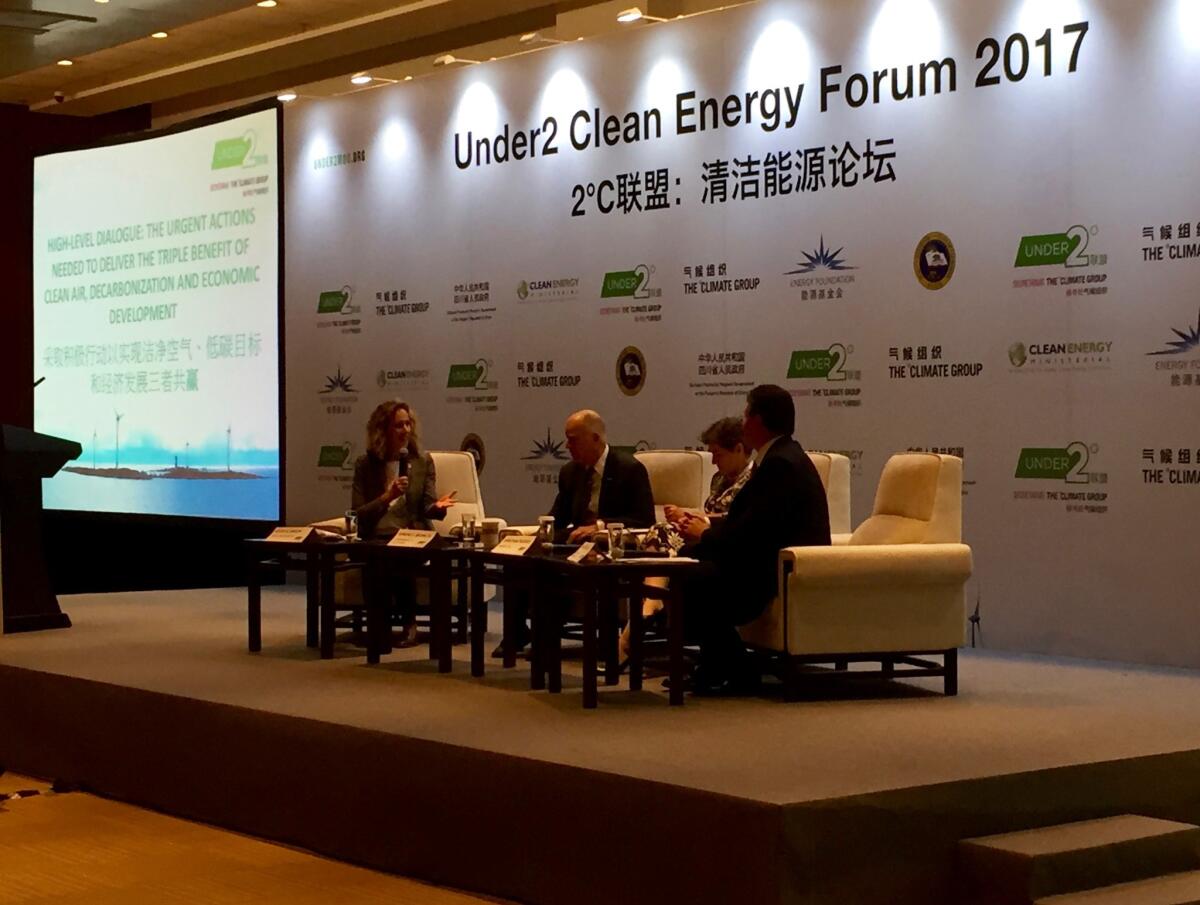 The state-run China Daily newspaper on Wednesday plastered a photo on its front page of Brown and Xi shaking hands. State television ran repeated reels of his trip.
Secretary of Energy Rick Perry also is attending the energy conference, but he has received scant coverage and shied away from reporters.
In an interview with The Times, Brown called the trip "a real building block" toward combating climate change. "We not only did things, we're not only doing things, but we opened up new possibilities to doing things when I go home. So, all in all, I say that's a positive."
China negotiated the Paris accord with the Obama administration and has pledged to stay in it. The country is the leading investor in renewable energy, but it's also still the world's largest emitter of greenhouse gasses. More than 60% of its energy use is tied to coal.
The governor said that he believed the Chinese are sincere in their efforts to battle global warming and that Xi "exhibited a character of command, of confidence and determination."
Brown spent much of Wednesday rallying support for his Under2 Coalition, an international pact he helped create among cities, states and countries that vows to limit the increase in global temperatures to below 2 degrees Celsius, the point at which sea levels rise and scientists warn of irreversible climate change consequences.
The group added five new signatories Wednesday, including South Africa's Western Cape province.
"What we are hearing now is that the voice of America is lots of voices and that they differ and they're not the same voices coming out of the White House," said Karen Shippey, the chief director of environmental sustainability for the Western Cape government. "That's very encouraging to us because what is coming out of the White House now is a death knell for the world."
Brown said the leaders did not discuss Trump. "That wouldn't be diplomatic," he said.
We're talking about turning around the whole of modernity.
— Gov. Jerry Brown
He also stayed away from commenting on the increasing barriers to foreign businesses operating in China or Xi's crackdown on human rights lawyers. "My focus is on climate change," he said. "There are other issues to be handled, but that's not in my portfolio."
Officials welcomed Brown, with gifts of teapots and panda etchings, in a country that values seniority and long-term relationships. Brown last visited China in 2013 and has met with Xi in the U.S.
Many of the freshly signed clean tech agreements have no teeth, and friendly conversations can soon fade from memory. But the visit sent a message that California has no intention of stopping business with China, even if the Trump administration is rethinking its trade relationship with the country.
"We share a dream with the governor's dream," said Wan Gang, China's minister of science and technology, who spoke at another event with Brown tied to the energy conference. He recalled his first drive in a Tesla. "I hope Gov. Brown can someday sit in an electric vehicle we produce in China on the road in California."
Brown stayed on message throughout his trip, from the speeches he gave at ceremonial signings in Sichuan province to the launch of a California-Beijing innovation hub in the Chinese city's tech hub.
The Bay Area Council, an advocacy group for the Northern California region's businesses, used Brown's visit as an opportunity to promote California's green energy companies and open the doors to China's. Several members also met briefly with Perry at his request. (Brown and Perry, a former Texas governor who has strongly supported the fossil fuel industry, merely shook hands on an escalator.)
Brown's rallying cry to the crowd Wednesday — much like others throughout his trip — ended with a grim warning about the perils of inaction.
"President Trump's announced withdrawal [from the accord] has heightened the focus on this fundamental existential threat called global warming, calling habitat destruction, called species extinction," he said. "We have to wake up our countrymen, in fact the world."
Attendees clapped as Brown headed to his next stop, not much interested in slowing down.
Times staff writer Chris Megerian contributed from Sacramento and researcher Nicole Liu from Beijing.
Meyers is a special correspondent.
Twitter: @jessicameyers
ALSO:
China is now looking to California—not Trump—to help lead the fight against climate change
Brown's first stops in China are cities that look a lot like California
China is getting serious about fighting climate change at home. Abroad, its investments tell a different story
Sign up for Essential California for news, features and recommendations from the L.A. Times and beyond in your inbox six days a week.
You may occasionally receive promotional content from the Los Angeles Times.